Netflix's 'The Deepest Breath' Explores a Tragic Undersea Love Story
The new documentary on freediving is gorgeous and thrilling. But it won't transform you into a freediver, writes our articles editor.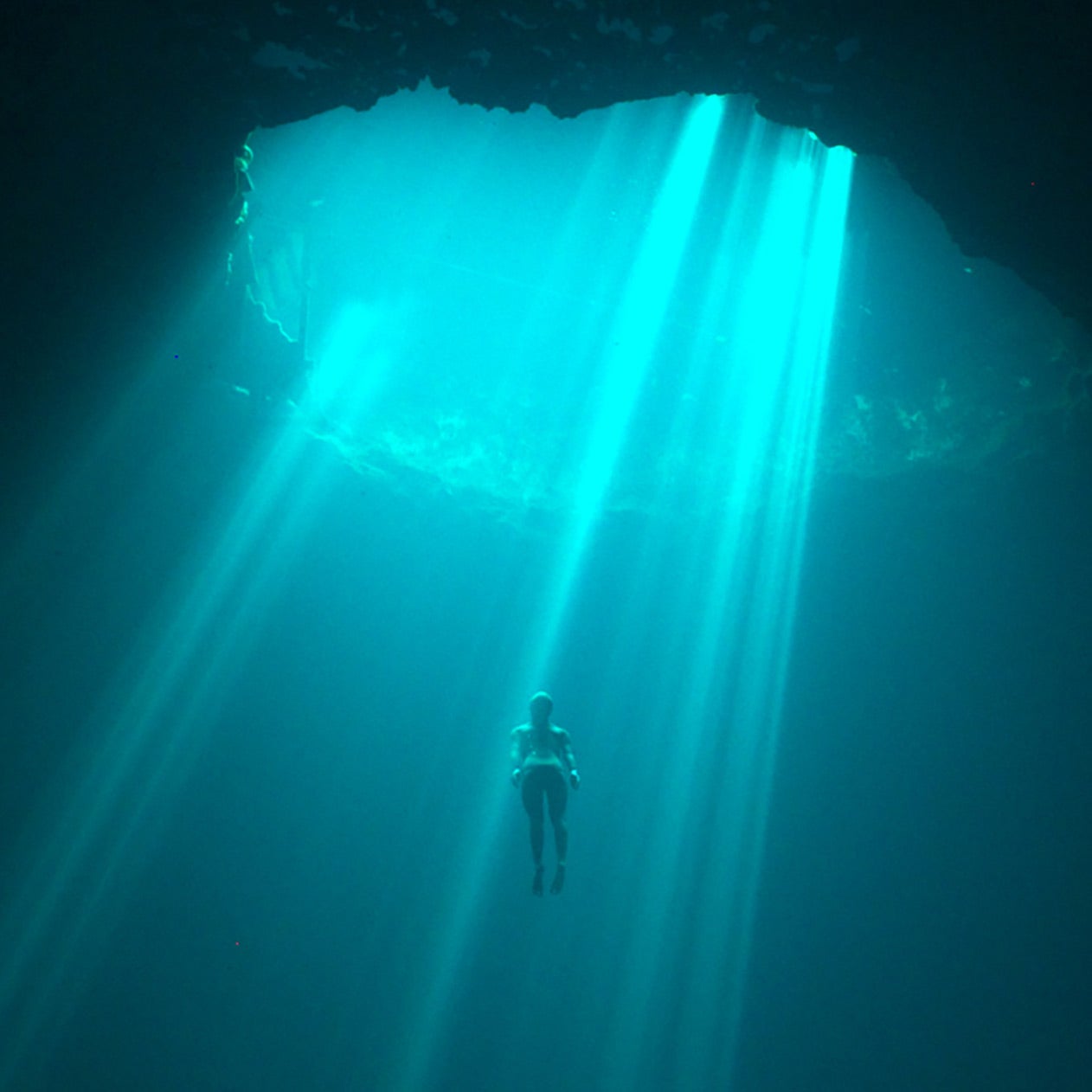 Heading out the door? Read this article on the new Outside+ app available now on iOS devices for members! Download the app.
We're living in a gilded age of adventure filmmaking, and thanks to gizmos like flying drones and undersea cameras, couch potatoes like myself can view the most heart-stopping moments in outdoor sports in gleaming high-definition. In recent years I've watched mountaineers trudge below the skyscraper-sized ice serac on K2, surfers shred 80-foot swells off the Portuguese coast, and kayakers bob down Tibet's raging Yarlung Tsangpo river like twigs in a brook. From the safety of my sofa, I've often gazed at these dangerous moments caught on film and thought: boy, I'd love to be able to do that!  
I had no such reaction while watching the latest film to enter the adventure oeuvre: Netflix's new documentary The Deepest Breath, which is now streaming. The film takes viewers inside the dangerous world of competitive freediving, where divers descend to the dark depths of the open ocean while holding their breath and then attempting to swim to the surface.
The Deepest Breath shows in gut-wrenching detail what happens when things go horribly wrong. Underwater cameras show divers swimming upwards, only to black out from oxygen deprivation before reaching the surface. These moments trigger a frantic reaction from life-saving personnel: safety divers grab the stricken athlete's neck, seal off their nasal passages, yank them out of the water, and then begin performing CPR. The athlete, meanwhile, is limp and lifeless, with bugged-out eyes and blue lips. After a few moments, they jolt awake and begin coughing.
Scenes like this play out again and again in The Deepest Breath. The message is clear: near-death blackouts are as common in freediving as sprained ankles are in marathoning.
I'll be honest: these video clips now fuel my nightmares. After watching The Deepest Breath, I can say without any hesitation that I'd sooner attempt K2 in a pair of Tevas or paddle out at Nazaré on a boogie board than ever try my hand at freediving. While the film may not be a shining endorsement of the sport, it is still a very compelling watch. I would recommend it to anyone who can stomach repeated scenes of people appearing to drown before being resuscitated.
Spoilers ahead! There's a love story and tragedy at the heart of The Deepest Breath, one that Outside reported on in 2017. The film chronicles the lives of popular divers Stephen Keenan of Ireland and Alessia Zecchini of Italy—the latter is a freediving prodigy, world champion, and world record-holder (she dove to 358 feet on March 27, 2023). By age 14, Zecchini was already toppling breath-holding records in the swimming pool, and by 18 she had become freediving's undisputed up-and-coming star. Keenan, meanwhile, discovered the sport after spending his twenties as a rudderless globetrotter. After becoming a SCUBA instructor in the freediving hotbed of Dahab, Egypt, Keenan blossomed into a safety diver on the sport's international circuit.
Irish filmmaker Laura McGann weaves their respective narratives together with detailed archival footage from the early parts of their lives. Along the way, McGann pulls the curtain back on the sport and its competitive nuances. Freedivers propel themselves downward for the first 90 feet or so before the ocean takes over and sucks them into the dark depths at high speed. After reaching a platform set at a prescribed depth, a diver snatches a token from the platform and begins swimming toward the surface. Once they emerge, a team of judges examines the diver's health to determine if the attempt is good. A blacked-out diver is disqualified.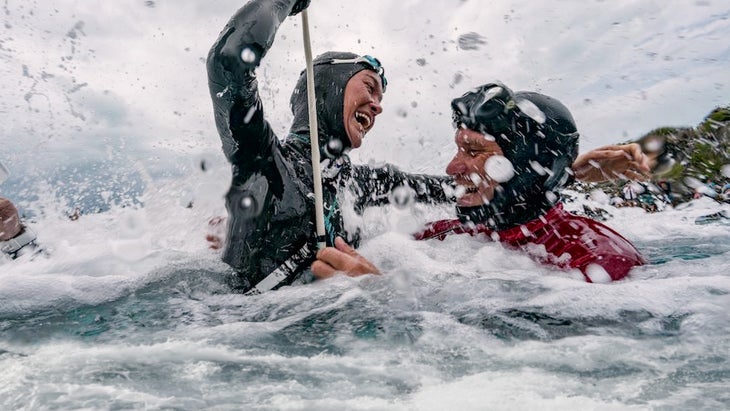 Kudos to McGann and her fancy, high-definition waterproof cameras for capturing freediving's eerily beautiful field of play. From 50 feet below, the surface appears emerald, the depths purple. The camera makes a free dive look both exhilarating and claustrophobic—like flying blind through a moonless sky.
Top competitors play mind games with one another—they only announce the depth of their forthcoming dive shortly before the descent to keep competitors from scheduling deeper attempts. The sport is a constant game of one-upmanship. Divers are constantly trying to push the limits of their bodies to see who can go deeper. In this fanatical push to push the limits, athletes often find their physical barriers in tragic ways.
You see, those repeated submersions have a grim impact on the human body. During a freedive, the ocean's pressure squeezes a diver's lungs down to the size of a lemon—repeated dives can crush and tear the organ apart, causing bleeding, irreparable damage, and even death. That's not the only danger. Divers sometimes get pushed off course by the current and become disoriented. This is what likely killed the sport's most decorated female champion, Russian diver Natalia Molchanova, who vanished off the coast of Ibiza in 2015 at age 53.
The message at the heart of The Deepest Breath seems to be that a freediver's pursuit of the sport is a one-way ticket to an early and watery grave. Tragedy is central to the the film and its two central characters. After meeting on the freediving scene and beginning a short courtship, Zecchini travels to Dahab to train with Keenan. She also wants to dive Dahab's infamous Blue Hole, an undersea cavern that supports a submerged arch, that only the best divers can swim through without running out of air.
The filmmaker captures the fateful events of Zecchini's attempt. She descends into the Blue Hole, finds the arch, and attempts to swim through it, but then becomes disoriented and runs out of air. Keenan, meanwhile, swims down to her, grabs her hands, and hauls her weakening body upward. The effort saves Zecchini's life, but it costs Keenan his.
Keenan went missing during the dive, and swimmers found his dead body floating at the surface a short time later. The footage shows his heroic effort.
I absolutely teared up during the film's conclusion, which features Zecchini on camera retelling the tragedy. In this way, The Deepest Breath is similar to other excellent contemporary projects in adventure filmmaking. The best footage captures emotion and heart. And you don't need a flying drone or an expensive waterproof camera for that.
Trending on Outside Online