The Outside Literary All-Stars
Heading out the door? Read this article on the new Outside+ app available now on iOS devices for members! Download the app.
Jon Krakauer survives Everest; Sebastian Junger gets lost in the desert, Hampton Sides has a chat with Lance Armstrong; Ian Frazier profiles the world's wiliest mushroom hunter; Mark Jenkins does it The Hard Way; Tim Cahill travels with bandits; Bruce Barcott tracks a Native American artifacts smuggler, Kevin Fedarko spends two months at the world's highest battleground. Reach into the archives and revisit ten years of Outside's a-list hard at work in the far reaches of the world. Just don't get lost in here.
Bruce Barcott
The Killing Bones
Eric Rudolph Slept Here
Last Flight Out
Bill Bryson
The (Seriously, Truly, Very) Fatal Shore
You Gotta Have Friends. Which is Damned Unfortunate.
Tim Cahill
Everybody Loves the Assassins
Life's a Wild Trip, Floating the Mighty Free and Easy
Giants in the Earth
Daniel Coyle
The First Law of Gravity
Balloonatics Speed
Kevin Fedarko
The Coldest War
The House of Rock
The Mountain of Mountains
Ian Frazier
Crunch Time
Things That Go Bump in the Wild
Terminal Ice
It's Hard to Eat Just One
Bill Gifford
Racing for the Hell of It
Mountain Grown
Gate Crasher
Mark Jenkins
The Hard Way
The Ghost Road
Switzerland: The Haute Route
The Unguided Route
Sebastian Junger
The Whale Hunters
See You in Six Months: Falling off the Edge
Going to the Source
Garrison Keillor
Sin in the Wild Outdoors: Envy
Boots That Fight Cool-Guy Conformity
Peter Matthiesson
Footprints in the Last Wild Place
Burning Bright
Susan Orlean
It Sweats. It Oozes. It's Crazy with Life
Bob Shacochis
Code Orange
Kingdoms in the Air
Near Wild Heaven
Hampton Sides
Six-Shooter
Beastmaster
The Birdman Drops In
Jane Smiley
What Scares Me
River Impossible
Rob Story
Climb Every Mole Hill
The Gulch Club
Life Isn't Fair
Patrick Symmes
River Impossible
Blood Wood
The Ghost of Shipwrecks Future
Bill Vaughn
To Hell and Back
Birds on a Wire
Montana, The Dry Run
Brad Wetzler
Ski Naked
Reinhold Don't Care What You Think
Is Just Like Amerika!
Randy Wayne White
Without a Trace
Cursed
Bruce Barcott
Seattle-based Contributing Editor Bruce Barcott isn't afraid to get dirty in order to find a good story. In his October 2004 piece for Outside about amateur archeologist, Jack Harelson, entitled "The Killing Bones," he was forced to explored a cave and found himself elbows deep in bat guano. Barcott is the author of The Measure of a Mountain: Beauty and Terror on Mount Rainier. His articles on environmentalism and the outdoor world have appeared in the New York Times Magazine, Harper's, Mother Jones, Sports Illustrated, and Legal Affairs. He's married to fellow writer Claire Dederer. The couple have two children.
The Killing Bones
The thriving criminal trade in Native American archaeological artifacts always seems to be one step ahead of law enforcement. But when cops learned that a notorious Oregon antiquities collector had graduated from grave robbing to ordering up a contract murder, their macabre sting operation exposed the dark side of digging up the past.
Eric Rudolph Slept Here
The most wanted man in America survived five years in the North Carolina woods, eating salamanders, sleeping on the cold ground, and stalking deer. Or so he says. Spend a night in his secret mountain hideaway and you get the feeling there's more to this story.
Last Flight Out
The Macal River Valley in Belize is home to three-toed tapirs, elusive jaguars, and a rare subspecies of scarlet macaw. But if Belize Electricity Ltd. gets its way, one of the richest riparian habitats north of the Amazon will disappear beneath the waters of a controversial hydroelectric dam. So who's gonna get zapped?
It's Weird Out There
From Sasquatch to the Mothman, our writer takes on the supernatural
"Sasquatch Is Real!"
Forest Love Slaves Tell All
WARNING: This Article Is About Million-Dollar Lawsuits Prompted by Accidents, Injury, and Death in the Outdoors…
Soaked
It sounded like a good idea at the time: Journey to the sopping epicenter of the wettest place on earth, bag the peak, and get back in time for supper. But that was before the clouds clamped down on Mount Waialeale. Before the jungle closed in and the map became irrelevant. Before the machete-wielding, pig-hunting swamp guide said, "Would be so easy to get lost back there, brah."
Everest Profile: The Toddfather
The most imposing figure on Everest has been told to stay home. But don't count Henry Todd out yet.
Athletes
Dog is My Copilot
For God So Loved the World
Call them God's Greens. Armed with Scripture and a righteous respect for nature, a host of religious groups have taken up the environmental fight and are waging holy war on behalf of an embattled creation. But, critics ask, is this a truly divine cause-or the devil's work?
Snoop: The Secret Life and Prying Times of Barry Clausen
The Secret Life of Guides
every guide's life comes a time when the best laid plans go wrong in the worst possible way. It's a moment every veteran guide has already faced, or has been preparing for over many years. It is his baseline jump shot at the buzzer, his three-two heater in the bottom of the ninth. The only difference is, if he fumbles or freezes, people may die.
The Height of Perfection.
Alex Lowe's genius was his style and spirit
The Hunting of the Poacher King
Deep in Oregon's Umpqua River territory, houndsman Ray Hillsman was bad news for bears, hunting them with dogs, killing hundreds, and selling their gallbaldders on the black market. Then one day Ray opened his mouth in front of the wrong man-and that was the beginning of the end of the poacher king.
Line of Ascent
On a breeding ground for greatness, wisdom comes one humble step at a time
Love and Death and the Leviathan's Lair
At first glance, the fight seems both easy and familiar. Baby whales, good. Rapacious multinational conglomerate, bad. But on a scouting trip among the gigantic grays of Mexico's Laguna San Ignacio, only one thing is quite clear: sometimes being green is not all black-and-white.
Blow Up
Swing a hammer, light a fuse, and let the dams come tumbling down. So goes the cry these days on American rivers, where vandals of every stripe—enviros and fishermen and interior secretaries, among others—wage battle to uncork the nation's bound-up waters.
Bill Bryson
Bill Bryson hiked only 870 miles of the 2,174-mile Appalachian Trail to write his oddball account of the ordeal, A Walk in the Woods, but his many misadventures made up for all the missed miles. Bryson, born in Des Moines, Iowa in 1951, transplanted himself to England in 1977 where he wrote for the British newspapers, The Times and The Independent. He stayed abroad for 20 years, marrying an English woman and raising a family in the countryside of North Yorkshire before deciding to move back to America in the 1990s. Before leaving England, he made a final trip through his adopted country to write Notes from a Small Island (1996), a hilarious compilation of the oddities of English life. Since 1989, Bryson has been winning American fans to the ironic British humor he absorbed during his overseas tenure as a journalist. Bryson's first travel book, The Lost Continent, (1989) recounted his journey through the small-town America of 38 states in his mother's aging Chevy. Bryson has written several more travel books about America and Australia, as well as explorations of the how the English language is (mis)spoken. His latest book, A Short History of Nearly Everything, (2003) is an ambitious undertaking, charting the history of the universe from the first burp of the Big Bang to the modern age-a project motivated by his own curiosity. Despite Bryson's less-than-serious approach to the outdoors, A Walk in the Woods is considered required reading for any potential AT thru-hikers. His constant concern with bears and the travails of his overweight hiking companion, Stephen Katz, who pitched most of their gear over a cliff during the first week, provide plenty of fuel for Bryson's underhanded style of humor. The British newspaper, The Times, warned that his book "[should not] be read in public, for fear of emitting loud snorts." In addition to writing, he edited The Best American Travel Writing 2000. Bryson currently lives in Hanover, New Hampshire, with his wife and four children.
The (Seriously, Truly, Very) Fatal Shore
Australia's full of things waiting to sting, prong, chomp, drown, or lay you out with a toxic nip. People go missing there all the time. But the beer is cold. The sun mostly shines. And the author figures if he can remember to never leave the asphalt, he just might make it back alive.
You Gotta Have Friends. Which is Damned Unfortunate.
Tackling the Appalachian Trail on a whim would require a few essentials. I realized, foremost among them a boon companion. What I got was Katz.
Tim Cahill
Editor at Large Tim Cahill is a founding editor of Outside and for years wrote the "Out There" column. The travel adventure writer knows no limits when it comes to picking his assignments: he's gotten up-close with great white sharks, sailed in 30-below-zero Antarctic weather, and trekked through Death Valley on a grueling summer day. Cahill's books include Road Fever, Jaguars Ripped My Flesh, and A Wolverine Is Eating My Leg. His work has appeared in Esquire, National Geographic Adventure, the New York Times Book Review, and other national publications. He won a National Magazine Award in 2003, the same year he received a Lowell Thomas Gold Award from the Society of American Travel Writers. He also co-authored the Academy Award nominated documentary, The Living Sea. Cahill lives in Montana, in the shadow of the Crazy Mountains.
Everybody Loves the Assassins
Set loose in the land that invented terrorism ten centuries ago, Tim Cahill finds crumbling castles, legends of hash-smoking hit men, and Iranians who won't stop being nice. You call this the axis of evil?
Life's a Wild Trip
Exotic Places Made Me Do It
Floating the Mighty Free and Easy
A Flotilla of Stouthearted Men and Women Confronts Hissing Snakes, Weird Rocks, Flat Water, and the Greatest Mud in the West; or, What I did on My Summer Vacation
Excuse Me Waiter, But Is That a Penis in My Wine?
Deck: After being forced to stomach snake-blood cocktails and rooster-head soup, one afflicted traveler discovers that revenge is a dish best served by Norwegians
World Without End, Amen
When you're baffled by bad beginnings, stymied by the unteachable, and running from impending doom, you'd better head for the hills
Giants in the Earth
Times were good in Castle, with full employment and a booming economy. But it only took 72 hours to send prosperity down Main Street and into oblivion.
Murder Most Fish
They call him Flipperùbut America's newspaper of record calls him a warm-blooded Ripper. Our man investigates.
Terror Unlimited
You have nothing to fear except falling, suffocating, heart failure, personal extinction, and, of course, fear itself
A Lethal Dose of Salvation
Plutonium was born to kill at the Hanford Site, but its birthplace gave life to a perfect stretch of river
This Teeming Ark
Expelled from their forested Eden, man and beast drift downriver under the spell of a charming, unreliable deity
Butch Cassidy Meets the Penguin
A comic tale, right? Not in Patagonia, where legends die hard.
Gallumphing Towards Punta Norte
Random thoughts of violence from our man in Argentina
The Entranced Duck Always Gets the Laugh
Adrift in Bali, quacking against the current of time
What About Atlatl Bob?
He's named for a Stone Age weapon. He may be nuts as a bunny. But sometimes it's nice to have a Neanderthal at your side.
Ode to a Buck-Naked Cowboy
Is there poetry—or adventure—to be found among the silver sage, flat tires, and unlikely characters of the Black Rock Desert? Maybe.
Shed His Grace on Me
A bit of praise for life's wonders. Like forgiveness, redemption, and canine flatulence
Here, Sharky, Sharky
n the seas off South Africa's Dyer Island, shark mania and risk adventure have combined with a vengeance. For a few bucks, one of a gang of ill-qualified, ill-equipped dive operators will drop you into the most dangerous water on earth. Problem is, no one's promising to get you safely back.
Out There: Lord of the Flies
And the bees and the wasps and all the other biting bastards that walk upon the earth
Out There: Getting Up Again
What you do when the bottom drops out of your world
Out There: One Hundred Yards of Solitude
The truly personal places are where you decide to find them. So ignore that speeding ferry.
Out There: Matchmaker, Matchmaker, Make Me a Pot
In Maya Ortiz, achieving the good life requires a guy like Rick, bachelor and entrepreneur
Out There: The Platypus Prophecy
Stumbling through the Australian night and, God help him, straight into the Meaning of Life
Out There: OK Gorillas, No Belching During the Pledge of Allegiance
Bringing a little jungle indoors, to a fresh generation of primatologists
Out There: I Have a Scheme
Attention charlatans, con men, mountebanks, and swindlers: Here's Tim!
Forbidden
It had been said that no outsider would ever see the legendary salt mines of Mali and live to describe them; ever slip into the Caravan of White Gold, evade the slaughtering bandits, suffer the killing storms, and lay eyes upon the nightmarish landscape of 1,000 pits gouged by hand from the Saharan plain. Phooey.
A Good Hair Week in Mongolia
After years of government oppression, the country that gave us Genghis Khan, the Attilla the Hun Show, and possibly the first Americans is rolling out the welcome mat. On an archaeological tress-hunt in the land of beneficent horsemen.
A Darkness on the River
What the son found in the Peruvian jungle was a terrible truth. What his father found there months later was a way to begin again.
The Zen of Apnea, the Ennui of Chub
Breathlessly beside myself at the world spearfishing championships
Cowboy Nation: King of the Yee-Hah
He knows everything there is to know about life in the saddle. Catch him at a 100-mph gallop, and he'll tell you all about it.
Cowboy Nation: The Song Man: Sagebrush Troubadour
Every culture has its musical spokesman. For cowpeople, it's Ian Tyson.
Daniel Coyle
Contributing Editor Daniel Coyle began his career with Outside as an intern in 1989 and graduated to Senior Editor before leaving the ranks to pursue a career as a full time writer. He's the author of Hardball: A Season in the Projects, which Sporting News named book of the year in 1994 and more recently, he penned the novel Waking Samuel, about a nurse who works on a coma patient ward. Coyle has been honored twice with National Magazine Award Nominations for his work in Outside. In 1998, he was nominated for a NMA for feature writing for his profile of Joseph Hazelwood and the Exxon Valdez disaster, entitled "The Captain Went Down with the Ship," and again in 2003 for his profile on snowboarder Roger Carver, called, "Boy Wonder." Coyle is currently working on a book tentatively titled Armstrong's War: An Epic Obsession, a Furious Will to Win about Lance Armstrong's pursuit of a sixth consecutive Tour de France title, slated for release in June, 2005. He lives in Homer, Alaska, with his wife Jen and their four kids.
The Agony Is the Ecstasy
Hideous crashes? Shattered bones? Tyler Hamilton smiles through it all-which is just what he needs to beat you-know-who.
Peerless
In the Church of the Moment, that swaggering and sacred place just beyond the steep couloirs of Whistler, the congregation knows no fear. Save for that silent penitent in the corner, who knows it well, honors it wisely, and then beats the living devil out of it.
The First Law of Gravity
Namely, that that which rises must eventually fall. A law that even the king of the Alaskan bush pilots probably can't ignore forever.
One-Man Towns, Eight Paved Highways, 129 Million Acres of Forest. Alaska? Naturally.
Kayaking in Wood-Tikchik State Park
Better Environmentalism Through Killing
Ted Nugent, seventies rock relic, loves the wild outdoors. Loves to seek out the earth's creatures, large and small, and shoot them. Loves that he could be the conservation movement's most valuable ally. Which is to say, he loves irony.
Balloonatics
They're swashbuckling billionaires and absent-minded dreamers, all chasing one of the last great adventures: 25,000 miles around the globe by jet stream and Icarian wing. No stopping, no sploshing.
Speed
They are human bullets. Their world is defined by 100-meter lengths of track. Their goal? To run as fast as a body can. Then faster.
Are You Trying to Seduce Me, Mrs. Chenoweth?
To fall under the spell of the conservative right's dusky siren, to entertain her environmentally suspect vision, well, nothing seemed more unlikely. Then she – belipsticked, besilked, beguiling – entered the room.
Tony Little Saves Tonga
Tony Little (I'm the World's Number One Personal Trainer!) travels to Tonga (it's a monarchy, right? you just stop the fatty food from coming in!) and whips the island nation into shape (holy shit, these people are huge!)
The Captain Went Down with the Ship
PREMISE ONE: Eight years ago a drunk Joe Hazelwood piloted the Exxon Valdez into a reef. PREMISE TWO: Eight years ago Joe Hazelwood martyred himself out of pride. RESOLUTION ONE: After much suffering and introspection, Joe Hazelwood has found peace. RESOLUTION TWO: He's resolved absolutely nothing.
The High Cost of Being David Brower
He rescued some of the West's hallowed lands. He became one of the most influential environmental leaders of the century. In the process, he sacrificed friends, family, and anyone who couldn't keep up. Now, alone in the twilight, how does the archdruid make peace with it all?
Kevin Fedarko
Kevin Fedarko is a former Senior editor at Outside. Since turning exclusively to writing, he's learned a thing or two about reporting from high altitudes. In 2003, Outside sent Fedarko to report on the highest battleground on earth-the 21,000-foot peaks above the Siachen Glacier where the India/Pakistan feud is at its worst. In April, Outside sent him climbing again, this time in Jackson, Wyoming, to shadow elite Exum climber Chris Morris. Fedarko lives in Santa Fe, New Mexico.
The Coldest War
High in the Karakoram, the stubborn armies of India and Pakistan have faced off for 19 years on the Siachen Glacier, the world's highest battleground and a flash point in the deadly dispute over Kashmir. In this exclusive report, an American writer and photographer spend two months inside the ultimate no-man's-land, witnessing the human and environmental devastation of a conflict without end.
The House of Rock
Help Wanted: Exum Mountain Guides, the country's premier climbing service, is looking for supremely talented alpinists with world-class résumés for seasonal work in the Tetons. Must be willing to follow in the footsteps of legends. If qualified, don't bother calling. We'll find you.
The Mountain of Mountains
How do you crack the code to K2, the darkest, deadliest peak on the planet? If you're a climber, have the courage to accept that you're bound to fail, and the wisdom to know that failure has its own rewards.
In the Valley of Shadow
Surrounded by a staggering array of hazardous waste, toxic emissions, chemical pollutants, and lethal military experimentation, the Goshute tribe of Utah decided to do the logical thing and offer up its reservation as a dump for 40,000 metric tons of highly radioactive nuclear fuel. The neighbors are very upset.
Ian Frazier
Contributing Editor Ian Frazier's books including On the Rez, Great Plains, Coyote v. Acme, and most recently, Fish's Eye. The former New Yorker staff writer grew up in Ohio and in 1977 graduated from Harvard, where he wrote for the Lampoon. Frazier's work has also appeared in The Atlantic, The Washington Post Magazine, and other publications. He lives in Montclair, New Jersey.
Outside's Guilty Pleasures
Crunch Time: When critters are getting eaten, I'll be there
Things That Go Bump in the Wild
Sure, the wilderness is beautiful. But it can also frighten you out of your mind.
Terminal Ice
Hot enough for you? Yeah, us too. Go to the bottom of the planet-or the top-and you can't miss the warning signs of a warm apocalypse. And at the heart of the mystery, like broken shards of a colder climate, float the icebergs, ghost-white messengers trying to tell us something we can't quite fathom.
It's Hard to Eat Just One
A brief and crunchy defense of entomophagy
Keeping America's Trees Safe From Small-Curd Bubble Wrap
Down the postflood Mississippi, beating the bushes for the mother lode of trash
The Hard Sell – On New York City
The Ideas Toward a Larger Life
The List
The Indoor Guy
Idea of myself as a person who never came inside….
Catching Monsters After Dark
Sometimes you just have to escape into the night, where unpredictable rendezvous and things that bite await you
"Trust Me. In These Parts, Hot Dogs Actually Repel Bears."
Let us now celebrate one of our most bountiful outdoor resources: bad advice. And if you listen carefully and act right away, it's absolutely free!
Our Business is People. Well, People and Trout.
Actually, People and Trout and Some Ancillary High-Margin Items Like Neoprene Waders and Midges and the Like, Because, You Know, That's Where the Real Profits Are. Welcome to Pools and Riffles outfitters, where the guides are as unique as the service.
Does the Mushroom Love Its Plucker?
Or does it loathe that enraptured human touch? An earthy tale of fungal romance, fully consummated.
A Lovely Sort of Lower Purpose
In praise of doing nothing. To wit: No racing, no exceeding, no catch-and-releasing. Just time-tested fooling around
I See a Little Silhouetto of a Man, (SCARAMOUCHE, SCARAMOUCHE, Will you do the FANDANGO?)
And other lofty ideas that pop into one's head and refuse to leave
 
Bill Gifford
A native of Washington, D.C., Outside Correspondent Bill Gifford learned to love the outdoors while an undergraduate at Dartmouth College. He has been writing for Outside since 1990, and his work has appeared in Rolling Stone, Bicycling, Men's Health, The Washington Post, Men's Journal, and Slate. In 1991 he was nominated for a Personal Service National Magazine Award, along with the editors of Outside for "Inside the Environmental Groups" featured in the September 1990 issue. He lives in Mount Gretna, Pennsylvania.
Racing for the Hell of It
Nothing comes easy for the riders of the TOUR DU FASO, West Africa's tortuous answer to the Tour de France. Their bikes are beaters, the heat is infernal, la dysenterie is inevitable, and every year the locals get shown up by European interlopers looking to find an exotic thrill. But for Jérémie Ouedraogo and his teammates-proud citizens of the fourth-poorest country on earth-the only way out is to break away.
Mountain Grown
Victor Hugo Peña grinds for U.S. Postal and Lance, but make no mistake: Ultimately he pedals for the pride of his country, the violent and tumultuous Andean nation of Colombia
Gate Crasher
Bode Miller has everything you could want in a World Cup ski racer. He's fast, fearless, and frequently out of control. He can drink like a sailor and swear like a snowboarder, and he's got the talent to take it all from those grim Austrian cyborgs. Most amazing, he's American. Can we make this guy a hero already?
Is This Any Way to Make a Living?
With $100,000 for the winners, the world's most relentless teams, and a 138,000-vertical-foot Rocky Mountain course, the Subaru Primal Quest seemed poised to give big-time adventure racing a smashing return to U.S. soil. But then the race began-and all hell broke loose. A front-line report from the wildest, bumpiest game in the wilderness.
 
Mark Jenkins/The Hard Way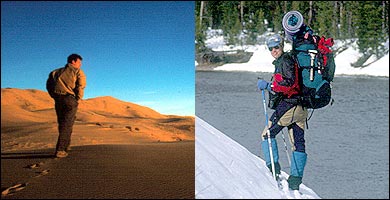 Outside Reconnaissance Agent Mark Jenkins is a critically acclaimed author, internationally recognized adventurer and columnist for Outside. For the past six years, Jenkins' column, "The Hard Way," has explored the meaning and joy of the physical outdoor life. From clandestine journeys across Tibet to mountaineering in Bolivia to sea kayaking around Turkey's Gallipoli peninsula to canyoneering in Australia, Jenkins covers the globe in search of adventure, history and human understanding. He is the author of three award-winning books: The Hard Way, To Timbuktu, and Off the Map. Jenkins lives in Laramie, Wyoming, with his wife, Sue Ibarra, and two daughters, Addi and Teal. Check out Mark Jenkins' own The Hard Way page at www.thehardway.com
FEATURES
Dream Bandit
Under cover of night, a light-fingered phantom made of memory and shadow duels with a watchful sentry who's not about to become a victim again
The Good Company of the Dead
The discovery of George Mallory's broken body on the north face of Everest inspires a reexploration of the brilliant climber's poetic soul
Hallelujah, I'm a Fool
The adventurer's antidote to quiet desperation requires a suitably insane plan, a little crazy abandon, and a flair for making-or stumbling into-your own dumb luck
To Hell with Me
Looking for answers in "a place of unquenchable fire," where the blind seer is open for business but the gift shop closes at half past two
The Ghost Road
Winding a thousand miles from India to China, the Burma Road was built to defend China in World War II, but the atomic bomb made it irrelevant and the jungle reclaimed it. Mark Jenkins vowed to do what no one had done for nearly 60 years-travel the entire Burma Road-and discovered the madness of present-day Myanmar.
Switzerland: The Haute Route
Watch your step on this spectacular journey through the Alps, or you just might fall off the edge.
The Unguided Route
Awhile back I was on a travel panel in Berkeley with Richard Bangs, author, adventurer, and founder of Sobek, one of the first and most successful adventure-travel outfitters…
Are We Not Men?
Give it up, cut it out, travel light – because nobody wants to be a pack mule.
THE HARD WAY
The Blowhard Way
Do you lie awake at night worrying that everything you know is wrong? You need what this guy is selling!
Goodnight Sweet Prince
Antoine de Saint-Exupéry spent his life defying and outflying death. Then it caught up.
Captain Retro
Is time traveler Tim Severin the greatest living explorer? Probably-but you'll never get him to admit it.
Aerial Maneuvers
Pilot an ultralight and what do you get? A bird's-eye view of the world and a dose of the maverick spirit of flying.
Freewheeling
Welcome to Ghana, where commuting is a nightmare-and optimism is a bright-yellow bike of one's own
Leap Year
Travel is one thing. But uprooting your family and moving abroad is a much deeper plunge into adventure.
Fire and Ice
A journey to the cradle of climbing reveals a strange new alpine environment, where glaciers are melting, mountains are falling, and nothing is as it was
Head Trip
Sometimes the toughest climb is out of your mind and into your own animal skin
Aron Ralston – Between a Rock and the Hardest Place
What happens when a solitary day hike turns into the ultimate test of survival?
Hot on the Trail
Australia's first great adventure was part Lewis and Clark, part Donner Party-searing proof that fame is a four-letter word
Misery Loves Company
In 24-hour mountain-bike races, riders bond over singletrack and sleep deprivation. What's not to like?
Beyond Belief
In Bhutan's pristine alpine sanctuary, even a heathen climber can see the light
Up the Creek
Canoeing the jungles of South America, where freedom is a family affair
Learning Curves
The process is the point. But just try telling that to your younger, untutored, world-conquering self.
Unbroken Chain
Every adventurer knows those magical moments when it all flows-and those wretched times when it won't
I Know Where I'm Going
On getting lost, GPS, and a farewell to maps
The Stone Mirage
For two credulous seekers, dreaming of the lost big-wall treasure of the Sierra Madre Occidental is better than the real thing
Suffering a Sea Change
Who knows best the cost of rowing solo across the Atlantic? She who finishes last.
Split Decisions
When the weather turns ugly and conditions get rough, every mountaineer must make the ultimate choice: storm the summit, or call it quits.
A Modest Proposal
Looking for adventure? It's right outside your door.
Winter to the Corps
The marines' mountain warfare training center is the ultimate test for some of the world's toughest troops: a make-it-or-leave regimen of backcountry ski combat, torturous night maneuvers, and deadly cold. Any volunteers?
Seismic Shift
He was packing for a trek through roughest Afghanistan when the world shook. Sometimes adventure has to wait.
King of the Dirtbags
Going core with Yvon Chouinard-leery capitalist, walking contradiction
That's Entertainment
Scenes from the Gorge Games, and looking for the new face of adventure
World of Hurt
Injury, pain, the psychology of recovery, and getting back on the trail
Better Shape Up
Once a nation of adventure-athletes, America is getting fatter by the day.
Temple of Zoom
A speed ascent of a Grand Canyon spire proves that light is right
Bleeding Hearts
Of baboon lust, ibex ballets, and the necessity of the African wolf.
The Universal Guide to Hitchhiking
Time was, you could crisscross America with nothing but a rucksack and a thumb. You still can, if you know how.
The Hard Way
Halfway up Ben Nevis, splayed against hollow ice like a cat clinging to a curtain blown out the window of a skyscraper, I realize that falling is out of the question.
Spin the Globe and Go
Why travel to remote places? Why bother with the hassle, the expense, the danger? Because it's actually cheap, intoxicating, and easy.
Voyage Between the Wars
Some peaceful recreation on a journey from Gallipoli to Troy, where the echoes of war never die
Companions in Misery
A cold mountain, a mismatched pair, and a meditation on the strange chemistry of partnership
Breathless Heights
If you want to get high, there's still a price to be paid for invading the towering ranges-despite some newfangled shortcuts
Give 'Em Enough Rope
Has this tired old world been explored-out? Not Down Under, where uncharted, bottomless slot canyons hide just west of Sydney.
Testosterone Alfresco
Once a year, the adventurous Jenkins boys will be boys, reforging the bonds of brotherly affection by nearly killing themselves
The Shaggy Tremendous Shape
An outsized wilderness lives on in mythic dreams and salvaged hope
Instant Karma
Take three travelers, a nation of Buddhists, and one unfortunate rodent. Add a forbidden journey and a dark childhood secret, and you could have the time of your lives.
Tombstone White
The treacherous history of the Matterhorn can be read in books and snowy graveyards, but to write it you've got to survive it
Crossing to Safety
From beginning to middle to end and back again, one adventure leads to another. So hold tight-it's a long ride
Truth or Consequences
Does wildnerness therapy help troubled kids? After a gang of teenagers staged a violent mutiny in the badlands of Utah, we joined the search for answers.
Confessions of a Solo Climber
A partner drops out, one thing leads to another, and suddenly our hero finds that peer pressure has him fighting for his life
An Un-American Activity
What gets the equivalent of 1,000 miles per gallon, doesn't pollute, will save the world, and transports you in breezy style? Your bike
First and Last Ascents
The rules (there are only three of them) remain the same for a lifetime, and they come from the mouths of babes
A Storm in the Distance
The come-on: Grab two hours of challenging fun and fast adventure. But when a dark wall of water swept away lives and reputations, the question became: Why?
Burma or Bust
A half-mad dash to Hkakabo Razi seemed like a good idea at the time. And hey, how tough can it be to sneak past the Chinese Army?
Sebastian Junger
Sebastian Junger is fascinated with "extreme situations and people at the edges of things," and his expertise in covering dangerous work across the globe has garnered him the National Magazine Award for Reporting. The author of The Perfect Storm and Fire, Junger has traveled the world in his pursuit of covering life on the edge. He's worked as a special correspondent in Afghanistan, reported on the LURD besiegement of Monrovia in Liberia, human rights abuses in Sierra Leone, war crimes in Kosovo, the peacekeeping mission in Cypress, wildfire in the American West, guerilla war in Afghanistan, and hostage-taking in Kashmir. He has also worked as a freelance radio correspondent during the war in Bosnia. Junger is a native New Englander and a graduate of Wesleyan University. After a chainsaw injury he suffered while working as a high-climber for tree-removal companies, Junger switched gears to focus on journalism, primarily writing about people with dangerous jobs, from fire fighting to offshore drilling to commercial fishing, which led to his 1994 feature in Outside entitled, "The Storm," which led to the international best seller The Perfect Storm.
The Whale Hunters
The world wants them to stop, but it's the trade of their grandfathers. With a harpoon and their wits, they ply the waters of the Caribbean in search of their 40-ton prey. And when they're gone, it all goes with them.
See You in Six Months: Falling off the Edge
A day's walk into the Moroccan Desert, Sebastian Junger confronts a dizzying temptation.
Going to the Source
He was almost everything a 14-year-old boy thought he wanted to become
Garrison Keilor
A fixture of Midwestern wit and humor for over 30 years, Garrison Keillor has contributed articles to Outside on the virtues of warm boots and the appeal of the outdoor life. Born in Anoka, Minnesota, in 1942 and a graduate of the University of Minnesota, Keillor has spent most of his professional life on the radio. His live music and drama show, "A Prairie Home Companion," celebrated its 30th anniversary in 2004, and is heard by four million listeners each Saturday night on over 558 public radio stations. Keillor is the author of numerous novels and essays that draw heavily from his Midwestern roots, including his most recent book on politics, Homegrown Democrat (2004). He also writes regularly for Time, Salon.com, and The New Yorker, where he began his writing career in the mid-1970s. Keillor is most famous for stories about his fictionalized Minnesota hometown, Lake Woebegon, whose residents embody America's quirky rural values. At the conclusion of each broadcast of "A Prairie Home Companion," Keillor launches into the "News from Lake Woebegon," a rambling monologue on the lives of the town's stoic, phlegmatic families that regular listeners know like their neighbors.
Sin in the Great Outdoors
Envy
Boots That Fight Cool-Guy Conformity
A new pair of Sorels is for clomping and surviving and kicking stupid people, says our man from Minnesota
Jon Krakauer
Journalist Jon Krakauer is most widely known for Into Thin Air, his account of the 1996 Mount Everest disaster. Born in Crovallis, Oregon, Krakauer graduated from Hampshire College and then spent his time as a carpenter and commercial salmon fisherman in locales such as Colorado and Alaska before pursuing a career as a journalist. In May 1996 Krakauer joined an expedition to summit Mt. Everest. A storm blanketed the peak after they successfully reached the summit. And on the descent, four of five of Krakauer's teammates died. An analysis of the calamity that he wrote for Outside received the National Magazine Award for Reporting in 1996. The book that followed, Into Thin Air, became a New York Times bestseller and has been translated into 24 languages. It was also honored as the "Book of the Year" by Time, one of the "Best Books of the Year" by the New York Times Book Review, a finalist for a 1997 National Book Critics Circle Award, and one of three finalists for the 1998 Pulitzer Prize in General Non-Fiction. In 1999 Krakauer received an Academy Award in Literature from the American Academy of Arts and Letters. He is also the author of the Outside feature "Death of an Innocent," the tragic tale of Chris McCandless, which later expanded into the book Into the Wild. He is also the author of Eiger Dreams and most recently, Under the Banner of Heaven, an examination of the nature of religious passion through the lens of Mormon Fundamentalism.
You can find stories by Jon Krakauer on Byliner.com.
Outside's Review of Into the Wild
Peter Matthiesson
Born in 1927 in New York City, Peter Matthiessen courted a literary life from an early age-graduating from Yale University in 1950 and immediately joining The Paris Review as a founding editor. A novelist and a writer of natural history, he is best known for his explorations of the hidden parts of the globe through both imagined characters and his own journalistic adventures. For Outside, Matthiessen offered his view on the Arctic National Wildlife Refuge in a February 2003 article by traveling through the disputed region to discover what really is there. He also sought out one of the world's largest terrestrial predators, the Bengal tigers of India, for a story in 2002. In addition to his novels, which include At Play in the Fields of the Lord (1965), Matthiessen's parallel career as a naturalist and adventurer has led to several thoughtful and influential books about the precarious position of the natural world. Africa has been the subject of many of these books, including The Tree Where Man Was Born (1972), a wide-ranging journey through the Great Rift Valley savannas where modern humans evolved, and African Silences (1991), which recounts Matthiessen's overland and aerial travels between West and East Africa to discover the terrible impact of the continent's chaos and wars on its wildlife. His efforts to publicize the plight of Africa's ecosystems led to his receipt of the African Wildlife Leadership Foundation Award in 1982. Matthiessen was twice nominated for the National Book Award before winning it in 1972 with The Snow Leopard, the story of his pursuit of an extremely rare Asian leopard in the remote Dolpa region of Nepal and Tibet.
Footprints in the Last Wild Place
As the political controversy over the future of Alaska's Arctic National Wildlife Refuge reignites, a journey across ANWR's disputed territory explores the realities of a place where wildlife, native traditions, and the search for oil converge in fateful proximity
Burning Bright
Dreams of Bengal tigers and visions of imminent extinction led Peter Matthiessen to a predator's last stronghold in the jungles of India. It was a place, the author discovered, where not seeing is believing.
Susan Orlean
New Yorker staff writer Susan Orlean is one of America's leading literary journalists. Before joining the New Yorker as a staff writer in 1992 she was a contributing editor at Rolling Stone and Vogue. She was also a columnist at the Boston Phoenix and the Boston Globe Sunday Magazine. She is the author of a number of books, including, The "Bullfighter Checks Her Makeup: My Encounters with Ordinary People," a collection of stories which includes the title piece first featured in Outside; "Red Sox and Blue Fish," a compilation of columns she wrote for the Globe Sunday Magazine; "Saturday Night," a journal of essays which chronicle the Saturday nights she spent in communities across the country; and "The Orchid Thief," a narrative about orchid poachers in Florida that inspired the film Adaptation. Orlean's work has also appeared in The New York Times Magazine, Spy, Esquire . She lives in Manhattan and Boston with her husband.
It Sweats. It Oozes. It's Crazy with Life.
The Fakahatchee harbors many strange things reluctant to come out. So you need to be willing to go in after them.
Do We Transcend Before or After We Purchase the Commemorative Eel Cakes?
Attempting Mount Fuji, where nature, religion, sport, and schlock form the most holy of alliances
La Matadora Revisa Su Maquillaje
(The Bullfighter Checks Her Makeup)
In the 500 dusty years of refined yet raw Spanish ritual, one young matador stands quite apart from the others
Bob Shacochis
A winner of the National Book Award for First Fiction, the Rome Prize in Literature from the American Academy of Arts and Letters, and a National Endowment for the Arts Fellowship, Bob Shacochis has crisscrossed the globe in his literary pursuits. He graduated from the University of Missouri Journalism School in 1973, and earned a Master of Fine Arts degree from the Iowa Writers Workshop in 1982. A former Peace Corps volunteer in the eastern Caribbean, Shacochis currently teaches in the graduate writing programs at Bennington College and Florida State. He is the author of two short story collections, Easy in the Islands and The Next New World; a novel, Swimming in the Volcano; and a collection of essays about food and love entitled Domesticity. His most recent book, The Immaculate Invasion, about the 1994 military intervention in Haiti, was recently a finalist for the New Yorker Magazine Literary Awards for best non-fiction book of the year, and named a Notable Book of 1999 by the New York Times. His op-ed commentaries on the U.S. military, Haiti, and Florida politics have appeared in the New York Times, The Washington Post, and the Wall Street Journal.
Code Orange
Best-selling novelist and serial muckraker Carl Hiaasen is mad as hell about what they're doing to Florida. His revenge? Vicious mockery of Sunshine State sleazeballs and greedy eco-thugs. An equally pissed-off Bob Shacochis tags along for a day of fantasy bonefishing and literary whup-ass.
Kingdoms in the Air
This is the story of a man from the West who came seeking the heart of the East. In 1991, photographer Thomas Laird became the first foreigner to live in Nepal's kingdom of Mustang as the forbidden Shangri-la prepared to open its borders to trekkers and trade. But when the prodigal son returned to see what ten years of the West had done to his beloved East, he found that everything-and nothing-had changed.
Near Wild Heaven
This dream land of owning it-where does it start, how deep is it rooted?
Return of the Prodigal Surfer
Kiritimati, Christmas Island, erstwhile thermonuclear playground in the mid-Pacific. Neither the beginning nor the end of a journey toward the lightness of being but, for me, more of the same, surfwise, selfwise, further evidence of the cosmic truth inherent in the mocking axiom, You should have been here yesterday. Yesterday, in fact, is the stale cake of many an aging surfer. Yesterday is what I walked away from, determined to someday again lick the frosting from the sea-blue bowl.
Home in the Wild
Why base camps make sense
The Fish
How to Eat a Fish. First, think how much you want it in your belly.
Here The Bear and The Mafia Roam
Kamchatka, east of Siberia. As the curtain rises on the new frontier of adventure outfitting, attendees include your guide (he's the one with the armored vehicle), the local businessman (he's the one with the machine gun), the UN environmentalist (he's the nervous-looking one), and your fellow tourists (they'll be arriving any moment now). Please enjoy the show.
There Must Be a God In Haiti
Beyond the madness, beyond the fatalism he had succumbed to, was a far more complicated and blessed place. A possibly redemptive journey through history's most battered nation. As close as the Caribbean and a universe away.
Hampton Sides
A winner of the 2002 PEN USA Award for nonfiction, Outside Contributing Editor Hampton Sides is the author of two books, Ghost Soldiers and Americana, the former of which is currently being made into feature film. Sides is a former Senior Editor at Outside and was nominated for a National Magazine Award in 2003. He lives in New Mexico with his wife, writer Anne Goodwin-Sides, and their three sons. Sides is currently at work on his next project, a narrative history of the conquest and exile of the Navajo.
Six-Shooter
Lance's 2003 Tour victory was almost a loss-in his own words, he "dodged a bullet." This year the Tourminator is plenty fit, a little less furious, and hungrier than ever. A revealing interview with the greatest rider on earth.
Beastmaster
With exploding ratings and a new book-not to mention a wardrobe makeover!-can anything stop wildlife-show host Jeff Corwin?
The Birdman Drops In
What's it like defying gravity for a living? It's pretty sweet, bro. The mega-life of Tony Hawk.
Crawl Space
You're trapped underground with an inch of air to breathe? Relax. Buddy Lane is on the way.
Thinking About Machine-Man
"He is for sure not one of us," says a teammate of ski racer Hermann Maier. "He is beyond this world," says a former gold medalist. "He is a beast," they say, and finally, "He is the beast."
Where Have All the Wise Men Gone?
Certainly not into the Sahara, not to race 142 miles in seven days, not to broil beneath a 120-degree sky, not to seek glory in the Marathon des Sables, the world's most brutal run. Which leaves us a question: Just who are these fools?
Unfrozen Caveman Camper Tells All
In the beginning, there was fire. And it was good. Later came KOAs and solar showers and freeze-dried. And they were bad. So let's go back. Way back.
Let There Be High Water
Thirty-three years after Glen Canyon Dam strangled the West's most celebrated river, the Grand Canyon gets its first regularly scheduled flood. Only Jehovah could have done it better.
Jane Smiley
A 1971 graduate of Vassar College, Smiley earned her MFA and PhD at the University of Iowa. She taught at Iowa State University in Ames from 1981 to 1996 and is the author of ten works of fiction, including The Age of Grief, The Greenlanders, and the two novellas Ordinary Love and Good Will. Her novel, A Thousand Acres, won the Pulitzer Prize in 1992. She has written on politics, travel, farming, horse training, child-rearing, literature, impulse buying, getting dressed, marriage, and many other topics. In 2001 she was inducted into the Academy of Arts and Letters. She lives in Northern California.
What Scares Me
Fear of whitewater, bats, and ticks
My Gelding, Myself
How passion crosses the line into not-quite-respectable obsession: The complicated joys of horse ownership
Patrick Symmes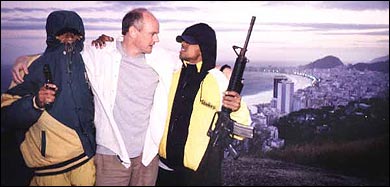 Contributing Editor Patrick Symmes has reported in recent years from Afghanistan, Mongolia, Cuba, and many parts of South America. He has traveled amongst Maoist insurgents in Nepal, profiled gangs in Brazil specializes in profiles of guerrilla groups and criminal gangs. Symmes is the author of Chasing Che: A Motorcycle Journey Through the Guevara Legend, an account of a 12,000-mile ride across South America, retracing the journeys and guerrilla campaigns of Che Guevara. Two essays on Patagonia and Afghanistan were selected for the current "Best American Travel Writing 2004." He also writes frequently for GQ and Conde Nast Traveler.
The Kabul Express
In the sixties and seventies it was the hippie trail that brought foreigners to Afghanistan. Two decades of war and terror later, Kabul is a nonstop rave of C-130s, NGOs, soldiers, and spooky nation-builders. The freaks are back on Chicken Street-where everything old is new again
River Impossible
Everybody loves the Klamath. Everybody wants a piece of it. And they're willing to go to war to get it.
Blood Wood
Remember the rainforest? Fourteen years after the martyrdom of Brazilian activist Chico Mendes, environmentalists are once again being murdered, while illegal logging pushes deeper into the world's last great tropical jungle. In this investigative report, Patrick Symmes follows the money, the mahogany, and the mafias-and goes underground to join a brave new eco-crusader with a price on his head.
The Ghost of Shipwrecks Future
Diving on lost ships is one thing. Exploring the boat that shadowed your life is a murkier adventure entirely.
The Last Days of the Mountain Kingdom
Dateline: Nepal, 2001. The royal family has been murdered. Maoist guerrillas prowl the countryside, fomenting agrarian revolution. Kathmandu has succumbed to general strikes and indiscriminate bombings. And everybody's got his own pet conspiracy theory. Is this in the Himalayas, or the next Asian apocalypse in the making?
Sheiks and Freaks
The rise and fall and exile and triumphant possible return of Rod of Massachusetts to the battle-torn bedouin Kingdom of Dahab
Chasing Mackenzie's Ghost
According to legend, New Zealand's South Island was formed when the dawn froze 150 shipwrecked gods into mountains. There are worse places to spend eternity.
From the Wonderful People Who Brought You the Killing Fields
Never mind the land mines, the kidnappings, the chaotic weirdness. When the henchmen of Cambodia throw down the welcome mat for tourism, the neighborly thing to do is come calling.
Remember, Fear Is Your Friend
And other strategies gleaned from a hike through Yellowstone's grizzly alley
After 9/11: The Rescue
Unnatural Disaster
Bill Vaughn
Contributing Editor Bill Vaughn's Outside feature "Skating Home Backward," was nominated for a National Magazine Award in 2000 and was featured in that 2001's The Best American Magazine Writing for 2001. Vaughn is the author of First a Little Chee-Chee Then Some Other Extremely Odd Sports, a collection of essays where he windsurfs on railroad tracks and plays golf along the Lewis and Clark Trail. Vaughn lives in Montana.
A Jug of Wine (More Jugs of Wine) et Moi
Can extreme pleasure and adventure coexist? Yeah, baby! Hop on a bike for a long, winding tour through the gourmet sweet spots of southern France.
To Hell and Back
Don't cry for L.M. Nesbitt. (OK, maybe cry a little.)
Raising North Dakota
Horrible winters. A dwindling, aging population. Abandoned farms reverting to prairie grass. Perfect, says our writer
Birds on a Wire
Sex. Danger. Family values. This backyard soap opera has it all-plus feathers, razor-sharp talons, and a neighborhood obsessed
Montana, The Dry Run
Liquid Louie's was fun, but still no match for the impossibly blue horizon
How The West Was Bogeyed
One word said it all about how Lewis and Clark had moved him: FORE!
Lumber Whack
The sweet science of chopping a huge tower of wood
Survive This!
Rejected-twice!-by the people behind the phony "reality-based" TV adventure show, our vengeful writer pays a surprise visit to Survivor's Island shoot to wreak some authentic havoc.
Skating Home Backward
How one man transformed vile, polluted, dank little swamp into the perfect glassy ice pond. A Wetland Restoration Comedy.
Travel: Calling All Cashonauts
Outer space is within your reach – if you have $98,000 of the right stuff
If We Told You, It Wouldn't Be a Secret, Would It?
A rather silly journey in search of a very special place
Brad Wetzler
Brad Wetzler is a former Senior Editor at Outside and current contributing editor who also pens the magazine's monthly "Wild File" column. Born in 1966, Wetzler attended the University of Kansas and received a Masters in Journalism from the Medill School of Journalism at Northwestern. He specializes in travel writing beyond the bounds of most adventurers, epitomized by his feature on Bohemian trekkers in Eastern Europe, "Is Just Like Amerika!" which was selected for the 2001 edition of The Best American Travel Writing. Wetzler also originated the idea to send Outside Editor-at-Large Jon Krakauer on his 1996 expedition to the summit of Mount Everest, the disastrous culmination of which spawned Krakauer's best-selling book, Into Thin Air. Wetzler authored a rare profile of alpine climbing legend Reinhold Messner for the October 2002 Silver Anniversary issue of Outside entitled "Reinhold Don't Care What You Think." He has lived in Santa Fe, New Mexico, since May 1994 with his wife Dianna, an Associate Editor at Outside, and their two dogs, Cuba and Cosmo, and a cat named Ruckus.
Found At Sea
Antoine de Saint-Exupéry's plane wreckage answers a 60-year-old riddle. Or does it?
Ski Naked
What do you get when you bus two dozen high school seniors from the Nebraska flatlands to the peaks of Colorado for their first winter trip to the Rockies? You get an all-American rite of passage, gangsta rap, and terror on the bunny slope. You get kissy-face, rough surf in the hot tub, flaming stogies, brazen thongs, and a blizzard of memories that will last forever.
Reinhold Don't Care What You Think
A quarter-century after he changed everything by summiting Mount Everest without supplemental oxygen, Reinhold Messner is looking fit, feeling adventurous, and acting about as mellow as a snapping turtle. Ah, well: Great men aren't always sweethearts-and Messner is still the best there ever was.
True Everest—Base Camp Confidential
An oral history of Everest's endearingly dysfunctional village
Is Just Like Amerika!
Sleep on ground. Fight angry pigs. Eat very special sausage. Tramp across land without vowels. Go east, American friend, and discover why hordes of weekend hobos, lawmen, cowboys, and Indians are searching for the Wild and Crazy West in the woods of the Czech Republic.
Jocko's Rocket
Will the car of the future come screaming out of the Mojave desert?
One Small Step for Man. One Giant Leap for Middle-Aged Science Geeks and Chubby Real Estate Agents Everywhere
Three regular guys prepare to venture into orbit in a helium balloon. And thus is Amended the Grand Roll of Space Heroes: Shepard. Glenn. Armstrong – and Dave, John, and Bob
It's a Mad, Mad, Mad, Mad Worrell
One kind of lunatic sails the Indy 500 of catamran racing. Another dreams it up.
To Do: Hang Out at Mall, Torture Little Brother, Save World
A few young go-getters who'll soon be making headlines
The Twilight Expedition
It's a bitter time to be a serious explorer. After all, Magellan circled the world centuries ago. Stanley hacked a path deep into the Congo back in the 1800s. And Tenzing and Hillary knocked off Everest two generations past. Which leaves history-book hopefuls like Lonnie Dupre in an awful bind. Yes he might become the very first person to circumnavigate Greenland. But will anyone give a damn?
Cheeky Bit of Ocean There, What?
Exactly why are two young Brits pedaling, pedal-boating, and cross-dressing their way around the globe? Splendid question. They're still trying to come up with a logical answer.?
Masters of the Sandlot
All recreational sport is really quite simple: You run. You jump. You throw. What's more, it's pretty easy to get good at these things.
Another Herbal Wrap, O Immortal One?
Should fortune, fame, and flabby acolytes be your heart's desire, the first American sumo champion suggests thinking really, really big
Bucky McMahon
Bucky McMahon was born in Atlanta, Georgia in 1955, the youngest of four siblings and doubtless the beneficiary of the Roman Catholic ban on birth control. Nevertheless, a certain winsome helplessness and beaver-like dentition (christened Michael, he was soon known as Bucky) preserved him through the "dark years" until the sudden eruption of consciousness–or memory, at least–chasing a butterfly, net cocked overhead, into screeching traffic in Coral Gables, Florida. His other family nickname, acquired soon after, was "Nature Boy," for the many small animals he captured and brought home to be his totems. In 1963 the family relocated to Neptune Beach, where the young dude became a fanatical surfer and tireless player of pick-up sports of all kinds. He did not apply himself academically, attended college reluctantly, and affects to remember much of this poorly. After a series of Raymond Carver-esque dead-end jobs, complicated by not quite Carver-esque drinking, he declared a "do-over," returned to college, and, paying for the classes himself, actually attended them faithfully. While a graduate student at the Florida State University Creative Writing Department, he began publishing short fiction, a comic strip (Fat Rabbit, with Tim Hoomes), as well as a weekly humor column, "Barmadillo," for the Tallahassee Democrat. In 1992, he published his first feature article for Outside magazine. That was the beginning of a long strange career in the travel/adventure biz, the best of which is collected here. His yarns have been anthologized in the Best American series, once for Travel and once for Sports. A certain sentence, long and spiraling, and right on the gleeful brink of syntactical smashup, was chosen as one of the 70 greatest sentences by Esquire magazine (along with efforts from old friends Ernest "Papa" Hemingway and Scottie Fitzgerald). In 2005 he was awarded a novelty plaque by his sister, Molly, which reads, "If you haven't grown up by the age of fifty, you don't have to."
Where the Walking Shark Lives
It's the antithesis of the bleached-out, overfished reefs that divers find around the world—a place where the sea is still bursting with life, and hope for the ocean endures. Pull on a tank in Indonesia's remote Raja Ampat and witness diving's final frontier. Pinto Mean!
The perils of raising a grumpy colt. (FEAR OF) Armadillos
Some say they're cute. I say they're evil. Jungle Gym
Welcome to Bigfoot's winter hideaway, where unclimbed mountains, roaring whitewater, and a new luxury eco-lodge await you. In Tobago, It's All Good
Exploring the oldest protected rainforest, the soft coral reefs, and the all-night fêtes of the Caribbean's farthest reaches. Field Notes: Cirque du Sailor
Amid big-league swells, the world's fastest ocean race runs aground in Baltimore. Surfing
The clan with a plan. Field Notes: How Swede It Is
Few races reveal as much about those who run in them as the all-but-flawless O-ringen. Sue Here Is an Expert on Lowland Tubers
And nine other signs that your trip is in trouble. Bag It
Remember, whatever you pack, someone has to carry. A few tips on what to leave home without. Uh-Oh – Here Comes the Easy Part
When traveling, danger lurks at the most innocuous moments. The Punks
A few words on those priceless athletes who dare to be unlikable. Blissful Indolence Made Simple
A Florida stream, an inner tube, and no ambition in sight. Deeper
To the peerless Moles, practitioners of the gloomily claustrophobic sport of freshwater spelunking, the ultimate accomplishment is finding a virgin cave. Goatsucker Sighted, Details to Follow
Strange beast plunders Puerto Rico, Florida, Mexico. Livestock drained of blood, entrails. Citizens ignore authorities' appeal for calm. The Hydroponic Dreams of Laird Hamilton
He was born in a bathysphere, baptized in surfboard resin, raised in the rainforest in Hawaii. Who else is ready to ride the biggest wave on earth?
Tim Zimmermann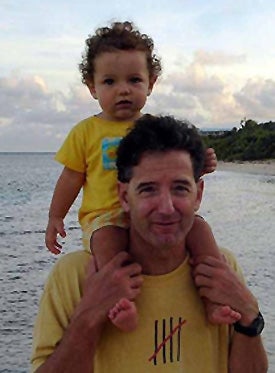 Tim Zimmermann is a writer, sailor and blogger. He is the author of "The Race"(Houghton Mifflin, 2002), a history of extreme, round-the-world sailing, which was selected for Barnes & Nobles' Discover Great New Writers program. His Outside story, "Raising the Dead," about a cave diving tragedy in South Africa, was a National Magazine Award Finalist in the category of Feature Writing, and was selected for the 2006 edition of "The Best American Sports Writing." Prior to becoming a Contributor at Outside, Tim was an award-winning Senior Editor and Diplomatic Correspondent at US News & World Report. He lives in Washington, DC with his wife Ilana, and their two children.
For updates from his world, follow him on Twitter.
Hell in High Water
In January 1969, six boys hiked into California's Sespe wilderness for a camping trip. None came back alive. Thirty-nine years later, Tim Zimmermann examines how one wrong decision in the wild can change the course of history.
It's Hard Out Here for A Shrimp
What swims at 20 miles per hour, can carve out hunks of human flesh, and will attack anything that moves? The Humboldt squid. Brace yourself for a dive with the eeriest beast in the ocean.
Miles to Go Before I Sleep
Dr. Claudio Stampi teaches endurance sailors how to perform better on minimal sleep. The secret, he says, is learning how to power-nap.
Raising the Dead
At the bottom of the biggest underwater cave in the world, diving deeper than almost anyone had ever gone, Dave Shaw found the body of a young man who had disappeared ten years earlier. What happened after Shaw promised to go back is nearly unbelievable—unless you believe in ghosts.
Record Collector
You better grab a lifeline and hold on tight when Steve Fossett decides to make another manic bid for glory.
Knives in the Water
Clip in and hang on for the 31st America's Cup—a game of skill, guile, wealth, power, pettiness, paranoia, espionage, and egomania. And the sailing's not bad, either.
She Rules the Waves
For intrepid sailor Ellen MacArthur, round-the-world records are meant to be shattered.
Steven Rinella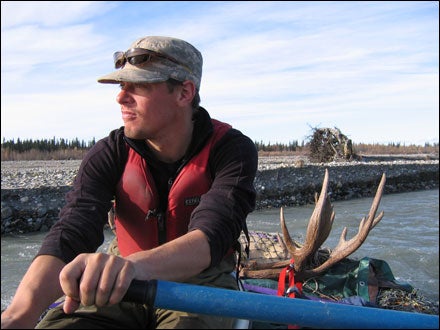 Correspondent Steven Rinella was born in Twin Lake, Michigan, and received a Master of Fine Arts from the University of Montana. He's the author of "The Scavenger's Guide to Haute Cuisine" and "American Buffalo: In Search of a Lost Icon." He is the star of the Travel Channel show The Wild Within. His writing has also appeared in many publications, ranging from Field and Stream to The New York Times to Glamour, and has been collected in "The Best American Travel Writing", "Best Food Writing", and "World's Best Sex Writing." For more on Steven Rinella go to stevenrinella.com.
Cay Party
What do the world's most rejuvenating island escapes have in common? Empty sand, lonely surf, and new adventures of the strangest kind.
Grand Theft Cattle
In the range wars of the 21st century, the cattle rustler runs Ponzi schemes and the lawman drives an SUV. STEVEN RINELLA joins the new posse.
Go Big or Go Home
Cruise ships and wildlife buses? The tourist staples miss the point of Alaska: It's the last real place to find an epic, crowd-free adventure onerican soil. We've scoured the state for the best wilderness lodges, river trips, lonely highways, and DIY escapes. Bear mace not included.
Gadget Guy
A glimpse into the mind of a man who has spent 26 years in pursuit of the ultimate gizmo.
Me, Myself, and Ribeye
Go to Argentina and find the best steak on earth, we told him. It was a dream assignment for our favorite swashbuckling gourmand—until he found himself staring into el ojo de la vaca.
The Brotherhood of the Very Expensive Pants
Brit Eaton is the best of a curious breed of fortune hunters combing old mine shafts and barns across the West for vintage denim. He's discovered $50,000 worth of clothes in a single day, and his clients include Ralph Lauren and Levi's.
1,000 Miles of Nada
Where does a week of doing nothing add up to something great? On a road trip down the still-wild spine of Baja, in search of secluded beaches, the best fish taco, and a much-needed dose of adventure.
Down, Boy
Avid game hunter Steven Rinella will eat just about anything. Or so he's told us. So what happens when our extreme gourmand travels across the world to face America's ultimate culinary aversion?
Meet the Flintstones
They're more than 13,000 years old, priceless, and maybe the best evidence yet of the first Americans. Traveling to remotest Alaska, STEVEN RINELLA goes digging for history before it's too late.
Come Herd or High Water
When he landed a rare permit to hunt bison deep in the Alaskan wilderness, our fearless forager thought he'd be living out a childhood dream. Wild buffalo, hungry grizzlies, nearly fatal hypothermia—what more could a grown man ask for?
If You Are What You Eat, He's Dead Meat
Ready to take up the challenge of reviving the bloody old days of classic haute cuisine? Steven Rinella bites.
In Search of El Dorado
…And another feisty pescado in Argentina's Ibera Wetland.
Gettin' Jiggy
In the dark of winter, monsters lurk near the glow of Seattle. And man, that's when the jigging's good.
Falling in Love with a Killer
Slicing through the waters that brought you the beast that inspired Jaws, Montauk's shark hunters search the Atlantic for their cold-blooded, man-eating prey. It's the brutal Mako Mania tournament, where old salts and paying customers harry a dying breed of monsters. Where the stakes are huge, the sharks are bigger, and the fishing is absolutely to die for.
Wells Tower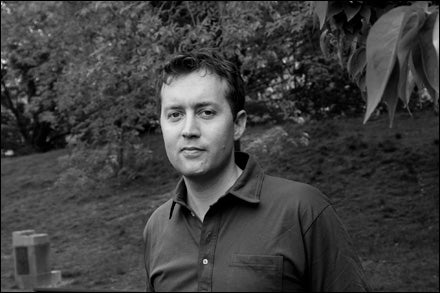 Wells Tower's fiction and nonfiction have appeared in The New Yorker, Harper's, Outside, The Paris Review, McSweeney's, The Washington Post Magazine and elsewhere. The recipient of two Pushcart Prizes, and the Plimpton Discovery Prize from The Paris Review, Tower is the author of "Everything Ravaged, Everything Burned," a collection of short fiction to be published in March 2009 by Farrar, Straus & Giroux. He lives in North Carolina.
@#95;blank" Meltdown
Funny story: My old man gets cancer, survives, vows thenceforth to see as much of the world as he can, drags me all over creation, and leaves mind-bending mishaps in his wake. Our next mission? Tour rapidly defrosting Iceland and Greenland. Bad idea? You could say that.
@#95;blank" Best Towns: New Orleans
You say you want a reconstruction? In the Big Easy, it's the regular folks, with help from a host of smart non-profits, who are resurrecting the city.
@#95;blank" Love in the Ruins
A year after Katrina crashed the Big Easy's party, former local WELLS TOWER returned to check up on New Orleans's most beloved outdoor escape, the path on top of the Mississippi River levee. But, as he found, biking the high lonesome trail is no longer such an easy thing.
@#95;blank" The Thing with Feathers
Is it a bird or a haunting memory? Wells Tower tracks an uncertain resurrection in the big woods of Arkansas.
@#95;blank" Cannery Woe
A salmon butchery goes from bloody routine to living hell.
David Quammen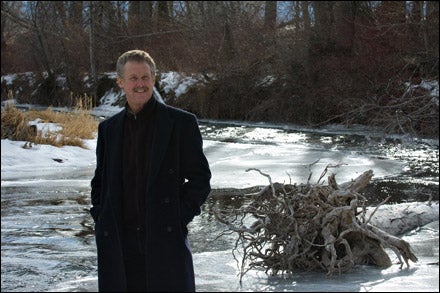 Editor At Large David Quammen is the author of twelve books and a three-time recipient of the National Magazine Award. He won two of those awards while writing regularly for Outside, from 1981 to 1995. Many of the articles he wrote for the magazine can be read in his book, "Natural Acts: A Sidelong View of Science and Nature." He now lives in Bozeman, Montana.
The Post-Communist Wolf
A lot of things in Romania suffered during the brutal reign of dictator Nicolae Ceausescu—human rights, liberty, economic development. But tucked away in the deep freeze lay a stunningly well-preserved wilderness high in the Carpathian mountains, where brown bears, wolves, and lynx still run free.
Books By David Quammen
Wild Thoughts from Wild Places
The Flight of the Iguana: A Sidelong View of Science and Nature
The Boilerplate Rhino: Nature in the Eye of the Beholder