Outside at Tribeca: Living on the Edge
In Paraiso Nadav Kurtz follows three Mexican immigrants as they make a living washing the windows of Chicago's tallest skyscrapers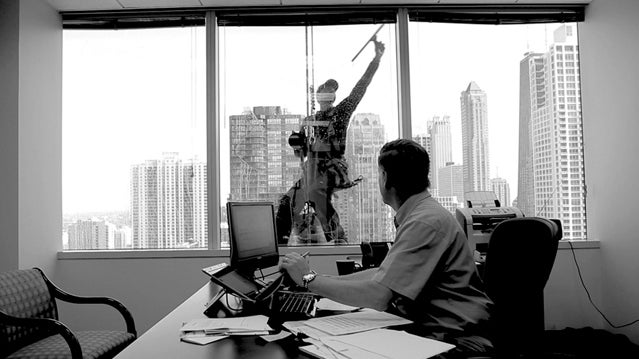 Heading out the door? Read this article on the new Outside+ app available now on iOS devices for members! Download the app.
It's one thing to rappel down precipices for sport—it's another matter when it's for a living. In the short documentary Paraiso, which screens this week at the Tribeca Film Festival, director Nadav Kurtz follows three Mexican immigrants as they wash the windows of Chicago skyscrapers. You watch them prep on rooftops—tying thick coils of rope to a post, suiting up with harnesses and easing themselves over the edge without scaffolding. As the sidewalk appears hundreds of feet below, the danger immediately feels more real than any skyscraper rappel scene in a Hollywood action flick.
Circumstances of the men's lives emerge during their banter. Window-washing is a coveted job, they say, because "it's the only job that's always needed." And despite their calm demeanor, they're well aware of the risk of fatality. "Yes, I've thought that I could die," one washer says matter-of-factly. "I know people who have fallen. I ask God that nothing happen to me." Risks aside, the job enables them to support their families in a way that they can't in Mexico. As one of them puts it, "I've thought, 'I have to die, but if it has to be working, then let it be. Let it not be somewhere else where I won't have life insurance.'"
Visually, Paraiso offers enthralling footage from a profession that, for many urban-dwellers, typically goes unnoticed. Kurtz films the washers from all angles: We look down at them (and the harrowing drop beyond). We see them from afar, as a row of swaying black specks. We see them from inside the building, as strangers gaining unique access to the intimacy of private office spaces. It's a profession that could probably inspire an entire reality show, but for now, a 10-minute documentary will suffice.
Trending on Outside Online