Heading out the door? Read this article on the new Outside+ app available now on iOS devices for members! Download the app.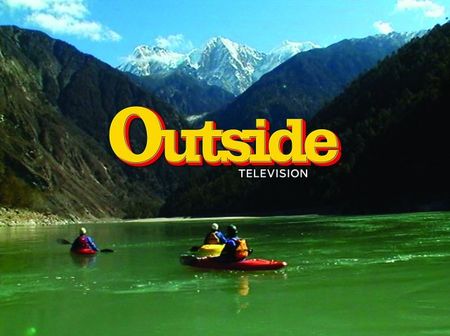 As of June 1, 2010, the Resort Sports Network will no longer be known as RSN–it will become the Outside Television Network. RSN has 61 million viewers a year in 110 destinations. The network's traditional coverage of outdoor sports will continue, with content exclusively from Outside magazine joining the mix. You'll be able to check out Best Towns, Best Jobs, Trips of the Year, Best Gear, Buyer's Guide, Bodywork, and feature stories on the tube, in addition to the print versions.
For more info, read the full press release below.
–Aileen Torres
MARIAH MEDIA AND RESORT SPORTS NETWORK PARTNER TO LAUNCH THE"OUTSIDE TELEVISION NETWORK" A JOINT VENTURE THAT WILL REBRAND THEEXISTING RSN NETWORK.
Santa Fe, NM – Mariah Media Inc., publisher of Outside magazine,America's leading active-lifestyle publication, today announced apartnership with Resort Sports Network (RSN) to bring Outside'saward-winning coverage to life with the launch of the OutsideTelevision Network.
This will be a complete rebranding of the existing Resort SportsNetwork, the national television network that specializes in creatingand distributing outdoor-lifestyle content to premier vacationdestinations throughout the country. The network—which currentlyreaches 61 million viewers annually, is distributed to 110destinations, and is the number-one-rated channel in its markets asmeasured by Nielsen Media Research—will debut as the Outside TelevisionNetwork on June 1, 2010.
The joint venture will unite two prominent leaders with large basesof both active and affluent consumers in the active-lifestylecategories. This unprecedented deal will provide Mariah Media with themeans to reach its coveted consumer on all platforms, print,television, and digital. Simultaneously, it allows the Emmy Awardwinning RSN to leverage the universally respected Outside brand andgives RSN the opportunity to collaborate with Mariah Media's editors oncontent creation while offering advertisers more multifacetedopportunities.
As a complement to Resort Sports Network's traditional coverage, theOutside Television Network's content will bring to television many ofOutside's popular special reports, such as Best Towns, Best Jobs, Tripsof the Year, Best Gear and the Outside Buyer's Guide, and Master Plansfor Health, Fitness, and Nutrition, along with feature storiesappropriate for the television experience. There will be unique Web andmobile assets under the Outside Television brand that will be highlycoordinated with existing Outside assets. The Outside editorial teamwill work closely with RSN's television producers to select subjectmatter from the publication that will seamlessly translate totelevision.
"Bringing the Outside brand to a sustainable network-televisionlevel in markets where active-lifestyle consumers live and travel topresents an enormous opportunity to reach our core audience frequentlyand consistently and allows our print and online marketing partners todo the same. We are tremendously excited about working with the RSNteam to expand the Outside Television Network to its full potential,"said Larry Burke, Chairman and Editor in Chief of Mariah Media.
"Outside is the most iconic and revered brand in theactive-lifestyle space. It is an amazing opportunity to collaborate oncontent and translate the brand into television. There is a great fitbetween the companies on so many levels, and we couldn't be moreexcited about the deal," said Mark A. Burchill, CEO of RSN. He added,"We have had exploratory conversations with advertisers and potentialdistribution partners who are very excited about Outside Television.Expect to see the network more widely distributed, with a host of newprogramming additions." The media partnership will also expand bothcompanies' sales efforts by offering multimedia solutions withmultiplatform advertising, sponsorship, and promotion packages, allunder the umbrella of the Outside brand. Mariah Media will also have anownership position in RSN, board representation, and a fullycollaborative, integrated approach to content development between printand video platforms.
ABOUT MARIAH MEDIA INC.
Mariah Media Inc. (MMI) is the parent company of Outside magazine,America's number-one active-lifestyle brand. In addition to serving theactive-lifestyle consumer for over three decades with Outside'saward-winning content, MMI also serves the active-lifestyle communitythrough the Outside Buyer's Guide, Outside Online, Outside Books,Outside Shows and Events, Outside Television specials, and,internationally, licensed editions in China, Brazil, Sweden, and Italy.
ABOUT RESORT SPORTS NETWORK
Resort Sports Network distributes programming through a network ofowned and operated and affiliated stations, each with a dedicated24-hour local cable channel. RSN serves 110 resort destinations. Thenetwork reaches more than 61 million viewers annually. RSN hasconsistently been the number-one-rated channel in its markets, asmeasured by Nielsen Media Research, during the past decade. RSN is aprivately held company owned by private investors.