'We Begin Our Ascent' Is Cycling's Crime Novel
In his debut novel, Joe Mungo Reed captures truths about the Tour de France, doping, and cyclists' obsessive natures. Cycling nerds, however, may notice a few discrepancies.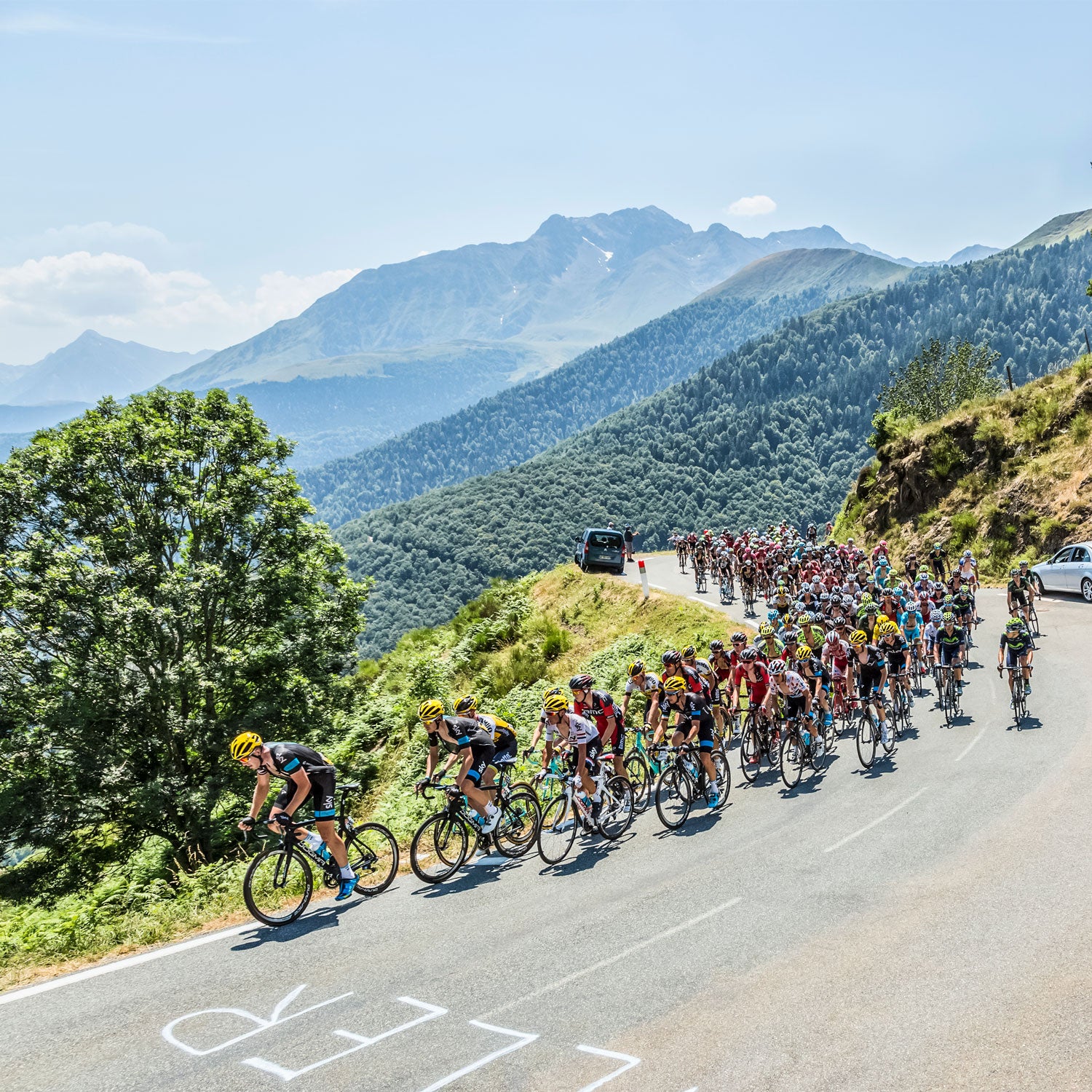 Heading out the door? Read this article on the new Outside+ app available now on iOS devices for members! Download the app.
Books about cycling tend to cluster in the nonfiction section: training, travelogue/memoir, or biography/history. Fiction is rare, and novels about bike racing rarer still. Perhaps that's because the sport produces such amazing true stories that it needs no embellishment: Who can forget the harrowing scene in The Secret Race in which a feverish Tyler Hamilton curls himself around the body of his dying dog as his own veins course with a transfusion of spoiled blood?
We Begin Our Ascent ($26; Simon & Schuster), the debut novel from Joe Mungo Reed, bravely attacks into this gap, attempting to bridge across to a small, elite breakaway of worthy race-fiction titles, like Ralph Hurne's The Yellow Jersey and Tim Krabbé's beloved The Rider.
Ascent is a midpack 244 pages, but its plot is as lean as its chief protagonist, Sol, a domestique in the Tour de France. Told over several days of the race and in flashback, the story sketches Sol's career as a pro cyclist and his young family: his wife, Liz, who is a geneticist, and their infant son, Barry.
Sol isn't a team leader and, we quickly learn, never will be; he's one of the dozens of pro racers in the Tour who are almost entirely anonymous, despite having worked and sacrificed as hard as the stars to get to this point. Still, Sol finds victory (and setback) in how the race unfolds for his team leader, Fabrice, for whom Sol must sacrifice any personal ambition in service of Fabrice's fight for a high placing.
Ascent starts slowly, and Reed's restrained, almost ascetic prose—told from Sol's perspective—takes a little bit of work to get into. It's not until a few chapters in when the main plot device, the team's clandestine doping scheme, is revealed and draws first Sol and then Liz into its circle, as the team fights to carry out its plan at the Tour. Then the book begins to move.
For all the riot of humanity around a race like the Tour, where a single pro team will have eight or nine riders and dozens of staff on hand, the novel's true characters are few: We only ever meet four of Sol's teammates, and only Fabrice is rendered as more than a bare sketch. So the book comes to rely on a core of just three characters: Sol, Liz, and the team director, Rafael, a diminutive former pro who harries and badgers his riders like a Johan Bruyneel caricature.
"You were not totally shit," is about the extent of Rafael's praise to Sol after Fabrice loses time on one stage, through no fault of Sol's. For all his clownish endearment, Rafael never emerges as more than a two-dimensional grotesque. Reed largely portrays him as a kind of caricature of an old-school team director; with little real depth, Rafael is an outsize version of the details that Reed gets not quite right. It's this flaw that flattens what could be one of the book's most intense moments: a confrontation between Sol and Rafael that brings little light and even less heat. Rafael has scant charisma; he's barely feared by his riders, certainly not loved. He has little real hold over Sol, or us, so the clash feels bloodless.
Reed's pacing is expert, slowly drawing you in and then driving you ever faster to the crux of the story and its quick, quiet denouement.
Other instances of lapsed cycling knowledge are smaller but still notable. In the first chapter, Rafael berates his riders with a typical prerace "motivational" speech by telling them that their central quality is an ability to put out "a steady 450 watts." If true, this would mean the ungenerous Rafael is apparently directing a superteam of such redoubtable ability that it would destroy even the mighty Sky train; 375 to 400 is a more realistic range for top pros. Later, Sol rides backwards on course as other riders are descending—an incredibly dangerous, illegal thing no pro would ever do. A non-cyclist won't catch these things; perhaps even casual riders and race watchers will gloss it over. But to an avid fan, these misses momentarily jar you out of the story.
Still, Reed does an admirable job of assuming the perspective of a pro cyclist. The racing scenes are vivid: the mundane kilometers of chasing a no-hope breakaway; a terrifying, high-speed crash in the rain; and the sacrificial efforts that domestiques like Sol make for their captains that lead to them pedaling broken circles to the finish line. "The road straightens. I can see it stretching ahead of me, then far away twisting into a steep corner. I stand on the pedals, change a gear, then shift again. I sit. I stand. For the immediate future, these small changes put off my collapse. They will not for long, however." In moments like these, Reed sounds strikingly close to Krabbé in The Rider, the story of a single-day race told by one entrant. Do you have to be a cyclist to enjoy a book about cycling? As Krabbé said of his book, "You don't have to like whaling to like Moby-Dick."
Reed also demonstrates piercing clarity about the sport's larger truths. In an early anecdote where Rafael discovers a young Fabrice, he takes the boy to an old mentor, who feels Fabrice's legs and pronounces him a future champion. It's no more than a paragraph but uses Rafael's old-school approach to illustrate cycling's slavish devotion to outmoded traditions. I covered pro cycling (and doping) for 15 years, and when a rival rider in the book is busted for doping, I let out a sardonic laugh at the hidden meaning in Rafael's words when he tells the press, "I have always had respect for that team. I always thought that they were professionals. But to fail a test in such a way? That is a real shame."
But Reed's most potent observations mine the sport for broader meditations. A dinner scene where one of Liz's friends calls Sol insane for his spartan diet—why would he make such sacrifices merely to finish races?—serves instead to highlight Sol's and Liz's shared aspirations and the loneliness of such devotion. "We have small, specific goals, yet there is some implicit romance here," Sol thinks. "An unspoken claim that an appreciation of life's broadness can be found in our intense focus."
Reed is equally adept in simpler character examinations. Here's how Sol describes Rafael's forced geniality around his riders: "Sometimes he descends from his position to move among us. He does so with the ease of an aristocrat in a pub: an ease born not of commonality but of an inability to distinguish the suspicion with which he is viewed." These lines are memorable but are somewhat offset by character development, which is sparse and sometimes too facile. Sol is ambivalent about pro cycling, and Reed deftly swaps in Liz's fierce commitment to her husband's career as a primary driver drawing them deeper into the doping ring. But we're often left to guess at her motivations, even though Liz is, in some respects, the book's most kinetic actor.
Once it gets going, We Begin Our Ascent is a quick and enjoyable read, perfect for a summer weekend before the Tour. Reed's pacing is expert, slowly drawing you in and then driving you ever faster to the crux of the story and its quick, quiet denouement. And Reed's powers of perception and turns of phrase provide small delights throughout. Ascent is not a perfectly faithful rendering of every last bit of pro-cycling minutiae, but that is not its main draw. That is Reed's voice, which even in this debut novel is already strong and will continue to rise to the top.
Lead Photo: Razvan/iStock