Rough Cut
What's it like to watch a Hollywood director turn your life-threatening ordeal into entertainment?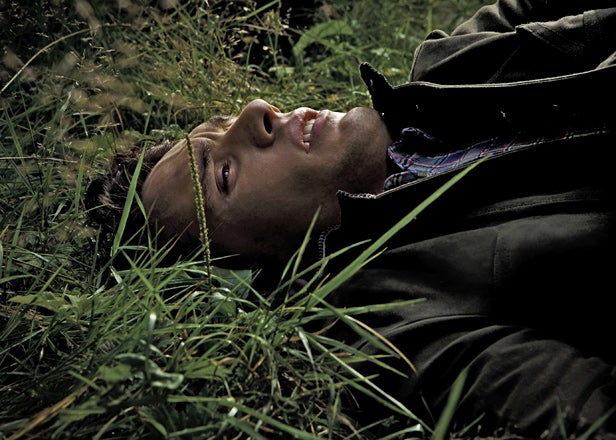 Sheryl Nields
Heading out the door? Read this article on the new Outside+ app available now on iOS devices for members! Download the app.
In 2003, trapped in a Utah canyon by a fallen boulder, a solitary hiker freed himself with an amputation that became famous around the world. So what's it like to watch a Hollywood director turn your ordeal into entertainment? Weird and beautiful, that's what. ARON RALSTON reports from the set of 127 Hours. PLUS: James Franco on how he portrayed the outer limits of human endurance.
Ralston, photographed for Outside in Colorado National Monument, June 2004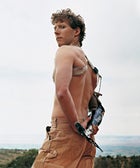 Ralston, photographed for Outside in Colorado National Monument, June 2004
Franco's entrapment

Franco's entrapment scenes were physically grueling. "I was purple all over"
Ralston atop Colorado's Mount Eolus, March 2005.

Ralston atop Colorado's Mount Eolus, March 2005.
Director Danny Boyle exploring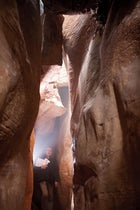 Director Danny Boyle exploring a fauxsandstone Blue John Canyon on the set in Salt Lake City.
It's a classic dinner-party question:
Who would play you in the movie of your life? But I never thought I'd find myself on a couch next to James Franco in a suite at the Four Seasons in Los Angeles, showing him how to cut off his arm.
It's January 2010, and Danny Boyle—the British director of Trainspotting, Slumdog Millionaire, and, now, 127 Hours, the film about my six-day entrapment in a Utah slot canyon—has brought me to meet James for the first time. The actor unpacks his lunch while Danny's partner on the film, producer Christian Colson, prepares a VHS deck to show a video: my last will and testament, actually, an hourlong diary I recorded from April 26 to May 1, 2003, while an 800-pound boulder kept my right hand crushed and pinned. James wolfs down a walnut-and-spinach salad, chased with a Diet Coke. He's already shedding weight to portray my starvation, I realize, as we settle in to watch.
Immediately, a 27-year-old version of me fills the screen. "It's 3:05 on Sunday," my ghost says. "This marks my 24-hour mark of being stuck in Blue John Canyon above the Big Drop. My name is Aron Ralston …"
I've seen this tape before, and while it reminds me that I'd accepted my own imminent death, the footage has never distressed me. For others, though—especially my mom—the emotional impact is intense, even disturbing. Occasionally I glance over at James as he intently absorbs my goodbyes, thank-yous, and death-watch updates. When I explain on the tape that I've resorted to drinking my own urine, and then add in disgust, "It's no Slurpee," the face of Gucci laughs at my pitch-black humor.
Sporadically, Danny pauses the video as James interrupts with questions.
"Where did your bones break?" he asks.
"Just a few inches back from my wrist, here."
"Is that where you started cutting?"
"Uh-huh, on the inside, the part farthest from the wall."
It's a surreal game of charades—reenacting my experience for an actor who will later re-reenact it. As I pantomime snapping the bones of my ensnared arm around an invisible boulder that floats above the coffee table, James's spirited eyebrows arch and glide across his forehead like feather boas on a drag queen. They could easily out-tango any duo on Dancing with the Stars. I lose my concentration and laugh out loud. Will someone tame these things, please? I can't work like this!
This whole movie process, in fact, has been quite strange. Producers' solicitous e-mails started arriving within days of my rescue, while I was still in the hospital. Among them was a note from John Smithson, the Brit behind the survival docudrama Touching the Void, who would eventually option my 2004 book, Between a Rock and a Hard Place, and take it to various financiers and directors.
One of those was Danny Boyle. When we first met at a canal-side café in the Dutch city of Utrecht in 2006, I was struck by his preparation. He had highlighted, underlined, sticky-noted, annotated, and dog-eared his copy of my book to the brink of illegibility. Over espresso, Danny described his fascination with this "exstrawrdinry" story, even as he explained that he's not a wilderness guy himself, nor does he have much interest in adventure tales. What compelled Danny most were the challenges inherent in making an action picture that has so little opportunity for action. One guy, in one place. An hour without dialogue. And absolutely no voice-over. Clearly, this was not going to be a mainstream adventure flick.
Danny necessarily saw the film as more "based on" than "true story," but, over time, he and John and I found a common vision, and we finally began work on the script in earnest in 2009. Throughout the summer, Danny expanded the script in four iterations, and at each step I provided him with extensive feedback. And I do mean extensive. At first I resisted every departure from the facts. My wife, Jessica, counseled me to detach, but I still struggled. Whenever a new version arrived, I'd spend hours marking up the 90-page printout, muttering things like "Why in the world would a stampede of wild horses be jumping over the canyon?!"
After a few months of back-and-forth, Danny brought in professional screenwriter Simon Beaufoy. In addition to the Oscar he'd won for Slumdog, Simon had been nominated in 1998 for his screenplay for The Full Monty. He was also the only person on Danny's creative team with any climbing experience, which I appreciated. Last November, in anticipation of a major rewrite, Simon came to hike with me in Boulder. Half a foot shorter than me, almost ten years older, and straight from sea level, he still kept pace as we bushwacked uphill, discussing potential script changes. We quickly came to refer to the main character as "Aron," as opposed to Simon calling him "you" and me calling him "me."
As Jessica had predicted, this proved key for my well-being. If I kept thinking of Aron as me, I probably wouldn't have been able to stomach the changes needed to translate my book onto film. Cultivating that non-attachment was the toughest part for me. That said, the film character's personality ended up closely mirroring my own: adventurous, self-assured, even cocky; thoroughly analytical but a little wild around the edges.
Simon and I also talked a lot about the role of facts. "Truth is a complex word for a complex concept" in film, he said as we tramped up a slope south of Boulder Creek. "Fiction—or fictionalized adaptations—can convey a true emotion more effectively than the facts."
That gave me something to chew on. The facts of my experience in Blue John Canyon would still saturate the story line. And with a few choice fictionalized elements, the audience would be transported even deeper into the canyon. Knowing that Danny wanted me intimately involved in the filmmaking also reassured me immensely.
In December, we had a working script, and Danny's team started pre-production. By then, friends and strangers alike wanted to know, "Who's gonna play you?" Bantering about the pros and cons of A-listers, we were all cigar-chomping moguls. Jake Gyllenhaal? Too rigid. Matthew McConaughey? Too hunky. Luke Wilson? Too metro.
Just before Christmas, I got the news that James Franco had been cast. Oddly enough, I didn't even know he was in the running, and odder still, I was having difficulty placing him, despite having seen him in Pineapple Express, Freaks and Geeks, and Spider-Man.
His publicity photos showed that he cleans up very handsomely. But I had to wonder: How will he dirty down?
WHAT WAS HARDER TO CAST was the canyon itself. Back in July 2009, I accompanied Danny, Christian, and John on a visit to Blue John. The canyon is 60 miles southwest of Moab, out by the Maze district of Canyonlands National Park. We flew by helicopter, direct from our hotel to the slot, buzzing the mudstone spires of Fisher Towers on our takeoff. Instead of a circuitous two-and-a-half-hour drive and a five-mile hike, we were there in 15 minutes, fresh as predawn datura.
I've come back to this canyon about once a year for seven years. The first time was just six months after the incident. It's a place of peace for me, of clarifying acceptance. To stand there with the rock that trapped me is literally a touchstone experience, a unique chance to look over my life and check in with myself. Kind of like a yearly physical exam, but I get to keep my pants on.
With two Moab climbing guides spotting and lowering the trio of Brits, we maneuvered over drop-offs and under chockstones to reach the spot where I'd been trapped. Once Danny took a collection of position photos of me at the site, we ventured farther down the canyon to the 65-foot-high Big Drop rappel, which I'd had to navigate to finally escape.
The next time I saw Blue John was in a defunct furniture factory in Salt Lake City. Of the roughly 250 scenes filmed, more than half take place in the entrapment spot. To shoot half the film out in the real canyon—five miles from a road and 50 miles from pavement—would exponentially increase the resources and time required. On top of that, last winter was exceptionally cold, with record-setting snowfall lingering on the red rock. So Blue John would travel indoors for a few months, into the empty Granite Furniture buildings in southeast SLC's Sugar House neighborhood, before filming began at the real canyon in late April.
In Salt Lake, production designer Suttirat Anne Larlarb—a hip young Thai-American who was Danny's costume designer on Slumdog—re-created the canyon grain by grain. She led about half a dozen separate scouting trips to Blue John, mapping, photographing, and taking epoxy casts of the walls. Using a souped-up laser range finder called a LIDAR, Suttirat's team scanned the canyon to millimeter accuracy every three feet along its length. Then they dumped the LIDAR data into a prototyping machine, which spit out a Styrofoam scale model, complete with chockstones, that the team enlarged into two full-size replicas.
On my first visit to the set, on a surprisingly mild day in early March, I walk in the decal-covered front door to find the production assistants occupying a gutted reception area. Behind them, the fluorescent Floor Coverings sign is still lit in what's now the costume department. Actors arriving for casting calls are gathered over to one side, under a doorway marked Kitchens. Everywhere, there's an ironic lack of furniture. Yet this hardly phases the film team, who must be the world's most highly organized squatters.
Back in costuming, the seamstresses have reproduced racks full of my shorts, shirts, socks, and shoes—ten outfits, one for each progressive level of dirt and sweat stain during my entrapment. I'm especially impressed that they've combined two fall 2000 Phish tour shirts into a custom, salmon-toned short-sleeve that's cinematically palatable.
In the props department, the contents of my storage closet have reproduced like viral spam, with cloned stockpiles of my gear everywhere. Over here: ten sets of my exact backpack, harness, hat, and headlamp. Over there: a half-dozen vintage cameras and Walkmans, even four matching mountain bikes, all the precise models I once had.
On a cabinet near some empty cubicles, I notice a lineup of large mason jars half filled with various recipes for fake urine—a bizarre science experiment to reproduce the real stuff I drank to survive in Blue John. It's as if Rod Serling were guest-hosting an episode of This Is Your Life. In a storeroom, I find a dozen fiberglass boulders packing the shelves, exact duplicates of the rock that confined me. This room feels surprisingly personal.
Walking next door to the old factory, I pass three of "my" red Toyota Tacomas parked in a row. Inside the set, coils of "my" rope lie draped over stage boxes. And along the north wall, the trippiest part of it all: a plywood-walled workshop housing a score of fake arms and hands. A half-dozen hang gruesomely on overhead hooks like cuts of meat in Hannibal Lecter's freezer.
And then I come to the technical marvel of Blue John Canyon itself. The set builders have made two canyons, actually: one at exact scale, the other vertically exaggerated by 50 percent to allow for slightly longer falling action in the initial accident sequence. They've cut two 15-by-70-foot holes in the concrete floors to accommodate the 50-foot-high slot canyons and, using the cast molds, created 100 urethane-and-fiberglass wall sections. Painted, coated with grit, and backed with hardening epoxy filler, this simulated sandstone looks and feels incredibly real.
I clamber up the walls excitedly. Only when soft spots flex slightly under my weight can I discern the forgery. Repli-canyoneering is almost as fun as the real thing, I decide, and far more convenient if you want seconds of grilled tilapia from the lunch buffet.
MIDNIGHT IN THE CANYON. Well, really, it's 10 a.m. in Salt Lake City, but here in this windowless factory, the sun only rises when the gaffer says so. Over in costuming, Danny and James and I go through the "clothing" I'd improvised to shelter myself from the nighttime chill: a few wraps of climbing webbing repurposed as my neck warmer and a plastic grocery sack and a camera satchel as long sleeves. I'd stuck my head in my climbing-rope bag and coiled the rope itself into leggings.
Dolled up in my clothes, my hat, my backpack, and my climbing gear, James is a convincing doppelgänger. The prop team brings out one of the replica boulders and sets it on a wheeled cart. With an assistant videotaping my demonstration, I move him, marionette-like, through my attempted escapes: how I chipped at the boulder; how I built a makeshift anchor-and-pulley system with one hand; how I sawed and stabbed at my arm with the blade of my multitool. James is known for his Method acting style. (On funnyordie.com, he sends up his techniques in several mock-instructional videos that had my friends and me wailing with laughter around a laptop.) But despite his character-inhabiting skills, an assistant has to duct-tape James's "trapped" right hand to the fiberglass boulder because he keeps trying to use it to adjust the harness and pulleys.
Remembering that his hand is stuck is one of the more superficial ways that the filming is hard on him. "It's been rough on the body," James says later, showing me his real bruises and abrasions from the entrapment scenes as he dons his prosthetic third arm for a daytime scene at the boulder.
We're sitting on a couch in his black-draped private area during a break in filming. In person, James is often quiet, almost shy, though perhaps this is because he's perpetually studying for one of four simultaneous master's programs, including one at NYU (for filmmaking) and one at Columbia (for writing). Flying back and forth to New York on red-eyes, he's still missing many of his classes, so he listens to recordings his friends provide. Despite his efforts, he tells me, his professors aren't going to allow him to graduate this spring. "I'm hearing what I'm missing in the class discussions," he says, rolling his eyes, "and they're punishing me for that?" Whatever happens, it won't prevent him from starting a doctoral program at Yale this fall. "I like to be busy," James tells me.
No kidding. Even between intense takes, James pulls a thick ream of rolled paper out from a hiding spot under the boulder to read. At first I think he's reviewing the script. But it's actually his homework for a class on Proust. Nothing like a little À la recherche du temps perdu to put one in the mind-set for self-amputation.
When it's time for the live scene, I follow James and his three arms through the dust-clouded factory back to the canyon set. I scoot up a back way into the upper canyon, carefully crawling past two scorching-hot lamps and a hodgepodge of light-diffusing flags. Danny is giving James his directions.
"The pain sears through your arm. Sears," Danny emphasizes. "Stabbing with pain." I infer that this is one of the attempted amputation scenes. Oh, boy, the good stuff! With a glance up to me, five feet overhead, Danny raises his eyebrows to say, "OK, let's clear out." I meet him at the video-monitoring station, where we can see James on two screens. One camera is looking head-on at James from just above his entrapped right arm, the canyon wall framing the left side of the shot. The other view is from just a foot to the right of the first, giving the oblique angle. Cinematographer Enrique "Quique" Chediak and another cameraman are squished side by side into the three-foot-wide space just behind the boulder, each maneuvering a pared-down digital camera rig.
"Pan right and tilt up," Danny directs Quique. "Pull back. Too much. Press in. More dutch. Boss right …" Finally he says, "Yes. That's it. Ready."
I've noticed that Danny doesn't generally sit in his director's chair. He stands to watch and move between the video screens, so I help myself to his seat. David Ticotin, the first assistant director, issues the command "Shhhhhhhhhhh" through his microphone, and then "Roll cameras." Danny cues "Action," and the efforts of 40 mostly unseen crew members culminate with a collective focus on James.
He takes a few labored breaths. "Even more rasping, James," Danny calls out, which James provides before reaching for the neoprene covering of his unpeeled CamelBak tubing. He loops it around his right forearm, cinching and knotting it, then uses a carabiner to wind the makeshift tourniquet so tight that it pinches his skin.
Damn, man, be careful. You're gonna hurt yourself, I think, before I remember it's the fake arm. With the knife in hand now, he braces himself, then attacks his arm, sawing away maniacally, grunting, heaving, and sweating. But the blade is too dull. Defeated, he relents, setting the knife down.
I'm alternating between watching James on the screens and watching Danny watch James. James clutches his chest, Danny clutches his; James leans into the boulder, Danny presses into the video cart; they each purse their lips, then bare their teeth, then relax, in concert. I can't tell whether Danny is mimicking the action or directing James through animated telepathy or playing out the part that he's created in his mind over all these years. Whichever, it's intense, slightly funny, and amazing to witness.
With renewed gusto, James picks up the knife. Holding it like a dagger, he slams it into his arm to the hilt. Blood oozes out of the wound.
Then something truly horrific happens. A cell phone rings. A tinny melody shatters the world. The way everyone dives to cover their pockets, it's as if somebody had shouted "Grenade!"
"Shit! Shit! Shit!" Danny swears through gnashed teeth as it rings a second time. First AD David cues his microphone: "Cutcutcutcutcut!"
A third ring—and I snicker out loud as Danny realizes that it's his own phone. Pulling it out of his jeans, he smiles at me sheepishly.
Well, good. 'Cause that's about the only way this could have ended without a real amputation and someone's head rolling out of the set doors.
ON APRIL 25, the eve of the seven-year anniversary of my entrapment, I'm stuck again, this time in the farthest reaches of the B Concourse of Denver International Airport as mechanical difficulties delay my travels to Moab and on to Blue John. I'm itching to be there for this septennial moment, and when I finally arrive, 16 hours later, I'm amazed at the transformation: there's now a heli-base four miles from the canyon, with scores of semi-trailers, RVs, delivery vehicles, and SUVs lining a short spur that previously led only to a rancher's water tank. Via chopper, I'm flown to a landing zone just above the slot. Below us, on sand flats nestled amid pale-yellow sandstone domes, is a fully outfitted village, all of it airlifted in for the week of filming.
If there's any truth to the idea that our bodies replace their cells every seven years, this day finally marks the moment when I'm no longer the same person who walked into Blue John in 2003. In a week, I'll no longer be the person who walked out, either. In theory, at least, I'll be totally new. The fact that Danny and the team will finish shooting the movie here in the canyon, during this exact week of my renewal, reminds me how an ending is also a beginning.
Getting out of the canyon alive was a rebirth. My entrapment and amputation cleaved not only my arm but my whole existence into pre–Blue John and post–Blue John eras. In the years following my survival, I finished my solo climbs of all of Colorado's 14,000-foot peaks in winter; I summited Aconcagua, soloed Denali and skied from the top, and rowed my raft through the Grand Canyon. I worked to preserve wilderness, promote disabled athletics, and help empower at-risk youth. So now, if post–Blue John is ending, what's beginning? Perhaps it's time, I muse, to close those chapters and remember the enduring lesson of my entrapment: that relationships, not accomplishments, are what's important in life.
Life cycles have been a significant theme for me lately. My grandmother Marjorie Ralston died in March at the age of 82, after a severe stroke. The only consolation was that I was able to travel back to Ohio in time to show her photos of Jessica's and my precious baby son, Leo, her only great-grandchild, who was born just two weeks before. At her funeral, the minister said that when a train pulls up at the depot, some people get on, some people get off. Grandma had left, but Leo had arrived. I grieved that they would never meet.
Now, in this red-rock Hollywood, I walk past twin 5,000-gallon water containers serving gravity-fed shower stations and on toward the 45 blue personal tents where the crew is camped. There's a bank of portable toilets, a cluster of droning electrical generators, and, most important, the catering tents, complete with AstroTurf carpeting and a menu board advertising Salisbury steak, chicken pot pie, a salad bar, and fresh-baked brownies.
Hoping for some time alone in the canyon, I head over to the slot. The crew has installed ladders in several places for easier access, but just for fun, I avoid using them. At the downcanyon edge of a platform spanning three Prius-size boulders, I skip the ladder again, scissoring my legs over the railing. Transitioning off my butt, I stretch my right foot above a ten-foot drop to stand on an adjacent chockstone. But suddenly the rock compresses under my shoe. My body pitches forward. A sound like eggshells crunching covers up my astonished yelp—"Wha?!"—as my right shoulder slams into the canyon wall.
Bridged over the void, I look down and realize I've been fooled by a prop. One of the Styrofoam boulders sits below me, now with a size-10 sneaker imprint. I laugh at the terrible irony. Could there be any greater ignominy than taking an anniversary plunge off a phony rock, within yards of my original accident site?
At the drop-off where I stood in 2003, seconds before becoming pinned in the canyon, there's another ladder. Humbled, I use it. This one runs down over the real boulder that pinned me and under a second, larger chockstone, with a sign warning, Watch your head. And your hands, I think to myself.
Settling in, I take off my prosthetic and touch the rock with the skin of my stump, letting the place soak back into me. I feel myself go beyond my memories of all my later visits until I can finally touch that initial time again. I breathe in the dusty air, lean against the cool wall, and look at the spot where floods have long since scoured away my attempted epitaph. Solemnity comes seeping out of the sandstone.
Turning on my camera, I scroll back to the pictures I took of Leo before I left home. His toothless smile beams brilliantly on the screen. Turning the camera around, I show the photos to the boulder. See, rock? The vision I had on my last night in the canyon has come true. In what would have been my final moments, a premonition of a little blond boy gave me the courage to make it until dawn one more time. And now, rock, here he is.
THE FILMING IS HAPPENING farther downcanyon. It's going to be James on his escape, immediately after the amputation. He'll be in the euphoric throes of liberation, trying to manage himself while being driven manically into action by the eight miles of hiking ahead. James joins Danny and the crew in blood-soaked style, looking like he's forgone the pot pie and eaten a vampire for lunch. A makeup artist applies extra red gooey mess to his face and left hand. I remember my concerns about James being too handsome, back in December. Seeing him today at the raw edge of existence, coated in blood, sweat, and dirt, he doesn't even look like himself. Which is to say, he's dirtied down quite nicely.
Danny leads everyone through four takes, each of which includes James careering downcanyon immediately underneath my roost. Each time, he stops in the dark canyon just past me, out of sight but with his raised left hand resting on a curve of the wall that's level with my feet. Each time, a little more blood smears on the Navajo sandstone. At the end of the last take, I shoot a few photos of that hand.
Watching James, time warps in two directions, past and present intertwining like yin and yang. I feel a weird sense of disorientation as my 2010 self is teleported back seven years, sitting in that alcove watching myself escape. Concurrently, I'm still in 2010, observing the ghostly disembodied hand of my 2003 self splayed on the sandstone just beneath me.
Once time returns to normal, I realize that Danny is already leading a closing set of takes just for sound.
"Do you want me moving?" James asks.
"No," Danny says, donning his headphones. David, the first AD, calls out, "Focus, everyone." Danny continues, "And … action."
James breathes heavily, grunts, sucks air through his teeth, and exhales loudly. "Give us an intense-pain one if you can," Danny says.
There's a long pause until finally, out of the silence, echoes a squeak of Franconian flatulence. There is another pause as we all try not to be the first one to break, and then a flash flood of laughter.
"Cutcutcutcutcutcut," David belatedly orders, once he composes himself. Still chuckling, Danny calls it a day.
"Thanks, James. Thanks, everyone. It's a wrap."
AND SO IT IS. In the end, the film hits its narrow target. It is my true story. It authentically conveys my experience in Blue John with power and humor. Make no mistake: this is not a date movie. In nine screenings so far, nine people have fainted. Personally, it grips me with laughter and tears of gratitude every time I see it. My sobs come harder and more joyfully with my family and friends sitting next to me, especially during the closing scene: the people gathered there are my real loved ones. The day we filmed those final moments was my favorite part of the project.
Just as important, Danny and the crew took care of the desert. True to their word, the team went to great lengths to avoid scarring the canyon, and they collaborated at every turn with the Southern Utah Wilderness Alliance to preserve potential wilderness areas.
Every time I return to the red-rock country of southern Utah, I'm struck again by the massive scale of the desert and the contrasting subtleness of the canyons. Down there, sounds carry with an intimacy like whispers breathed in my ear. My clothes and skin turn buff orange from dirt caked onto the walls, their roughness temporarily scouring away the texture of my fingertips. New secrets come every few feet as I follow turns through the cool humidity of mildewed air. Thirty feet off the ground, I find a bird's nest filled with wind-blown dirt. Under the dust are three broken eggshells.
These slots are the magnum opus of the desert. I think they'll go well with a medium popcorn and some Sprite. Maybe a box of Junior Mints.