The Running of the Bulls, Day 7
Our man on the ground at the 2012 San Fermin festival chats with Dennis Clancey, a frequent Pamplona runner and filmmaker who has been working on Chasing Red for the past six years
Heading out the door? Read this article on the new Outside+ app available now on iOS devices for members! Download the app.
Six years ago Dennis Clancey of Phoenix, Arizona, decided he wanted to create a documentary about the running of the bulls in Pamplona. Over the years he's learned the craft of filmmaking and compiled an incredible crew of young, passionate movie-makers. Head camera man Brandon Widener, for example, works for Disney and has a phenomenal knack for capturing compelling images. Dennis and the Chasing Red crew recently raised over $20,000 through Kickstarter for their filming budget. They bought an Epic camera and even flew out a line-cam crew to capture video while floating above the run as it unfolds.
Clancey has also had a terrific year as a runner in the Encierro. He's been on or in the presence of a bull's horns each day of fiesta and captured probably the best run of any American this year at The Curve. I sat down with a tired Clancey this afternoon for a quick chat about creating his film Chasing Red.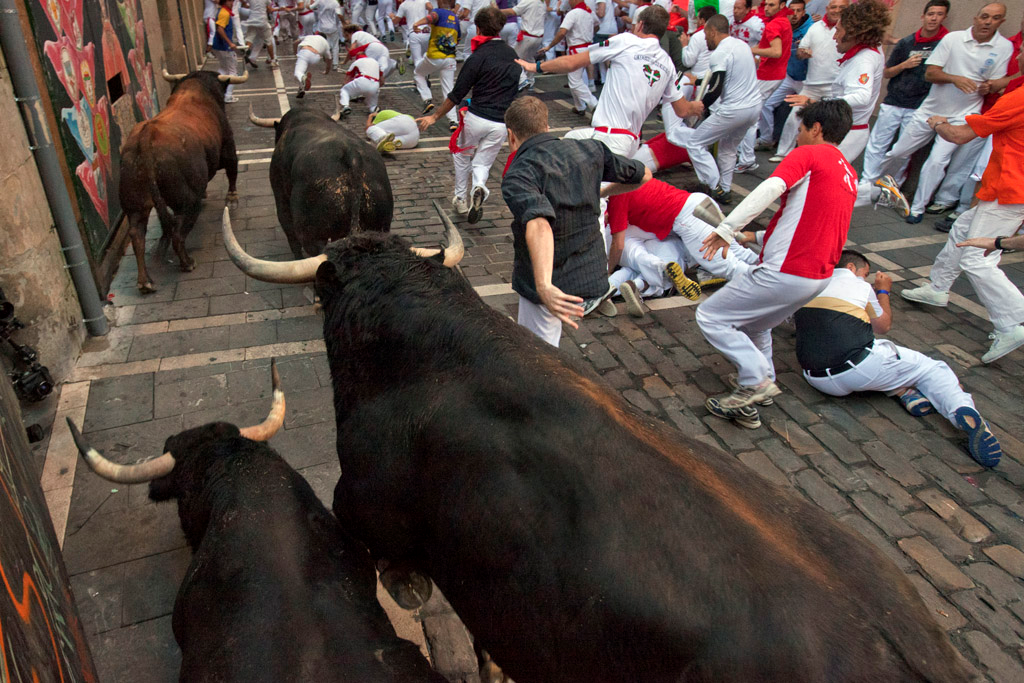 What do you want to accomplish with this documentary?
I want to give people a window into my own experience at Fiesta, especially the Encierro, the event that most resonates with me.
What inspired you to start this documentary?
I knew other people who had come to Pamplona and I wasn't satisfied with their been there, done that stories. I believed there was a deep and moving experience to be had here and I wanted to see what that would look like.
What is the structure of the doc?
It's a character-driven documentary following eight runners. They each have their own goals and aspirations and we follow them in their pursuits of those dreams.
What is the Encierro to you?
Running the Encierro these past six years has been an opportunity to test the discipline of my emotions. In my time here I most enjoyed teaching people to run and stay safe. If I'm going to teach I want to be a strong example for my students.
How difficult is it to film a documentary in the heart of one of the world's wildest parties?
In the process we realized in a lot of ways there's a more dramatic story in the filming of the doc rather than just the characters. You're constantly torn between an event like the Encierro that takes a lot of focus and the demands of capturing a documentary. There's just too little time in the day. I just sleep three hours a night. It's my opportunity to experience two of my passions: running and creating a documentary film.