The Last Stand of a River Legend
In a new documentary, The Salad Days, river runner and advocate Herm Hoops takes to the water one last time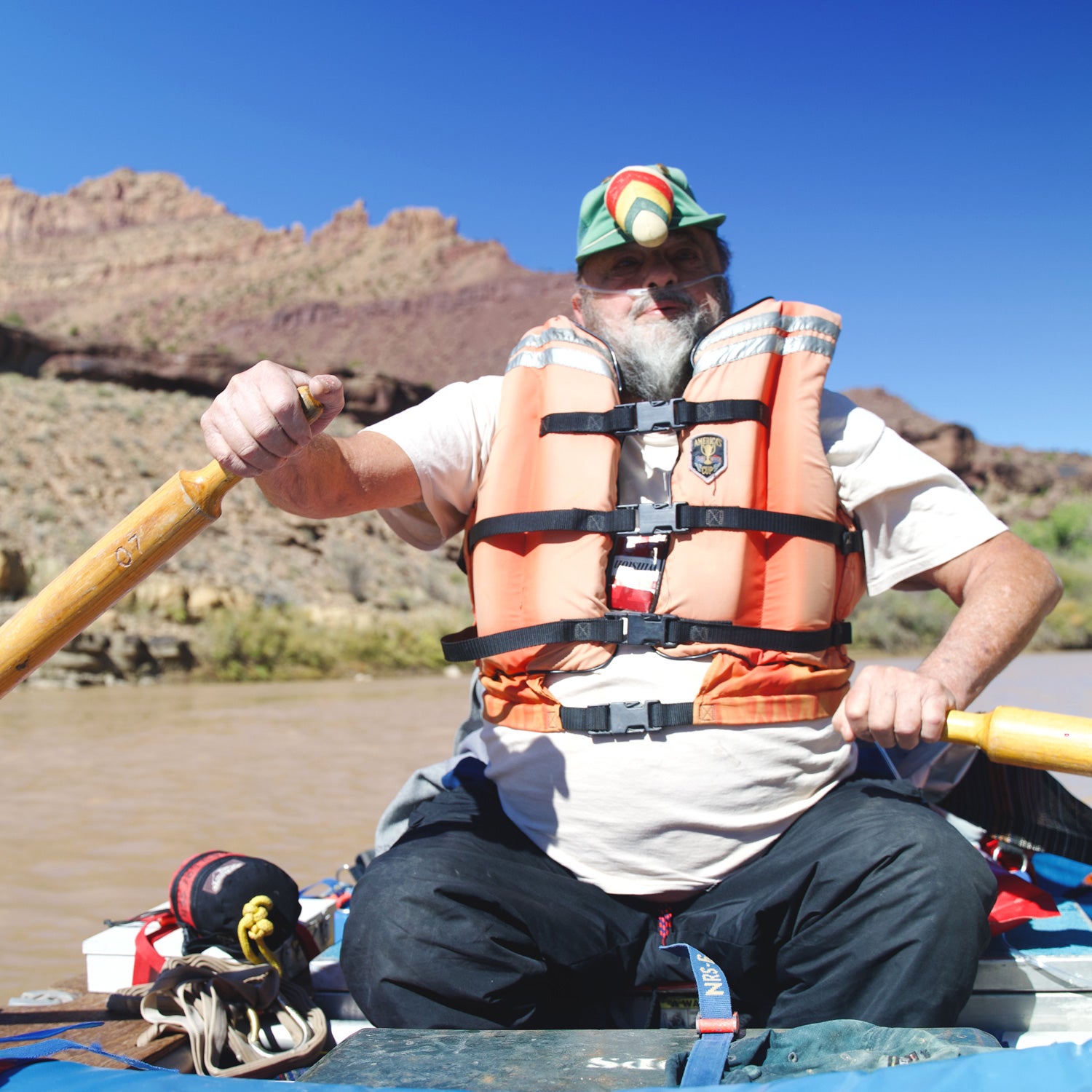 Heading out the door? Read this article on the new Outside+ app available now on iOS devices for members! Download the app.
From the drone shot, you can't see the oxygen tank or the gray pallor on the rower's bearded face. All you can see is a raft slipping through the wave at the top of Three Fords Rapid in Utah's Desolation Canyon, an orange glow of fall light on the rocks. A barrel-chested man is rowing, and at the end of the run he doffs his hat, a ball cap with a faux toucan bill on it—the same one he's been wearing for decades. When the shot closes in, you see the cannula and hear the buzz of the car battery that's keeping the oxygen flowing, keeping him alive on the river. It's river advocate, historian, hell-raiser, and guide Herm Hoops's last run down what he calls the "whitewater ballet." 
Hoops, who is 71, has spent most of his life fighting to protect the fragile desert rivers of the Colorado Plateau—he was inducted into the River Runners Hall of Fame at the end of September for his work, which ranged from two decades of working for the National Park Service to a lifetime membership with the Colorado Plateau River Guides Association. His most impactful work has been in local and national advocacy and organizing, spreading the word about energy development and hectoring federal agencies to protect wild places. In a forthcoming film, The Salad Days, from production company Rig to Flip, he's wrangling with his legacy of river protection and the arc of his life on the river, when he knows he's staring down the end. "I'm involved in the process of dying," he says in the film, looking out across the canyons. "I'll miss certain things."
Two years ago, director Cody Perry was returning some borrowed gear to Hoops—whose garage is a museum to the history of inflatable boats and whose house is packed with the detritus of river life—when Hoops mentioned that he'd been diagnosed with cancer. Perry, who has been making films about river conservation since 2013, started thinking about how to tell a story of the myriad ways Hoops had touched river protection, from working as a park ranger to acting as an unofficial boating-industry historian to actively fighting oil and gas development in the Colorado River corridor. Since the sixties, when Hoops started running rivers (and pioneering plenty of them), the rivers he loves have drastically changed, and his life has tracked a curve of guarding those places, from recreational explorer to ardent advocate.
He rigged a couple of car batteries to an oxygen compressor, and stuck five bottles in his boat, and hoped he'd make it through the canyon.
"Herm is a fixture in the boating community—he's a fiery character and advocate, a weirdo—and I knew there was a story there, but he's an exceedingly difficult interview, because he's got so many cross threads," says Perry.
So to line out all the threads, they got on the river for one last trip: Hoops's 123rd through that canyon. He hadn't been on the river in a while, because the cancer tied him to oxygen tanks and cut his strength. But he rigged a couple of car batteries to an oxygen compressor, and stuck five bottles in his boat, and hoped he'd make it through the canyon. "It was crazy. We had evac plans because we could only guess how long the oxygen would last," Perry says.
Part of the story is the rhythm of being on the river and the rituals of each trip, like bacon and doughnuts for breakfast, and Hoops's wife, Val, in the bow, as she often had been in the past—Perry says she's the only thing that's more important to Hoops than water. Hoops rigged and rowed his boat himself: more than five decades of muscle memory and good-luck charms shook out for one last run. He carried the detritus of a life on the river.
"He's reckoning with his attachments to this universe," Perry says. "There's a lot of gravity in that." He wanted to show Hoops's long, sometimes controversial history of fiercely protecting rivers in the face of oil and gas production and changing land use, but he also wanted to show the ways the river shaped his life.
Hoops says he wants those places to be protected even after he's gone, so people can have that same sense of discovery he had. He's worried that the current administration is rolling back and neglecting so many of the protections he and his generation fought to put in place. But he's not just salty about it. He knows that it takes a lot to care about a place and fight the inertia of human use.
I got to spend some time with Hoops a few summers ago while I was doing research about a book on the Green River, one of those wild Colorado Plateau waterways he loves. He texted me a hand-drawn map to his house, and when I rolled in, he poured me coffee and regaled me with stories about costume parties in untracked canyons with Val and being threatened for staring down the BLM at county meetings devoted to opening up land leases. He sent me off with a 44-page PDF of his favorite places in the section of river I was going to run next, a personal index of what seemed like the secrets to every little slot canyon, the pictographs and the pint-size camping beaches. But Hoops said it wasn't even close to everything. He wouldn't spill the best secrets he's learned down in the canyon, because he thinks they're better if you find them yourself.
After Hoops and I talked, I made a note to myself that I still have on my desk. "Be like Herm," it reads. "Warm and gregarious but strong in your convictions."
The Salad Days is about the way those convictions build over half a century and how they become cemented in place after thousands of miles on the river. It's a heartbreak of a love letter to both place and a way of life. Watching it, you can't help mourning the things we've lost already; there are so few untouched places left. In the movie, when he's grappling with a lifetime of learning exactly what we stand to lose, Hoops says he hopes that the story of his obsession with rivers can be an example for future conservations to get out and get on the river, so they can see what they might stand to lose. "All you can do is hope you inspire someone else." 
Lead Photo: Courtesy of Rig to Flip