A Muralist Paints the Camp Fire's Wreckage
Shane Grammer's images brought hope to his friends and family in the wake of California's most destructive fire. Now he's returning to the region to reveal new work, including a major art installation.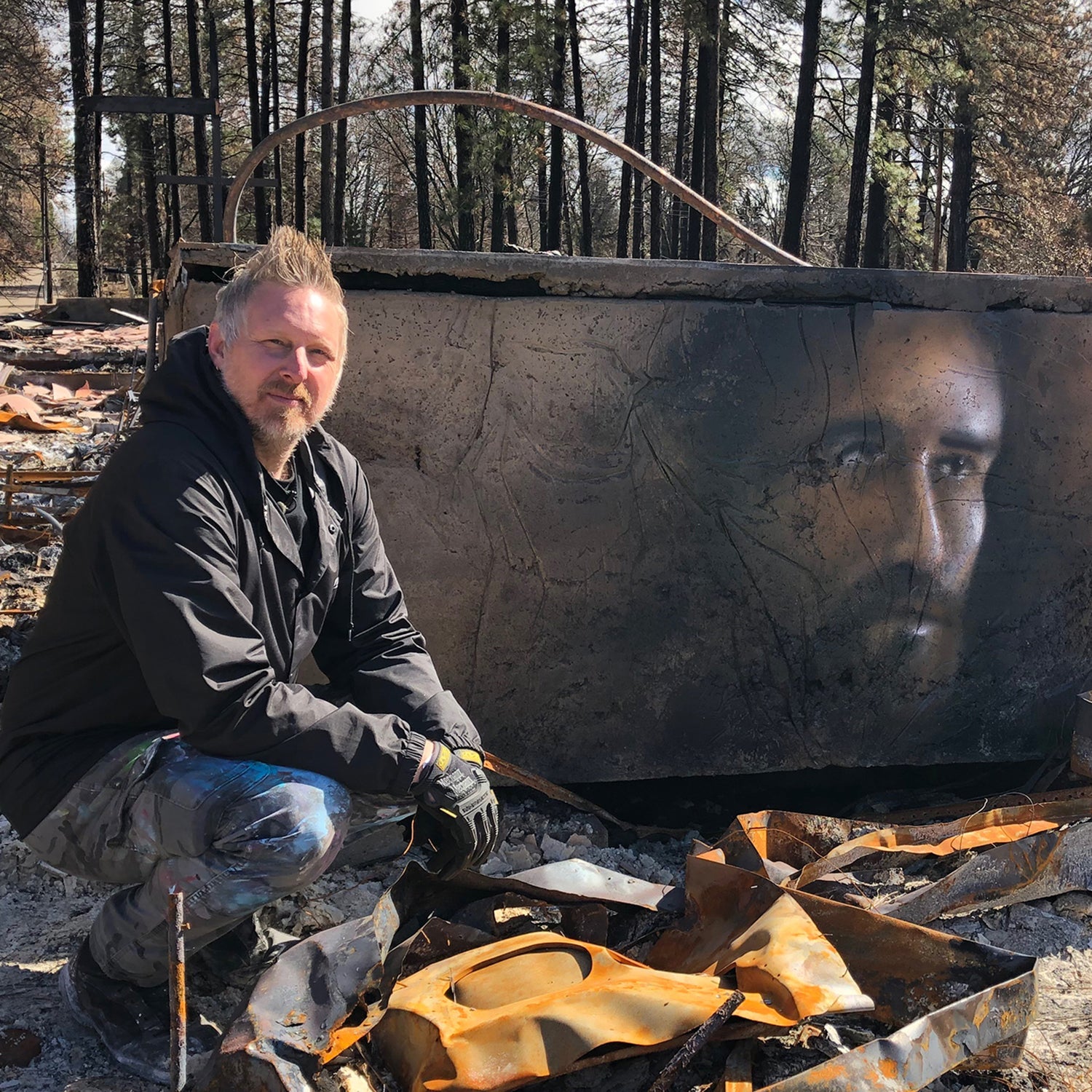 Courtesy of Shane Grammer(Photo)
Heading out the door? Read this article on the new Outside+ app available now on iOS devices for members! Download the app.
Last winter, when muralist Shane Grammer returned to the area where he grew up, it looked like the aftermath of a war. The Camp Fire, the deadliest wildfire in California's history, had ripped through Butte County less than two months before, flattening entire communities, killing scores of people, and displacing tens of thousands.
The town of Paradise, just 15 miles from Grammer's hometown of Chico, was leveled. Lone chimneys—the rare structures that could actually withstand the fire—stood surrounded by ash and twisted metal. Nails once buried inside walls now lay exposed, jutting up from the ground. Grammer watched workers fell trees weakened by the flames and the odd hazmat-suited resident sifting through rubble looking for any surviving belongings.
Then he began to paint.
Over the course of three months, the 47-year-old created a series of more than a dozen spray-painted murals on the remains of buildings and vehicles rendered useless by the flames. The images included a victim of the fire, a young girl who survived but lost her house, and a series of biblical characters. The project garnered national attention, including news features and TV segments, and will culminate in a one-night art show and fundraiser on June 7 at the Museum of Northern California Art (MONCA) in Chico. Titled Beauty from Ashes, the event will feature images of the Paradise murals (since demolished during the cleanup) by Sacramento-based photographer Terence Duffy and paintings and a new multimedia installation from Grammer. Residents from the region will be admitted for free, and proceeds from ticket sales will benefit a MONCA summer youth program as well as the Paradise Art Center, an arts-education nonprofit.
For Grammer, these works are an extension of what he's always done. As a Christian missionary and street artist, he's spent much of his adult life traveling to areas of misfortune—an orphanage in Tijuana, Mexico, a youth ministry in downtown San Francisco, a nonprofit for child sex-trafficking survivors in Cambodia—and painting murals there. "I want to do something powerful and create art that moves people," he says.
The difference was that this time, the tragedy had hit home.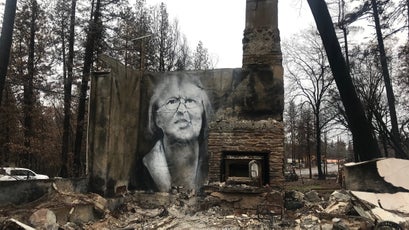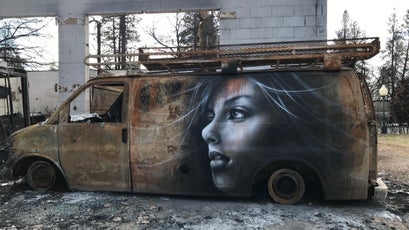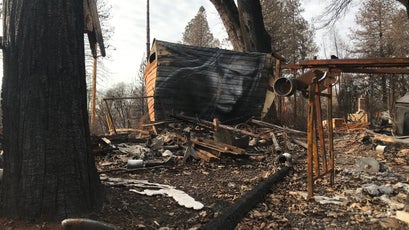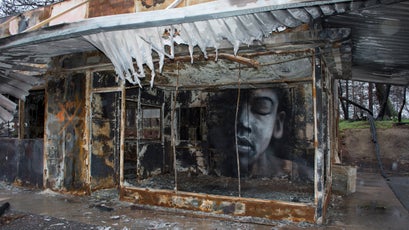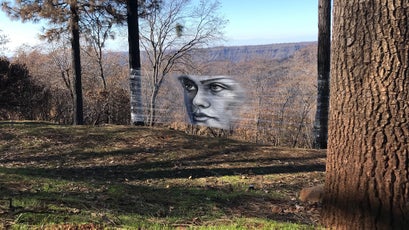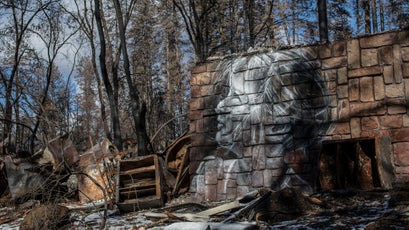 ---
Growing up in Chico, Grammer found refuge in art. His father, who he never met, died of a drug overdose when Grammer was young, and after his mother remarried, he struggled to feel accepted at home. Art provided an outlet for his emotions, a way to experience a sense of connection. "I can sit in front of a Rothko or a Pollock in a museum and just cry," he says. While taking community-college classes near Chico in the early 1990s, Grammer saw a documentary called Style Wars about New York's graffiti scene. "I thought, Whatever that is, I have to be a part of it." A few years later, he moved to the Bay Area and opened a business creating murals and installations for clients ranging from theme parks to houses of worship.
Two years before the Camp Fire, Grammer had moved with his wife, Missy, and their three young daughters from outside Sacramento to the Los Angeles area, where he found work as a theme-park designer and creative director. When the fire hit in November, he read about it in the news, but the demands of fatherhood and his day job pulled his attention back to life at home. Then he began to see the pictures on Facebook. A single mother he knew shared a photo of ash and rubble where her home once stood. A childhood friend's post showed her burned-down house; destroyed inside was a painting of Grammer's that she owned. In another photo, Grammer's brother and his kids, who still lived in the area, peered out from behind respirator masks, lungs protected from the particulate-clogged air. More than two dozen friends and relatives had lost their homes.
One image in particular grabbed him. A friend named Shane Edwards shared a photo of the burnt remnants of his family's home, the lot littered with ash, a brick stairway leading nowhere. Only the chimney remained standing. "As soon as I saw it," Grammer said, "I knew I had to paint it."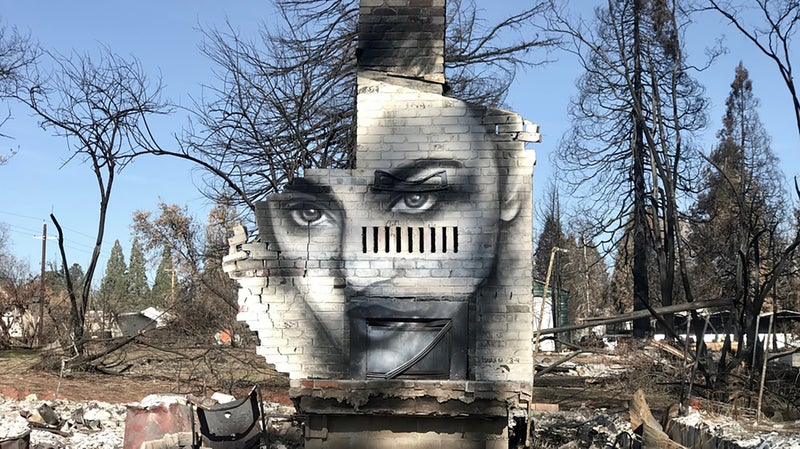 When Grammer contacted him to ask for his permission to put a mural up on the chimney, Edwards was honored. "But at the same time," Edwards says, "I knew the mural would have to be torn down, and that was sickening to me." Nevertheless, he and his wife, Jennifer, gave Grammer the OK. "After the fire, you couldn't go anywhere without being overwhelmed by the destruction," Edwards says. "Our hope was that people would get to see a little beauty and a little life."
On a crisp New Year's Eve morning, Grammer and Edwards set out from Chico toward Edwards's property in Paradise. Dozens of wooden crosses lined Skyway Road, the main arterial into town, a handmade gift that commemorated each life lost in the fire from an artist in Chicago.
They arrived at Edwards's home, and Grammer set his supplies in front of the chimney. He chose black and white, transparent spray paint—the palette of smoke scars—and began outlining the face of a woman from the Song of Solomon, a biblical love story about a king and his bride, believed to symbolize God's love for humankind. He didn't sign it. He wanted it to look like part of the environment.
Grammer posted some photos to Facebook, anticipating the typical smattering of responses. But when Edwards shared the images on a page for Camp Fire survivors, reactions poured in by the thousands. "You have given a town something beautiful in a time of darkness," commented one woman. Another wrote, "I personally feel loved and encouraged by your act of loving kindness."
"I wanted to let people know that although this is a beautiful thing, there has to be progress. We have to move forward and start rebuilding."
Soon Grammer was inundated with messages and invitations to paint more murals—the portrait of a young girl on the single surviving wall of her family's burnt home, Jesus's image on the baptismal font of a razed church, a memorial to an 84-year-old woman who died in her mobile home after her daughter couldn't reach her in time. He returned eight times, painting 17 murals in all (with permission from property owners), fleeting works of art that existed only briefly, when people most needed hope.
In the months that followed, construction crews demolished the artwork in the cleanup. By then, the town had grown so attached to them that Edwards says he took some flack for failing to preserve his chimney mural, the one piece he could have taken from the rubble. He asked the crew to film the demolition, however, and he posted the video online. "I wanted to let people know that although this is a beautiful thing, there has to be progress," he says. "We have to move forward and start rebuilding."
More than six months have passed since the spark ignited that went on to burn over 200 square miles of homes, businesses, hospitals, and places of worship. Of the 50,000 people displaced, many have moved away, while many others remain without permanent shelter. The rebuilding has begun, but it's hard to imagine "the ridge," as local calls the area, will ever resemble its former self. "Paradise isn't just another disaster where most things go back to normal in three months or six months or a year," says Grammer. "They're wiped out."
Since word has spread about his murals, Grammer thought the best way to respond would be to organize an art show, which MONCA agreed to host. The centerpiece of the event will be a multimedia installation called Hope Rises, the details of which Grammer is keeping under wraps. He has shared that he's constructing it from materials donated by a theme-park design shop, and it will be scored by movie and TV composer David Bawiec. "It will feel like this structure is going up into heaven," Grammer says.
In the meantime, he's still trying to process the attention his art has received. "People have tried to saint me," he says. "They say, 'You're so humble,' but that's because I've had my butt kicked." Memories of hard times—when he and his wife struggled to afford rent, when they saw their car repossessed— never completely fade. "I know what it's like to have nothing," he says.
He considers it a miracle that his artwork has moved so many people in Northern California and throughout the world. He hopes the new installation will do the same. "I'd love to see people cry," he told me. Then he laughed. It sounded cathartic.
Lead Photo: Courtesy of Shane Grammer
Trending on Outside Online