The Unsolved 1996 Murders Still Haunting Women and Queer Communities
Kathryn Miles's new book, 'Trailed,' investigates the killings of Julie Williams and Lollie Winans in Shenandoah National Park 25 years ago—and asks difficult questions about safety in nature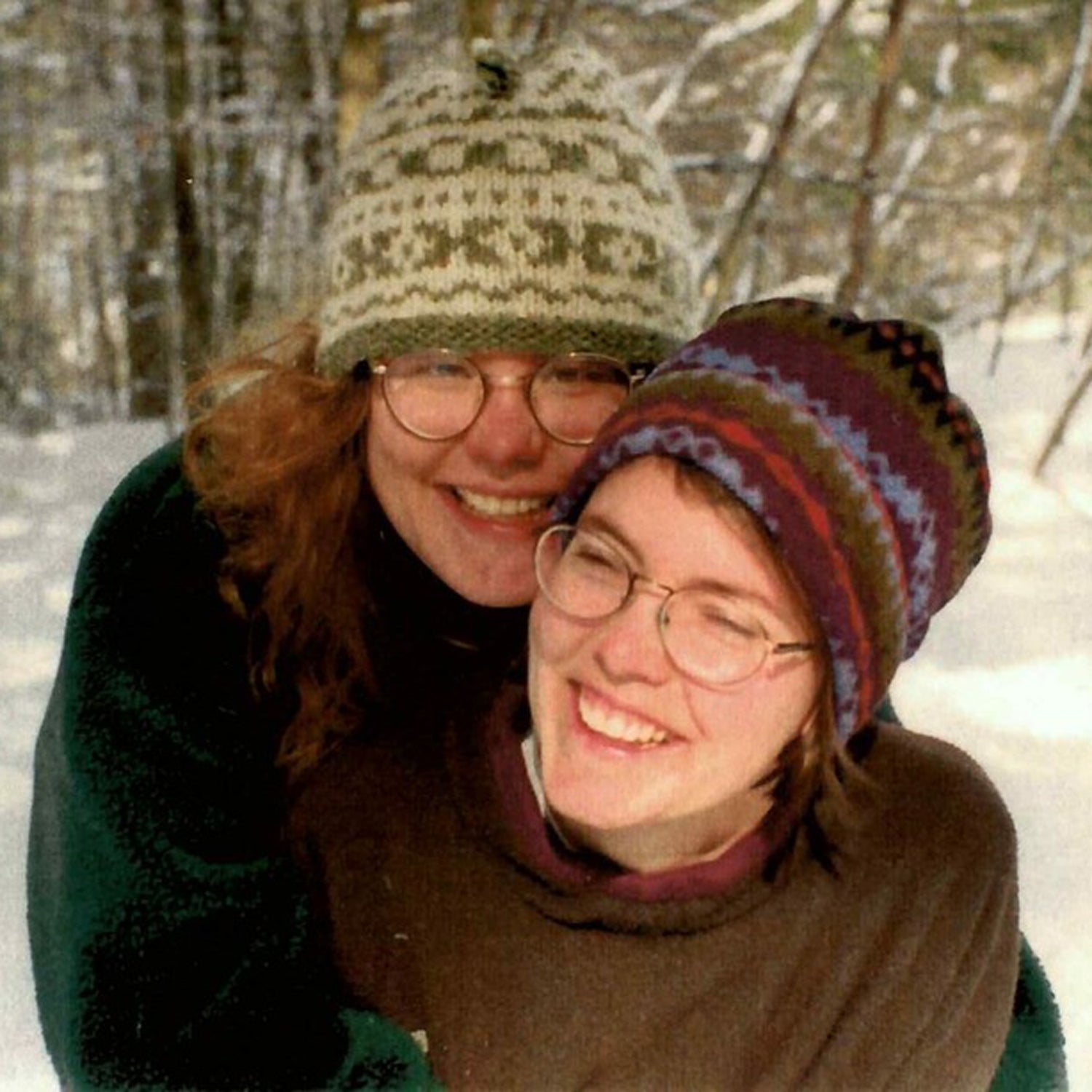 FBI
Heading out the door? Read this article on the new Outside+ app available now on iOS devices for members! Download the app.
For women and queer people, the American wilderness offers a double-edged sense of freedom. There is a long history of marginalized communities going to the woods for adventure, solace, or social connection that is hard, if not impossible, to find in regular life. But the woods, in their distance from laws and safety personnel, can also be places where bad actors take advantage of the most vulnerable.
One of the most infamous examples in recent history is the murders of Julie Williams and Lollie Winans, two young white queer women whose 1996 deaths in Shenandoah National Park remain unsolved. I'm a queer woman in my mid-thirties, and though most of my friends can not recall the murdered women's names, they hold the ambient sense that this crime occurred. In 2020, I published a book, The Third Rainbow Girl, that explores how the notorious 1980 murders of two middle-class women hitchhiking in a West Virginia county forever changed the fabric of the local community. Many people I interviewed told me their vivid and jumbled memories of what seemed to be the murders of Williams and Winans. It seems like this crime was enough to wound a generation of women and queer people, taking from us the joy of solo or couples hiking and reinforcing the message once again: Don't be women alone in the woods. And definitely don't be queer women alone in the woods.
Journalist Kathryn Miles' new book, Trailed: One Woman's Quest to Solve the Shenandoah Murders, is a deeply empathetic and rigorously researched investigation into the murder. It's also an exploration of the anxiety the crime instilled in so many people and an attempt to temper it—a goal that lands in some parts but misses in others. "More than a few people have told me that the murder of Julie and Lollie ended their time in the backcountry, that even though they'd never known the two women personally, news of what had happened to them was scary enough," Miles writes. "Maybe, if I could tell the story of what really happened to [Williams and Winans] and who was responsible, I could ameliorate some of that collective pain and help make the woods feel safer for all of us."
Trailed also provides the most comprehensive accounting of outdoor spaces that nurtured feminists and lesbians in the 1980s and 1990s that I've yet to read. It's an important contribution to American outdoors nonfiction for this, if for no other reason.
Williams, 24, and Winans, 26, met and fell in love in the backcountry in the mid-1990s through one of these spaces, an organization called Woodswomen, which Miles calls "the heart of a revolution in the outdoor industry" and a "corrective" to the sexist and dangerous experiences that most women had in other organizations like Outward Bound. Woodswomen gave the two women, who were both survivors of sexual assault, a renewed sense of physical embodiment, power, and autonomy.
Departing from other books in which murdered women are flattened, people-shaped characters–pretty or smart or shy or outdoorsy–Miles fully develops Williams and Winans and brings them to life. In a scene that shows both the extensiveness of Miles' reporting and her profound compassion for her subjects, we get to watch as Williams and Winans write to each other and form a rich and complicated queer love story: "Lollie admitted that she feared being publicly affectionate as two women and that the strain of a gay relationship in an intolerant culture would pull them apart. Lollie wrote down that she was bisexual. They both wondered what would happen if one of them ever wanted to be with a man. They put an asterisk by the question 'What does a relationship mean to us both?' The biggest word on the page is 'TRUST.' It's the one word I can't tell who wrote, almost as if it came from them both.''
The bodies of Williams and Winans were found by Shenandoah National Park rangers on June 1, 1996, at their isolated campsite near Skyland Resort in central Virginia. In an effort to minimize public relations damage and mitigate a sense of panic during the peak summer season, the National Park Service handled the case slowly, and the FBI handled it, Miles argues, ineptly. As a result, no one was prosecuted for the so-called Shenandoah Murders until 2002, when Darrell David Rice, a Maryland man who had served time for an attempted abduction of a woman in Shenandoah National Park, was indicted for the killings.
The state's theory was that Rice, who allegedly made misogynistic and anti-gay comments during his interviews with police, killed Williams and Winans as a homophobic hate crime. The case was tried as such under a brand-new post-9/11 federal hate crime statute. But Miles explains that DNA evidence eventually cleared Rice and destroys the idea that Winans and Williams were murdered because they were lesbians by showing that this theory was the political invention of former U.S. Attorney General John Ashcroft and local prosecutors. They were under enormous pressure to solve the murders after the National Park Service and FBI badly botched the crime scene and dangerously withheld news of discovering the women's bodies for reasons that seem almost certainly about politics and public relations.
Miles goes on to show that publicly protected wilderness land is the worst place to get murdered, if there is to be any hope of finding the perpetrator. Many publications, including this one, have reported that a national park is the worst place to go missing because of issues relating to jurisdiction and databases; some people estimate the number of people missing on public lands today could be as high as 1,600.
Miles' reporting still makes a convincing case that the likely perpetrator is Marc Evonitz, a man with a long history of raping and murdering women and girls around the Southeast. Evonitz, Miles lays out, may have killed Williams and Winans for reasons that are much harder to define but have to do with a history of childhood abuse, mental illness, and sexual sadism.
But Miles' project grows more complicated when she reveals that Williams and Winans were two of eight women and girls killed in a specific section of central Virginia over a 14-month period in the late 1990s. The book also begins to consider the murders and attempted murder of four other lesbians on protected forest land: Becky Dowski and Cathy Thomas in 1986 along the Colonial Parkway Scenic Highway in Virginia, and Rebecca Wight and her partner, Claudia Brenner, who survived, in Pennsylvania's Michaux State Forest in 1988.
By expanding her focus, Miles begins to make a wider argument that women and queer people are at heightened risk of violence in the outdoors. "Far too often, women are prey in our culture," writer and violent attack survivor Terri Jentz tells Miles in the book. "And there are more guys than we'd like to admit who go out in the wilderness to hunt them." It is as if Miles' excellent reporting goes in one direction, while her analytical mind goes in another. The notion that women and queer people are exceptionally vulnerable to violent attack and murder in the backcountry becomes a central thread of Miles' book, even though it interferes with her ability to argue that the Shenandoah murders shouldn't discourage women and queer people from outdoor adventure. "While it might be tempting to say that crimes like the murder of Julie and Lollie are isolated incidents, statistics prove otherwise," writes Miles, offering that there were 15 homicides in national parks in 1996, the year the two women were killed, and 30 rapes—though it's likely crimes in the backcountry are underreported.
I understand both of Miles' allegiances but ultimately think it does women and queer people a disservice to overstate the dangers against us. In my own reporting, I found that there were 19,645 total murders and 6,425 sexual assaults in the United States in 1996, making the numbers Miles offers less significant given that national parks make up about 5 percent of American land in square miles. If anything, Miles' book convinced me that young white women in central Virginia in the 1990s were the demographic group at the most increased risk of violence. It might have been better to see a fuller examination of crimes in the Charlottesville/Route 29 area at that time and what forces may have collided to make that area particularly dangerous for women and girls.
In the end, Miles' book is a rich and nuanced meditation on the danger of manipulating messy contradictions to serve a politically expedient or emotionally fulfilling purpose. Perhaps she is simply asking us to grapple with the contradiction at the heart of her inquiry–being in a wild place can heal you, and being in a wild place can kill you.
Lead Photo: FBI