In the Spirit of Peter Matthiessen
There were stormy moments during the legendary author's long relationship with Outside, but nobody was more influential in shaping our vision of what adventure writing could achieve.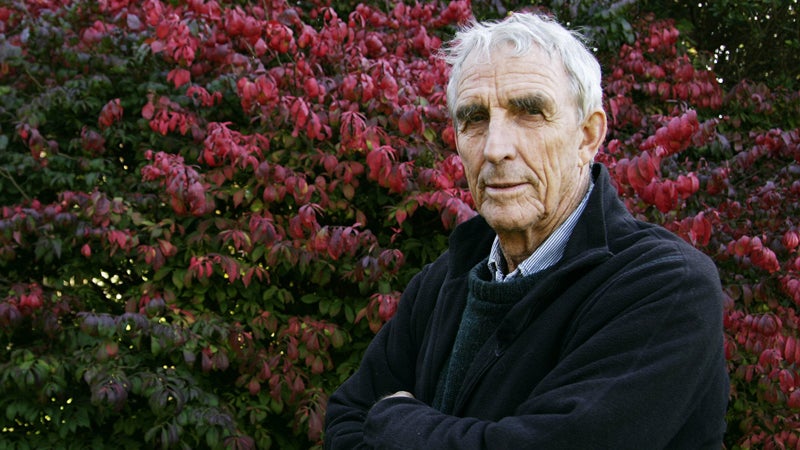 Heading out the door? Read this article on the new Outside+ app available now on iOS devices for members! Download the app.
It's difficult for me to believe that the indefatigable and incomparable writer Peter Matthiessen is dead. He succumbed to leukemia on April 5 at his home in Sagaponack, on Long Island, a few weeks before he would have turned 87. Over a six-decade career he produced 31 books—a final novel, In Paradise, appeared three days after his death—and left his footprints across a huge swath of the earth's wild places. His questing intelligence, along with his unflagging stamina and contentiousness, were by turns inspiring and intimidating, and it seemed that he might go on forever.
He poured his heart into fiction, and three of his novels should be reckoned as indelible classics of recent American literature: At Play in the Fields of the Lord (1965), Far Tortuga (1975), and Shadow Country (2008). But over five decades his restless spirit sent him out, notebook in hand, on one expedition after another, a vast cumulative itinerary in which Matthiessen embraced the natural world and the indigenous people and cultures who revered that ever-diminishing realm of numinous biodiversity. A very different novelist, Thomas Pynchon, in a blurb for Far Tortuga, wrote, "It's full of music and strong haunting visuals and like everything of his, it's also a deep declaration of love for the planet." Yet Matthiessen became considerably more famous for his journalism than his fiction, which was something he came to wistfully resist and regret until the end of his life.
Matthiessen and his writing were enormously influential in establishing and shaping the literary aspirations of Outside, and he was a strong presiding presence in its pages from the publication's earliest days. Randy Wayne White, one of the writer's closest friends (and later an Outside columnist), profiled him for the brand-new magazine in 1980. Matthiessen's own sporadic contributions include a rollicking, classic 1990 account of close encounters with roaming gangs of grizzly bears in the company of Doug Peacock, another legendary Outside character who had also become one of Matthiessen's best friends and a perennial fishing buddy. In 1994, Outside published a feature by Matthiessen about his expedition to study endangered cranes in China that was eventually incorporated into The Birds of Heaven (2001).
Despite his dark and dour and sometimes melodramatic tendencies, the quality that rings the clearest for me about Peter Matthiessen is his endless joy in experiencing the depths of the natural world and its creatures, including we hapless, fumbling humans.
But Outside's debt to Matthiessen transcended his appearances in its pages. When the magazine came into being in 1977, it's no exaggeration to say that he, more than any other single voice, made it plausible to treat travel, rugged exploration, and heroic endurance as worthy of literary ambition. Matthiessen's work fused travel, nature, and adventure writing in a new way, and so would Outside. He encountered wild corners of the world with sophistication and self-deprecating honesty, rather than with the hoary, hairy-chested posturing of the danger-mad adventure genre—and so would Outside. His books and articles (mostly for The New Yorker) projected their author as a post-Hemingway beau ideal, audacious but without macho bluster. He was a meticulous observer of ecological phenomena and advocate for indigenous cultures and the integrity of untrammeled places. Matthiessen looked the part, too, with his long, weathered terrapin face, raptor's eyes, and tall, shambling frame.
As a model who inspired admiration and emulation, Matthiessen brought a range of contradictory attributes and swashbuckling credentials to his roles as naturalist and existential travel writer. A son of WASP wealth and privilege, a Yalie who co-founded The Paris Review in the early 1950s (while secretly working for the CIA), he was also a rebel who, early on, was obsessed with snakes and birds and who ran away to join the Coast Guard at 17. He toiled (unsuccessfully) as a commercial fisherman in order to write his first novels, and became a vehement environmentalist, man of the left, and Zen Buddhist adherent. He was the master of the far-flung epic journey (as in his elegiac 1959 narrative survey Wildlife in America), of the remote immersive expedition (to the Amazon and Andes for The Cloud Forest in 1961, and to tribal New Guinea for Under the Mountain Wall in 1962), of the meditative long-walk safari (in a number of books about Africa, including 1972's The Tree Where Man Was Born and 1991's African Silences).
Two of Matthiessen's greatest books appeared just as Outside was born and began to take shape. His 1975 novel Far Tortuga was based on years of venturing under sail across the southwest Caribbean with the last of the old Cayman Island turtle hunters. And The Snow Leopard (1978), his non-fiction masterpiece, chronicled a 1973 Himalayan expedition with the conservation biologist George Schaller that was physically overwhelming, emotionally lacerating (Matthiessen's young wife had recently died of cancer), spiritually inspiring, and even absurdist—Matthiessen sees snow leopard footprints but never glimpses the rare and beautiful beast itself. When The Snow Leopard became a best-seller and won the National Book Award, it was a favorable omen for the kind of unprecedented magazine Outside hoped to be and the subjects it planned to explore.
---
I got to know Peter Matthiessen in the mid-1990s, when I was astonished to find myself appointed his editor at The New Yorker. I was terrified by the prospect of working with him, and he lived up to my expectations by being one of the crankiest, most impatient, and generally forbidding writers I'd ever edited. Matthiessen had been contributing to The New Yorker for decades, under rubrics such as "The Last Wilderness" and "Annals of Conservation," and his disapprobation toward editorial intervention was reinforced by the lapidary near-perfection of his prose, the result of discipline and relentless self-revision.
Our first, and only, collaboration at The New Yorker was on a 1995 report he had written about Inuit and Inuhuit whalers in Greenland. Not long afterward, when I left New York to live for a year in the Rogue River wilderness of Oregon, it was a backcountry detour that I could blame, in part, on the spell cast by that fleeting proximity to Peter Matthiessen. But when I joined the staff of Outside as its features editor, in late 1996, I assumed that he would view my employment there as an act of disloyalty.
At the time, Matthiessen was furious with Outside and with Mark Bryant, who edited the magazine from 1991 to 1999, for publishing an 11,682-word feature story in July 1995 by a young war correspondent and investigative journalist named Scott Anderson. "The Martyrdom of Leonard Peltier" reexamined the aftermath of the 1975 killings of two FBI agents during a stand-off on the Pine Ridge Indian Reservation in South Dakota. Peltier, a Chipewa-Lakota Sioux activist in AIM (the American Indian Movement), was convicted of first-degree murder in the shooting and sentenced to two consecutive life terms in prison.
In 1983, Matthiessen published his furious, explicitly one-sided investigation of the killings and the prosecution of Leonard Peltier, In the Spirit of Crazy Horse, charging that Peltier was innocent and the victim of a shoddy, vindictive criminal investigation. His book gave impetus to a documentary film, a Hollywood drama based loosely on the Peltier case, the involvement of 60 Minutes and Oliver Stone, and an international human-rights campaign to free Peltier.
Like other incidents involving a brew of violence and assassination and 60s-era radical groups, the FBI-AIM confrontation was a murky, complex, ideologically riven event. It spawned fervid conspiracy theories and competing visions of a racist miscarriage of justice versus a scenario of cold-blooded political homicide and righteous punishment.
A dozen years after In the Spirit of Crazy Horse was first published, Scott Anderson interviewed Peltier and other key players for his Outside article, and he argued that Matthiessen's narrative had omitted or distorted evidence pointing to Peltier's culpability, and that the movement to obtain a new trial or a pardon for Peltier was possibly a whitewash that was doing the convicted murderer more harm than good.
Matthiessen had devoted years to researching and writing In the Spirit of Crazy Horse, successfully fighting a landmark libel lawsuit against the book, and trying to free Peltier. Rather than offering a brief response in Outside's Letters column, Matthiessen insisted that the magazine publish "Mean Spirit," his contemptuous rebuttal. At 5,400 words, it was nearly half as long as Scott Anderson's original piece. It appeared in the October 1995 issue. Anderson in turn replied a few months later.
Apart from its impact on the long-running debate over Peltier's legal fate, the editorial battle between Outside and Matthiessen was one of the most painful episodes in the magazine's history. To admirers of Anderson's reporting, it was an instance of Outside's fearlessness in letting a reporter follow the facts where they led. To others, it was a political and personal betrayal of one of its own.
That Leonard Peltier remains in prison to this day must be counted as one of the great defeats of Matthiessen's life, and he blamed the Outside article for providing crucial support for the legitimacy of Peltier's guilty verdict. Peltier's next parole hearing is not scheduled until 2024, and he is currently eligible to be released in 2040, when he would be 96 years old.
It seems plausible to infer that Matthiessen's bitter experience with the Peltier case provided part of the driving force behind his 20-year obsession with turning the story of the murder of outlaw and plantation owner Edgar Watson in Florida in 1910 into a brooding fictional epic. Having written 1,400 pages in a trilogy of novels—Killing Mr. Watson, Lost Man's River, and Bone by Bone—in his attempt to tell the tale, Matthiessen enjoyed a crowning literary vindication when his revised and shortened one-volume version of the Watson legend, Shadow Country, won the National Book Award in 2008.
---
When I arrived at Outside I sent Matthiessen a note with my news, adding that his estrangement from the magazine distressed and saddened me. He responded cordially but made it clear that Outside was, so to speak, dead to him.
After I became Outside's editor in 1999, I began a low-key campaign to lure Matthiessen back into its pages, and finally succeeded in 2001, when the magazine excerpted the stirring, outraged essay he had written for Subhankar Banerjee's landmark book of photographs, The Arctic National Wildlife Refuge: Seasons of Life and Land. And in 2002, he contributed a story about the fate of tigers in India to Outside's 25th anniversary issue. I experienced for the last time his short-fused, curmudgeonly attitude toward the impostures of magazine editors, along with the pleasure of observing his impeccable writerly skill in action.
Like many writer-editor relationships, ours was conducted exclusively by phone and correspondence. I saw Peter in person only once, in 2004, when he came to Santa Fe for a Lannan Foundation talk in defense of ANWR with Banerjee. One of my abiding regrets is that I never took up Doug Peacock's invitations to come up to Montana to go fishing with him and Matthiessen.
Despite his dark and dour and sometimes melodramatic tendencies, the quality that rings the clearest for me about Peter Matthiessen is his endless joy in experiencing the depths of the natural world and its creatures, including we hapless, fumbling humans. He was far more convivial than the image of the glowering Zen master might suggest, as one can glean in the lovely reminiscence his friend and neighbor James Salter wrote for The New Yorker shortly after Matthiessen's death. Although he often expressed contempt for unnecessary risk, near the end of his life Matthiessen told a radio interviewer about deciding to run a fearsome Class V rapid with his fishing guide in a canvas riverboat on Montana's Madison River, rather than portaging around.
"I just had this impulse," he recalled. "I said, 'You know, I am 82. My best work is behind me. I want to go down with you.' … It was whitewater and tumbling boulders and waterfalls, everything from side to side and there wasn't any open water there…. When we got to the bottom of this thing, at the end of the run, we were just like two little boys. We were just grinning from ear to ear. I was just so happy. I never thought I would have an adventure again like that. I have had a lot of them in my life, but I didn't expect one at my age. So that was my last thrill."
Hal Espen was the editor of Outside from 1999 to 2006.