State of the Salmon Address
Heading out the door? Read this article on the new Outside+ app available now on iOS devices for members! Download the app.
This is a big month for wild salmon advocates. On Sunday, May 1 at 8 PM Eastern, PBS will air a Nature special, Salmon: Running the Gauntlet, that offers a terrific broad-strokes history of the collapse of the fish in the once-prolific Columbia River basin. A more detailed look at that collapse, due primarily to four dams on the Lower Snake River in Washington, can be found in Steven Hawley's new book, Recovering A Lost River: Removing Dams, Rewilding Salmon, Revitalizing Communities (Beacon Press, $27). Of course, the event that salmon junkies are most keenly anticipating isn't a TV special or a book's publication. On May 9, enviro advocates will take on the Obama administration's plan for salmon recovery—which doesn't include dam removal—in federal court.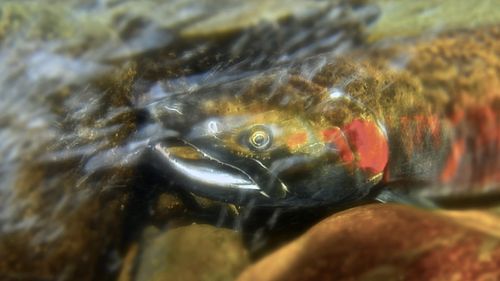 A mature Coho Salmon makes its way upstream to spawn. (Photo by Hannah Smith Walker)
Earlier this week I spoke with Hawley and Jim Norton, writer and producer of Salmon: Running the Gauntlet, about dams, Obama's much-discussed salmon joke in the State of the Union Address, the administration's commitment to hydropower, and what it will take to save a fish that's become an object of so much contention. The conversation was at times fiery, at times wonky, and very informative—at least for me. These guys know their fish facts. Did you know we're dumping more than 200 million hatchery-raised salmon—what Norton calls "techno-industrial" fish—into the Columbia every year? Or that less than one-half of one percent those fish return? Norton, who works as a river guide when he's not writing or making films (you can read about him steering Patrick Symmes down the Yangtze in this classic Outside story) was optimistic, saying that "we're not going back" to the era of dams and manipulation, and predicting that "we'll effect one of the greatest environmental restoration projects available in the modern era" within 50 years. Hawley warned that "it might be too late" for wild salmon if "by 2025, if we're not getting serious about dam removal."
Listen to our conversation in this podcast.
Salmon: Running the Gauntlet airs Sunday, May 1 at 8 PM eastern on PBS; Recovering A Lost River: Removing Dams, Rewilding Salmon, Revitalizing Communities was recently published by Beacon Press.
—Abe Streep