The Best Summer Books
Disappear into these five nonfiction beach reads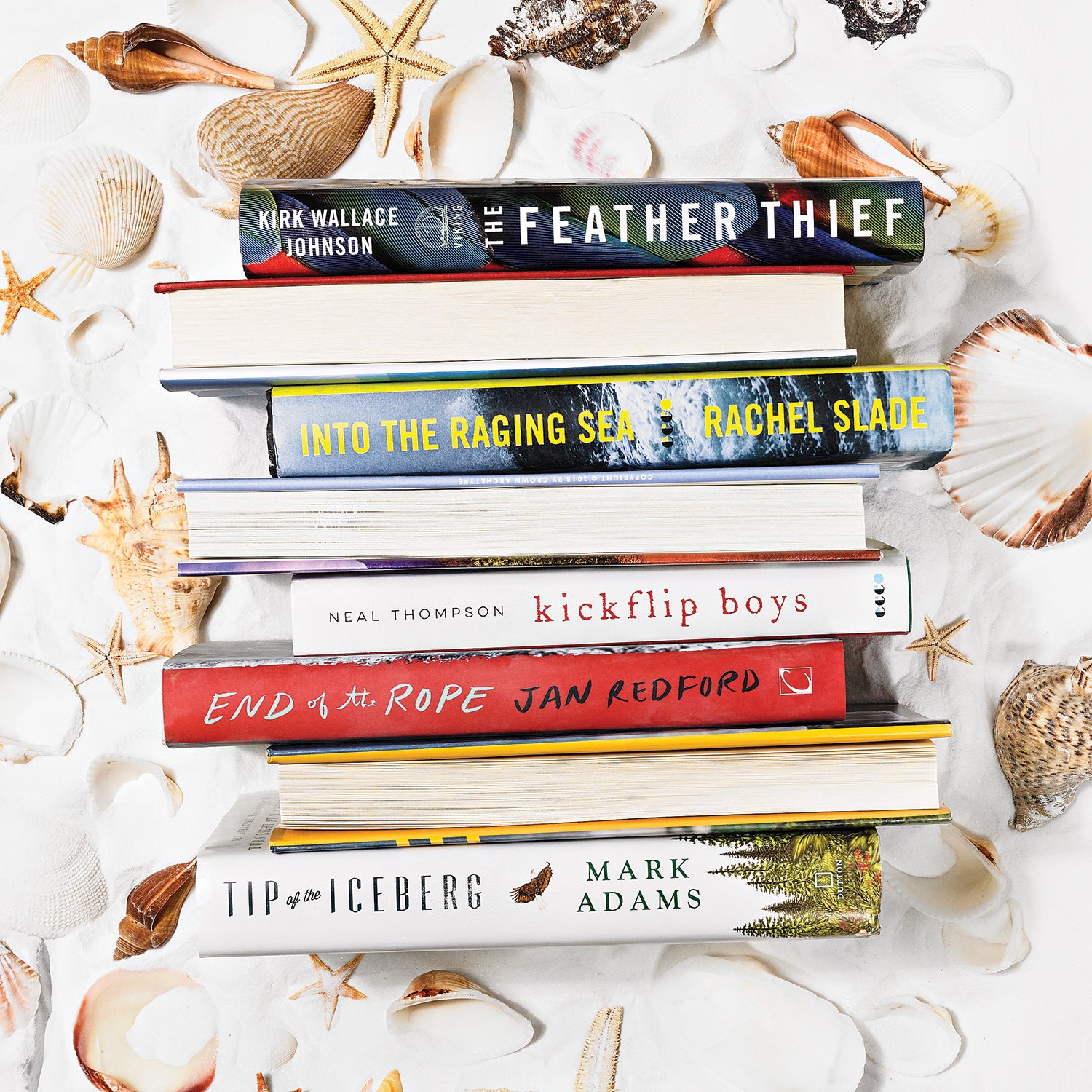 Heading out the door? Read this article on the new Outside+ app available now on iOS devices for members! Download the app.
The best compliment I can give a nonfiction writer is that they make me care deeply about an obscure topic I would otherwise never have been interested in. That's the case with Kirk Wallace Johnson's The Feather Thief  ($27, Viking). The book opens in 2009 with a young musician robbing a British museum of its collection of dead birds, and from there it delves into the strange world of Victorian-style flytiers—present-day hobbyists who obsessively re-create the elaborate salmon flies of the 19th century. To do so with perfect authenticity, they need the feathers of rare and endangered birds, and that's where the trouble begins. Johnson has written an unlikely page-turner, one that's much more than just a wacky crime story. It's about how our greed to possess the wonders of the natural world so often leads us to destroy them.
Rachel Slade's Into the Raging Sea ($28, Ecco) also involves a mysterious true story. In October 2015, the American cargo ship El Faro sailed straight into a hurricane on a routine run between Florida and Puerto Rico. It sank with 33 people aboard, America's worst maritime disaster in decades. The Coast Guard spent months—and millions—trying to figure out what went wrong. Slade pieces together the final voyage, interspersed with stories of the ship's merchant mariners. Thanks to an audio recorder on El Faro's bridge, she's able to take us inside the doomed vessel in its final hours. The result is intimate, eerie, and gripping.
Another for the I-didn't-expect-to-care file: Kickflip Boys ($28, Ecco), Neal Thompson's thoughtful, honest memoir of fathering two young sons who want nothing else but to immerse themselves in skateboard culture and everything (the graffiti, drugs, and more) that goes with it.
From skate dads we turn to climber moms. In End of the Rope ($26, Counterpoint), Jan Redford navigates life as a young climber, as a girlfriend of climbers, and, eventually, as a wife and mother who still wants to get out and send it when she can. The wall scenes made my palms sweat. The funerals of loved ones lost to the mountains made me cry.
Great nonfiction also takes a topic you thought you knew well and makes it new again. I've spent a lot of time traveling in and reading about Alaska, but I'd never heard of the epic Harriman Expedition. The 1899 steamship journey aimed to study the state's coast, with a passenger list that included John Muir and many of the era's leading scientists and naturalists. In Tip of the Iceberg ($28, Dutton), Mark Adams hops on the Alaska state ferry to trace the expedition's history. His storytelling is guaranteed to make you want to get off your beach towel and book passage somewhere in the great wild north.