Sponsor Content: Arc'teryx
The Making of Arc'teryx's New Film: 'Creation Theory'
A fresh breed of adventure film tackles life's biggest questions. We caught up with director Ben Sturgulewski to find out how he got snowboarders to think about Einstein.
If you want fresh tracks and perfect waves, plenty of adventure films offer those. If you want to contemplate the theory of relativity with your outdoor action, you want Creation Theory. The new film from Arc'teryx offers up an Arctic adventure with a cosmic twist. 
In Iceland's Westfjords, four creators come together to take viewers on a journey you've never seen before. Griff Washburn of the band Goth Babe, surfer Pete Devries, and snowboarders Elena Hight and Robin Van Gyn gather under the Arctic sun to play and to explore, well, the universe. The film, directed by Ben "Sturge" Sturgulewski, poses a simple—albeit complex—question: What is the source of creation?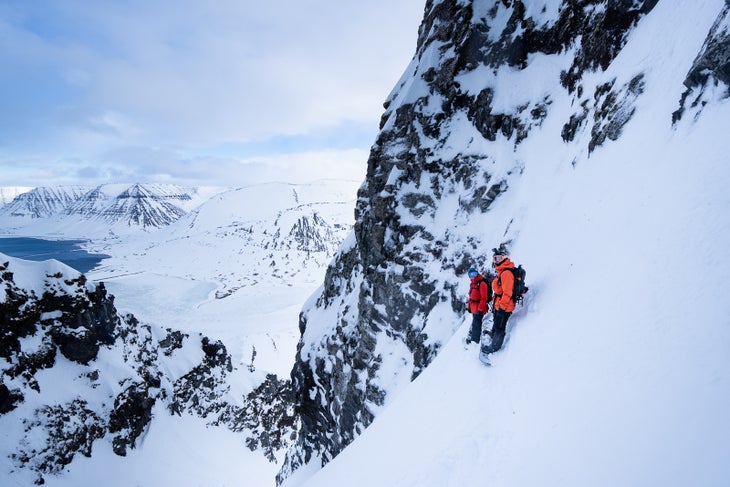 The 20-minute film is a different breed of outdoor adventure media. While there are still the beautiful action shots of snowboarding, surfing, and landscapes that Sturgulewski is known for—he's been making ski films for 15 years—there's a good chance the film will make your brain hurt in the best way possible. 
The Backstory
When Sturgulewski learned that Arc'teryx was interested in making a film about the convergence of music, surfing, and snowboarding, he was all in—as long as he could go where his mind wandered. From there, the stars began to align for him to be the one to do it. Arc'teryx was keen on the musician being Washburn, and Sturgulewski's friend, filmmaker Ben Moon, had just released a separate film about him. Things naturally just started to fall into place. 
"I told [Arc'teryx] early on that I would prefer to do something a little far out and asked if they were down for the ride," Sturgulewski says. "There was this beat of silence, and I was like, 'Oh, they are not along for the ride.' Then, they were like, 'That's exactly what we want to do. The weirder the better for us.'" Sturgulewski was surprised by their level of support and, with that, dove deep into the cosmos.
Big Questions
The film is structured around the concept of interstellar creation, space, and time (a.k.a. Einstein's general theory of relativity). "I wanted to explore the idea of creation on the grandest, most macro level possible: the birth of the universe," Sturgulewski says. The idea was to highlight the differences in how energy can operate and explore where the energy required to create actually originates. From this lofty perspective, the film transitions to the micro perspective of individual humans taking that energy and harnessing it to do their thing, like surfing Arctic waves, snaking turns down rock-lined couloirs, or writing a song. In short, how do we get from the big bang to these different forms of human creativity and expression?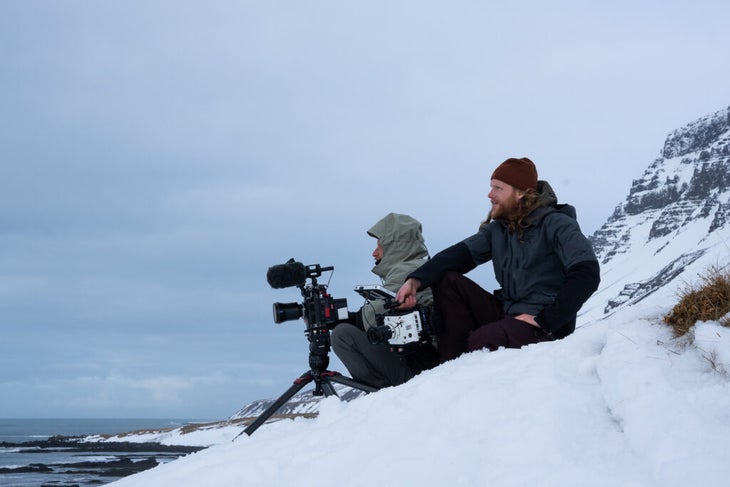 Making the film was kind of a crash course in astrophysics for Sturgulewski. He watched out-there TED Talks and YouTube videos about topics like particle physics and black holes. "I wrote the narration in many late nights. I went down lots of rabbit holes," he says. He juxtaposes dazzling illustrations of the universe created by visual artists with slow-motion footage and high-octane drone shots. His goal during the month he spent in Iceland over two shoots was to get everyone in a headspace where they could really reflect on why they do what they do.
It worked. In Creation Theory we hear the athletes and Washburn explore topics we don't typically hear about from them: making sense of the human experience and how to find purpose, joy, and connection within it. "We were exploring some far-out concepts, and I kind of unloaded on them these ideas of gravitational waves and how they were tapping into these really grand forces," Washburn says. "People don't generally think about that, so it was just fun to put people in a different environment." 
An essential element of the film is the soundtrack. Washburn took inspiration from his time surfing in Iceland to create a handful of tracks for the film, including Goth Babe's recently released song "Surfing in Iceland." (Goth Babe launched an EP alongside the film's release on November 4.)
Crash Course in Relativity
Back home in Gold Hill, Colorado, Sturgulewski dug into the edit with co-editor Aidan Haley. It took an entire summer to work through footage and navigate those cosmic internet rabbit holes.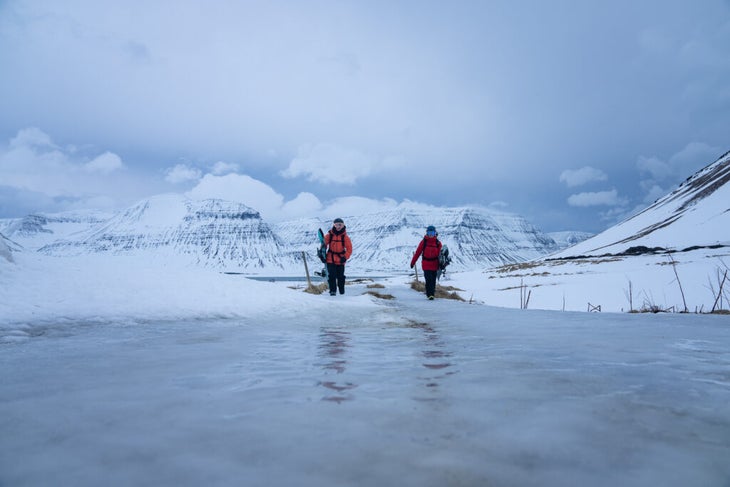 "I had known about space, time, and relativity, but I didn't fully understand them," Sturgulewski says. Space and time are fluid, he says, and they change depending on where in the world we are—gravity has a slightly different effect on the top of a mountain than it does by the ocean. "If you can accept that the world is this place to be molded and you can create your own space and time, I think it can expand your brain a little bit in terms of what you're able to do and what you're able to achieve."
Creation Theory joins a suite of exciting new films from Arc'teryx that folks will soon be able to watch. Powder hounds will want to catch Yours Truly, featuring pro skier Cole Richardson ripping around British Columbia. In Nexus, five pairs of female skiers—and an all-female crew—explore the transformative power of the mountains. Good Medicine follows six adventurers around Norway, Sunbirds offers an ode to winter on Canada's Gaspé Peninsula, and Unfinished Business chronicles Greg Hill's attempt to summit and ski all 20 peaks on British Columbia's Spearhead Traverse. In Balkan Express, we follow along on a cycle and ski adventure across Eastern Europe. This Is the Motherload documents two friends as they raise adventurous kiddos throughout changing seasons and changing lives. See all of Arc'teryx's new films here. 
---
Epic athletes. Ambitious feats. Spellbinding places. Countless stories and endless inspiration, all in one spot. Arc'teryx Films, coming from the mountains to a screen near you.
Lead Photo: Arc'teryx