Think Small: Editor's Letter, January 2013
Heading out the door? Read this article on the new Outside+ app available now on iOS devices for members! Download the app.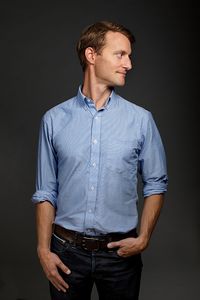 It's been more than two years since Austrian BASE jumper Felix Baumgartner unveiled his ambitious Red Bull Stratos mission, a plan to free-fall from a height of 128,000 feet and become the first human to break the sound barrier without the aid of jet propulsion. That announcement gained considerable worldwide attention, including an August 2010 cover story in Outside. Not only was Baumgartner challenging a record that had stood for more than 40 years, but he was trying to execute a NASA-scale project while relying on a sponsor known more for kitschy stunts—like landing a motorcycle atop the Arc de Triomphe replica in Las Vegas—than for pioneering science.
When Stratos was delayed, many observers assumed that Red Bull had bitten off more than it could chew. As two stories demonstrate this month, that was anything but the truth. In our Exposure Special, "Bull Shot," photographer Balazs Gardi documents some of the impressive logistics that led to last November's triumphant Stratos mission, while Outside associate editor Ryan Krogh, who was on the scene in Roswell, New Mexico, the day of the jump, reveals exactly how Red Bull managed to pull it off. And in "Get Your Head in the Game," a profile of sports psychologist Michael Gervais, Brian Mockenhaupt lets us in on one of the more surprising factors that led to the mission's two-year delay: Baumgartner was afraid of his space suit. Mockenhaupt chronicles the methodical counseling that enabled Baumgartner to stop panicking and focus on his historic feat.
The latter story is a good example of a major theme we explore in our health and fitness package this month. While January is a time when many Americans resolve to radically change their habits, this month we zero in on the little things. For Baumgartner, a small hurdle threatened to take down a multimillion-dollar project. The solution, which involved some simple tricks, can be applied to any amateur athlete facing a mental barrier. For cover subject Andy Potts, the top American finisher at October's Ironman World Championship, a simple tweak to his stroke made him one of triathlon's fastest swimmers. And millions of amateur athletes are discovering that finding the motivation to push yourself can be as simple as downloading a social-fitness app ("Stravalocity"). Thinking small, in other words, can lead to huge performance breakthroughs.