'Tools for Grassroots Activism' Is Patagonia's Guide to Saving the World
Yvon Chouinard thinks environmental activists could learn a thing or two from businesspeople, even if—as he puts it—businesspeople are sleazeballs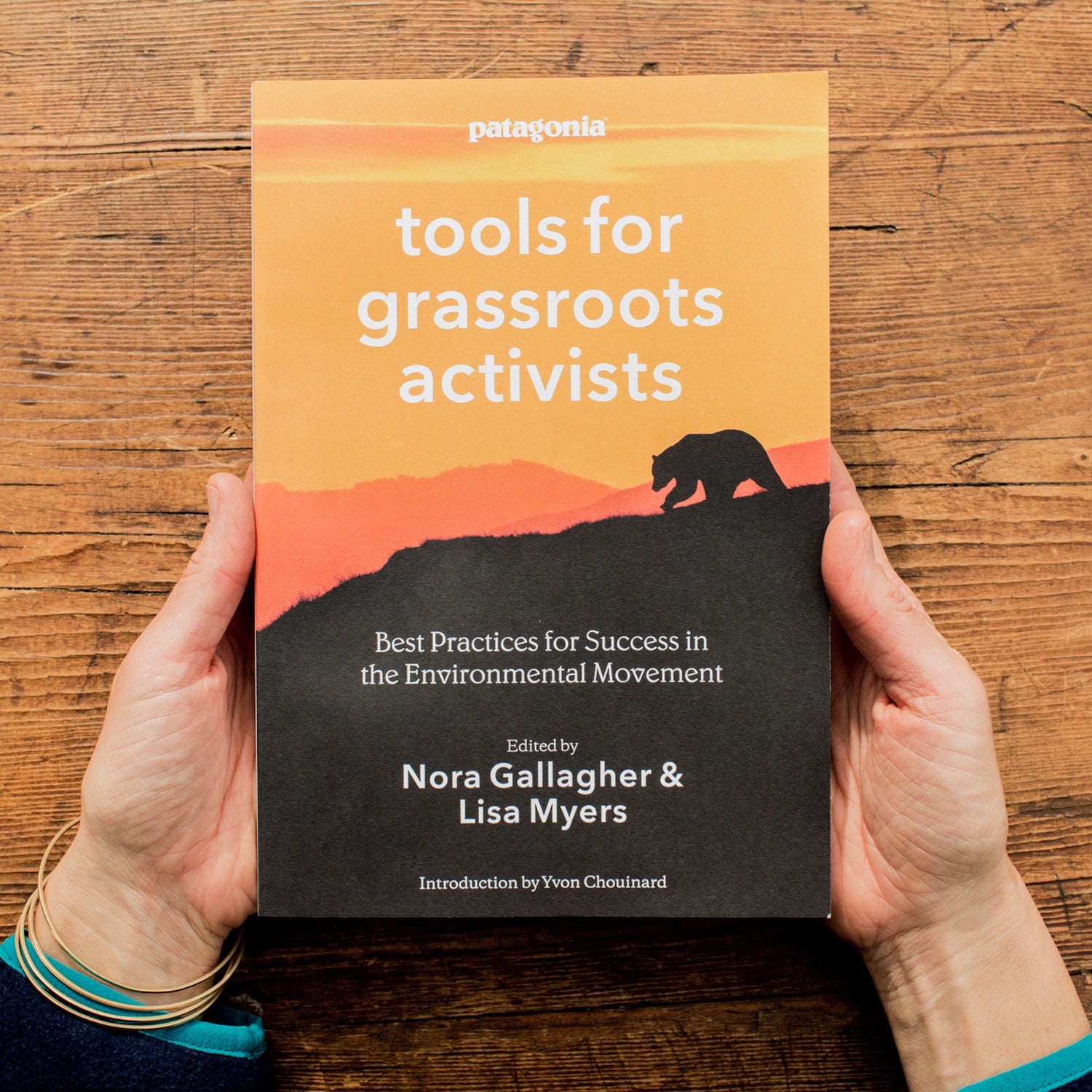 Heading out the door? Read this article on the new Outside+ app available now on iOS devices for members! Download the app.
Outdoor recreation can be a gateway drug to environmental activism. It certainly was for Patagonia founder and co-owner Yvon Chouinard, as he writes in the introduction to Tools for Grassroots Activism, a book the adventure clothier published in February. In the early 1970s, a threat to Chouinard's beloved Ventura County surf break mobilized him to join with others and take a stand against a development project. This, he writes, was when he "came to realize the power of an individual to effect major change."
Sure, Chouinard found success in Ventura—the development plan was defeated (the company he'd headquartered in Ventura not long before did pretty well for itself, too). But the reality is that for every victory, environmentalists lose big battles. This chagrins Chouinard, who believes many environmental organizations falter because they do not recognize what they are: a business selling a product. Just like he is. (Even though, he readily admits, many businesspeople are sleazeballs.) Instead of fleece jackets and aspirational lifestyles, environmental non-government organizations (NGOs) sell a vision of a wrong being righted, of clean air and water, of ecosystems in balance. Sure, they are profoundly different types of products, but selling them requires common tools: planning, strategy, marketing, organizing, technology, and money. 
Framed that way, it doesn't seem so outlandish that a massive clothing company would be qualified to write a guidebook for saving the environment. Still, I wanted to learn whether this how-to book could meet its lofty goal.
In 1994, Patagonia hosted the first Tools for Grassroots Activists Conference and brought together the heads of many scrappy little NGOs to teach them things that the company had proven itself to be phenomenally good at—namely, building a community of like-minded, passionate followers, making mountains of money, and putting it to good use. Tools boils down the key messages of 14 years' worth of those meetings into a 254-page instruction manual for NGOs. But the book's appeal extends to any nights-and-weekends volunteer with the local riverkeepers group, or someone galvanizing opposition to a proposed mine, or someone lobbying her city council for bike lanes.
Nora Gallagher considered seeking out illustrative failure stories but decided that, given how beset with failures the environmental movement has traditionally been, "maybe it is more helpful to see what does work."
Patagonia has recruited prominent environmental activists—Annie Leonard, Bill McKibben, and Jane Goodall, to name a few—to inspire attendees, and a dozen of these keynote speakers penned essays for the book. These serve to rally the reader through victory stories, many of the David and Goliath variety, that pitted communities against petrochemical giants or rainforests against road-builders. But the book leaves the tactical stuff to Tools conference trainers, the folks who do the hands-on combat training, so to speak, at those bi-annual events.
"The first time I went to the Tools conference, I expected the trainers to be good-hearted amateurs," says Nora Gallagher, Patagonia's environmental editor and co-editor of Tools. "I was astonished by their level of expertise. These guys are at the top of their field regarding organizing, strategy and communications." 
Each trainer structures his or her chapter differently—some use mnemonic devices, others use lessons or sorts of recipes. (You may wonder, as I did, who these chapter authors are. Their bios are hiding at the end of the book.) None of these brass-tacks sections are page-turners, frankly, but that's okay, since they are written in digestible chunks and you can read selectively based on whatever skill or strategy you're looking to hone.
Sometimes the book's success stories feel a bit too easy; too tied-up-with-a-bow. Gallagher says she considered seeking out illustrative failure stories, a trope used widely in business books, but decided that approach felt "a little trendy" and, given how beset with failures the environmental movement has traditionally been, "maybe it is more helpful to see what does work."
Indeed, the fact that Tools for Grassroots Activists left this jaded journalist feeling a wee bit more hopeful is a testament to that tactic. Plus, the book brims with gorgeous photos, which will surprise no one familiar with the brand's catalogs and books. 
But while many of these images and much of the content is focused on wilderness and how humans are impacting our wild playgrounds, there is rather little on issues relating to environmental justice—that is, how dirty air and water is affecting humans who lack the means to escape it. There are references to the Sierra Club's clean air campaign, and stories that touch First Nations and Native American communities, but the book fails to offer substantive guidance on how NGOs can better serve and empower disadvantaged communities. Myers admits that a lack of diversity is one of the environmental movement's weakest points and that "creating authentic relationships" across cultures is something she is focused on at Patagonia.
So, with that caveat, if you're an activist with an NGO, if you work for an "activist company," as Patagonia refers to itself, or if you're just trying to make your employer care more about its environmental impact—you will likely find some useful guidance here. Of course, adhering to Patagonia's buy-less-stuff credo, you might want to borrow it from the library or share it with a friend, unless you feel you'll dog-ear every page and keep it close at hands for years of fighting the good fight.
Lead Photo: Patagonia