The Top 10 Outdoor Gear Blogs
You like to read product reviews and news online. You research the hell out of every purchase. Here's what you should have bookmarked.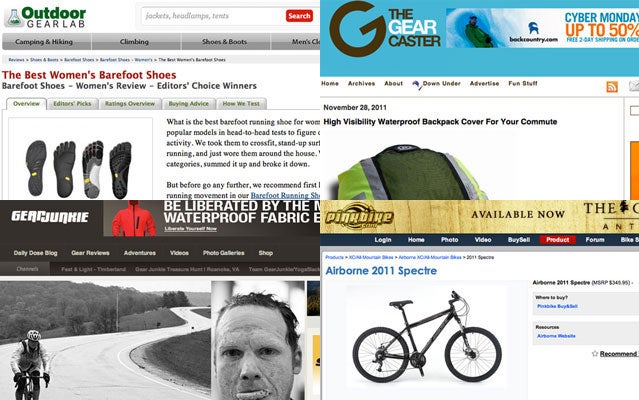 Heading out the door? Read this article on the new Outside+ app available now on iOS devices for members! Download the app.
Over the past few years, there's been an explosion of gear-related blogs. Researching this list, we looked at over two dozen sites and blogs. The good news: most of them are pretty good. That said, some are better than others. The other good news: there's one dedicated to just about every niche of the outdoor world, from backcountry skiing to biking to ultralight backpacking. After much debate, here are our ten favorite blogs that regularly review core outdoor gear (and one that showcases more lifestyle-y stuff, because we're not afraid to admit that we like that stuff too). Enjoy!
---
10. Bike Rumor
The latest on bikes without the attitude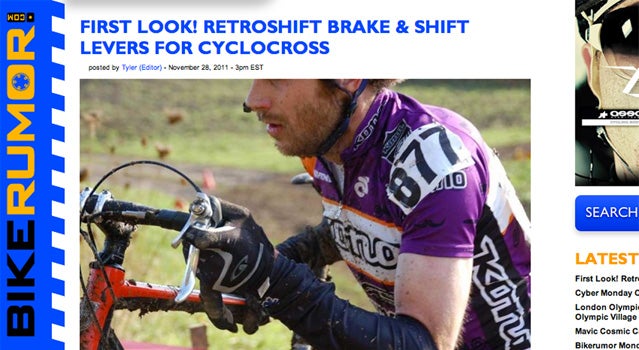 Good for: Bike geeks and tech nerds.
Written by: Tyler Benedict, a gear head with a fascination for shiny objects, and nine other contributors from diverse backgrounds.
Launched in 2008, Bikerumor covers bikes, gear, and tech quickly and in depth. It's written for the cycling-gear obsessed as well as anyone who appreciates pretty bikes and neat components. Product announcements, tests of sexy new rides, related gear reviews, a pic of the day, and interviews with industry bigwigs all appear in photo-heavy, short, easy-to-read posts packed with humor—and, best of all, no bike snobby attitude.
Sample post: A review for the cycling geek in you: Bikerumor's take on Victoire Cycle's high-end fixed gear hubs, cogs and parts, made in France.
Victoire Cycles is a relatively fresh brand from Clermont-Ferrand, France, that is focusing on high end hubs, cogs and parts for fixie and urban style bikes, including a nod to bicycle polo with a very trick stem.
The parts are all manufactured near their offices then hand polished before anodization and laser etching. We could go on, but the note directly from them posted after the break lays it out quite nicely… The Victoire Cycles 2012 range flagship is a high flange hubset that only weighs 470gr (205gr front and 265gr rear) with titanium bolts, stainless steel washers, 7075-T6 alloy spacers and hard anodized lockring (9gr). The rear hub receive a specific splined interface that fix the cog into the body. This interface eliminate all the loosened cog problems, keeping it safely fixed into the hub body. This also allows a fast removal to easily change your ratio. The cogs are machined into 7075-T6 alloy to keep the weight down, polished by hand to make them smoother and finally hard anodized to make them last forever. …
9. Wild Snow
Ski reviews for the fixed-heel set
Good for: Backcountry skiers, especially those with a fixed heel.
Written by: Opinionated mountaineer, skier, rock and ice pioneer, guide book author, and Colorado Ski and Snowboard Hall of Famer Louis Dawson and a small crew of contributors.
Dawson and his team are legit backcountry skiers who test every piece of gear and give clear and uncensored feedback, actively engaging with their readers. Dawson is not afraid to tinker to make a piece of gear work, and he shares the why and the how, with enough background detail to help his readers evaluate how it pertains to them. While Dawson and company review everything from apparel to skis to climbing skins to backpacks, mostly they geek out over alpine touring gear, especially Dynafit and Dynafit-inspired bindings and compatible boots.
Sample Post: Who else would review a skin trimmer? If you've always had a hankering to custom fit your own skins, this review is for you. 
Other climbing skin trimmers do work, but this stellar example of industrial design takes all. Gecko cutter (GUTT, Gecko Ultimate Trim Tool) has replaceable blade; flexible tangs hold the edge of the skin down while you cut; even looks nice in your Audi center console.
Gecko climbing skin cutter can be configured for right or left handers. Blade safely hidden to avoid flaying yourself. I got as good or better skin trims than with other methods, had a bit of trouble keeping the cut as far back from the edge as possible since the trim action is somewhat hidden from sight. A bit of practice should make that a non-issue. One has to wonder if this is some sort of adaptation of an upholstery or textile tool. Whatever, it works. Wildsnow.com recommended tool. Christmas gift for the skier who has it all? …
8. Uncrate
A guy from Ohio checks out every product imaginable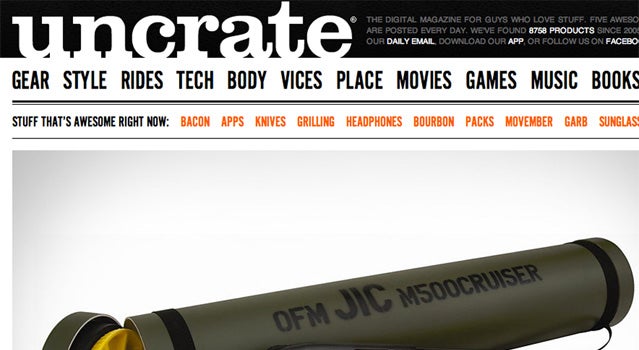 Good for: Those who love cool new lifestyle-y stuff as much as they love new outdoors gear.
Written by: Larry Angell, 31, Ohio resident, and the man who has chosen all 9,000 featured products since the site launched in 2005.
The reviews are succinct and the product mix is eclectic, covering topics as diverse as casual apparel, rides (mostly motorized, occasionally human-powered), tech, body, vices, place, games, books, movies, music, and videos, with a running bar of stuff that's awesome right now. Which is why 1.3 million guys visit it every month. Everything here is previewed, not reviewed, and it's a great source for gift hunting and just reading about everything from bacon flavored sex lube to smartphone robots to beanbag sleds to special-edition shoes. While the site is prolific—Angell posts five times each day—just remember that it's light on core gear.
Sample post: A folding, hardshell "Solid Gray Backpack:" it's finds like this one that keep us coming back to Uncrate.
It's not every day you come across a real innovation in backpacks, but then again, it's not every day you come across a Solid Gray Backpack ($165). These unique bags feature a folding hardshell design, EPDM foam lining and straps for keeping your tablet or laptop safe and secure, two interior compartments for keeping small items handy, a built-in document clip — so your papers don't end up smashed at the bottom of the bag — and a flexible fit, which means your back will like it just as much as your eyes do. …
7. Pinkbike
The largest action-sports website offers some of the best gear reviews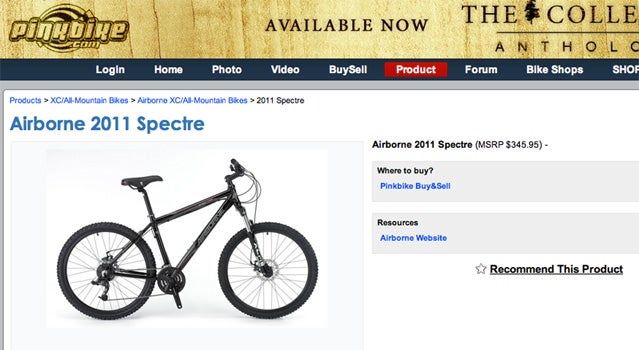 Good for: Anything and everything bike.
Written by: Canadian Mike Levy, head of product reviews, and Californian Richard Cunningham, founder of Mantis bikes, MTB Hall of Famer, and bike industry icon.
The largest action-sports website period, Pinkbike will hit one billion page views this year. Their gear posts turn into chat rooms—often there are 90-plus comments per post from one of the most educated and enthusiastic audiences on the web. It's just not limited to gear, of course. Depending on the day, you'll find video tutorials about how to remove and install a cassette, event coverage, trailers from upcoming bike movies, and user-generated posts about trail-making trips to places like Retallack, British Columbia. It's also home to the most impressive list of bike shops in the world and a remarkably robust, and easily searchable, used gear forum.
Sample post: Giving you the backstory on cycling design, Pinkbike offers up this great first look at the Tomac Supermatic 120.
In development for two years, Tomac has just released their Supermatic 120. The bike is designed to be an all out trail bike that not only tackles burly terrain when going down, but gets you to the top faster than a Spanish roadie with an IV bag for a CamelBak. Devised by Joel Smith, with development help from John Tomac, the Supermatic is not a plodding All-Mountain rig or a confused trail bike with raked out geometry, but a sharp handling trail bike that wants to go fast and faster – which is what you would expect given the bike's parents. John Tomac, a legend in the sport, was always a top competitor in both Downhill and Cross-Country at the highest level of competition, and is still fast enough to give the fastest pros fits. Joel Smith, owner of the Tomac brand, is out there right on John's rear wheel. Most everyone involved in the business is in it for the love of the game, but few can throw the hammer down like Joel. Somehow, I don't see these two coming up with a bike that works best when ridden slowly. …
6: The Gear Caster
The go-to blog for emerging tech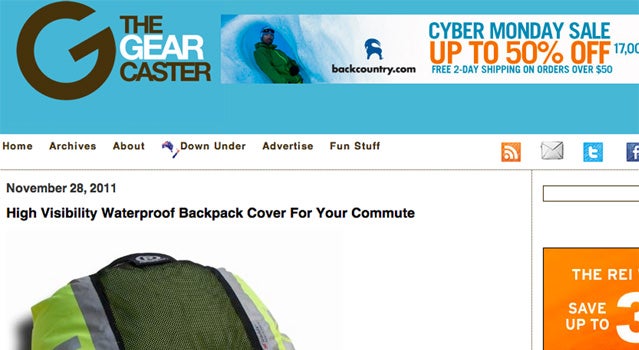 Good for: New product announcements, big-picture trends.
Written by: Amy Jurries, an ice climbing addict and general outdoor enthusiast who left a career in venture capital to make the outdoors her career; and Don Jurries, who covers products available in Australia and New Zealand.
The crew posts nearly every day, about everything, from the latest designer down jacket to a pair of HD sunglasses about to hit stores to a product that will turn your iPhone into a GPS device. Straight-talking, information rich posts make it a go-to for innovation and emerging tech. Avoid the Down Under blog, unless you really want to read about products like the Bug Zappa or the newest Aussie Butt Cream.
Sample post: We first read about Patagonia's release of its own line of salmon jerky in this thoughtful piece.
First music, now food. Seems Patagonia is diversifying itself again with the new Patagonia Provisions group, while helping do good at the same time. Through the sale of salmon jerky, Patagonia hopes to reform the current salmon fisheries and protect the future of wild salmon. 
Between the industrial ocean salmon farms and the large river fisheries, the salmon industry has serious problems. Tackling the industry head on, Patagonia is now looking to develop an entirely new sourcing system for salmon, much the same way the company took on the cotton industry and created an entire organic cotton supply for their products. …
5. Gear Institute
A new player in the gear-review game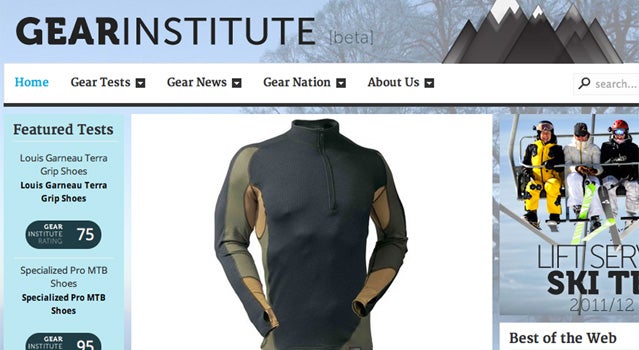 Good for: Highly browsable reviews.
Written by: A group of experienced and avid outdoors people, including several editors and former editors of some of the best specialist outdoor magazines, including this one.
Dedicated to providing readers professional, objective, and helpful advice on buying and using gear, Gear Institute houses in-depth reviews and an impressive industry news board that includes product announcements. While the site is relatively new (founded in the fall of 2011), the quality and quantity of reviews is impressive.
Sample post: When it comes to being avy savvy, you don't want just anybody's recommendation as to which transceiver to buy. Gear Institute's thorough review of the Barryvox Pulse is advice we'll take.
The Pulse doesn't just up the ante from two to three antennas, but four. However, truth be told the value of this fourth antenna is as obvious as an appendix. To even mention the availability of this perhaps detracts from the value of the Pulse. The fourth antenna does nothing to help you find a victim, it only exists to transmit motion information in the extremely rare event that you are searching for multiple victims in an avalanche, locate more than three quickly, and need to decide who to dig for last ('cuz one has no pulse and the others do).
Yeah, TMI! In that situation it may matter, but are you really going to be thinking that rationally then? I'm afraid it will just confuse an already soul-racking experience. If you must know about this feature, read the manual.
Now that we have the pulse feature of the Pulse discarded from the conversation we can focus on what Barryvox's Pulse does well, which is find buried beacons with alacrity—fast and easy. …
4. Adventure Journal
Magazine veterans who know their stuff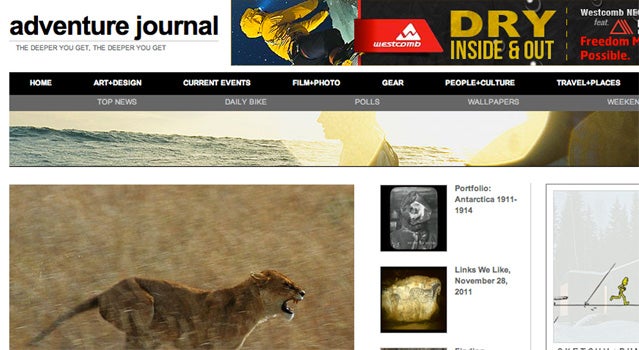 Good for: Reviews of core gear, heavily-curated product previews.
Written by: Steve Casimiro, former editor of Powder and founding editor of Bike, and Michael Frank, former Forbes automobile columnist and editor at Mountain Bike.
Casimiro has honed a look, feel, and tone over decades of editing various magazines that is as fresh and compelling as it is informative and authoritative. In other words, he knows his shit, and he's not afraid to call B.S. on over-hyped products. Though the site includes fewer reviews than others on our list, the quality is, like the rest of the pieces on the site, top-notch. The site covers just about everything, but the authors are especially fond of bike, surf, ski, and photo gear.
Sample Post: A tester review of the Garmont Radium Thermo Alpine Touring ski boot that gets quickly to the heart of the issue.
Comfort. It's a foreign concept to too many ski boot brands. But apparently not to Garmont, whose Radium Thermo AT is the most comfortable boot I skied in last season. In fact it was so good that most of the time I totally forgot I was wearing ski boots, and you know that that level of fit is just about unheard of.
I credit the wider toe box and the softer-than-usual foam used for the liner. Also, the plastic shell of the boot overlaps in front of the shin from both the left and right — and then a hard fin of plastic scoops in front to protect your lower leg from the fatigue of constant pressure. …
Read more at Adventure-journal.com
3. Backpacking Light
In-depth backpacking reviews from an expert outdoorsman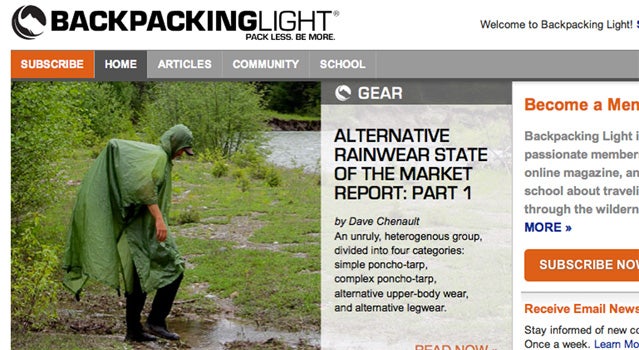 Good for: Weight conscious backpackers, fast-packers.
Written by:  Founded by Ryan Jordan, an Eagle Scout, author, and former wilderness guide, "to promote multi-day, backcountry travel in a self-supported ("backpackable"), lightweight style."
Ultralight backpackers are particular, discerning, and ruthless when it comes to giving gear a thumbs up or down. Here, hardcore users provide extremely in-depth, chart-laden analysis of anything that claims to be worthy of space in their packs. The caveat: the only way to get full review access is to join—$25 for a year, or $110 for life. If you really geek-out over ultralight tents, or charts comparing the vapor transfer of various waterproof-breathable membranes, this site is worth the price of admission.
Sample post: A review that not only tells you why this particular ultralight backpack is great, but why you should care.
Ultralight Backpacking "Enlightenment" is a complete ultralight gear kit weighing less than 10 pounds (4.5 kg) carried in an ultralight frameless backpack. Frameless backpacks are the darlings of ultralight backpackers, those who have pared their gear kit down to a base weight under 10 pounds (4.5 kg). This is the most popular category of frameless backpacks. Why? Because: 1) getting one's base weight below 10 pounds (4.5 kg) is easy to achieve with today's availability of lightweight gear, 2) one can easily backpack ultralight without compromising safety or comfort, and 3) frameless backpacks are most comfortable with loads less than 20 pounds (9.1 kg) which is easily achieved while backpacking ultralight. …
Read more at Backpackinglight.com
2. Gear Junkie
Reviews of every product imaginable, from ski goggles to survival knives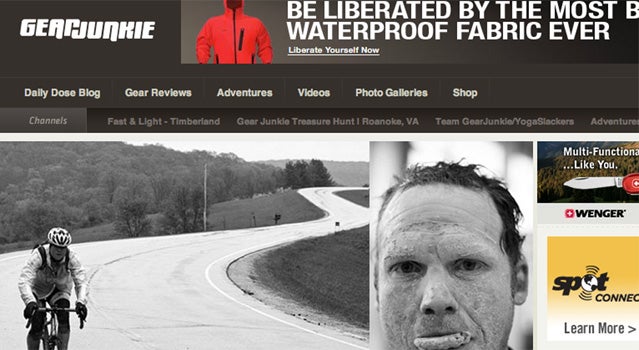 Good for: Gear heads of every stripe, but especially endurance athletes and adventure racing types.
Written by: Minneapolis-based Stephen Regenold—a vagabond adventure racer, travel journalist, and frequent Outside contributor for whom mountaineering, marathons, and ultra-endurance races are practically weekly events—and his team.
Originally a newspaper column, Gear Junkie was founded in 2002 to bring in-depth outdoors product reviews to a national consumer audience. Regenold and team review everything from walking sticks to GPS-enabled ski goggles to water purification devices. The site has especially good coverage of the various industry trade shows, including Outdoor Retailer and Interbike.
Sample post: Thoroughness is why we enjoyed this review of the Core Lite Survival Knife. And the fact that the reviewer owns a collection of whistles.
The Core Lite's short steel blade comes sharp enough to razor off arm hair. Its edge, just over 2 inches long, is touted to be able to cut wet tree bark to "expose dry inner wood" as well as be used for "notching and grooving branches" if you need to construct a shelter. In reality, your wooden wigwam would be a tough build with this little blade. It's sharp and usable for any small task, though in my test the drop-point blade did not scream "durability" in use. Gripping the knife's plastic handle and working the edge in wood I could see and feel the locked-off blade shifting subtly from side to side.
The whistle and the light, a small single L.E.D., are similarly mediocre. Touted to blast 100 decibels of sound, I found the whistle, which is integrated into the end of the handle, to be quieter than most of the standalone outdoors-oriented whistles on my gear shelf. …
Read more at Gearjunkie.com
1. Outdoor Gear Lab
Head-to-head gear tests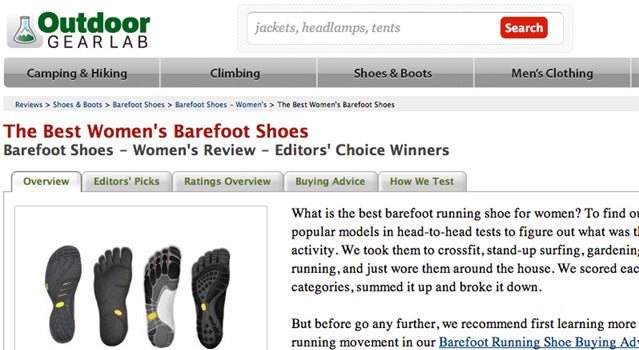 Good for: Head to head comparisons of camping, backpacking, and climbing gear.
Written by: Chris McNamara, who has climbed El Capitan more than 70 times, holds nine big wall speed-climbing records, and is the cofounder of the popular climbing website, Supertopo.com.
McNamara and company beat the b'jeezu out of gear by employing lab tests and field tests. Multiple testers take products out in the field, often for months at a time, divulge all testing criteria, and rate items in multiple categories. Not enough for you? They also have video reviews.
Sample Post: Considering both sides of the solid Black Diamond Huey, Outdoor Gear Lab give us enough information to make the final call.
The Huey Duffel by Black Diamond is the toughest duffel in this review. It is also the most weather-resistant model we tested, making it a great option for extended expeditions, long-term travel or storage use. It is one of the nicer duffels to drag around by any of its options – backpack style, briefcase style or grabbing the end loops and dragging it on the ground. Its biggest disadvantage is the fact that it is nearly heaviest duffel in this review, with only the Mountain Hardwear Expedition Duffel being heavier, and is a little harder to zip shut than others. So if you are looking to save weight you might want look somewhere else. But if you are looking for one of the burliest duffels you can buy, then look no further than the Black Diamond Huey. …
Read more at Outdoor Gear Lab