'Tour de Pharmacy' Is a Cycling Spoof Ridiculous Enough for the Real Sport
Andy Samberg and Murray Miller's new mockumentary, complete with a strange supporting role for Lance, tests tortured fans' sense of humor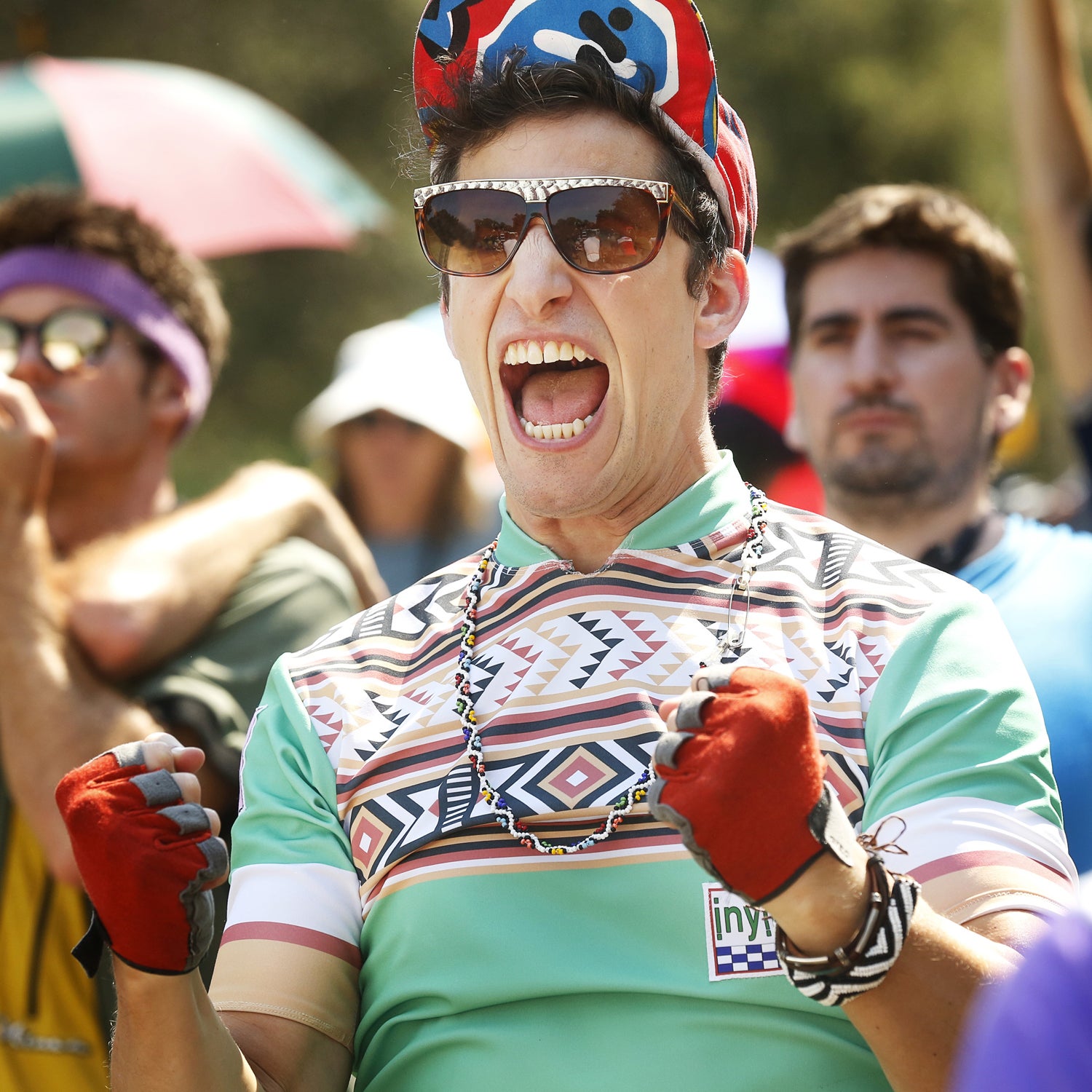 Heading out the door? Read this article on the new Outside+ app available now on iOS devices for members! Download the app.
Anyone who thinks pro cycling fans lack a sense of humor doesn't watch pro cycling. Following the sport demands an appreciation of the absurd. In last year's Tour de France, the man in the yellow jersey jogged up a long portion of Mount Ventoux without a bicycle. In the recent Giro d'Italia, the overall leader had to pull off to the side of a Swiss mountain road before a global television audience and take an emergency dump under a road sign. Numerous athletes who have been caught doping have offered public, harebrained explanations for their positives. I have loved pro cycling with all of my heart for decades, but at times it can seem like a living, breathing caricature of a professional sport.
Into this morass, just days after the reigning world champion was told to pack his bags and leave the Tour de France for possibly causing a bad crash, steps a short film that is an actual parody of pro cycling. Tour de Pharmacy, which debuts on Saturday, July 8, is a mockumentary from Andy Samberg and Murray Miller in the style of their previous film 7 Days in Hell, which mocks championship tennis. I found 7 Days in Hell to be quite funny, but it is worth noting that I lack a deep emotional investment in grass-court tennis. For a lifelong cycling fan, Tour de Pharmacy felt considerably more personal. And by personal, I mean painful.
Andy Samberg talks Tour de Pharmacy on the Outside Podcast

The film takes direct aim at the sport's doping problem by revisiting a 1982 Tour de France that never really happened—one in which the riders are so shameless that it becomes known as the "Tour de Pharmacy." I think people who know little more about the sport than the public rise and fall of Lance Armstrong will enjoy the film's easy laughs, but passionate cycling fans will have quite a bit more to chew on. Tour de Pharmacy takes sloppy punches at the sport's governing body and anti-doping agency; stages an elaborate set piece that mocks Armstrong's infamous interview with Oprah Winfrey; and cracks jokes about blood doping, motor doping, lying dopers, honest dopers, and dopes in bad spandex.
I found this sort of comedy considerably thornier than watching a piece of cinema that exaggerates the idiotic pretensions of the Westminster Dog show, but I would be lying if I said I didn't laugh out loud. In particular, Kevin Bacon is delightful playing a character who runs the UCI; he at once drips with absurdity and bears some unmistakable resemblance to the idiosyncratic Hein Verbruggen, the former UCI president who died last month. Mike Tyson has a memorable cameo as a closeted cycling fan who discovered his aptitude for fighting through a bike incident. Jeff Goldblum, J.J. Abrams, and Joe Buck all take decent swipes at bicycle comedy, too.
The cycling footage is less believable than that in the Armstrong biopic The Program—which is a roundabout way of saying it has no verisimilitude whatsoever—but it is charming in its unapologetic inauthenticity. Tour de Pharmacy is going for easy laughs, and it often succeeds.
But now we arrive at the obligatory portion of this story in which the writer thinks deeply about Lance Armstrong's role in this mess. His appearance in this movie was larger than I had expected—an extended, escalating gag in which he plays an interview source whose identity is supposed to be protected but isn't. Armstrong simultaneously makes fun of himself—his past sins, his ego, his gullibility—and takes stabs at the establishment that banished him to the world of unsanctioned mountain bike races and podcasting studios.
For the record, I don't hate Armstrong. Though it is presently unfashionable, I still believe he won seven Tours de France, and I also think he has a legitimate right to try to rehabilitate his legacy in most any manner he sees fit. In short, I don't think his well-documented history as a sociopathic asshole should erase his sporting record more profoundly than the other cheating liars of his era. I don't think he has any obligation to go away because people hate him. But when I watched Tour de Pharmacy, I couldn't help but look through the funny props and lawyer jokes and see a man who is still angry, voicing his thinly veined discontent in a campy shtick that airs a week into the Tour. It's both funny and sad.
In a way that evokes the so-called Armstrong era, the film's plot revolves around a historic rendition of the Tour de France contested by a dubious crew of competitors. A familiar thicket of questions arises: Can anyone win without cheating? Are we watching just for the competition, or is the circus part of the appeal? Can a sport make its most passionate fans laugh and cry at the same time? Is a joke about a light-colored spandex cycling kit ever not funny?
The answers matter even less than knowing who wins this faux Tour de France. For people who follow pro cycling, these are 41 minutes that do not demand a deep inward gaze. It's pointless in a good way. And in the end, I suspect most cycling fans will appreciate the humor in Tour de Pharmacy and find it almost as farcical as the real thing.
Lead Photo: John P. Johnson/HBO