The Trials of Greg Mortenson
It's been ten months since Jon Krakauer and 60 Minutes alleged that the star of Three Cups of Tea was a literary fraud who used the Central Asia Institute as a personal cash cow, prompting a civil suit and an investigation by Montana's attorney general. Mortenson still isn't talking. But the case is heating up, with important developments in t
Heading out the door? Read this article on the new Outside+ app available now on iOS devices for members! Download the app.
EDITOR'S NOTE: Montana Attorney General Steve Bullock will announce the findings of his investigation into Greg Mortenson and the Central Asia Institute during a press conference call at 11 a.m. MST Thursday, April 5. @AlexHeard will tweet live during the event.
Vail Symposium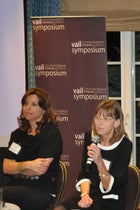 Ellen Jaskol, left, and Karin Ronnow last month at an event sponsored by the Vail Symposium
CAI's Bozoi Gumbad School

Kyrgyz students, teachers, and parents at CAI's Bozoi Gumbad School, in the Little Pamir region of northeastern Afghanistan.
60 Minutes
identified this as a "ghost school" last April; CAI says it's in use during summer months and serves approximately 30 students.
CAI's Baba Tangi Women's Center

Women in front of CAI's Baba Tangi Women's Center in the Wakhan Corridor
AI's Haji Ali Memorial School

CAI's Haji Ali Memorial School in Korphe, overlooking the Braldu River. The original Korphe school, built in 1996, was damaged by torrential rains in 2010 and had to be rebuilt.
Greg Mortenson November 2011

Mortenson in the Wakhan Corridor last November. Zarmina, top left, is enrolled in a two-year maternal-health program under CAI's sponsorship. Also pictured: Safraz Khan, lower left, Mortenson's longtime associate in Central Asia.
Mortenson during the 1993 K2 expedition

Mortenson during the 1993 K2 expedition
ON JANUARY 20, in a conference room at the Sonnenalp Resort in Vail, Colorado, a significant encounter took place, and it seemed like an unmistakable sign that the case against Greg Mortenson and the Central Asia Institute (CAI) is ramping up.
Representatives from CAI were in town to make a rare public appearance, one they hoped would be limited to discussion of the organization's core mission: building schools in Central Asia. Mortenson and CAI, of course, are currently the focus of two major investigations—a civil suit alleging consumer fraud, and a probe by Montana's attorney general into claims of mismanagement of a nonprofit—so it seemed likely that the controversy might be on the minds of some in the audience. To put it mildly, that turned out to be the case.
Two people were there representing CAI: Karin Ronnow, the group's communications director and a former reporter at the Bozeman Daily Chronicle, and photographer Ellen Jaskol. Together they staged a 90-minute talk, accompanied by roughly 200 photographs showing CAI schools, students, and personnel in Pakistan, Afghanistan, and Tajikistan. Notably, Mortenson didn't appear to be in any of them.
Also present was Jon Krakauer, the journalist who put CAI in its current world of hurt. Last April, Krakauer published "Three Cups of Deceit," a long exposé, released by Byliner, that accused Mortenson of rampant fabrications in his two best-known books, Three Cups of Tea and Stones Into Schools. Krakauer also cited evidence of potentially criminal financial mismanagement by Mortenson, and his report, along with a 60 Minutes segment that preceded it with similar claims, prompted the legal action.
On April 19, Montana attorney general Steve Bullock announced that his office would look into whether Mortenson and other CAI officials had violated state laws covering the operation of nonprofits. On May 5, two plaintiffs from Montana filed a civil suit against Mortenson and CAI in U.S. District Court, charging fraud, deceit, breach of contract, racketeering, and "unjust enrichment" based on alleged fabrications in the books.
After the presentation in Vail, Ronnow fielded questions but declined to answer any that touched on legal issues, saying, "Lawyers have advised all of us who work with CAI not to comment. I can say that… What can I say? It's a frustrating situation." She added: "My job is to focus on the work that goes on overseas, because the work continues. The specifics—they are allegations, they are accusations, and Greg will respond." Asked about CAI's fundraising total for 2011, Ronnow said it was "significantly lower" than in previous years but didn't provide figures.
Krakauer sat through all of this quietly. But when the talk ended and the crowd began to disperse, he stuck around, introducing himself first to Jaskol and then to Ronnow, who clearly was startled to find herself talking to him. I wasn't there, but according to someone who was in the room, Krakauer and Ronnow had a tense conversation that began when Krakauer tried to get clarification about an inaccurate report in the Vail Daily newspaper, which had written that Mortenson was "no longer with" CAI. This exchange followed:
RONNOW: You can talk to Anne [Beyersdorfer, CAI's interim executive director]. I don't respond to your accusations and your inquiries directly because I have been advised by the lawyers not to. And—
KRAKAUER: Are you aware of what's going on with the attorney general now?
RONNOW: I don't think that my awareness of it has any bearing on any conversation that you and I would have.
KRAKAUER: OK, I'm just asking you if you know what's about to happen next month.
RONNOW: I'm very well aware of what's about to happen.
KRAKAUER: And I'm wondering about how you think people will react when that happens.
RONNOW: That's not my… I can't anticipate and… I feel like that's an attempt to corner me and—
KRAKAUER: I'm not… OK, I apologize. I was looking for some basic questions, not legal stuff.
RONNOW: Well, that is legal stuff.
What's about to happen? I can't say for sure, because Krakauer, CAI, and the Montana attorney general's office won't talk about it. Krakauer declined to be interviewed. A CAI spokesman e-mailed this: "We have no indication from the Montana A.G.'s office as to what they are going to do. We have had no specific discussions with them on any conclusory basis whatsoever. … If Mr. Krakauer knows anything about what the Montana A.G. is going to do, that is of tremendous concern to CAI. It sounds like your source witnessed a baiting conversation." The A.G.'s office wouldn't comment except to say that the investigation should be wrapped up within a month.
It's possible to make an educated guess, however. As Krakauer wrote recently on Byliner, where he's been doing periodic updates to his initial report, multiple sources in Bozeman have told him that the attorney general deposed four CAI staffers and board members in late November, including Mortenson. Krakauer's wording suggests that whatever his sources said regarding the depositions led him to believe that CAI is about to get hammered.
We know from a statement by the attorney general's office that they're looking into "allegations of improper financial benefit to Greg Mortenson through the royalties, speaking fees, and travel reimbursements associated with the books Mr. Mortenson wrote." Krakauer has pointed to this same issue in his updates, as he did earlier in "Three Cups of Deceit." Citing leaked memos from CAI, he reminded readers that CAI's own lawyers advised Mortenson that if he were ever audited, he " 'will likely be viewed as being the beneficiary of an excess benefit from these transactions within the meaning of Section 4598' of the IRS Code, which emphatically prohibits board members and staffers of a public charity from enriching themselves at the public's expense."
Ten months have passed since the Mortenson story first broke, with few words from the man himself. Meanwhile, developments have swirled around him as detractors and defenders have taken sides and CAI has tried to forge ahead while dealing with the numerous questions this controversy has raised. The situation has been relatively quiet for several months, with the attorney general's office toiling away and lawyers on both sides of the civil suit researching, writing, and filing pretrial motions and briefs. And while it's impossible to predict what will happen next, this much seems safe to say: the Greg Mortenson story is about to get loud again.
IF STORM CLOUDS are rolling in, the timing couldn't be worse for Mortenson and CAI. The civil suit has been heating up lately, too, and all signs point to an aggressive push by plaintiffs' attorneys to see it through to a jury trial. The judge in that case, Sam E. Haddon, has been asked by Mortenson's lawyers to throw it out, based on their argument that the plaintiffs have failed to state "cognizable injury" by demonstrating that purchasers of Mortenson's books were harmed in a tangible way.
The plaintiffs are asking for something as well: class-action status, which is important because it would significantly increase the number of plaintiffs and the amount of potential monetary damages. (Large investments are required to bring a suit like this, and private attorneys want to know that they have a chance of winning a sizable judgment.) While any decision by Judge Haddon will be made independent of whatever the attorney general does, it's hard to imagine him dismissing the case if Montana officials prove that financial malfeasance occurred.
Originally called Reinhart v. Mortenson, the civil suit, filed in federal district court in Missoula, was renamed Pfau v. Mortenson after the original plaintiffs dropped out and new ones were added. There's no fully litigated precedent for the combination of issues presented in the case: namely, that Mortenson, Three Cups of Tea coauthor David Oliver Relin (who at first wasn't named), CAI (which was dropped for a while but is now named again), Penguin Publishing, and MC Consulting (a company owned by Mortenson) conspired to bilk money out of people who either purchased Mortenson's books or donated to CAI based on alleged fiction disguised as fact in his writings.
"The enterprise's fraudulent scheme was to make Mortenson into a false hero," says the most recent version of the complaint, filed on January 12. "The frauds perpetrated by this enterprise, contrived and carried out by Defendants through their racketeering activities, were not slight, factual inaccuracies based on time or location, but outright lies which were used as advertisements to raise millions of dollars in charitable contributions and earn themselves millions of dollars in profits."
January and February have seen a flurry of new court filings, including lengthy discovery documents in which the plaintiffs lay out dozens of questions they want CAI and Mortenson to answer. Defense lawyers would naturally prefer not to address any of them, and they're asking Judge Haddon to delay the discovery process until he rules on motions to throw out the case.
If the matter proceeds, CAI will have a lot of homework to do. I counted roughly 150 queries, many of them wide-ranging, touching on everything from birth certificates for Mortenson's children to an exhaustive accounting of his career as a mountain climber to whether the prophet Muhammad is or is not buried in Mecca. (He's buried in Medina; Mortenson got this wrong in Three Cups of Tea, and the mistake is voiced by a Muslim man who, if he existed, should have known better.)
Are the demands excessive? Not really, according to Simon Stern, a law professor at the University of Toronto who has studied lawsuits based on claims of factually flawed nonfiction. Stern told me that plaintiffs in civil cases typically ask for more information than they expect to obtain. "Most likely," he said, "they have deliberately cast a wide net in the hope of getting some of it."
Pruning would be a blessing for CAI's small Bozeman staff; otherwise they may not have much time for anything else. A few examples:
"Please produce all documentation showing the number of copies of the book Three Cups of Tea that were purchased by CAI, what CAI did with the books after it purchased them, the cost of the books, and the amounts Mortenson and/or Relin and/or Penguin received per book."
"Produce all documents Mortenson obtained from the Nepalese Embassy regarding any alleged mountain climbs in Nepal at any time prior to 1993."
"[Produce the] scroll of parchment wrapped in red ribbon which was stowed in the red velvet box whereby Mortenson contends the fatwa was eradicated, all as discussed on pages 199 through 200 of Three Cups of Tea."
"Produce all documentation setting forth Mortenson's involvement with the Concordia College football team which won the 1978 NAIA II National Championship."
"Produce all pictures taken of you [Mortenson] at your sister's funeral."
As a layman sifting through this material—which you can do here, here, and here—I wondered if the existence of a query means the plaintiffs already know there's something fishy. Not necessarily. For example, there are two questions about Mortenson's participation on the Concordia football team—mentioned in Three Cups of Tea—which I took as a hint that he made that up. But one call to the school's athletic department yielded the answer: Mortenson was on the roster of the Concordia College Cobbers in 1977 and 1978, just like he wrote. So why pester him about it? I suspect plaintiffs might challenge his claim that he was there on a football scholarship, but the school says there's no record of that either way.
The request connected with his sister's funeral may have more behind it. In Three Cups of Tea, Mortenson relates that his quest to climb K2 came about after his younger sister, Christa, died of a seizure on July 24, 1992, a date he says early in the book was also her birthday. There's a death certificate for a Christa E. Mortenson matching that date, but it says Christa was born in June, not July. I'm not certain it's the same person, but I think the plaintiffs may be exploring whether Mortenson botched her birth date or fudged it to make for a more emotional story. Either might sound strange to a jury.
It's evident from these questions that Mortenson will be pressed hard about his Himalayan climbing résumé and his role on K2—where, he wrote in Three Cups of Tea, he aspired to reach the summit in 1993, in Christa's honor, and where he served as an expedition medic. The plaintiffs are likely to contend that Mortenson would have had no chance of being picked for the summit team—that he wasn't experienced enough—and that, as a nurse on a team with M.D.'s, his medic's role would have been paltry at best.
But there are usually two sides to such things, and that's the case here. Pointing to mitigating factors about Mortenson's personality and character—which are certain to come up if he faces trial—Scott Darsney, who was on that climb, recalls: "Greg spent a lot more time than anybody else on that trip actually helping people as a caregiver." That view is supported by Jordan Miller and his wife, Mary, a retired plastic surgeon and registered nurse, respectively, who trekked with the climbing team en route to K2 base camp and saw Mortenson offer medical care in mountain villages.
"Greg Mortenson," Mary Miller informed me recently, "is a living saint." Her brother, Bill Wilkison, also on the trip, says that he saw Mortenson perform extraordinary acts of generosity during their hike to base camp. "Greg was an absolute horse under a backpack," Wilkison told me. "On the trek going up, he gave his hiking boots to a porter who was having problems with his feet. He walked the remaining distance up the Baltoro Glacier in a pair of Tevas."
ONE OF THE MOST INTERESTING court documents is the motion by Penguin—publisher of Three Cups of Tea and Stones Into Schools—asking Judge Haddon to drop it from the case. When the Mortenson story broke, Viking/Penguin promised to "carefully review the materials with the author" to get at the truth. That apparently hasn't happened. Its stance now is that it wasn't obliged to fact-check anything, because it has a First Amendment right to publish "nonfiction" that contains factual errors or is intentionally made up.
"It is black-letter law in the United States that … publishers are protected from liability for non-defamatory false statements in books that they publish … by the First Amendment," Penguin's latest brief states. "A publisher owes no duty to verify the accuracy of non-defamatory statements in a nonfiction book it publishes."
Penguin maintains that it didn't even attempt to fact-check the contents of Three Cups of Tea or Stones Into Schools. Doing so, it says, would have made the books prohibitively expensive to produce, and in the case of Three Cups of Tea that chore contractually fell to Mortenson and Relin. "Given the remote and dangerous locales of Mortenson's experiences," the brief says, "such checking likely would have been impossible, and the [book] consequently would have been unpublishable."
At the heart of Penguin's argument is case law indicating that publishers often enjoy First Amendment protection when they sell falsehoods packaged as truth so long as libel isn't involved. One famous precedent is Winter v. G.P. Putnam's Sons, a case decided by the Ninth Circuit Court of Appeals in 1991 in favor of Putnam's, the publisher.
In that case, there was no doubt that cognizable injury had occurred. The plaintiffs, Wilhelm Winter and Cynthia Zheng, were two mushroom enthusiasts from California who claimed that inaccurate information in a book called The Encyclopedia of Mushrooms led them to consume a poisonous species known as the death cap. Both became seriously ill and required liver transplants, racking up some $400,000 in medical bills.
There was an argument to be made that Winter himself was at fault, but the suit was thrown out on First Amendment grounds, with the Ninth Circuit affirming a lower-court ruling in favor of Putnam's. Using Winter and other cases, Penguin's lawyers are hoping to slough off any claims against them. "None of [these plaintiffs] suffered only what Plaintiffs allegedly suffered here," they write. "Namely, non-cognizable dissatisfaction upon learning that stories they thought to be true may actually be false."
Relin, who is represented by a different set of lawyers, is making similar arguments, but his most recent brief also points a finger in Mortenson's direction: "Relin, who was not a participant in the events he wrote about, simply wrote what he was told by those he interviewed."
Penguin's motion doesn't mention the case that most closely resembles Pfau v. Mortenson, which was settled before going to trial: the 2006 lawsuit against James Frey and Random House over Frey's fabrications in A Million Little Pieces, his infamous 2003 book about addiction that began as a novel, was retrofitted as "nonfiction" at the urging of its publisher, became an Oprah-endorsed bestseller, and was blown to smithereens by fact-checkers from the Smoking Gun website in January 2006.
Readers from all around the U.S. cried fraud and filed suits demanding refunds. In June of that year, these were consolidated into a federal class action in New York State, which was settled out of court in September. Frey and Random House agreed to pay a sum capped at $2.3 million, which went to lawyers, readers, and designated charities. After that the matter was put to rest, erasing the possibility of a trial that might have examined complicated questions about fraud and liability raised by the publication of faked nonfiction.
The plaintiffs will obviously have more to say about the Frey episode. In their response to Penguin's brief, they write, "Penguin has simply chosen to ignore … the multi-district litigation lawsuit in re A Million Little Pieces in the U.S. District Court … where the district court certified a nearly identical class action."
Will Pfau v. Mortenson be the test case where these issues finally get argued? There's no telling. As the University of Toronto's Stern points out, the vast majority of federal civil suits are settled out of court, so the odds are against a future bristling with legal drama.
If the case does go forward, fans of Mortenson may be disappointed to hear that the defense doesn't have reciprocal power to demand a look at everything in the filing cabinets of the plaintiffs, 60 Minutes, or Krakauer. Krakauer, for example, is not a party to the suit, and he presumably hasn't been working with the plaintiffs as they conduct their research to undermine the accuracy of Three Cups of Tea and Stones Into Schools.
Cameron Stracher, a prominent media lawyer who once served as in-house counsel for CBS, feels certain that Krakauer's reporting will be shielded by the qualified journalist's privilege, which protects him from being compelled to testify about confidential information or sources.
"Unless Mortenson could show that the information obtained by CBS or Krakauer was highly material to his defense, critical or necessary, and not available from any other source, Mortenson could not compel CBS or Krakauer to testify or provide any documents," Stracher explained in an e-mail. "It's the defendant who has to defend the veracity of his story. It's hard to see how Krakauer's involvement in the lawsuit would be relevant, unless there was some kind of counterclaim or suit against him."
THROUGHOUT ALL OF THIS, Mortenson has not been heard from, and I sometimes wonder if he ever will be again—at least as the voluble public figure we knew before his troubles began. During the gloom-filled weekend prior to the 60 Minutes broadcast, I spoke with him by phone for several hours, starting on the night of Friday, April 15, a conversation published as a Q&A on Outside's website the following Monday. Back then I never would have predicted that Mortenson would still be under wraps at this point.
At the time, I had met Mortenson once, heard him speak once, and read about him. I edited a December 2008 Outside profile of Mortenson and CAI, and (obviously) my instincts and Outside's fact-checking procedures failed to detect that there might be something fundamentally shaky about his backstory.
When I spoke with Mortenson last April, I threw a Hail Mary by simply dialing his cell-phone number and asking if he would do an interview. He knew by then that 60 Minutes and Krakauer were about to lower the boom, and he was refusing to speak with either Krakauer or CBS correspondent Steve Kroft. (He had agreed to speak with Krakauer but canceled on him Friday afternoon.) I suggested he talk to me, saying that I would ask objective questions based on reporting I'd done that gave me a fairly detailed sense of what was coming his way.
Mortenson decided to talk—apparently not telling anybody but his wife about it until Sunday afternoon—consenting to a series of interviews that were completed a few hours before the 60 Minutes segment aired. Since my knowledge of the pending investigations was piecemeal, I knew enough to ask reasonable questions but not enough to be sure I was getting straight answers instead of spin.
Mortenson was an amiable and patient interview subject, especially considering the incredible amount of stress he was experiencing. But there were moments when he seemed to be searching for a point of limited retreat, admitting that certain facts had been blurred while trying to hang on to a modified version rather than admitting a fabrication outright.
Mortenson surprised me when, early on, he pushed blame for problems with Three Cups of Tea onto his coauthor and publisher. "David [Relin] insisted on writing the book in third person, which is really awkward," he said. (He must have changed his mind. In the introduction to Stones Into Schools, which is written in first person, Mortenson said his wife and editor forced him to use this voice, an immodest approach that was "emphatically not my cup of tea.") Mortenson went on to describe a situation in which he, a book-writing neophyte, was steamrolled by his cowriter and his publisher into agreeing to too much artful remixing in the stories he told. That didn't seem convincing then, and it seems less so in light of the discovery documents. If the plaintiffs are right, the root problem isn't about storytelling style. It's about mangled facts—facts that came from Mortenson himself.
At this juncture, I don't believe what Mortenson told me about the village of Korphe, which was a central part of Krakauer's reporting in "Three Cups of Deceit." The well-known CAI creation story—as presented in Three Cups of Tea—has it that Mortenson, weak and exhausted, wandered into this village in 1993 after a failed attempt to climb K2, the world's second-highest peak, and was nursed and fed until he recovered. Mortenson noticed that Korphe's children didn't have a school, and out of gratitude he promised to return and build one someday, which he did in 1996.
In "Three Cups of Deceit," Krakauer maintained that important elements of this story were fabricated and that Mortenson never entered Korphe on that trip. Speaking with me, Mortenson backed away from the account in his book, which has him lingering in the village for days and declaring, during that first trip, that he would build a school. He told me he was only in Korphe a few hours and that he didn't make his school-building promise until a return visit one year later.
Outside ran two items on the Korphe controversy soon after. In the first, Scott Darsney, who left K2 with Mortenson at the end of their climbing attempt but got separated from him, suggested that Mortenson's account might still hold up. But a subsequent article by Outside's Grayson Schaffer—which explained how Mortenson's path wouldn't have allowed him to stumble into Korphe, because he was on the wrong side of a powerful river and there was no bridge that could get him there—strongly supported Krakauer's version.
Mortenson "would have had to swim the deep, wide, fast, and cold Braldu River to reach Korphe," Schaffer concluded, "an experience he likely wouldn't have survived let alone failed to mention in his initial account."
AT THE END OF OUR INTERVIEWS last April, Mortenson offered to keep an open channel with me as he entered the fray. Though my access was soon cut off by Anne Beyersdorfer—a PR pro who did exactly what she should have in that situation—he kept in contact at first. On Sunday morning, I got an early e-mail from him in which he outlined his plans for a counteroffensive once 60 Minutes had done its worst. The e-mail was a copy of a message he'd written to his mother, Jerene, letting her know he intended to fight back. It said, in part:
"The media bullies in NYC Manhattan think we are hillbilly Montanans and have no clue what they are getting into. We set up the tiny purple house as our 'war room' with charts, easel boards, laptops to coordinate. Tara's friend Anne B. … is running the show along with our office. … I am getting huge support from some top military leaders in the country, and even two Senators. … Right now we are just waiting for 60 Minutes to do their one shot firework show, and then we will slowly begin our campaign."
Things didn't unfold like Mortenson hoped, with him leading a star-studded crusade to discredit his accusers. Instead, others spoke up for him. CAI has issued plenty of statements in Mortenson's defense, and various journalists and bloggers weighed in during the immediate aftermath, including Nicholas Kristof and Daniel Glick, both of whom tried to remind readers that Mortenson was a disorganized man who nonetheless had created something remarkable.
"From a few conversations I've had … with people who have known Mortenson for years, I have no reason to doubt that Mortenson can be difficult, unconventional, poorly organized, and chronically late to appointments," wrote Glick, who'd met Mortenson in 1998 at the Korphe school. But this same shambling figure had "gone where few others have gone, and has put in incredible time and energy to raise awareness, seed schools, and give girls opportunities for education that would not be theirs otherwise."
Taking a different tack, a Montana attorney named Shahid Haque-Hausrath blogged that the civil suit's main outcome would be to transfer money meant for schools into the pockets of lawyers. "Lawsuits of this nature continue for years," he wrote, "racking up millions of dollars for the attorneys."
Still, Mortenson's biggest-name supporters from the past—including Tom Brokaw, Khaled Hosseini (author of The Kite Runner), and General Stanley McChrystal—basically ran for the exits. Soon after the 60 Minutes broadcast, I tried to get all three of them to talk about Mortenson but came up empty.
Make no mistake: Mortenson once had powerful friends—in government, the media, and the military. McChrystal didn't respond to my request for an interview, but his support of Mortenson ran pretty deep, as illustrated by a remarkable episode from Stones Into Schools that, though it sounds hard to believe, actually took place.
In September 2009, McChrystal—then in charge of the Joint Special Operations Command—was one of several top military officials on an e-mail chain that started when Mortenson tried to arrange an emergency helicopter flight for Abdul Rashid Khan, an ailing Kyrgyz tribal leader. Mortenson's eagerness to assist Khan was closely linked with CAI's efforts to build a school in Wakhan, a remote area of Afghanistan.
As I know from seeing the e-mails, the request was turned down but was taken very seriously, and it bounced around among a collection of bigwigs that included Major General Curtis Scaparrotti (then a top U.S. commander in eastern Afghanistan), Admiral Eric Olson (head of the U.S. Special Operations Command), General David Petraeus (then CentCom commander, now director of the CIA), and McChrystal, who wrote to an aide: "I put great stock in what Greg Mortenson says—so let's look hard at possibility." Petraeus wanted to go for it, writing to McChrystal: "Stan, sounds like a chance to solidify a key relationship, but know it's a very long way. Doable?"
Mortenson imagined that an army of supporters would form behind him. That didn't happen, and there are two main reasons why. One is simple: people are terrified of lawyers. Without a doubt, as I know from multiple interviews, Mortenson has sympathetic friends out there who are hiding in the weeds precisely because they're afraid of getting dragged into the lawsuit.
The other is that Mortenson hasn't made a public effort to defend himself, and that has cost both him and CAI. He had plenty of opportunity last spring: everybody wanted to interview him, but he said no. As far as I can tell, he hasn't spoken to a reporter since then, though I wouldn't know if he's been talking to one behind the scenes. On advice of counsel, CAI declined to enlighten me on that and declined my most recent request to interview him again.
Initially, the main reason CAI gave for his silence was poor health. When I spoke with Mortenson last April, he was hobbled by a medical condition diagnosed as an atrial septal defect—a hole between the upper chambers of his heart—and was audibly short of breath. He didn't know it then, but he was also suffering from an aneurysm, which resulted in open-heart surgery last June.
By fall he was healthy enough to start scheduling public appearances again, and in November he traveled abroad, to Tajikistan and Afghanistan, where he visited CAI schools and filed a story for CAI's annual report, Journey of Hope. "In Ishkashim, at the western end of Afghanistan's Wakhan Corridor, I stopped to see CAI's girls higher secondary school," he wrote, in what sounded like a dispatch from the good old days. "The girls aspire to be everything from doctors to teachers to engineers to pilots to president of Afghanistan."
Mortenson was supposed to appear in Chicago last October at an event called the Building Bridges of Peace Conference. On the bill with him were, among others, Maz Jobrani, an Iranian-American comedian, and Jack Shaheen, author of a book called Reel Bad Arabic: How Hollywood Vilifies a People. The goal seemed to be fostering goodwill for CAI while giving Mortenson a soft landing for his return to public speaking.
The event took place, but Mortenson canceled—for health and evolving legal reasons, according to CAI. (Krakauer had signed up to attend, and the rumor I heard was that Mortenson was taken off the bill because his nemesis was on the way.) Mortenson was also slated for other U.S. appearances in November, but all those events were called off.
Why? Tracy Keys, executive director at the Newport Beach Library Foundation—organizer of one of the engagements—told me she'd heard about the cancelation through Mortenson's publisher, Penguin, and was informed that Mortenson's attorneys intervened. "We had no contact with CAI," she said. "Penguin was acting as his agency. They canceled on advice of Mortenson's lawyers. We would have gone ahead with it."
CAI'S DECISION TO KEEP Mortenson wrapped up made short-term sense, but over the long haul it helped create an open-season attitude among some journalists and bloggers who seem to think accused is synonymous with guilty on all counts. At the Mountainfilm festival in Telluride last May, for example, explorer and author Wade Davis called Mortenson "the Bernie Madoff of the nonprofit world." Soon after, blogger Kelly Burdick, executive editor at a small publishing company called Melville House, referred to him as "insane memoir fabulist Greg Mortenson." Burdick hadn't done any reporting herself but based her assessment on a credible report by Newsweek's Mark Giglio that Mortenson's stress level had reached alarming proportions.
"On April 25, police responded to a call from Mortenson's home, in which his wife reported that he was 'assaultive' and 'screaming,' " Giglio wrote on the Daily Beast. "The report noted that Mortenson was under a physician's care and 'taking medications that contributed to the disturbance.' "
Mortenson deserves better than the kind of mockery he got from Davis and Burdick. The man behind the caricature can be foolish and grandiose, certainly, but he can also be articulate, charming, and persuasive, and in the end he may prove to be his own best spokesman.
For now, Mortenson could use a few more backers with sufficient information to help make a case for him. That's a hard role to fill, since CAI insists on keeping him behind a steel curtain. To the extent that Mortenson has any public defenders, their arguments have often been based on past experiences with him. Sometimes they're convincing; sometimes they're less about Mortenson and more about ad hominem attacks against Krakauer.
For example, Daniel Glick argued on his blog that both Krakauer and Kroft cherry-picked their stories, stalking out negative aspects of Mortenson but straining to ignore anything that might complicate their premeditated takedowns.
"Both of them apparently tried to contact Mortenson only at the last minute," he wrote, "which is something that journalists will do when they are after a pro-forma denial, rather than an interview to ascertain truth or get another side of the story."
But both Kroft and Krakauer had reached out to Mortenson well before the last minute, and Krakauer—who was not working in partnership with 60 Minutes—had offered to hold publication of his story if Mortenson would agree to his April 13 request for an interview. Given all that, I have to question Glick's assertion that their work was "seriously deficient … in basic elements of fairness, balance, perspective, insight and context."
The most vociferous denouncer of Krakauer has been Kathryn O'Hehir, a U.S. citizen who currently works at a language school in Beijing. For months, O'Hehir has been blasting him on her blog about his alleged bias. Her comments are sometimes thought provoking, sometimes rough-and-tumble, and sometimes profane. In one entry, she chastised plaintiffs' attorney Larry Drury in a poem that consisted mainly of F-bombs, angered by her belief that her e-mail had been hacked—possibly by someone on the plaintiffs' side.
O'Hehir had no connection to CAI, but she feels strongly enough about Mortenson and his nonprofit that she flew from Beijing to Chicago last October to hear Mortenson speak at the Bridges of Peace conference. She decided to go even after he canceled, and she planned to confront Krakauer if he showed up. "He would have had to deal with me in his face," she told me. Why does this controversy mean so much to her? She believes Mortenson is a good man who created an effective organization and that Krakauer is determined to destroy him, motivated in large part by competitive envy.
"In my opinion, this whole thing is a publications war," she said. "Mortenson was outselling Krakauer's Where Men Win Glory. He was pissed off that his book was being outsold by Greg's book. With publication of 'Three Cups of Deceit,' he knocked the two books right off the New York Times bestseller list." I can't go along with that. I think Krakauer acted because he was appalled by what he viewed as reckless and criminal mismanagement. 
But O'Hehir also raises some worthwhile questions. She's been particularly interested in Mansur Khan Mahsud, who appears in "Three Cups of Deceit" as the main debunker of Mortenson's claim that, in 1996, he was kidnapped and detained by the Taliban in South Waziristan. Soon after the 60 Minutes report aired, Mahsud said he was planning to sue Mortenson for libel, telling the Guardian newspaper: "He's defamed me, my family, my tribe. We are respected people in my area. He's turned us into kidnappers." As O'Hehir has noted, that suit hasn't materialized. If I were a juror, I'd want to know why. 
For now, however, it would be a mistake to assume that Mahsud has gone away. He's working with John D. Mason, an intellectual-property attorney in Washington, D.C., who has written to lawyers for both Penguin and Mortenson. Mason let them know that his client is still dissatisfied that he showed up in Stones Into Schools, in a group photo that shows Mortenson and 13 armed men and identifies the men as "Waziri tribesmen who abducted Greg Mortenson … for eight days in July 1996." So far, he says, he hasn't received a satisfactory response.
I'd also want to know what became of Mahsud's uncle, Naimat Gul Mahsud, a member of the clan who served as Mortenson's guide during his trip to the region. In "Three Cups of Deceit," Naimat Gul comes off as a confusing figure: a stout upholder of family honor on one hand, and a shady man with a criminal past on the other.
"It is nearly impossible to overstate the importance of personal reputation to Pashtuns in general, and members of the Mahsud tribe in particular," Krakauer wrote. "By offering to act as Mortenson's host and guardian in South Waziristan, Naimat Gul obligated his branch of the Mahsud tribe to protect Mortenson from physical injury and personal affront."
However, in a long footnote at the end of "Three Cups of Deceit," Krakauer explained that Naimat Gul was "a professional con artist." According to a source quoted by Krakauer and given a pseudonym, "Naimat Gul has a long history of thievery, extortion, and counterfeiting. He was sentenced to life in prison for kidnapping a girl, but escaped from jail a year or two before meeting Mortenson, and has been on the lam ever since."
Krakauer went on to report that Naimat Gul initially tried to con his own relatives into thinking he'd kidnapped Mortenson, hoping to extort them into paying him off rather than risk bringing shame to the clan. They threatened retaliation and he backed down. Mortenson was unaware of any of this, Krakauer wrote, so (the theory went) Mortenson concocted his own kidnapping story independent of Naimat Gul's fake-kidnapping plot.
Little has been said or written about Naimat Gul since Krakauer published "Three Cups of Deceit." Rumors have circulated that he's dead, but those are unconfirmed. 
AT THIS POINT, if a trial ever happens, I'm convinced Mortenson will be taken apart on questions of factual accuracy. If you doubt that, read "Three Cups of Deceit," the discovery documents, and Krakauer's reports on Byliner, and then compare that material with CAI's responses. It's hard to question that the books were often fictionalized, and CAI's attempts to shore up Mortenson on that front seem weak.
But if I were a juror I'd still need to see more evidence that Mortenson is, as charged in the plaintiffs' brief, a "false hero" who purposely acted as a wily conspirator, toiling away since the early nineties in an effort to entice book buyers with his "self-proclaimed hero status and humanitarianism." Having watched Mortenson operate over time, it's obvious that he's a flawed figure who could be very difficult to work for—he had a bullying side that the public didn't see—and that his image as a cheerful saint masks a more complicated reality.
But his faults need to be weighed against the many measurable things he accomplished. While you're reading Krakauer's material, take time to study all the editions of Journey of Hope published over the years, which are available on CAI's website. There are inaccuracies in some of these reports, just like in Mortenson's books, but there's also a lot of school building—an effort that continues thanks to people like Beyersdorfer and Ronnow, who are juggling CAI's original mission along with its many legal problems. The latest issue offers a "master project list" describing the location and status of all CAI-affiliated schools, and it's worth a look, especially since the 60 Minutes report left viewers with the clear impression that the schools themselves were all too often in disarray.
The schools that exist were built under incredibly challenging circumstances because an unknown guy named Greg Mortenson had an impossible idea back in the early 1990s: he would convince people to give him money to build them. He toiled obscurely for many years to make that dream come to life. James Frey didn't do anything but line his pockets.
Last spring, during my attempts to find out more about the Mahsuds, I came to know (through e-mail) an Islamabad-based adventure guide and documentary filmmaker named Wajahat Malik. On his own dime, Malik traveled to Baltistan—the region in northeastern Pakistan where Korphe sits, along with many other villages containing CAI schools—to interview people who had worked with Mortenson and CAI. Malik was not favorably disposed towards Mortenson when he set out, and he agreed with Krakauer that the Korphe and kidnapping stories sounded dubious and offensive. So I was surprised when, after he returned, he e-mailed me about what he'd seen and heard—sounding much more positive than I expected.
"Each and every person that I spoke to had good things to say about Greg Mortenson and his institute," he wrote. "The reality is that all sixty-one schools built by Greg are up and running. Fourteen schools are being run independently by CAI, and the rest of them had been handed over to [the] Pakistani Government, and all these schools are operational."
During his travels, Malik spoke with Ghulam Parvi, CAI's program manager from 1996 to 2010 and a chief accuser of Mortenson in "Three Cups of Deceit." Parvi told Krakauer he left CAI in large part because of "the pervasive dishonesty" in Three Cups of Tea. Krakauer understood that Parvi was not always honest in his financial dealings with CAI, as he laid out in detail on Byliner last September. And while Malik didn't doubt Parvi's reason for leaving, he told me that Mortenson still enjoyed more credibility than Parvi among the locals he interviewed:
"Even Parvi praised Greg as an honest and hardworking guy, who mismanaged the affairs of CAI because he was never organized, never got it registered, and never hired professionals and proper administrators. I personally think he is right on this account. On the other hand, Parvi doesn't enjoy a good reputation in Baltistan. Every one that I spoke to, and I spoke to a lot of people, blamed him for ditching Greg after milking him of his money. And they all thought Parvi was a con artist who has already milked some other foreign NGOs and then defamed them."
Malik also ran into Jahan Ali, a girl from Korphe featured in Three Cups of Tea, who studied in CAI's Korphe school and was by then an undergraduate at a government college in Skardu. "For her, Greg is a savior angel who has changed her life by giving her a chance to study and helped her get out of the darkness," Malik wrote. "She and others have all heard about the Greg scandal, but nobody in Baltistan wants to believe Greg can do such a thing. They all think he has a heart of gold and is honest to the core."
So there you have it: Mortenson is either a scumbag or a saint—or some combination thereof. It would be nice to hear him speak for himself, but that may not happen for a while, since he's going to be under a cloud of litigation. I asked Anne Beyersdorfer if it was likely Greg would remain unavailable until his legal issues are resolved.
"Although very likely, there is no CAI policy to that effect," she replied. "Anything can happen, and you never know what every day may bring."
ALEX HEARD (@alexheard) is Outside's editorial director.