The Artist Painting National Parks with a Dark Twist
Will Gurley is using his work to spread the word about development in our national parks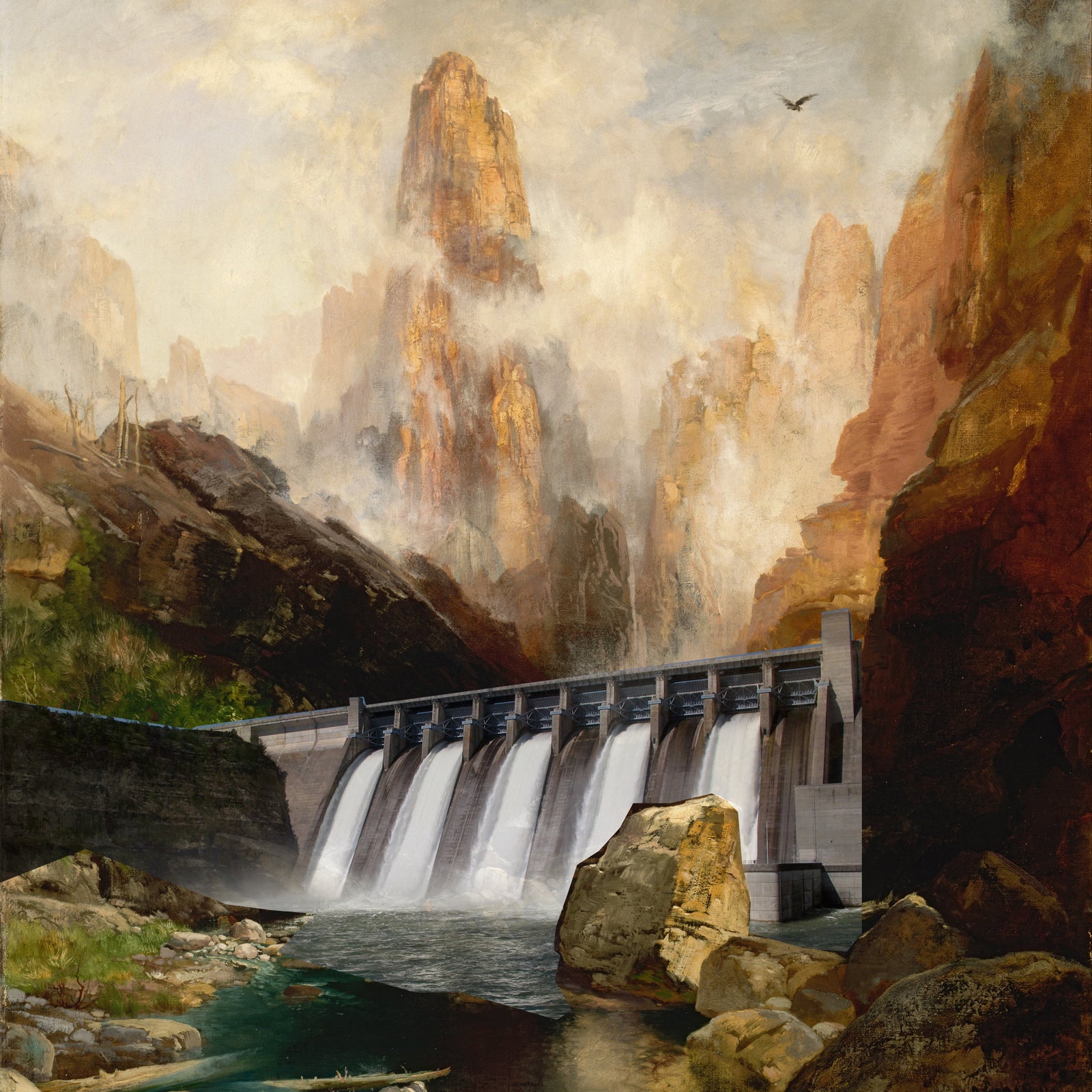 Will Gurley(Photo)
Heading out the door? Read this article on the new Outside+ app available now on iOS devices for members! Download the app.
It takes a second to realize how disconcerting Will Gurley's painting of Utah's Kanab Canyon is, because it's so beautiful. The light hits towering spires and then catches on a huge hydropower dam.
This painting is part of Gurley's New American Romantic series, in which he stylizes historic Hudson River School paintings, like Thomas Moran's dreamy canyons, and then twists them to show what those landscapes would look like through the lens of development, logged or sliced through by a highway. The series is part of a project he calls the National Parks Development, which takes iconic American art about public lands, like those romantic paintings and the classic Works Progress Administration national-parks posters, and reimagines them to show what a human-chewed landscape would look like if we were to glorify it in the same way. He imagines Yellowstone's geysers converted into a water park and Zion pecked out into a series of apartment buildings. The paintings feel subversive, but they also don't feel that far off.
Gurley, who grew up climbing and mountaineering in Colorado, lives in Copenhagen now, where his day job is designing rides for the Tivoli Gardens amusement park. He recently closed a show for the National Parks Development project in Carbondale, Colorado, and now his New American Romantic series is available as a book. He spoke to us about the line of preservation, how we commodify and glorify public lands, and the difference between being in nature and taking a picture of it.
On what feels important from far away: "I created all this work over the past year from Copenhagen, so I'm looking at the States from abroad and thinking a lot about the American landscape. At the moment, these icons of America and our public lands feel like they're really at risk. The national parks are landscapes that are dear to people, so I felt like it was appropriate to use them as my focus on attacks on nature. This project was also a way for me to reconnect with America and Colorado. I grew up in Denver and was a total outdoors guy, but as I got more and more involved with art and culture, I got sucked into the cities. I had this longing for the natural world, but now I was seeing them through kind of a tourist mentality."
On taking inspiration—and tweaking it: "I have a passion for historical painting, especially landscapes. The representation of our landscape through history, and how culture has looked at it, is really important. In a lot of the early paintings, the landscape has this storm that represents the uncontrollable aspects of nature, and a light beam across the landscape where humanity has touched it. There's a Manifest Destiny aspect but also beauty and awe of American wilderness. I really find that interesting. My paintings are supposed to be a critical stance against development of the outdoors, so I took that style and incorporated things like highway off-ramps that could easily happen."
On artists as conservationists: "Thomas Moran's most important paintings created ideas of protecting parks. He painted The Grand Canyon of the Yellowstone. They took this painting to Congress, because no one believed that it existed, but the painting was so convincing that Congress realized there was something to preserve. Artists helped make the national parks. They absorbed and reconfigured the narratives they decided to present about the American West."
On consuming nature: "I'm currently working on several paintings about views, and it's shocking when I return to the States how much a view is an element of consumption. I was at Arches recently, and there were all these RVs and busses that arrived, people got out and took pictures, and then they left. People feel like they're entitled to a view."
On how art can change your mind: "I want people to approach it in an open way, so I make the work inviting, but then I have that hard-reality element within it. I have a small painting in my studio now—it's a gorgeous ocean sunrise, with rocks out in the water—but when you get closer, you realize the water is bubbling up. The painting is called Slow Boil, and when you get near, the title reveals itself."
"I don't mean to paint a grim picture of the world, but it is grim. Landscapes right now have a lot to be discussed, there's a lot of sorrow. Books are one of the ways that I'm communicating my work in the future. I'm working on a children's book, or at least a book framed as a children's book, but with the harsh realities of humanity."
Other Climate Media We're Checking Out This Month
'The Rosette,' by Devon Galpin Clarke
What were you doing when you were 14? Probably not writing a graphic novel about species conservation and a shape-shifting hero fighting snow leopard extinction. We're excited to keep our eyes on high-achieving world-schooled teen Devon Galpin Clarke's book project, The Rosette.
'Broken Ground'
How many environmental disasters are slipping under the radar, especially when they happen in underserved, neglected areas? Broken Ground, a new podcast from the Southern Environmental Law Center, tries to find those cases. The first few episodes are about fatal coal-ash spills in the Southeast, and the details and scale of the problems are shocking.
Lead Photo: Will Gurley
Trending on Outside Online