The Latin American Immigrants Shaking Up New York City's Bike Races
Daniel Pérez and the Sanba Cycling Team are proving that delivery workers, line cooks, and mechanics race bikes, too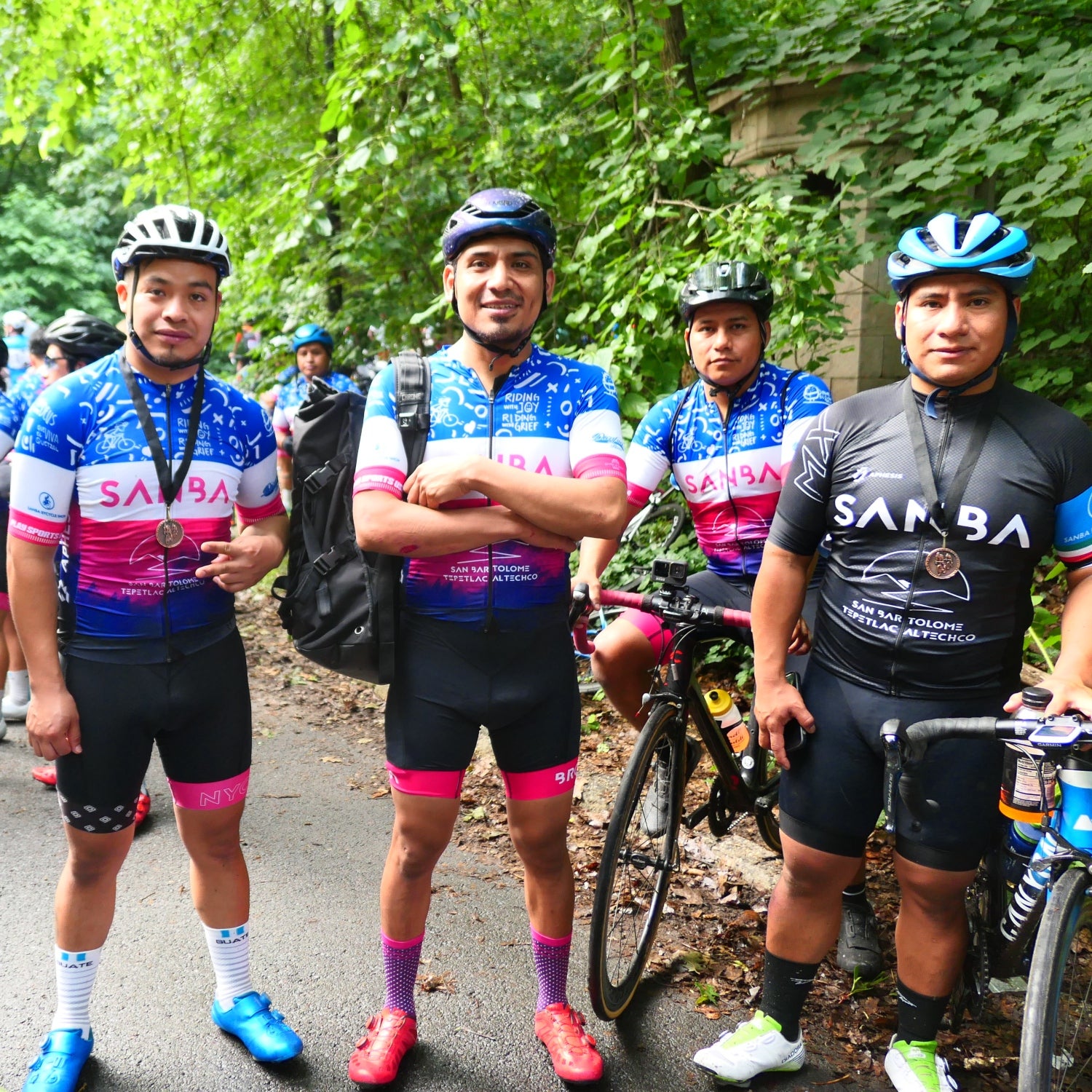 Martha Pskowski
Heading out the door? Read this article on the new Outside+ app available now on iOS devices for members! Download the app.
On a July morning, the cyclists start arriving at Brooklyn's Prospect Park before dawn, the pavement still wet from an overnight downpour. More than 300 people are registered for the second race in this year's Lucarelli and Castaldi Cup, a fixture in New York City's cycling circuit. Competitive cyclists in the city are finally releasing the pent-up energy of a year without bike racing, waiting out the pandemic.
Daniel Pérez, founder of the Sanba Cycling Team, lines up alongside 25 of his teammates in their blue, white, and pink kits. At 36, he has the slight, efficient build of a competitive cyclist. The final stragglers hurry to pin on their numbers and join the ranks. Then the whistle sounds, and the race is off.
The Sanba racers include Rafael, who commutes 40 miles round-trip every day to his construction job in Long Island; Antonio, who fits in training rides around his food delivery job; and Edgar, a line cook and lifelong soccer player giving cycling a chance. Off the racecourse, these Guatemalan and Mexican immigrants work long hours and navigate life in neighborhoods hit hard by the pandemic. But for this moment, they can ignore all that. In this moment, they just want to win.
In the Category 5 race, several Sanba riders position themselves at the front of the pack. They race 17 miles—five laps around the inner loop of the park—at more than 20 miles per hour. A Sanba rider gets a flat and returns to the start line, dejected. Then another.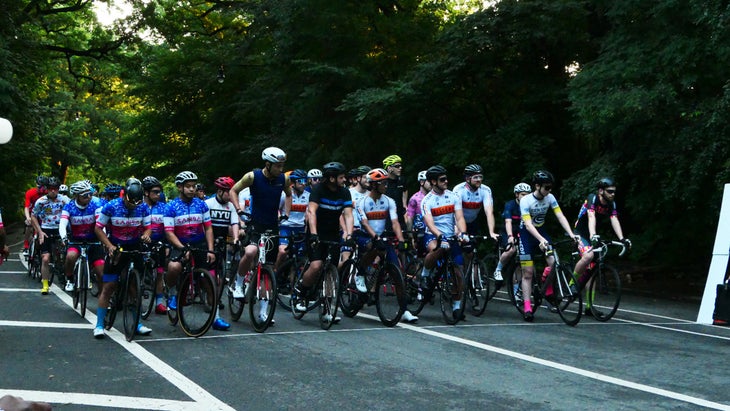 But after the final lap, Sanba team member Maynor Tuc crosses the line in third, and Augustin Yaxon follows in fifth. A handful of friends and family—and one team member recovering from a broken collarbone—cheer them on, shouting "Vamos Sanba!"
For many team members, the July race was their first competition. Pérez hopes they are infected with the same passion he felt more than a decade ago, when, as a young Mexican immigrant in Brooklyn, he started racing. After working hard to break into the local cycling scene, Pérez set out to create a space where Latin American immigrants like him would feel at home.
---
Sanba Bicycle Shop is on Fifth Avenue, the main drag of Sunset Park, a neighborhood on the western edge of Brooklyn. On a Friday afternoon, two team members are hanging out at the shop after a ride, taking advantage of the air conditioning. Three teenage boys come in, debating animatedly in Chinese. When one asks about a fixed gear, Pérez nimbly darts through the narrow shop to give them advice on tire size and gear ratio. In a lull between customers, he momentarily perches on a stack of crates in the crowded shop to begin his story.
Pérez named both the team and the shop after his hometown of San Bartolomé Tepetlacaltechco, Puebla, Mexico. His love affair with bikes began at ten years old, when his uncle Artemio let him tag along to Artemio's job as a bike mechanic. On weekends and during school vacations, Pérez learned to clean bikes and patch tires. A clever apprentice, he could build a wheel by 12.
"I wasn't just learning to be a bicycle mechanic," Pérez says. "I was falling in love with bikes." The town organized races where men competed on singlespeed bikes known as turismeros. He knew little of races like the Tour de France, which was not broadcast in Mexico at that time. Pérez laughs, "We didn't have a television anyway."
"That was the opportunity that I was looking for all my life," Pérez says. "I was very nervous. But then, in my first race, I won."
The population of San Bartolomé Tepetlacaltechco is less than 2,000. The Nahua people originally inhabited the region before Spanish colonization. Pérez's grandparents were the last Náhuatl speakers in his family.
The family's humble house was frigid in winter. On windy days, it felt like the roof could blow off. After middle school, Pérez started working full-time to help his parents build a new house.
Pérez was still a teenager when he followed his uncle to New York City, which had become a prime destination for migrants from Puebla. His first jobs were as a dishwasher and a delivery worker, working from 9 A.M. to midnight. He diligently sent money back home. "But I was thinking about bikes all the time," he says.
Eventually, a Brooklyn bike shop hired him as a mechanic. Then, one summer day in 2006, while biking at Prospect Park, he met Miguel Flores, another Mexican. Flores invited him to a race that afternoon at Brooklyn's Floyd Bennett Field. "That was the opportunity that I was looking for all my life," Pérez says. "I was very nervous. But then, in my first race, I won."
---
From 2006 on, Pérez raced frequently in Brooklyn. He was not on a team, and when he was starting out he saw only a handful of Mexicans at the races. While Pérez is now bilingual, he says language is a main barrier for Latin American immigrants to join cycling teams.
Pérez noticed discrimination against Latino immigrants, both in bike shops and at races. Shop employees would help the white guy with a nice road bike ahead of the brown guy who used his bike to get to work. "All the cycling teams of New Yorkers, if you wanted to join one, they were very exclusive," he says. "If you're a food delivery guy, there aren't a lot of teams that are going to notice you."
The Sanba riders are both competitive cyclists and working cyclists, who use their bikes as a means of employment, including deliveries. Racial and class inequities exist among both groups in the United States. Groups including the Biking Public Project and, more recently, Los Deliveristas Unidos, have pointed out that working cyclists in New York City, mostly people of color and immigrants, are more likely to be ticketed and face other forms of discrimination. People of color and low-income people are more likely to bike as a form of transportation, yet are often left out of transit planning and decision making.
"Before, immigrants weren't necessarily rejected, but we didn't feel included in racing. We want to make our mark on New York City racing."
Competitive cycling is also expensive, discouraging many working-class people from participating: a racing bike can cost thousands of dollars, and a complete kit runs in the hundreds. And the sport remains overwhelmingly white. In a recent membership survey by USA Cycling, the national governing body for competitive cycling, 86 percent of respondents identified as white, followed by Hispanic or Latino at 6 percent, with even smaller percentages identifying as Asian or Asian American, Black or African American, and American Indian or Alaska Native.
Despite this, teams like L39ion of Los Angeles are putting more riders of color on podiums and pushing discussions of racial justice. There are also several established African American and Black cycling groups in New York City, including the Major Taylor Iron Riders, the Red Caps, and L&M Tourers.
In Europe, professional teams are increasingly recruiting Latin American cyclists, particularly Colombians. Tour de France champion Egan Bernal and legendary climber Nairo Quintana are both from the South American country.
Pérez set out to prove that Latin American immigrants in the United States have what it takes. "Before, immigrants weren't necessarily rejected, but we didn't feel included in racing," he says. "We want to make our mark on New York City racing."
---
Over the years as a mechanic at several Brooklyn bike shops, Pérez developed a loyal following of clients. With their support, he struck out on his own and opened Sanba Bicycle Shop in 2018. Word started to spread among delivery workers and people from Puebla in Sunset Park. Pérez was working seven days a week, but this time for his own business.
His friend Anthony Luna, who started racing in 2018, encouraged him to form a team. "We come here to triumph. We come for the American dream," says Luna, who arrived in New York from Puebla 20 years ago. "But sometimes I don't have time for anything except work…With bikes, I found a way to relax and enjoy myself."
Another friend helped with the USAC paperwork to form the Sanba Cycling Team in 2019. That year, a dozen members raced. By March 2020, the team had grown to 25.
"We decided to put on our jerseys 'Todos somos migrantes' ['We are all migrants'] to send a message about the situation the country is going through," Pérez says. He emblazoned his own bike with "Tepetlacaltechco," the Náhuatl name of his hometown.
While the original team members are from Mexico, new recruits were Guatemalan. "Unlike other teams, our members work in basic services in New York City," Pérez says. "Construction workers, dishwashers, cooks, mechanics, delivery guys."
Then the pandemic hit. The 2020 racing season was canceled. Sunset Park, home to many essential workers and immigrants, became a coronavirus hot spot. Miguel Flores, the friend who invited Pérez to his first race, died of COVID-19 that spring. Pérez says Flores motivated many immigrants to get into cycling. Pérez closed the shop for several weeks as the virus tore through the community.
Once the worst weeks passed, the Sanba team resumed riding together. "By then, we weren't just a team for competitions—we were a family," Pérez says. "All of us were looking to be part of something. And with Sanba, we found it."
Sanba is the community Pérez never had as a novice cyclist. Team members come to hang out after work. One of their first sponsors, La Flor de Izucar Café, is the go-to option for sandwiches and tacos after training rides. If riders cannot afford a bike, shoes, or kits, Pérez helps them out. "If they need something at the shop, I tell them, take it," he says. "You'll pay me back by training hard and seeing the results."
Pérez hasn't forgotten the challenges of his upbringing in Puebla. Sanba is supporting a cycling team in Mexico, donating team gear and sending money for them to compete in the Vuelta de Guatemala race last year. "We can change the situation in Mexico, little by little," Pérez says.
In the 2021 season, Sanba has finally been able to test their skills in New York City's racing circuit. The competition is tough, but Pérez is optimistic that some of the younger riders have the talent to advance to elite teams.
Around him, the shop is bustling. Pérez pumps up the tires of a longtime customer.  The mechanic tinkers on a road bike. Cumbia plays over the speakers.
Pérez, who's had a litany of broken bones over the years, says his serious racing days are over. But he still lines up with the team. "I don't want to stop," he says. "Because I am motivating the next generation."
Lead Photo: Martha Pskowski
Trending on Outside Online