Life Lessons I Learned From Campfire Skits
This age-old camp tradition has a higher purpose. Plus, two campfire skit ideas to stoke your creative side.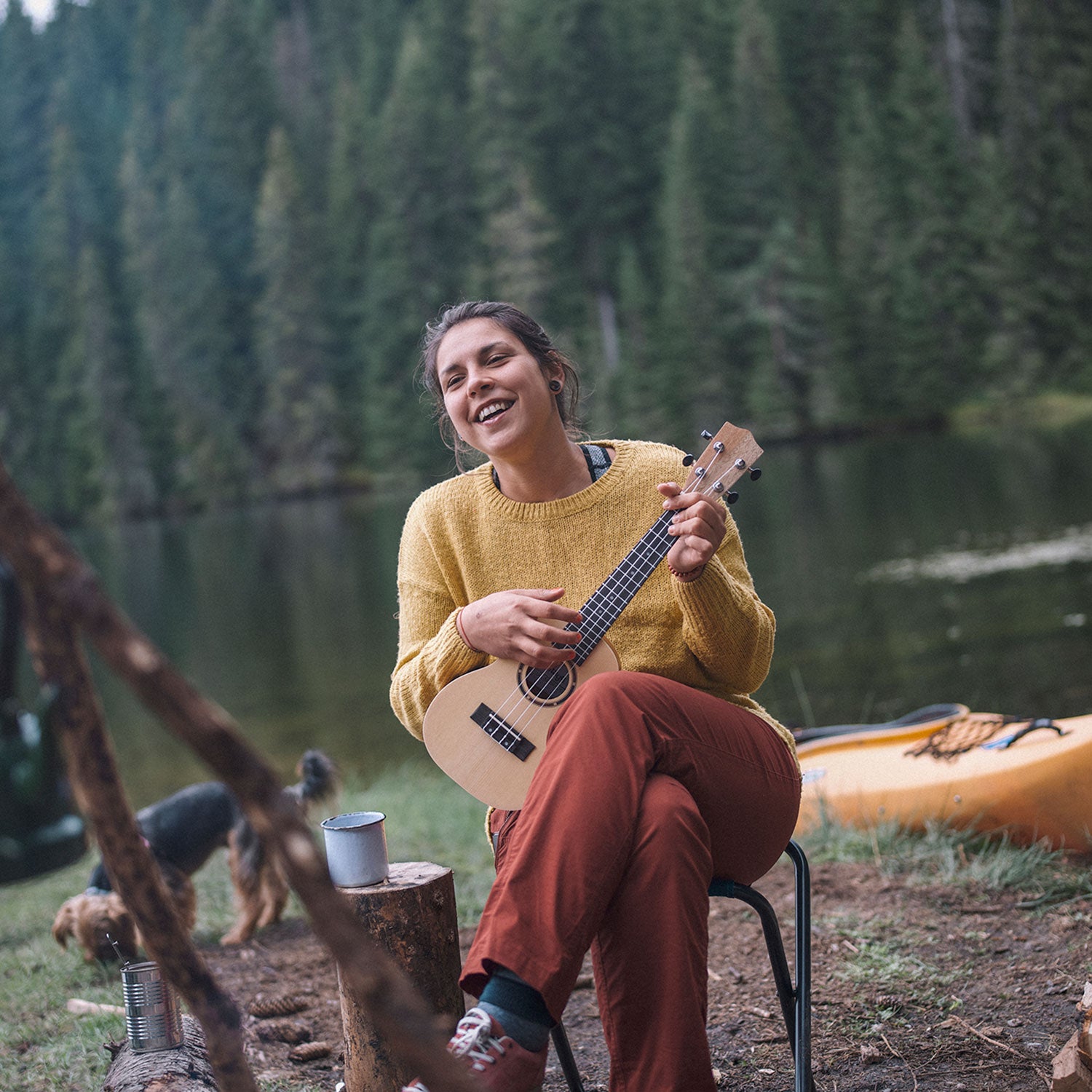 ArtistGNDphotography/Getty
Heading out the door? Read this article on the new Outside+ app available now on iOS devices for members! Download the app.
Every year as a kid at YMCA or Girl Scout summer camp, the night I anticipated most was closing campfire, a few hours of silliness that marked our final evening together. All week, my cabin mates and I had obsessed between meals and activities over our skit performance, editing lines to make them funnier, embellishing costumes to make them more outrageous, and practicing scenes to make sure we wouldn't miss a beat during our five minutes of fame on the last night. The more summers I went to camp, the more I became comfortable making a complete fool of myself on stage in front of the rest of the campers and counselors.
As anyone who has ever been to sleepaway camp knows, campfire skits and songs and stories are deeply rooted in the experience. The days of camp might be all about sports or nature, but nighttime entertainment is a theater kid's dream. Similar to a talent show, some performances are educational but mostly, they just make you laugh with their dad-joke quality, complete with groans at the punchline. Talent is irrelevant. Burping gets you more cheers than perfect singing. Acting absurd gets you a bigger standing ovation than preserving your cool factor. Full body movement is encouraged, and audience engagement through call and response is essential.
It's been almost a decade since my last performance as a camp counselor, and I realize now that this rich camp tradition left a greater impression on me than I knew at the time. Through camp skits I developed my sense of humor, built confidence in front of a crowd, and learned how to accept others for their quirks.
Away from phones and peers back home, social norms fade and space for self exploration forms, Don and Scott Whipple tell me. The brothers have run Mountain Camp in the Sierra Nevadas for nearly 30 years, watching the same skits for the same amount of time. Even the oldest skits get original twists from new sets of campers. Shy kids come out of their shells, and cool kids let their guard down. "They get to open up this door to a part of themselves that they wouldn't have felt safe to reveal at school or in the neighborhood or other parts of their life," Don says.
Storytelling is also at the core of Trackers Portland's programming, which is a day and overnight camp built around outdoor lore and ancient survival skills. Tony Deis, founder of the camp, says Tracker stories share wisdom—like the reenactment of tracking a bear or navigating a new environment—but they also stretch a kid's capacity to interact and retain information. "When we work with kids as mentors and guides, we think about personality traits like spokes on a wheel," Deis says. "If one is too long and one is too short, you're not equipped to be independent in life."
Summer camp taught me archery and horseback riding, meal prep and fire-tending, but until now, I never thought of skits from a skill-building perspective. It makes me miss my unapologetic summer-camp self. The ease of jumping into a new role. The playfulness of working together with a team. The dedication to a pointless project. The feeling of dancing like nobody's watching, even when you're in front of an audience. The affirmation through cheers and standing ovations that reminds me, Your ideas are welcome here.
For those of us who were once campers and feel far removed from camp's safe space, Don offers this: "We always talk about how we can make our schools or communities more like summer camp, this idyllic utopia," he says. Maybe, he adds, we can bring the silliness of skits into our own families and classrooms to reconnect with nature, ourselves, and each other.
The next time you're sitting around a campfire with friends and family, give it a try. Let your guard down, embrace the discomfort, and invite your loved ones to join in on the improvising. And remember: The more funny noises and childlike humor, the better.
Campfire Skit Ideas
If you're still active at camp, here are two skit suggestions from the archives:
The Bandana Skit
(As told by Scott Whipple of Mountain Camp)
Two campers are on the phone. One is telling the other how to use a bandana. But because of a bad cell connection, the second camper hears the word "banana" instead of "bandana." Camper 1 proceeds to tell Camper 2 that they can fold the bandana, use it to blow their nose, wear it around their neck or on their head, tie it in a knot, etcetera.
Meanwhile, Camper 2 is smashing the banana in their hands, on their face, and on their head, making a hilarious mess. Then Camper 1 instructs Camper 2 to fold it up and put it in their pocket, at which point Camper 2 refuses. Camper 2 says something like, "There's no way I'm putting this banana in my pocket!" Horrified, Camper 1 clarifies that they said "bandana" not "banana." 
The Wee Skit
(A skit I will never forget from my first few years at camp)
A group of campers lay on stage in their sleeping bags. They're cozy and quiet and even snoring, but then one of the campers starts rustling around, maybe even flailing dramatically, and they wake everyone else up. "What's the matter, Johnny?" one of the other campers asks. The Johnny character cries out in a whiny voice, "I really have to go wee!" And all campers on stage yell at Johnny to just go wee already.
Everyone, including Johnny, drifts off back to sleep, and they go through this routine several times of thrashing and dozing before Johnny finally commits. Instead of doing what you think Johnny is going to do, once enough suspense has built up, Johnny yells out, "Weeeeeee!"
Lead Photo: ArtistGNDphotography/Getty