Ski Towns, Stop Catering to the Ultrarich
Across the West, resort towns are facing a livability crisis. Luckily, advocates say, this problem can be fixed.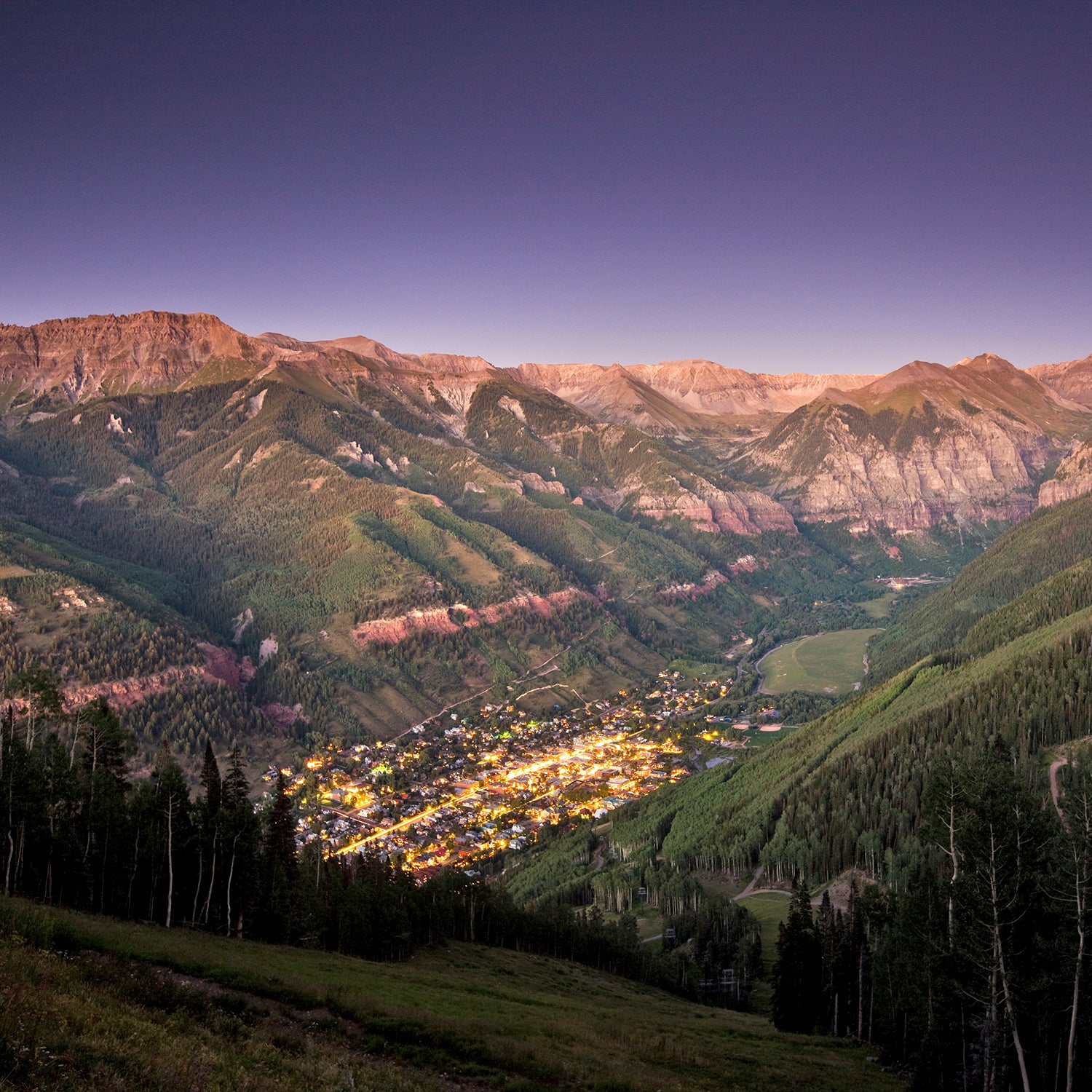 Heading out the door? Read this article on the new Outside+ app available now on iOS devices for members! Download the app.
It's no surprise that mountain towns across the West have a problem. The pandemic-fueled real estate boom has priced out locals from Bozeman, Montana, to Bend, Oregon. In the Colorado towns of Ouray and Telluride, housing shortages have led to worker shortages, forcing businesses to operate at reduced capacity. And in Crested Butte, Colorado, the 2021 school year began without school buses, because the district can't find anyone in the area to hire to drive them.
But for some mountain-town residents, this problem is nothing new.
Karla Garcia Gonzales moved from Peru to Telluride in 2004, where she began working as a cultural outreach coordinator and organizing for immigrants' rights. For more than a decade she tried to bridge the Latino community with the wealth and opportunity that exist in Telluride. But she could never reconcile the fact that she could casually talk to a billionaire at the coffee shop and then walk down the block to help a single mother with multiple jobs figure out how to make rent.
San Miguel County, where Telluride is located, ranked eighth in the nation in highest income inequality, according to a 2015 report. And it isn't exactly the most racially equitable either. The Latino population there makes up a significant percentage of the local workforce but until recently not have access to federally funded affordable housing because many of them are undocumented, leaving few options in an already limited workforce-housing market. Many are forced to commute long distances or share housing. Meanwhile, Black residents make up less than 1 percent of the population.
Eventually, for Gonzalez, the wealth inequality was "too much in her face." She worked tirelessly for her community but couldn't afford to buy a home. In 2011, she moved to Denver, away from the friends and landscape she loved.
"The joys of skiing and small-mountain-town living have disproportionately been conferred to wealthy white people," says Willa Williford, an affordable-housing consultant for mountain communities across Colorado.
Many of these mountain towns began to address racial and social inequities more seriously in response to the Black Lives Matter groundswell in 2020. Now they are struggling to house even the longtime locals (who are largely white and middle class). Yet what feels like two separate losing battles actually creates one collective opportunity. If these places can find a way to stop catering to the ultrarich and instead create more accessible, just, and equitable atmospheres for BIPOC residents and visitors, they may have a chance to save what is left of their middle-class souls.
---
In Williford's opinion, the first thing to address is affordable housing. In Telluride, where the median household income is $66,000 and the average residential property sells for $2.1 million (not to mention the many houses listed in the area at $36 million), the pain of inequality is felt by nearly all of the full-time residents making local wages.
Williford says that many mountain communities where she works are keenly aware of the ways that state and federal resources don't adequately address housing needs; as a result, local leaders are innovating solutions that could be applied elsewhere. In Steamboat Springs, a coalition is working on housing-advocacy programs for its Latino community. In Leadville, housing leaders are negotiating with a mining company to donate land for a project aimed at increasing the rental pool. In Crested Butte, a newly formed Black Lives Matter group is exploring ideas to provide housing specifically to attract BIPOC folks. And in Bozeman, creators of an innovative, mixed-income neighborhood are hoping to further prove that smart, equitable growth is possible.
"I think we need to do a white paper on the cost to these places of keeping people out," says Christine Walker, former director of the Jackson/Teton County Housing Authority, in Wyoming, and now a workforce-housing consultant. She notes that to be inclusive, you must increase density, a concept that most mountain communities fiercely resist to such an extent that residents have often relocated in an effort to escape crowds. In the end, though, this exclusivity hurts all members of the community.
Low-density zoning policies in many mountain-resort towns favor large, expensive single-family homes that are often used as second homes and vacation rentals. (Generally one- to two-thirds of housing stock in ski-resort communities aren't occupied year-round, according to a 2019 report conducted by the Colorado Association of Ski Towns and the Northwest Colorado Council of Governments.) The simple equation of finite land and increased demand for housing means that a local wage is not enough to buy a home, and workers are forced downvalley. Small-town perks like biking to work or living next to friends are lost. Business owners struggle to find employees. Water and energy are used inefficiently, traffic increases, carbon dioxide emissions rise, and wildlife collisions increase.
When a community has to import its workforce, it leaves residents, commuters, and visitors exposed. For example, when a massive storm is expected to roll through the Tetons, emergency responders employed in Jackson—many of whom live outside Teton County—have to decide whether they will go home for the night and risk sketchy or closed roads in the morning, or stay somewhere in town (local hotels offer discounted rates for these occasions). One such storm could prohibit 20 percent of teachers from getting to school, 18 of 21 Teton County patrol officers from reporting for duty, and almost half of its hospital employees and critical workers, like snowplow drivers and mechanics, from getting to their jobs.
In San Francisco, a city notorious for its absurd housing prices and the resulting gentrification, a 2018 report showed that an average teacher could afford just 0.7 percent of the available housing, and first responders could afford 2.4 percent of the currently listed housing. To help solve their housing crises, voters recently passed a ballot measure that increased taxes on property sales worth over $10 million. This revenue will help fund rent relief and affordable housing for low- and middle-income residents. Seattle passed a similar measure in July, imposing an additional tax on high-income earners that will then go toward community development, local business assistance, and workforce housing. Vancouver, British Columbia, Oakland, California, and Washington, D.C., have implemented taxes on homes that remain vacant a majority of the year. Mountain towns need to follow suit.
---
Fortunately, some are. A Teton County legislator is proposing a second-home fee, and Breckenridge, Colorado, is buying houses in town and converting them to deed-restricted dwellings to increase the number of diverse inhabitants year-round. Other places, including Summit County, Colorado, Truckee, California, and Steamboat Springs and Crested Butte, have all elected to tax themselves and/or visitors to create dedicated local funding sources for housing.
An increasing amount of studies demonstrate that individuals who interact with different socioeconomic and demographic backgrounds, whether at school, work, or in neighborhoods, fare better in mental health, personal finances, academics, and employment rates. There's evidence that corporations with better gender and racial representation have higher profits and are more innovative, that children who attend more integrated schools develop more empathetic tools, and that diversity fosters more effective communication and consensus building.
Inclusivity is also good for business. Even Rob Katz, the CEO of Vail Resorts, admits that the ski industry has waited far too long to invest in communities of color. Katz wrote an open letter to his employees, acknowledging that the lack of diversity in the ski industry is "not only a moral and societal issue, but a business issue." The U.S. Census Bureau projects that more than half of the country will be non-white by 2044, and according to a report by the National Ski Areas Association, visits by people of color have remained fairly stagnant in the past decade and are not tracking with the growth of minority populations in the U.S. Katz recognizes that the ski industry must broaden its base to more skiers of color if it wants to survive. Similarly, the mountain-biking, climbing, hunting, and fishing industries, all of which feed mountain towns' tourism economies, have remained mostly white while the face of America becomes increasingly diverse.
Geographically isolated mountain communities once thought exclusionary practices could insulate them from modern and urban hardships—this is clearly no longer the case. Safety nets that previously held communities together are being stretched thin and tearing as wealth pours in and inequitable practices endure. Gonzales stresses that we cannot use old solutions for new problems, and that these communities have the power to level the playing field. She believes that bringing people to the table "not because they think like you or look like you, but because they are different" is key to the survival of mountain towns. "We are in this mess together," she says. "Let's work together, so we can learn and build together."
Lead Photo: Whit Richardson/Cavan