My 10 Best Post-Adventure Showers
With summer here, we're getting back into ambitious recreation, and that means a return to grit, sweat, and serious post-fun scrubbing. Cleanliness connoisseur Danielle Sepulveres explains how these wetdowns can create memories all their own.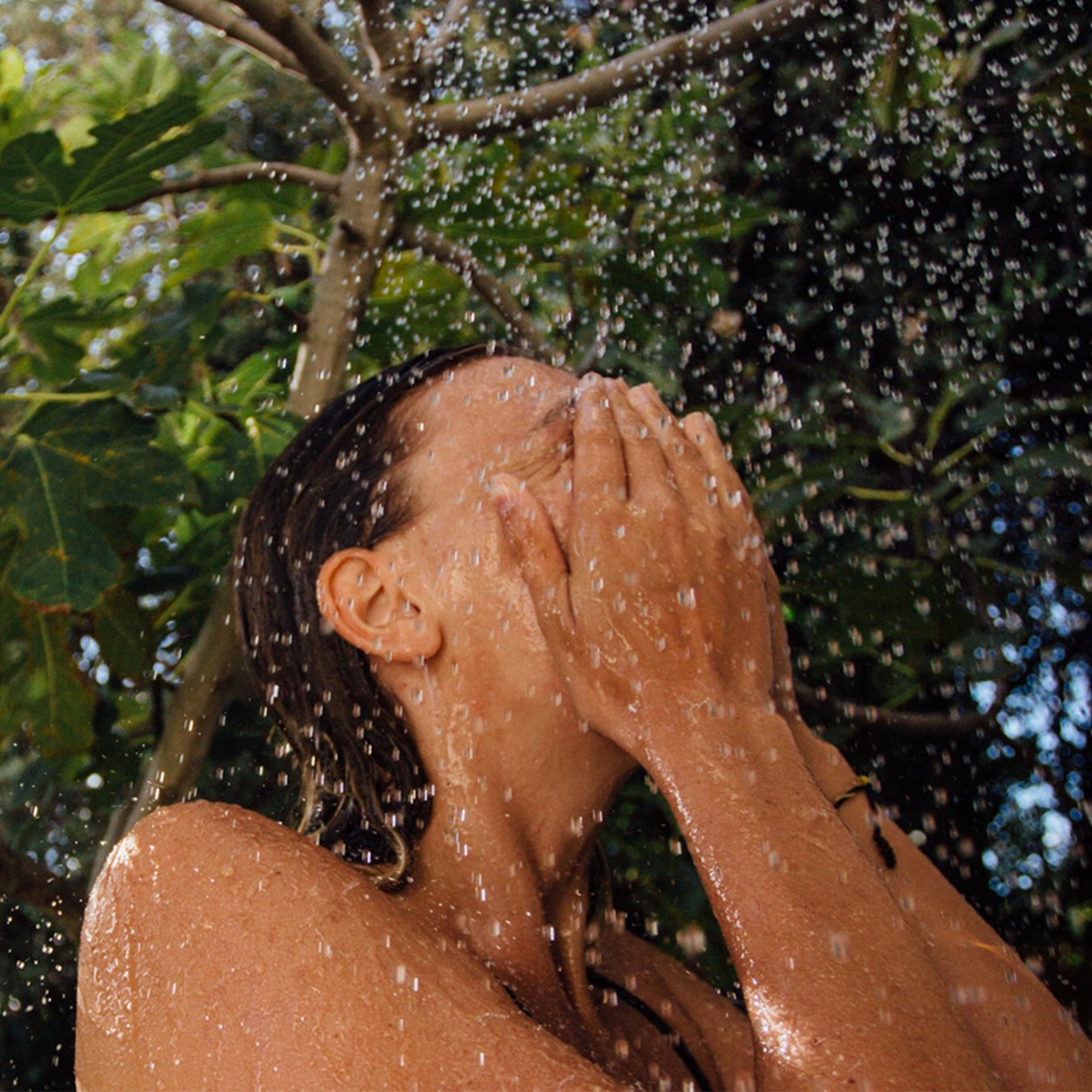 Heading out the door? Read this article on the new Outside+ app available now on iOS devices for members! Download the app.
I don't want to sound too optimistic, but it looks like this summer is seeing a return to the vigorous outdoor activities that are a gateway to one of my favorite things: the post-activity shower. Granted, we all showered a lot during the lost year of the pandemic, but for some reason, the shower you take after a hard day of laptopping in your pajamas isn't as good as the one you take after mountain biking, swimming at the beach, backpacking, fishing, or flying halfway around the world. Showers that follow a day of exercise, exploration, or travel have a transformative power, giving you a refreshing reset and a thirst for getting back out there. Below, with some input from a few fellow hot-water experts, are my personal top ten.
The I-Just-Spent-72-Hours-in-a-Tent Shower
The thing about backpacking and camping is that your skin and hair are exposed to multiple coats of grimy, smelly substances, and they all meld together into a malodorous layer of sweat, bug spray, dirt, and campfire smoke. When you're in the wild, you succumb to the diverting natural experience of sleeping under the stars, and you don't realize how gross you are until you go home and step into that post-camping shower, which is absolutely luxurious. So what if a friend accidentally spilled boiling coffee on your $400 puffy jacket? Doesn't matter now. And while it might take a few days to get all the dirt out from under your fingernails, you emerge feeling clean, fresh, and ready for a restorative round of wine and Netflix.
The Attitude Adjuster
I had a track coach in high school who liked to say, "Nervous sweat smells twice as bad as regular sweat." In response, I always showered before a race to ward off anxious perspiration. While I was at it, I did some pregame meditation, calming myself while I visualized 3.1 miles of "contained sprint," as the veterans on my cross-country team liked to call it. Outside contributor Eva Holland, author of Nerve: a Personal Journey Through the Science of Fear, takes a slightly different approach: she thinks about the shower she'll take after the stress and hard work are done. "You're like, Oh, man, the next time I'm in the shower, this adventure race will be over one way or another," she says. "Meanwhile, I hope these French braids hold up—and also my body."
The Itch Reliever
An unfortunate by-product of any activity in a wooded area is possible exposure to that dreaded plant: poison ivy. I was on a night run once in the neighborhood where I grew up, and showed off for some porch-sitters by leaping onto and off of a retaining wall, tramping through what I thought were rhododendrons before going back to the pavement. Less than two days later, poison ivy's evil active ingredient, urushiol, had done its rash-causing thing on both my legs, part of my left arm, and one of my eyeballs. The only relief I felt over the next two weeks was when I stepped into the shower. I ran the water colder than usual, because that almost numbed the incessant itchy feeling, if only briefly.
The Slathered-in-SPF-75, Sand-in-Every-Crevice Shower
In theory, beach-house living is more refined than campsite living. But as I know from growing up in New Jersey, the beach—properly known as "the shore"—can really mess you up, thanks to salt, sand, copious applications of sunblock, and those chicken necks you used as bait while crabbing off a pier. Sometimes, tragically, you aren't able to take a shower before heading home. Whether you're ensconced in the air-conditioned comfort of your own vehicle or relegated to public transportation, you become intensely aware of the sand covering every square inch of your body. When you finally hit the shower, watching all that grit flow away is a true delight. "Beach showers are a lifesaver," says Outside editorial director Alex Heard, who used to go to the coast a lot in Maryland, Virginia, and North Carolina. "Preferably, the place you're renting has a one-two setup—an outdoor shower for the initial emergency removals, then indoors for more soapy fine-tuning."
The Post-Adventure Race Shower(s)
Years ago, after competing in an obstacle-course-riddled fitness competition that ended with me swimming through a muddy canal, I started my recovery with a shower provided by the event organizers: cold water from a hose. There was a time limit, and there were still eight more layers of dirt left on my body when I had to relinquish it for the next person. I understood that this sploosh was offered mainly so competitors could feasibly get in their cars without ruining their interiors, but a half-assed shower when I'm that dirty makes me feel even worse: cold, wet, with the grime merely moved around, like on a finger painting. While my focus was on obtaining the physically clean feeling, Kat Scicluna, my racing partner that day, took it to an existential level and recalls that her post-mud shower "was like washing away any fear or lack of confidence in myself that I could start something so physical and actually finish it."
Once I got home, I stood in the shower and scrubbed and scrubbed until the water finally ran clear, and yet I could still smell something unpleasantly pungent. It was mud that had caked so far up my nose that I couldn't even see it. This is when I learned that cotton-tipped swabs aren't just for ears.
The Hangover Shower after the Post-Adventure Race Celebration
Once you've completed an adventure race or triathlon, it's customary to invoke the power of the highly regarded shower beer. This can lead to many more beers post-shower, which will often lead to a hangover shower the following day. You wake up with sore muscles and the unwelcome smell of alcohol and other signs of reckless abandon. But then the water hits your skin, washing away the retrospectively bad decision of calling your friends at 1 A.M. to coerce them into singing Celine Dion's cover of "It's All Coming Back to Me Now."
The Shower You Have to Take Twice
Be warned that a hangover shower like this may not "take," so you might have to try again. George Constanza immortalized this phenomenon in episode 105 of Seinfeld, when he described an upcoming business meeting that made him nervous, and then mentioned an earlier shower that didn't quite cut it: "Argh, it wouldn't take … ten minutes from now, I'll be sweating all over again, I can feel it. I'm a human heat pump!" According to Patti Anderson, a holistic psychotherapist based in Washington, D.C., George was onto something, because the context of your shower can affect how it feels. "Showering is a routine action," she says, "but if your body is physiologically in a different place, you can't expect the same results taking the usual kind of shower." So don't be shy about going back in, and let's get it right this time.
The Après-Journey Shower
Remember flying on commercial airlines? What a time that was! And how good a shower felt when the closest thing you had to cleaning up in the 24 hours before touchdown was the wet napkin that came with your $9 snack box of stale crackers, hummus, and an off-brand Slim Jim. The post-long-flight shower is the most incredible sensation; it's like you're washing off all the recycled air, airport stench, and shuttle-bus exhaust. When you're finally in your hotel room after an arduous travel day, this beautiful shower banishes the funk and gives you a sense of cleanliness, satisfaction, and peace.
The Après-Hunting Shower
This is a type of shower I haven't experienced—and don't intend to, as the closest I'll ever come to field-dressing an animal is eating a steamed lobster—but I find it compelling nonetheless. Longtime Outside contributor Dave Cox heads out into the woods every fall to try and bag an elk for his freezer, using nothing more than his wits and a bow and arrow. It's a demanding sport, because if you succeed, you have to haul elk meat out of the woods as fast as you can. Cox recalls one hunt in which he had to lug 75 pounds of elk for several miles, while under attack by bloodthirsty yellow jackets. What was the shower like after stripping off the gross-out clothing? "Hands down, best one I ever had," he says.
The Big Un-Chill
Many rom-coms will lead you to believe that winter sports and activities are inherently romantic. That's not exactly the case when the temperature is so low that you've lost all feeling in every extremity and your whole face. After many runs down the mountain, ice crystals begin to take up residency in your eyelashes and eyebrows. This is when you have to stand in the shower for a solid 30 minutes, as your nerves slowly come back to life from their cryogenic state, before even picking up the loofah and soap. The worst moments, of course, are those few seconds between taking off all your ice-encrusted layers and stepping into that life-changing shower. Just ask Matt Mason, formerfirst assistant director for the beloved, long-running Law & Order: SVU. He often works 13-hour days outside in New York winters. "I feel the cold in my bones," he says, and he always looks forward to that time at the end of a frigid day "when I call wrap, and we're all 'done-done,' and then I run-run to a hot shower."
Lead Photo: Boris Jovanovic/Stocksy