A Love Letter to My Curmudgeonly Big Brother
Don and Steve Friedman decided to bond with a trek in the Cascades. Worked great! Except for some minor disagreements about work. And money. And hope. And the meaning of life. And …
Heading out the door? Read this article on the new Outside+ app available now on iOS devices for members! Download the app.
My older brother wanted to stop our four-day, 28-mile hiking trip after a mile and a half. He said his feet hurt.
"You'll feel better when we get to the lake," I said. "It's just an easy mile or so." 
It was two miles, all uphill. 
"I won't feel better," Don said. "I don't think I'll ever feel better."
We stood in a shadowy clearing, surrounded by moss-covered subalpine fir trees and the twittering, rustling, and sighing forest sounds that I had hoped might provide the soundtrack to a fraternal late-midlife adventure. Don stared at the ground. I shoveled a handful of trail mix into my mouth. My feet hurt, too. I worried that this trip might have been a huge mistake. 
Don was 64, recently divorced after 24 years, recently retired from a long career as a law partner and CEO. His only child had graduated college two years earlier and moved 2,500 miles away, and Don was spending a lot of time in his four-bedroom house in Portland, Oregon, alone, lonely, plagued by shoulder pain and acid reflux, and deeply committed to what he was certain was a reasonable survival strategy, namely, "I just need to get used to the idea that I'm closer to death and the world is meaningless and there's a good chance I'll never find anything worthwhile to do." 
Slightly alarmed, eager to help, and always up for a trip in the outdoors, I had broached the idea of a hiking vacation together. I was 62, single, childless, technically unemployed (I'm a writer), renting a studio apartment in New York City, and suffering from recurrent gout. While generally resistant to the idea that a toasted marshmallow could change anything profound in anyone's life, I was still desperate to believe that it might. 
I told Don on the phone that the hike would cement our brotherly bonds and reconnect us to the wilderness where we had spent significant chunks of our young adulthoods. I told him we might find something like peace in alpine meadows and under starry skies. I told him the trip could be life changing, that it would provide us both a much needed reset. 
"No thanks," he said. Don had never been one for big speeches.
"Why not?" 
"What's the point?"
"Fun? Exercise? Living in the moment? Leaving our comfort zones? Getting some clarity and perspective? Rediscovering purpose and connection?" I'm a talker.
"Spare me the inner-life mumbo jumbo," he said. "You have the luxury of dabbling in that stuff, since you haven't had a real job in decades."
I reminded myself that Don was in a dark place, that he needed my support. 
"You love hiking," I told him. "You always loved hiking."
"I can't hike. My Achilles tendon won't allow it. I'll never be able to hike again."
"Don, you can hike. Take an Advil. You hike every day when you walk to the coffee shop."
"That's not hiking, that's walking."
"So when we're on the trail, pretend like you're going to the coffee shop."
"At least at the coffee shop someone makes me coffee."
Three months later, I flew west, and we drove four hours south and east until we arrived at the Middle Rosary Lake Trailhead, smack in the middle of Deschutes National Forest on the eastern side of the Cascades. It was August 9, 2 P.M. At 3 P.M., we had covered a mile and a half. That's when Don announced that his feet hurt.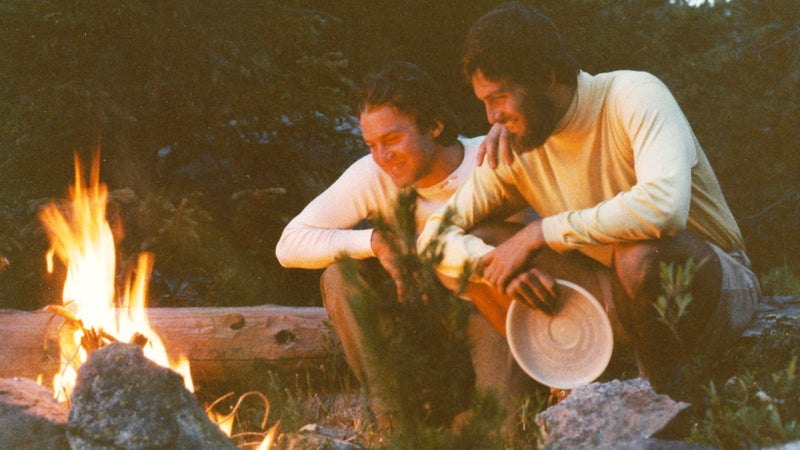 We shared a bedroom until we were six and eight years old. Don collected rocks. I hoarded seashells. Angelo the barber gave Don a crew cut on the third Saturday of every month. I sported a Princeton. Don worked hard. I tested well. Don was tall, with slim hips and broad shoulders, and he won every 60-yard dash and pull-up competition in grade school. I had to wear husky pants. Don spent his allowance on comic books featuring Superman and Batman, champions of justice who, like Don, kept their own counsel. I was more partial to the Silver Surfer, the conflicted and somewhat blabbermouthed defender of earth, who said things like, "My fate is of little consequence … if it can save the world that gave me birth!" When frustrated or stymied, Don stewed, plotted, and then acted (often, it seemed, against me). I tended to cry, frequently and loudly. 
When I was 11 and my mother, for the third year in a row, couldn't locate the present I had bought for her birthday (a gift inspired after one night I bore witness on television to the gadget's incredible slicing and dicing powers), Don pulled me aside after a trip to Angelo's, and he laid an already muscled forearm across my naked, flabby, soft, and, as I remember, slightly quivering neck. "Steve," he said, "do you really think mom is losing all those Veg-O-Matics?" 
---
"Wow," I exclaimed. "Amazing!" 
Don grunted. 
We stood upon the edge of a gleaming green jewel of a lake (named, coincidentally enough, Green Lake). It was day two, and we had climbed about 1,000 feet and covered four miles, moving alongside Fall Creek, past waterfalls, into and out of dense forests of red pine carpeted with clover. The fact that Don had not spoken for the past hour wasn't unusual, but combined with the "closer to death and the world is meaningless" stuff, it unsettled me some. I had mentioned to Don more than once that perhaps his perspective was clouded, by retirement, by divorce, and that maybe with time he would see things more clearly. Maybe, he allowed, but probably not. He doubted he would ever find love. He suspected that lucrative, fulfilling work was out of reach forever. And really, weren't those who had found love and satisfying work doomed to lose both? 
For years, Don had been telling family members that they needn't give him gifts on holidays or for his birthday, but if they felt compelled, they should only shop from a list he distributed, and that first we should check with each other to avoid duplication.
"How about a quick dip?" I said. When I worried about Don, which I often did, I suggested things he might do to feel better. Over the past few decades, I had suggested that he see a therapist, consider the latest emotional-retreat weekend workshop I had recently attended, and/or think about joining a Kundalini yoga practice that took place in a salt cave. I had heard good things about salt caves. 
"You go ahead," he said. "I'm going to take a pass on the hypothermia." When Don worried about me, which was often, he suggested I get married and settle down or at least stick with a regular girlfriend or, if I couldn't manage it, that I maintain a semi-regular writing schedule or, if that was too much, that I at least make an attempt to get out of bed before 10 A.M. more often. 
Also, that I might "reroute some of the money you're spending on your inner child into a SEP-IRA." 
We stood at the lake's edge. The water lapped. 
"You should take off your boots and soak your feet," I said. "It will cheer you up and make our return hike go faster." I stripped, dove in. 
Don slowly crouched, stuck the ring and middle fingers of his left hand into the water, used his right hand to shade his eyes as he studied the horizon, still bright and blue. 
He stared at something only he could see. "The return hike is going to be the return hike," he said. "Four miles, at least two hours. Unless someone falls. Harder on the knees, going downhill. Lots of dirt. And tomorrow's hike is going to be longer and steeper. But enjoy the swim. I think I'll conserve my energy."
---
Don showed me that by holding my pillow next to the air conditioner on summer nights, then running back to bed with it, I could keep my head cool. He taught me that when Wolf, the neighborhood German shepherd, jumped on me, I should knee him in the chest and frown. Over the years, he has coached me before work interviews, reviewed contracts, counseled me through professional disappointments and breakups, fixed me up on dates, and made sure I wasn't alone on holidays. When our younger sister, at the time living by herself and raising a three-year-old and an infant, told me that she was having trouble getting out of bed and was crying for hours every day, I told Ann that she should let go of her anxiety and embrace gratitude and joy. I told Don about our conversation, and the next morning he flew to Colorado, packed her bags and those of her two children, flew them all back to Oregon with him, and then, with his wife at the time, cooked for Ann and the kids, babysat, and generally nursed her back to health. 
He favors button-down shirts and lace-up shoes and travels with his own pillows, plural, because "better to carry a little extra than to be surprised." He listens to albums on his turntable, reads the print version of The New York Times, watches network news, naps every day at precisely 4 P.M., and has erected some sturdy and clearly defined personal boundaries, especially when it comes to our mother. For his 60th birthday, he hosted a small gathering, to which he invited Mom. When she asked if there would be cake, he replied in the affirmative. When she asked what flavor it would be, he asked why she needed to know. 
I like hoodies and Hawaiian shirts, have occasionally lied about my age on dating sites, and have, in the past ten years, inspired by infomercials, purchased fake thumbs that lit up when activated with secret buttons, a Bowflex Xtreme 2, and something called the Owl Optical Wallet Light, which contained a magnifying glass and a reading light. Actually, I bought two of those. I answer any and all questions from my mother, then deal with my resentment and guilt by eating Entenmann's Devil's Food Crumb Donuts and Ben & Jerry's Chubby Hubby ice cream until I am sick.
For years, Don had been telling family members that they needn't give him gifts on holidays or for his birthday, but if they felt compelled, they should only shop from a list he distributed, and that first we should check with each other to avoid duplication. I decided that his energetic efforts to control the world masked a terrible interior sense of chaos, and that a surprise might psychically jolt him into a more relaxed, happier state. So one winter break, I carried home from college and presented to Don a 13-pound authentic "country-cured Boone County Ham," along with printed instructions for scraping off the ham's mold with a stiff brush, washing it, then soaking it in cold water for 12 to 24 hours before roasting. He read the instructions, then stared at me. "Are you fucking kidding me?" he said.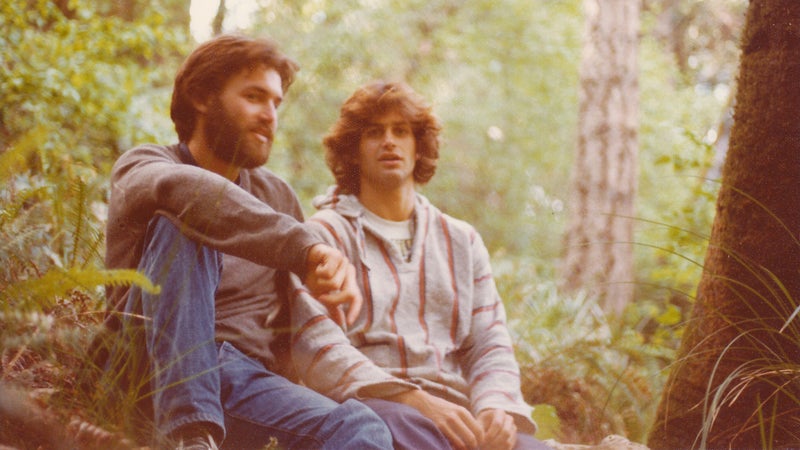 Day three, and I have accepted the impossibility of either of us finding peace by eating toasted marshmallows. There have been and will be no toasted marshmallows, because after discovering that the only campsite available on our first night sat next to a dumpster, we decided that, for the remainder of the trip, we could bond just fine without sleeping on the ground or having to urinate outside. So we've been sleeping in lodges and cabins the past two nights. 
We have been watching downloaded movies, treating ourselves to pancakes and scrambled eggs in the morning, and spending most of our daylight hours hiking. Today, climbing through a dense hemlock forest, we have been discussing knee pain, shoulder pain, love, divorce, cortisone, our parents, physical therapy, Don's child, our sister's children, our childhoods, yoga, and real estate. I have been doing most of the discussing. 
Just as I was weighing the relative risks and benefits of therapy under the influence of psilocybin, we popped out of the forest and onto a rocky, almost lunar plain. Jutting up along the horizon were the granite, snow-veined South Sister and Broken Top Mountains. Between them and us, though we couldn't see it, lay Moraine Lake, which a website I'd checked called one of the most beautiful mountain lakes in the area.
"It sounds incredible," I said.
Don consulted his map, cross-checked with his compass. "It always sounds incredible on a website," he said.
He has never shied from straight talk or hard truths. The supermodel girlfriend a young cousin once brought to a family wedding? "Super skinny is more like it," Don said. The newest four-star Manhattan restaurant where we celebrated a birthday together? "Noisy. And overpriced." The three-story, five-bedroom Florida house we snagged one Thanksgiving? "Have you been monitoring red-tide levels?" 
When we made it to the lake, I immediately began disrobing. Don consulted his watch, the map, the sky, his watch again, the compass, then the lake. I walked in, up to my knees.
"C'mon!" I said. "It's great."
He studied the sky again. 
"What are you doing?"
"Thinking." 
Ten years earlier, when Don was a CEO, the chairman of the board's secretary told Don on a Monday that he needed to be in the chairman's office that Friday at 4 P.M. for a private one-on-one meeting. Don told me it could only mean one thing: he was going to be fired. I told Don he had been sure he was going to be fired many times before, that he would be happier if he spent less time worrying and more time focusing on the present. Instead, Don spent the next week imagining all the missteps he might have committed in his tenure and jotted down explanations for each. He also worked on an elaborate, technical, and airtight legal document that, if necessary, he would present to the chairman, demanding a two-year severance package, with stock options. Just in case. 
When Friday arrived, the chairman said he wanted to discuss the company's annual holiday celebration. That was it. 
I pondered all the time my brother has spent planning for catastrophes that don't happen. 
"Did you learn anything from that experience?" I had asked Don.
"Yeah," he said. "It pays to be prepared."
---
Stories about mental illness and growing old can be amusing, even hilarious, especially before you or someone you know endures either. So this might be a good place to mention that, about two years before our hike, doctors had diagnosed and begun treating Don for depression. Until then, for the most part, I had viewed his occasional grouchiness, frequent pessimism, general dismissiveness (especially toward me), and ever vigilant posture toward the world as merely elements of his personality.
Then again, until I had been diagnosed and treated for depression myself, a few years before Don, I had considered my romantic difficulties, binge eating, binge sleeping, binge crying, and binge Veg-O-Matic and Owl Wallet Light purchasing as elements of my nature. But couldn't we change? Our hike in the woods coincided with a point in our lives when we were trying to ascertain exactly which of our not entirely welcome behavioral patterns might be malleable and subject to our best intentions and which ones we were simply doomed to endure. In other words, our hike happened right around the time we were getting ready for Medicare.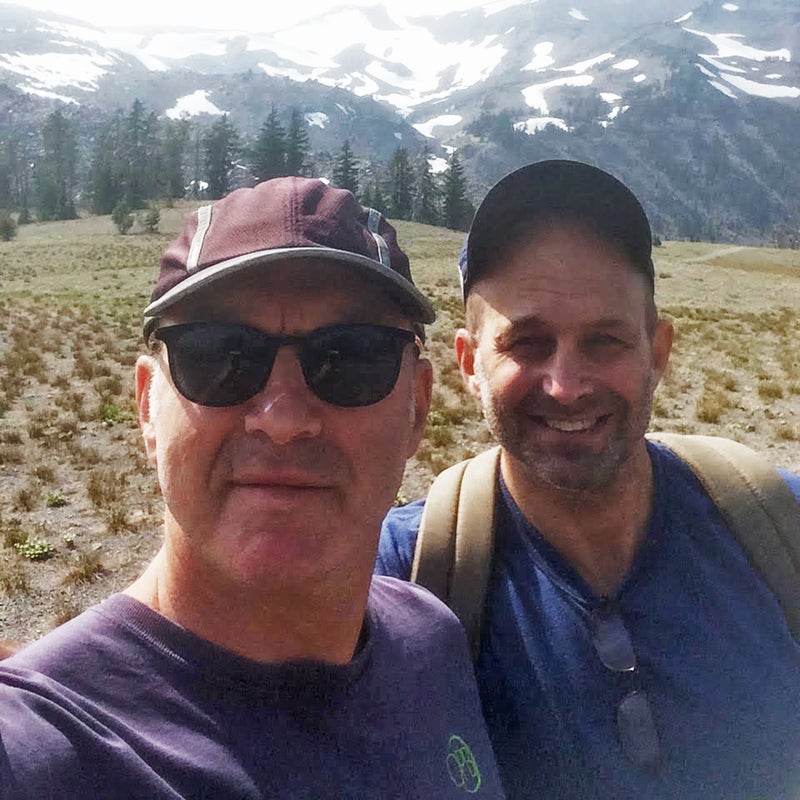 Pudgy gray clouds scud across a sky so blue it looks painted. Pine trees above us quiver in the soft breeze, while the deep, clear Metolius River flows below. Today, our last hike, is a gentle five-miler, flat, mostly shaded. 
It's a narrow trail, and Don walks ahead. The wind picks up. 
"Hey, Don," I say, "thanks for teaching me how to handle Wolf the dog and showing me the cooling-the-pillow trick."
"Uh-huh," he says.
Across the river, clear water gushes from a spring, turning the meandering stream to churning whitewater. We enter a winding canyon, bordered by old-growth ponderosa pine. Broods of goslings paddle next to us. Bunches of bright yellow tanagers hop in the shrubs lining the banks.
"And I appreciate your breaking the news about the Veg-O-Matics to me," I say, "even if it hurt my feelings at the time." 
Don grunts. 
We have two miles left in our trip. I wonder if they'll be done in silence.
"I should have kept the Hanukkah ham," Don says.
"Huh?"
"I just couldn't get past the mold. I can see now that it was a mistake. You wanted to surprise me, and you thought it would help me. I appreciate that now."
I feel something dislodge in my chest. I don't know what to say. So I say what I have been saying for the past 55 years or so. 
"My fate is of little consequence … if it can save the world that gave me birth!"
I can hear Don sigh, even over the wind. 
"Right, Steve" he says. "Of course."
We'll survive the hike to the trailhead, the drive back to Portland, the unpacking. We'll survive family vacations. We'll survive family drama. (Don will tell me that if I write about our trip, "Please quote me as saying the story will be incomplete and mostly true.") We'll survive the next two years, a time when Don will meet a woman, and they will move in together, raise chickens, and plant a garlic patch. He will visit his son in Brooklyn many times, and in Portland he'll join a lawyers' support group, and when another man in the group says that he has been experiencing crippling despair and paralyzing anxiety and has decided that in order to improve, he needed to imagine the future he hoped for and pray to a power greater than himself, Don will ask, without meaning to be funny or mean, "Just in case, do you have a plan B?"
Our hike in the woods coincided with a point in our lives when we were trying to ascertain exactly which of our not entirely welcome behavioral patterns might be malleable and subject to our best intentions and which ones we were simply doomed to endure.
He will add a hot bath to precede his daily nap, and accept positions on the boards of three Portland nonprofits: one that helps adults suffering from mental illness, another serving homeless youth, and a third dedicated to preserving the Columbia Gorge. As a volunteer, he'll take the adults on hikes and the teenagers to a boxing gym owned by a man he has helped with legal issues over the years. He will find meaning and purpose but will continue to worry. I will continue to assure him that everything will be OK, to which he will invariably reply, "Sure, unless it won't."
I will cut back on the Chubby Hubby and the Devil's Food Crumb Donuts. I will save enough money to rent a cabin in the woods for a month in the summer, where I will host my mother, sister, and nephew for two weeks. I will divest myself of all but three Hawaiian shirts, as well as toss the Bowflex Xtreme2 and both Owl Optical Wallet Lights. I will take the seven sets of Lightup Magic Thumbs from their special box on my bookshelf only on special occasions. 
Except for a set of Perfect Pushup Rotating Handles, which are, after all, health related, I will cease infomercial-inspired shopping. 
But all that occurs later. At the moment, there is only the two of us, and the trail, and the wind, and the scudding clouds, and bright blue sky. Brothers. I stop, tilt my face to the warming sun. 
"A perfect end to a perfect trip," I say. 
Don stops, too, lifts his face to the exact same sun. The river, deep and cold, surges past. He shades his eyes, He studies the sky. 
"True," he says. "Even if it rains."
Lead Photo: Courtesy Steve Friedman