3 True Ghost Stories for Your Next Backyard Campfire
These spooky tales will make you feel like you're out in the backwoods—almost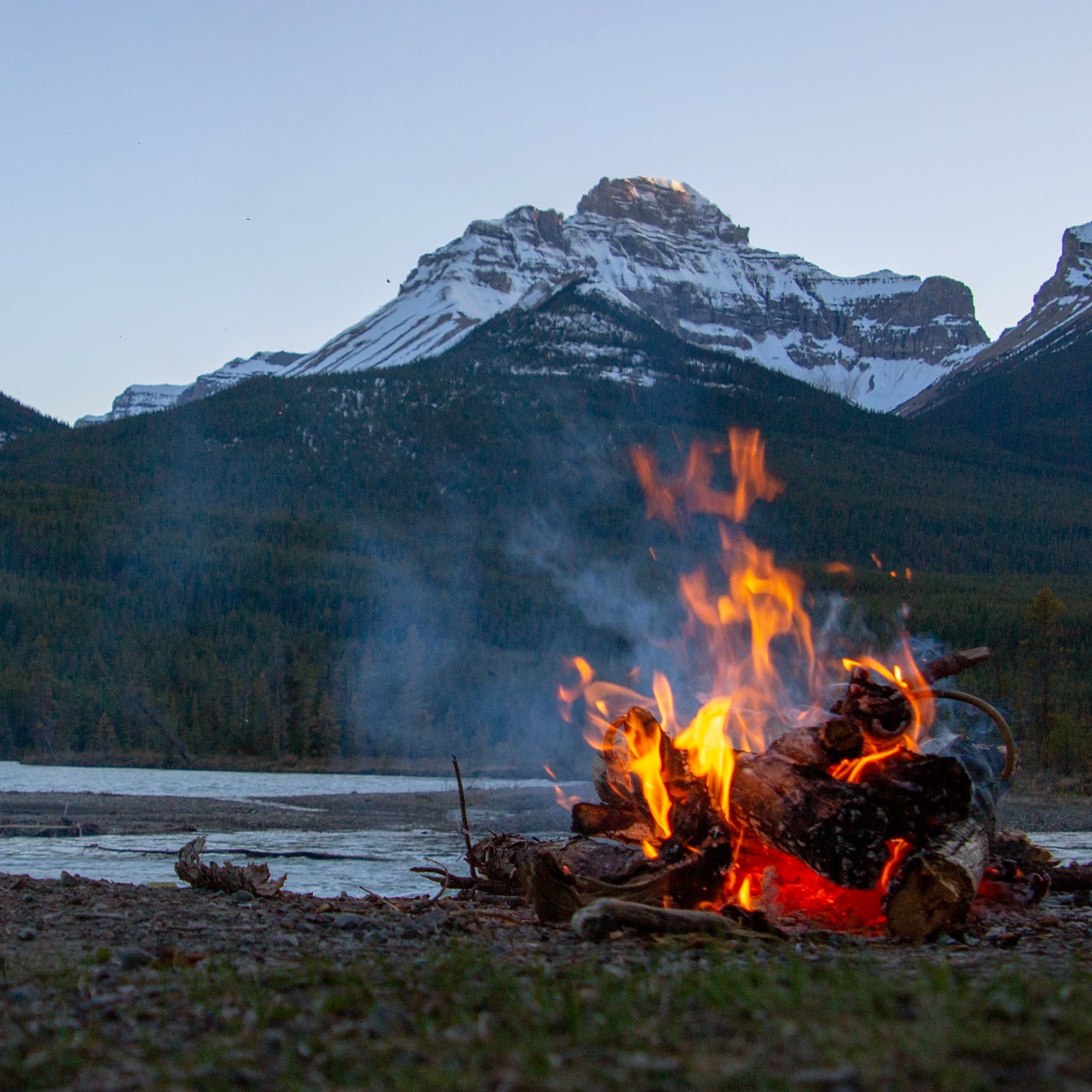 Heading out the door? Read this article on the new Outside+ app available now on iOS devices for members! Download the app.
We've given up so much outdoor recreation this year. Not that we're mad about it. Saving lives matters more than backpacking trips and summer marathons. But as the days get warmer, I feel myself craving the smoke-in-my hair smell from a campfire. I miss the sound of owls, the dwindling supply of beer in the cooler, and the way time suspends as you wait for the flames to die.
Mostly, though, I miss the stories. There's something about the light of the fire in the backcountry darkness that makes you lean in and listen a little closer. And, of course, a few sips of whiskey never hurt a good tall tale.
We can't bring back your spring campfires with friends. We can, however, bring our favorite campfire stories to you. Save these three for retelling when things return to normal—or tell them now over a Zoom call with your friends.
The Ghost of Oxford Milford Road
The storyteller: Writer and editor Brad Culp
When Brad Culp was a student at Miami University in Oxford, Ohio, there was a rumor that the town was one of the most haunted places in America. When Culp started an on-campus magazine, he couldn't wait to write about several of the area's most famous phantoms. Not long after his story published, though, he kept finding himself thinking about one ghost in particular—the ghost of Oxford Milford Road.
As the story goes, many decades ago, probably sometime in the 1940s, there was a young man courting a young woman in a rural part of town. Because the woman's parents didn't approve of the match, each night he visited under the cover of darkness. After her parents went to bed, the young woman would sneak out of her farmhouse and flash the lights of her parent's car three times. Then her young suitor would ride his motorcycle down the road.
"One night he took the turn right before her house a little too sharp," says Culp. The motorcycle went one way, he went the other. His injuries were so severe that he did not survive. Rumor has it, however, that his lovestruck ghost still haunts this stretch of Milford Road.
Curious, Culp, his girlfriend (now his wife), and a friend decided to head out there one night to see if they could verify the tale. His girlfriend was worried she'd be completely freaked out. "She believes more in that stuff than I do," Culp says. But he was mostly concerned that his suspicions—that none of this was actually true—would be confirmed. On this particular night, as Culp passed the abandoned farm, an idea came to him, and he pitched it to his girlfriend (how could she not say yes?). Though reluctant, she relented, and Culp turned a short way into the farmhouse driveway.
He killed the engine and flashed his lights three times. "No joke, there was a single headlight that appeared three-quarters of a mile down the road," Culp says. "You saw it start to come, going pretty slow. It kept coming and coming. My wife was freaking out. It was coming closer and closer." As a collision seemed imminent, Culp turned on his car's lights. He expected to see a kid on a bike, bailing out from his prank now that he'd been caught. "But there's nothing there. The light is just gone," he says.
They got out of the car. They walked around, trying to figure out what it was they could have seen. "To this day, we still talk about it. I saw something I cannot explain," he says. If you get him and his wife around a campfire, they'll swear up and down that the story is true. And if you're ever in Oxford, Ohio, consider parking for just a few minutes on Oxford Milford Road at night to test your own nerve.
Was It People or Was It Aliens?
Storyteller: Doug Averill, retired owner and manager of the Flathead Lake Lodge
Doug Averill grew up as one of eight boys on his parents' sprawling dude ranch, the Flathead Lake Lodge, in rural Montana. As a teen, the Averill boys ran wild. "We rode around as a little gang of cowboys," he remembers. They'd saddle up and head off to check cattle on the three giant tracts of land the family managed, which formed a triangle around some of the state's most remote rangelands.
One summer in the 1960s, the brothers came across a ghastly sight. There, on the ground, were three dead cows neatly arranged in a circle. No obvious wounds were visible, but their reproductive organs had been removed. "But there was never any blood. It was almost surgical removal," Averill remembers.
During this decade, America was obsessed with aliens, and write-ups in the local newspapers posited that perhaps this was the work of extraterrestrials. People mused that aliens had taken the reproductive organs for testing. But one day, Averill and his friends came across a lance in their path. Attached to it was a cryptic note with a threatening message. "That's when we thought, It's gotta be people doing this," he says.
Then things got really strange. Over the next few days, a series of odd events unfolded. First, the brothers stopped in at a local bar to grab a hamburger, leaving their horses in the back of a stock truck. The horses were packed in tightly, and the Averills were only gone for a few minutes. When they came back, the horse packed into the middle of the truck was mysteriously out—with no signs of a struggle. "We had no idea how they possibly could have gotten that horse unloaded without unloading all the others," he says.
The next day, a new wrangler on the ranch fell off his horse and was badly injured. They'd all been riding together, but not a single other member of the crew saw the accident. "It was the weirdest thing," Averill says. The man's injuries were so severe that he was left permanently disabled.
Finally, the last terrible thing happened. An old camp cook drove out to meet the brothers and ride for a day. But when he arrived, the tailgate on his stock truck had somehow gone missing, even though it had been there when he'd loaded up. His horse, Betsy, had fallen out of the truck and been dragged behind the vehicle for who knows how long. They had to put her down on the spot. "To be honest, it just killed him to see what had happened to Betsy. We probably should have put him down, too," remembers Averill. "Those three events were just boom, boom, boom—three things in a row that were so weird all tied together, because they were right after we saw that spear," he remembers. Three things: like the three dead cows left in a circle.
Averill used to tell the stories from that summer around the campfire quite a lot. But over the years, he's gotten new stories, and so they've been shifted out of rotation. Besides, they're awfully grim. But he recently got a call about a downed bull, a buffalo. It was out in one of the most remote parts of his ranch. "A neighbor had seen a pack of 16 wolves, and normally, wolves don't bother buffalo, but 16 of them? I thought, Well, maybe."
He went to investigate. There, lying in a snow-covered field, was the bull. But there were no bullet holes or teeth marks or gashes on its corpse. Even stranger, scavenging animals and birds hadn't touched it. "Not even the buzzards, which is really unusual," he says. One other thing was amiss: its reproductive organs were gone. And there wasn't a single footprint in the snow around it—or anywhere along the mile-long walk into the ranch from the nearest road.
Ask Averill whether he thinks he's dealing with aliens or humans, and he'll tell you he's pretty sure it's humans. "But I'd rather it was aliens," he adds. After that summer back in the sixties, seeing what humans were capable of, he'd pick aliens any day.
The Ghost of La Parva Ski Resort
Storyteller: Drew Tabke, professional skier
Throughout Latin America, you'll hear variations of the story of La Llorona, or the wailing woman. Sometimes she's lost her husband. Sometimes she's lost her children. Sometimes it's both. But in La Parva, a ski spot in the Chilean Andes, the wailing woman is named Lola, and everyone in the area swears they knew her before she died. "A local restaurant owner said he dated her," pro skier Drew Tabke says, adding that the ski patroller he heard the story from pointed at the exact hut where this tale takes place.
The story starts on a nice day in peak ski season. Lola and her young son planned to spend the day on the slopes. "As can happen in the Andes, a thick fog rose up from the valley, which often precedes the arrival of a real storm. The clouds enveloped the two as they were making their way down from the top of the mountain, and they lost contact with one another," Tabke says.
Desperate to find her son, Lola began screaming his name as she ran through the thick fog. Unable to see clearly, though, she stumbled down a steep slope and began sliding toward a rocky couloir.
"By chance, a local lift operator who was returning to his cabin came across her body. He was afraid she was dead, but on closer inspection, he found she was still alive, just barely," Tabke says. Her body was covered in lacerations from sharp rocks, and the only word she said—in the faintest whisper—was her son's name.
The lift operator worked to carefully pull her body to his cabin, which was just up the hill. He bandaged her cuts as best he could and then ran to fetch the doctor. Together the doctor and lift operator made their way back to his hut, the fog hanging thickly in the air. When they arrived, though, the bed was empty. Just the bloody sheets remained.
"Neither the woman nor her son were ever found," Tabke says. But locals report hearing her wail for her child whenever they're near that lift operator's cabin.
And here's the thing: Tabke does not believe in ghosts. Something, however, changes when he arrives in Chile each winter. Maybe it's the fact that, from La Parva, you can see up to Cerro el Plomo, an Incan child-sacrifice site. Maybe it's because Tabke has simply read so many magical realism books by authors like Juan Rulfo and Gabriel García Márquez. But sitting alone in his cabin in the Andes, with the wind whipping and the candles flickering, he swears that every now and then he just can't tell if what he's hearing is a woman or the wind.
Lead Photo: Courtnie Tosana/Unsplash