In Praise of Running to Audiobooks
Some runners swear by their pump playlists, but I'd rather listen to a great book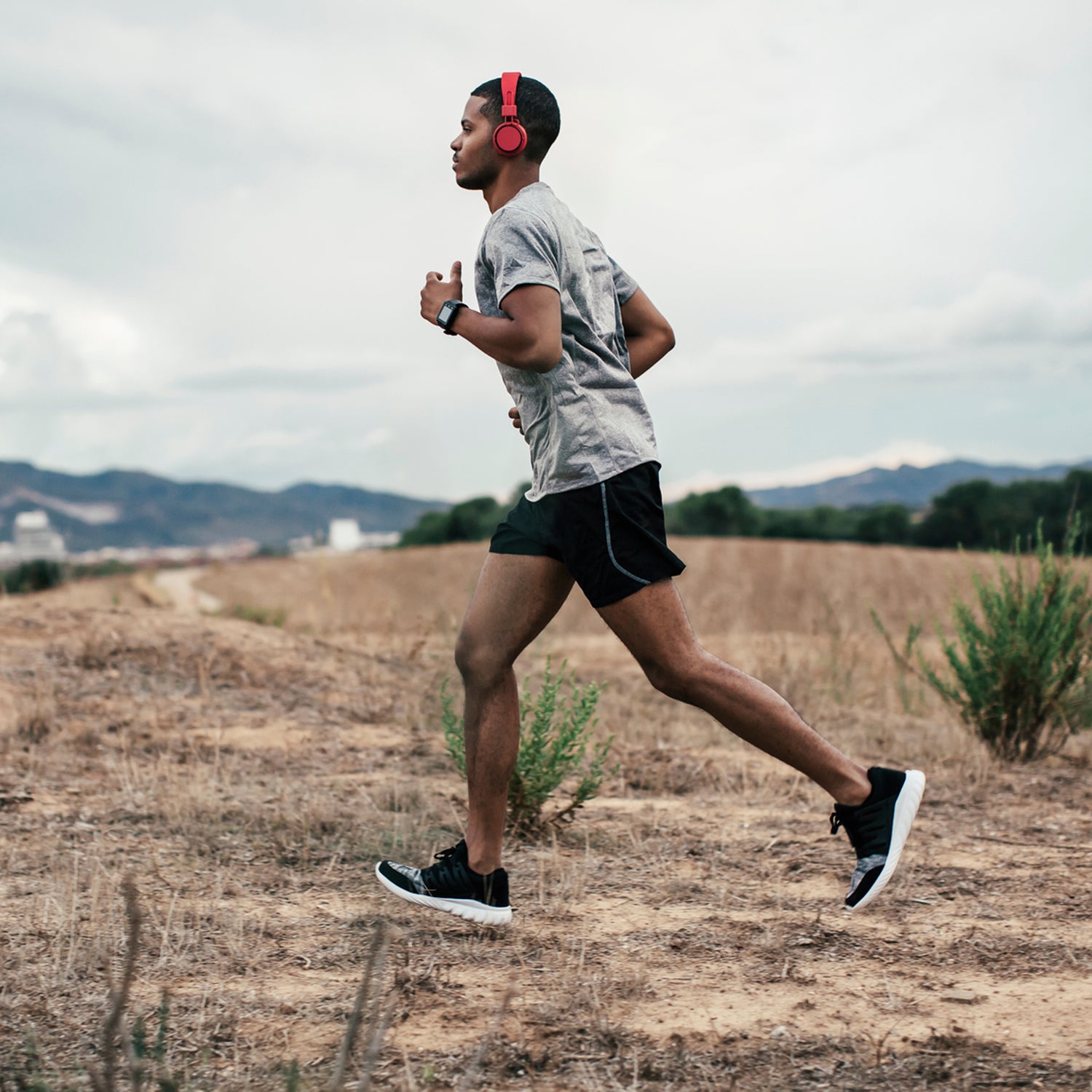 BONNINSTUDIO/Stocksy
Heading out the door? Read this article on the new Outside+ app available now on iOS devices for members! Download the app.
It's storming out in the sprawling grasslands. Everyone has hunkered down, weary bodies flung against the ground, their heavy packs the only shelter from the pelting hail and gusting winds. The storm has come after many days of walking in the middle of an eight-week journey over mountains and across sweeping plains.
That's what's happening in the story I'm hearing through my earbuds. What I'm seeing are the familiar streets and paths of my Austin, Texas, neighborhood. What I'm feeling is my feet hitting pavement, the steady rhythm of my breath, the already-humid early morning air on my skin.
I'm running while listening to an audiobook (The New Wilderness by Diane Cook). Throughout the pandemic, books have been my constant running companion, almost completely eclipsing music and podcasts. I listened to almost 50 in 2021 and about 40 in 2020. This pairing of stories and movement has saved me repeatedly.
I came to running at the age of 30. I'd been a devoted gym-goer for years and I'd dabbled in yoga. But I'd always found running boring and hard—until I moved to a small town in Colorado that had no gym and no yoga studio. What it did have were quiet streets, wide open spaces, and views of the West Elk Mountains. One day after work, as I watched my housemate lace up her running shoes, I said, "I should try that one of these days." Why not right now, with me? she suggested.
I couldn't think of a good reason not to. I made it roughly three miles without stopping—not actually the best way to ease into running, I've since learned. But it showed me that I, dreader of "the mile" in high school and hater of the treadmill's monotony, could maybe do this.
Soon I was running on my own, sometimes in the evenings or more often first thing in the morning. Rarely more than three or four miles and never very fast, but I was doing it and liking it. My early thirties held a lot of surprises (a career shift, a new relationship, multiple cross-country relocations), but enjoying running remains up there in the pantheon of the unexpected.
Early on, I sought out music with a driving beat. Songs that would more or less match the cadence of my footfalls and, I hoped, propel me forward. This worked OK, but it didn't give my mind anything to hold onto. There is something to be said for zoning out while running, but over the last couple years, amid the ongoing uncertainty of the pandemic, I have wanted to fill that time with stories. At first I missed the rhythm and swell of music, but I quickly found that the pleasure of following an engrossing plot more than made up for the loss.
During a period when few things have progressed in predictable ways, when days at home have blurred together and steps forward are often followed by zig-zagging steps back, running and audiobooks have been twin comforts. Together they offer a reliable way to feel time moving, to feel myself moving through space. And the outcome is nearly always positive: feeling good in my body throughout the day and feeding my mind with someone else's well-crafted words.
Diving into books as an escape is nothing new, and it's no surprise that being mostly homebound for so long made such temporary departures from my own life especially appealing. But listening to a book offers a unique kind of immersion: the immediacy, even intimacy, of having another person's perspective piped directly into your ears. (The running-friendly earbuds I use, incidentally, were an Outside rec.) Not to mention you can easily do it with your hands free and your eyes safely on the path ahead.
The more invested I am in the book I'm listening to, the more the story becomes a thread woven through my day, from morning runs to evening dish-doing. And at a time when I haven't always had the focus necessary to sit with a print book, audiobooks have fulfilled my compulsion to read. They've also given me a way to be alone, sort of, in the home I share with my partner. We've managed not to get sick of each other even during the most stir-crazy months, a success I credit, in part, to the amount of time we're content to spend inside our own headphoned worlds.
Still, running is my favorite time to listen to books, the physical and narrative momentum braiding together in a wonderfully satisfying way. So satisfying that I'm now running marathons! Just kidding. I'm not a goal-oriented runner—I've never signed up for a race, and a 40-minute run at an easy pace usually hits the spot—but enveloping myself in a compelling story gives me something to move toward.
Of course, not all books can be enjoyed equally in audio form. For me, the sweet spot is ten hours or shorter and most of the time fiction or narrative nonfiction. Heavily plotted books are best, stories that keep me wanting to know what's going to happen. Mysteries and thrillers are great. (I'm a recovering book snob, and when I made the leap from Literature to genre fiction, my gateway drug was Tana French like so many snobs before me.) I've lately been drawn to dystopian tales and climate fiction of all kinds (Migrations, Weather, Fever Dream, Future Home of the Living God). I've learned, too, that the narrating voice can make or break a listening experience. I even have a few favorite readers at this point: Marin Ireland (Nothing to See Here, We Run the Tides) and Xe Sands (A Children's Bible, The Vanishers) come immediately to mind.
And while I believe that listening to a book is a form of reading, it is not the same as curling up on the couch and poring over pages, taking time to savor the most resonant sentences. With an audiobook, I am OK with not catching every single detail. I accept that occasionally my mind will wander or I'll be distracted by something in the real world (a traffic light, a handsome dog). Sometimes I'll fish my phone out of my running belt and set the book back a few minutes to catch what I missed; sometimes I won't. But I love both ways of reading, and as long as I won't be subject to a pop quiz after finishing, the distinction doesn't matter much to me.
I no longer know whether running fuels my love of audiobooks or vice versa. But the two have become intertwined, so that at night, when I'm setting my alarm for an early run, I have two ways of reminding myself it's worth it: I actually enjoy running, and I'll get to hear what happens next.
Lead Photo: BONNINSTUDIO/Stocksy
Trending on Outside Online