This Vermont Distillery Is Now Making Hand Sanitizer
Caledonia Spirits would normally be making booze, but it found a better way to help in the midst of the coronavirus pandemic. Other distilleries around the country are switching things up, too.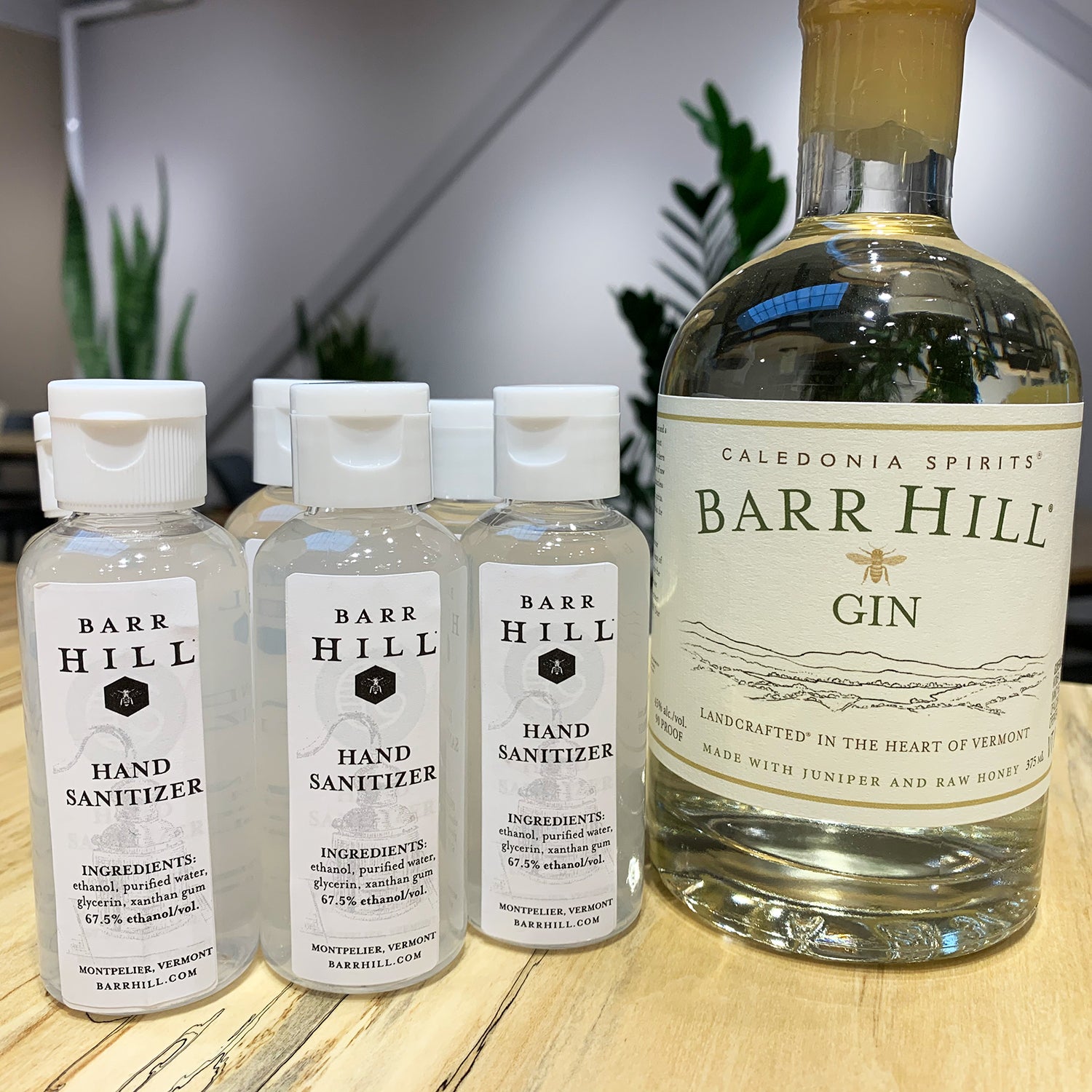 Heading out the door? Read this article on the new Outside+ app available now on iOS devices for members! Download the app.
Gin makers often rub a bit of product on their hands and take a whiff to get a feel for the aroma. It just so happens that the alcohol kills a bunch of germs in the process. "Essentially, our hands are always covered in hand sanitizer," says Ryan Christiansen, the head distiller at Caledonia Spirits in Vermont. Now his company is one of several distilleries across the country that have pivoted to producing hand sanitizer during the pandemic. 
Hand sanitizer is fairly simple to make, with just three ingredients: alcohol, glycerin, and peroxide. And the initial idea of making it was just a distraction, a fun little make-your-own-hand-sanitizer craft project, at a tough company meeting about changes due to the coronavirus. Then "word got out to the community, and things shifted from 'Is this legal?' to 'How can we provide more of this for the community?'" says Christiansen. In a strange twist of events, the Alcohol and Tobacco Tax and Trade Bureau (TTB), which oversees all alcohol sales and is notoriously sluggish, has rushed through new regulations legalizing this switch. Caldeonia Spirits is now working toward a goal of making 20,000 gallons of hand sanitizer for Vermont-based health care and community organizations. 
A local food bank got the first batch last month. Then the University of Vermont's health network—the largest provider of medical care in the state—was on the phone, asking how soon it could get 1,700 gallons shipped over. Christiansen wasn't sure. Caledonia is distilling to 190 proof, because current World Health Organization guidelines for sanitizer say that it should contain at least 80 percent alcohol. To hit that number, the base needs to be 95 percent alcohol to make up for any dilution from the additional ingredients. But it takes a long time to distill alcohol to that level. And that's when kombucha came to the rescue.
Your kombucha probably contains more alcohol than you think. In fact, there have been several class-action lawsuits about this. Jeff Weaber, founder of the Aqua ViTea brand, found this out the hard way. In 2009, when he was running his startup company out of his garage, the TTB showed up, guns drawn, to shut him down for making boozy 'booch. Weaber then invested $2 million in a machine that would remove the alcohol from his brew without damaging the nutritional qualities of the tea. 
Over the years, he's saved all the alcohol he's ever suctioned off, in hopes of possibly profiting from it. A few years ago, Weaber began turning some of it into a flavored vodka. Still, there are gallons and gallons of kombucha distillate in his warehouse. When the overwhelming need for hand sanitizer sprung up in the wake of the coronavirus pandemic, there was another use for Aqua ViTea's excess alcohol. 
"Jeff called and said, 'I have this 127 proof kombucha distillate, can you use it?'" remembers Christiansen. A tanker truck hauled 2,700 gallons of it over to Caledonia Spirits, and that's when things got rolling. 
Christiansen asked his sales team to help source everything from ingredients to containers, and everyone got to work. So far the company hasn't laid off a single staff member—and hopes to keep it that way. 
The hand-sanitizer effort has resulted in a few tiny moments of serendipity, like when a someone got a lead on bottles. "Everyone in the world is racing to make things the hospitals need," Christiansen says, and that means demand is making it hard to find the two-to-six-ounce bottles required to package it. But a team member stumbled across a cache of bear-shaped squeeze bottles meant for honey. "We're a honey-gin company. On the video call, you could see that it was like, Who is going to be the first to say that's kind of a good idea?" 
Christiansen says he does miss making gin, but the company doesn't have the workforce to run hand sanitizer and gin at the same time. So for now, it'll be cranking out five-ounce bottles of sanitizer in bear-shaped containers. He acknowledges that the bear bottles are a strange for the product, "but it's the fastest route to market, and, honestly, it kind of puts a smile on your face when you see the bear," he says. 
Need a smile and a drink? When this is all over, Christiansen says he'll be making himself a Bees Knees. Here's how to make it.
2 ounces Barr Hill Gin (or whatever you have on hand; please avoid going to the store if at all possible!)
3/4 ounce fresh lemon juice
3/4 ounce raw honey syrup
Lemon twist to garnish
Combine the first three ingredients in a mixing tin, add ice, shake, then double-strain into a chilled cocktail glass. Add garnish.
Lead Photo: Courtesy Caledona Spirits