New Rules of Camping
3 Things You Need for Divine Campfire Cooking
Cook unforgettable meals over the flames with these must-have tools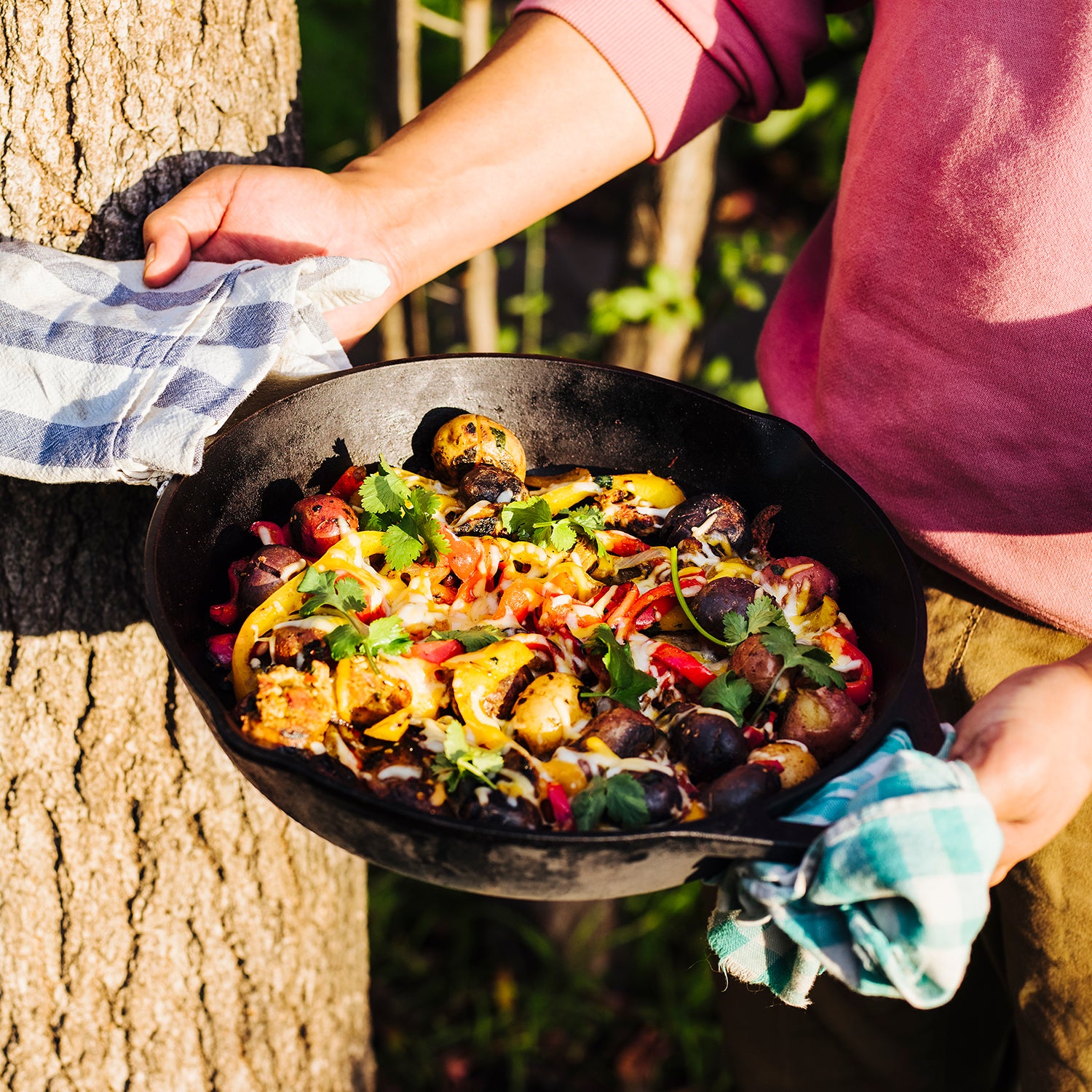 Heading out the door? Read this article on the new Outside+ app available now on iOS devices for members! Download the app.
The campfire takes the art of cooking to its most alchemic form—wood and flame, smoke and heat, transforming humble rawness into a piping-hot feast. While the oven and stovetop are constant in their mechanical functions, a fire is a living thing that must be tended, and so its rewards are greater. Give it fuel and air, stir its coals, arrange its logs just so, and it will bestow elegant caramelization, glorious crispness, and mouthwatering carbonized umami. Best of all, it provides the satisfaction of cooking the most basic ingredients—potatoes and sausage, apples and oats, an egg—with a singular, mindful purpose, an antidote to zombified weekday meals and microwaved sustenance. Unplug and let the cheerful crackling blaze stoke your appetite.
Cast-Iron Skillet 
Even the most carefully tended campfire can be a fickle thing, prone to outbursts of flame and smoke, blazing one minute and barely flickering the next. No cooking medium handles that inconsistency with as much aplomb as a good, heavy piece of cast iron. Lesser pans develop hot spots, scorching and sticking and laying ruin to dinner. But cast iron takes the mercurial heat into its thick-walled embrace and disperses it evenly. When seasoned with oil and heat and time, it proves virtually nonstick, rendering clean-up a breeze. It's a classic for a reason.
Skillet Potato Mess
Ingredients
Vegetable oil
Baby potatoes, preboiled to just shy of done
Bell pepper, chopped
Jalapeño pepper, chopped
Onion, chopped
Precooked kielbasa, sliced
Salsa (we like tomatillo)
Shredded cheese
Cilantro or basil, chopped
Generously oil a skillet. Layer the potatoes, peppers, onion, and kielbasa, being careful not to overfill the pan—you'll want to leave enough room that you can gently stir the ingredients. Top with a little (or a lot) of the salsa and cover. Set the skillet on coals or the fireplace grate (away from direct flame). Stir every ten minutes or so, rotating the skillet as needed. When the salsa is bubbling and the meat is sizzling and cooked through, serve topped with cheese, cilantro or basil, and more salsa.
Foil Pack
After the fire has blazed hard, the flames have died back, and all that remains is a bed of hypnotically glowing coals, reach for the tinfoil. It's cooking at its most alchemic: embers, metal, and sustenance. Time becomes irrelevant as you keep a weather eye for signs of steam, using intuition to determine when a rotation is needed, observing the foil's bright silver exterior tarnish and darken in the heat. Is it done yet? Not quite. But soon. 
Apple Crisp Packet
Ingredients
1 apple
1 packet instant oatmeal
Butter
Toasted marshmallows
Butter the center of the shiny side of a square piece of heavy-duty aluminum foil. Core and thin-slice the apple, and arrange in a flat pile on the foil. Sprinkle with instant oatmeal and top with chopped bits of butter. Fold the left and right sides of the foil over the crisp, then fold over the top and bottom ends to create a packet. Place on fire coals (away from direct flame), and rotate the packet about every ten minutes to ensure even cooking. Start checking the apples after 20 minutes; cook until they're fork-tender. Top with a fire-roasted marshmallow (or four). 
Egg Spoon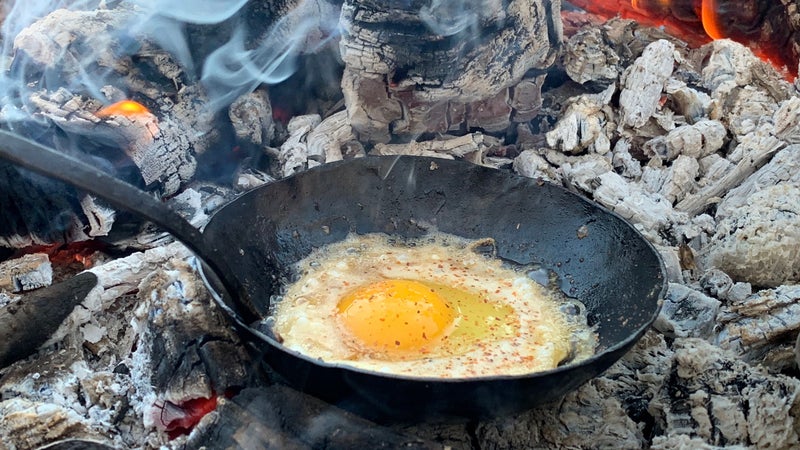 When you show up to the fire pit brandishing an egg spoon, you will get looks from your fellow campers. "Are you making soup?" they will ask skeptically, eyeballing the ladle-like cast-iron pan made popular by chef Alice Waters. But then you will use it to fry an egg, turning out a perfect round or crispy, sizzling white and decadent runny yolk—done in half the time it takes to boil water and make oatmeal. Once they eat from the egg spoon, they will go to bed early just to get to breakfast sooner.
Perfect Egg
Ingredients
¼ tablespoon sweet cream butter
1 large organic free-range egg
Tajín seasoning salt to taste
Heat the egg spoon on a bed of coals for three minutes. Add the butter, which should froth and sizzle immediately—if not, return the spoon to the coals. Swirl butter to coat the cooking surface. Add the egg, sprinkle with salt, and return to the coals. When the white is two-thirds cooked, use a spork to flip the egg. Cook about 30 seconds more, then serve on a grilled tortilla. 
Lead Photo: Cayce Clifford