The Definitive Guide to Eating Salmon
A new book simplifies the complicated decision of how to buy ethical salmon—and how to make it with a citrus-dill-vodka marinade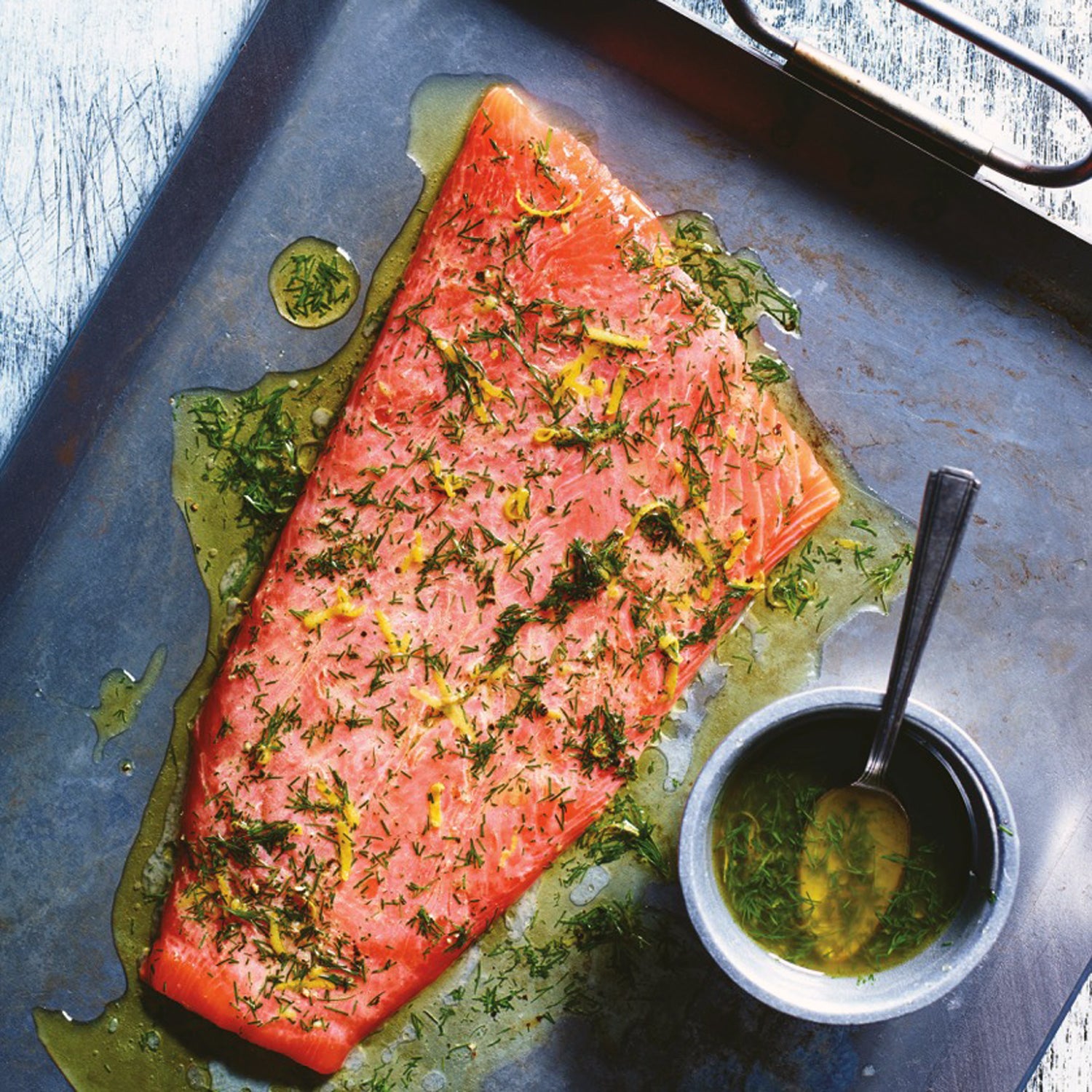 Chronicle Books(Photo)
Heading out the door? Read this article on the new Outside+ app available now on iOS devices for members! Download the app.
Figuring out whether you should be eating farmed, wild, fresh, frozen, or organic fish often feels like trying to swim against a stream of endless Internet information (one to which Outside has contributed).
But it's exactly why cookbook author Diane Morgan wanted to add one more voice to the frenzy. Her new book Salmon: Everything You Need to Know + 45 Recipes, aims to be the definitive guide to shopping, cooking, and eating one of America's most ethically confounding fish. "I love salmon the fish and I love salmon the food," the James Beard Award-winning writer says. Although she lives in Portland, Oregon, Morgan reaches out to her commercial fishing friends each spring to lock in her annual supply of the fish.  "Every year, during the season, I stock my freezer with 100 pounds of flash-frozen salmon."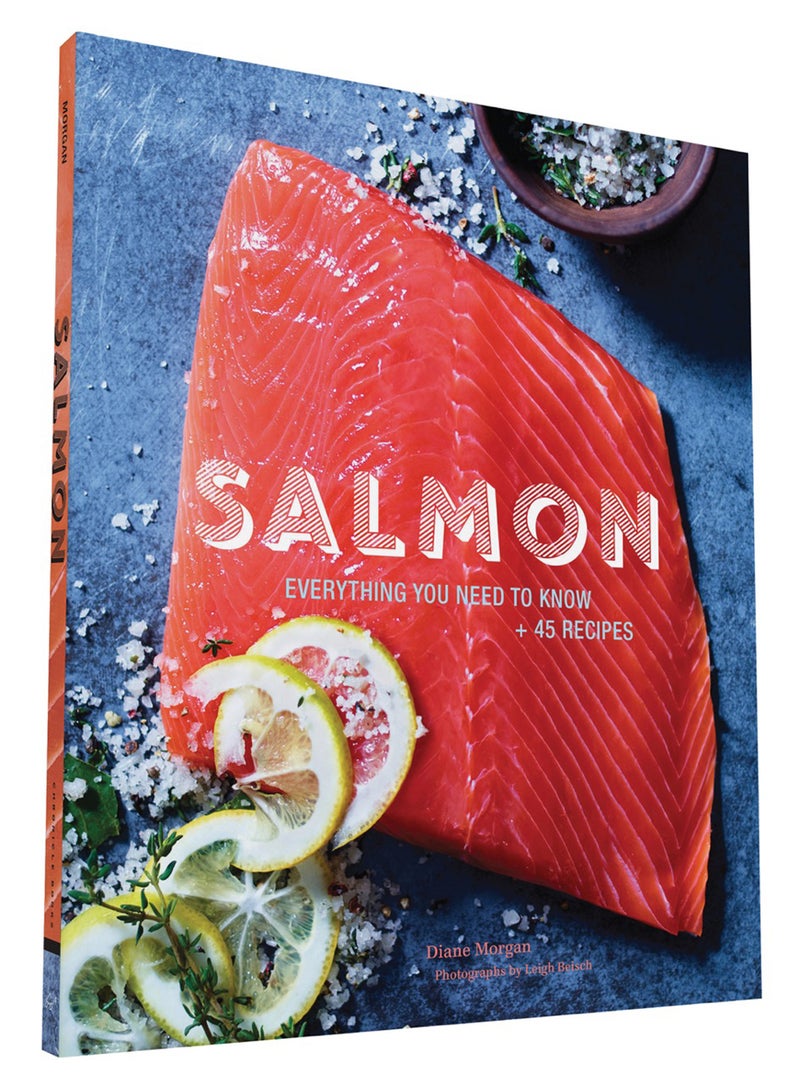 Salmon is Morgan's second cookbook completely devoted to America's most-consumed fish. Her first, Salmon: A Cookbook, came out in 2005. But a lot has changed since then—enough to warrant an update. "Ten years ago, regulations were a little more clear-cut," she says. "Now we're combating obscure and false labeling." Terms like "all natural" and even "organic" are confusing when it comes to fish. For example, Morgan says that if you're buying "organic" salmon, chances are it's farmed salmon from Europe, since America doesn't yet have an organic fish classification. "We need fish here to be consistently labeled from point of origin to the seafood market," she says, but that's clearly not happening yet.
Being high in omega 3s, salmon is great for heart health, and it may even be valuable for brain function too. It's also lower in mercury than other fish, like tuna. In fact, the FDA and EPA say that even pregnant women need not limit salmon consumption, and we should be eating about two servings a week. Morgan wants to help readers make those two servings as tasty as possible with new cooking techniques like brining or tea smoking.
She also wants readers to make decisions that are as ethical as possible by helping them understand what it means to have something like the Alaskan Waterways in our backyard. At this point, Morgan says there's almost no wild Atlantic salmon to be had—it's been fished to the brink. "The East Coast Rivers that used to have wild stocks don't have them anymore," she says. "I won't live long enough to see the Atlantic repopulated with Atlantic salmon, but that would be a wonderful thing."
In Alaska, the rivers still run rich with wild Pacific salmon—at least for now. Morgan commends the protections Alaska has put on its waterways and regulations it's put on fishing. "The fishermen up there don't treat it like the wild, wild west," she say. "They know there won't be fishing for their kids if they aren't careful, and this is a family business for many people."
Also worrying to Morgan: Last November the Food and Drug Administration approved genetically modified salmon for sale in the U.S. Essentially, the salmon have had the genes of another, eel-like fish inserted into their DNA, which helps them grow faster, upping yields and lowering costs for fish farmers. While proponents argue that this practice is safe and could make salmon more affordable, environmentalists worry that this could hurt wild salmon populations if burlier GMO fish inadvertently made their way into nature. Plus, there's the general distrust of GMO foods. "Some are calling it Frankenfish," says Morgan. And the FDA hasn't made labeling GMOs mandatory, so if you're looking to avoid it, you'll need to be even more careful about your sourcing.
Bearing all this in mind, Morgan says the ideal scenario is to only eat wild-caught Pacific salmon, with wild Alaskan salmon being the best of the best. "You're making a real economic choice to eat wild salmon. The lowest price I could get last season at peak season for wild Alaskan salmon was $17 a pound. I know not everyone is willing or able to do that," she says. Really, Morgan recommends whatever salmon you are willing or able to buy, wild or not—so much does she believe in its benefits. "I'd rather people eat some salmon than no salmon, because it really is healthy."
Check out this recipe for Green Curry Braised Salmon from Salmon: Everything You Need to Know + 45 Recipes.
Lead Photo: Chronicle Books