Valentine's Day Flourless Chocolate Cake
Unlike February 14th, you probably won't regret it.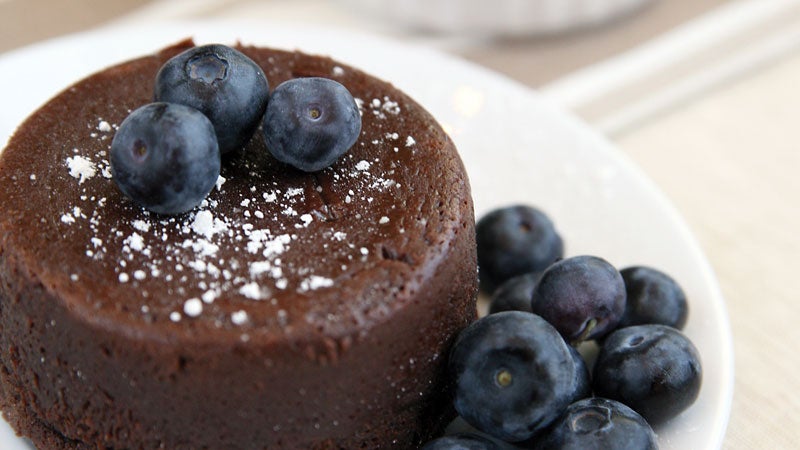 Chef Biju Thomas(Photo)
Heading out the door? Read this article on the new Outside+ app available now on iOS devices for members! Download the app.
Valentine's Day is a day for courtly love. Yes, that old paradox—"a love at once illicit and morally elevating, passionate and disciplined, humiliating and exalting, human and transcendent," as F.X. Newman wrote in The Meaning of Courtly Love. What does this mean for you? Maybe (probably) nothing. But, hey—there's a cake for that.
A chocolate cake that is at once flourless and rich, prudent and sinful(!), illicit and morally elevating—a chocolate cake that is at once a chocolate cake (for your lover and/or self) and a smart alternative to the average cup-o'-sugar stodginess.
And why is it a good alternative, you insist on asking? Well, modern take on the term "courtly love," it's because this cake, while not all that transcendent, is much less bad than it could be. It only has a fourth cup of sugar, only uses eight ingredients, and is not at all "human" or "humiliating." So stop Googling "easy kale desserts+chocolaty+romantic?" and settle for something that's really no better than better than usual.
That Was A Little Depressing
Then make this cake to cheer yourself up! (See? This doesn't even have to be about Valentine's Day.)
But first: Here are the nutritional facts, per serving (out of 12 servings):
439 calories
30 grams of fat
152 milligrams of sodium
32 grams of carbohydrates
0 grams of fiber (yes, yes; boo-hoo)
5 grams of protein
Now, Let's Get Started
You'll need these ingredients (for 12 servings, remember):
2 cups semi-sweet chocolate chips
1 cup (2 sticks) unsalted butter
¼ cup liquor (use your favorite)
10 large eggs
¼ cup sugar
1 teaspoon vanilla extract
½ teaspoon salt
sprinkle of cayenne pepper
Then, you'll do this (30 minutes):
1) Heat oven to 325 degrees. Grease a 12-cup muffin tin or use foil cupcake liners in the tin.
2) Put water in bottom half of a double boiler, or fill a small saucepan halfway with water. Bring to a gentle boil.
3) Into top of double boiler or metal bowl in sauce pan (see note below), add chocolate chips, butter, and liquor. When the chocolate and butter begin to melt, blend thoroughly. It should have an even, shiny finish. Remove from heat.
4) While the chocolate is melting, whip eggs in a separate bowl until frothy. Add sugar, vanilla, salt, and cayenne.
5) Ladle a bit of the egg mixture to the warm chocolate mixture and whisk quickly so that the eggs don't cook. Continue adding egg mixture and whisking until about one-third of it is incorporated into the chocolate mixture. Then pour the chocolate mixture back into the larger bowl containing the remaining eggs, and stir to combine.
6) Pour batter into muffin tin, filling each tin halfway. Bake 15–20 minutes. Cakes should be light and dry on the outside (with cracks on top) and dense and moist on the inside.
7) Let cakes cool to touch or chill in the fridge before serving. Add powdered sugar and fresh berries, if desired.
Note: If you don't have a double boiler, a metal bowl that is big enough to rest on top of your saucepan will do just fine.
Recipe republished with permission of VeloPress from The Feed Zone Cookbook. Try more recipes at www.feedzonecookbook.com.
Lead Photo: Chef Biju Thomas
Trending on Outside Online