8 Things Skiing Together Can Teach Us About Love
Couples who ski together stay together, right? But even if neither of you will ever click into a pair of bindings, you can learn from these eight dating tips.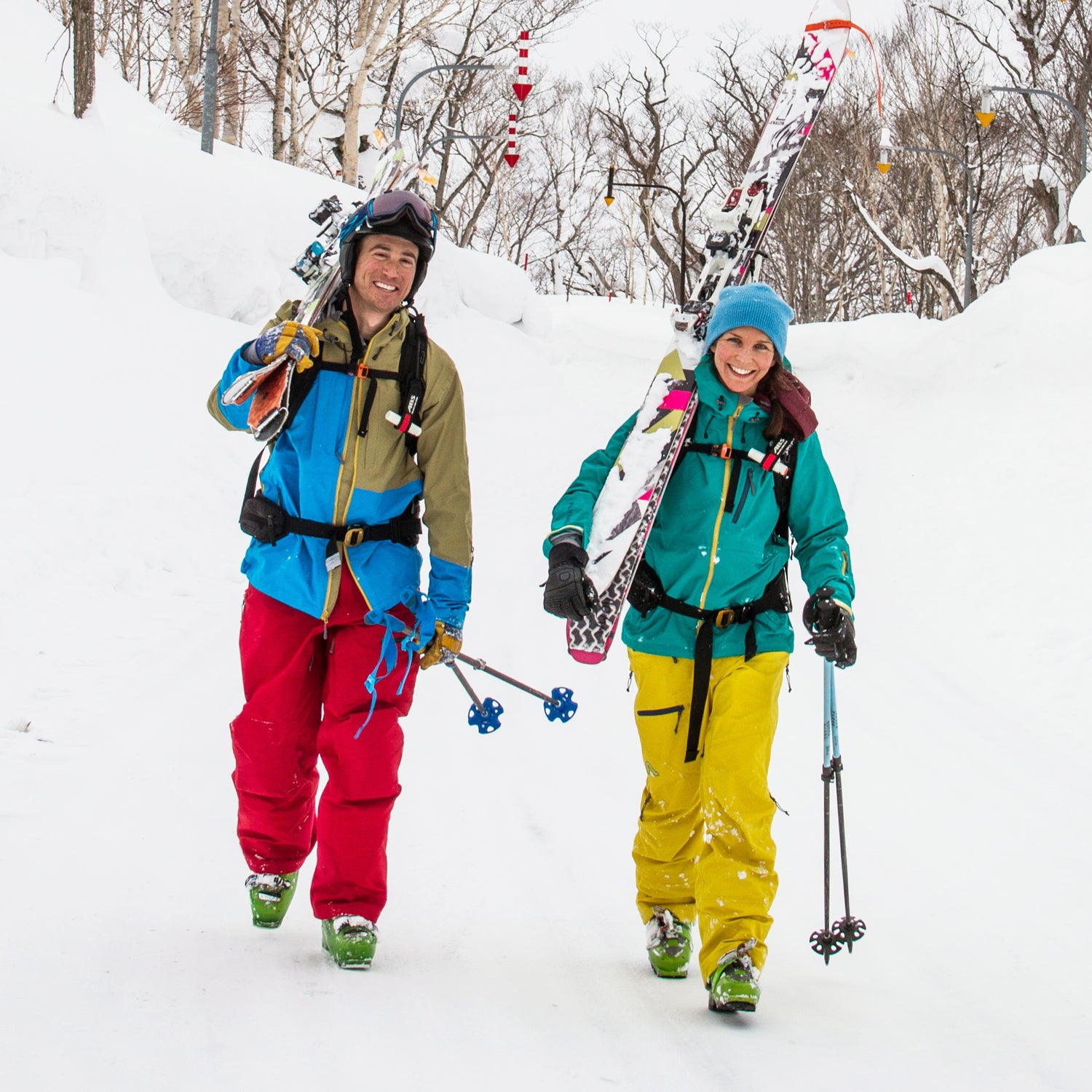 Heading out the door? Read this article on the new Outside+ app available now on iOS devices for members! Download the app.
My husband, Dan, and I met through the ski industry (he started ski outerwear company Flylow, and I was an Outside editor when we first started dating), and we built our relationship through a shared obsession with the sport. Since getting married and having two children, we don't get to ski together as much as we used to, so we've learned to make the most of any day we make it to the hill together. A lot of the strategies we've developed are helpful whether you're going on a third date or taking a weekend escape with your significant other. Here's what we did when we snuck away for a full week at Snowbird, Utah.
---
#1. Get Excited (and Synced)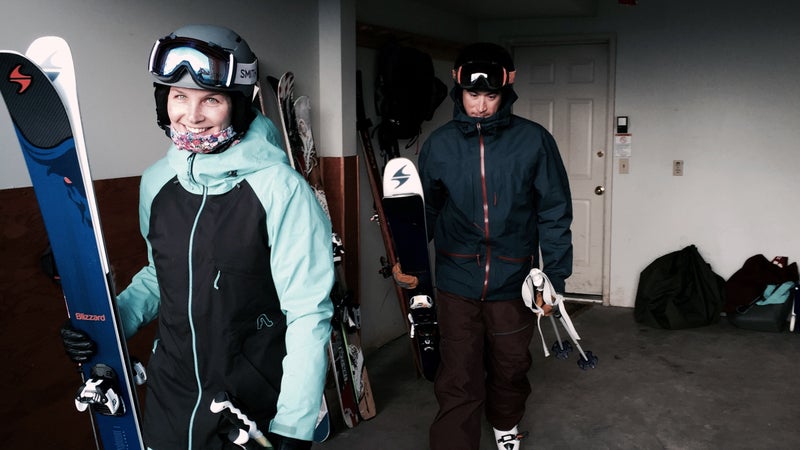 If, like us, you don't often get the chance to ski together—or really, any time you're embarking on an adventure together—it helps to be similar levels of pumped when it comes time for planning. We booked a week in a condo near the base of Snowbird, brought my mom along to help take care of our two young kids, and as soon as the lifts started spinning, basically sprinted out of the house. I like to lay out my gear the night before so everything is easy to find in the morning—boots in the boot dryer, and gloves, helmet, goggles, jacket, and pants all hanging by the door. Dan and I both usually read the avalanche forecast over coffee each morning and discuss if we'll be going out of bounds at all. I'll ask, "Backcountry packs today?" Today, we decided it was a resort day.
---
#2. Carve Out Your Space in a Crowd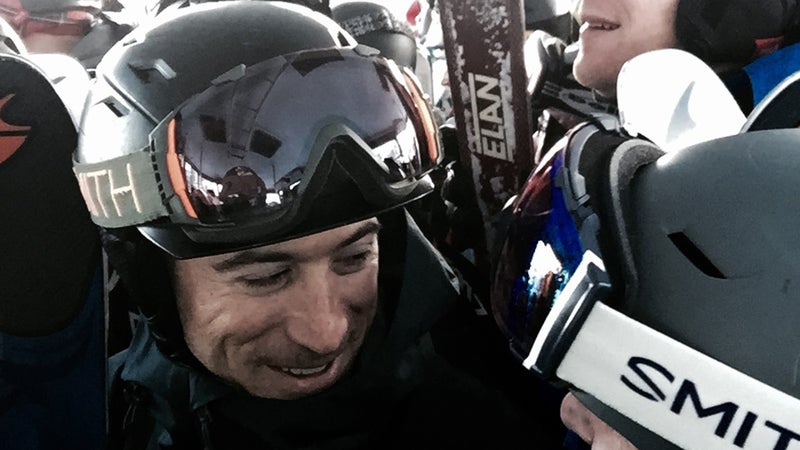 Even when conditions are less than ideal—say, surrounded by a hundred smelly strangers in a jam-packed tram—you can still enjoy the moment. Whisper a joke about the guy next to you, or snag a spot by the window so you can take in the view and pretend you have the place to yourselves. I pretended we were on a European vacation in a tram whisking us to the top of a peak in the French Alps, even though we're actually in Utah. "Bonjour!"
---
#3. Communicate Strategically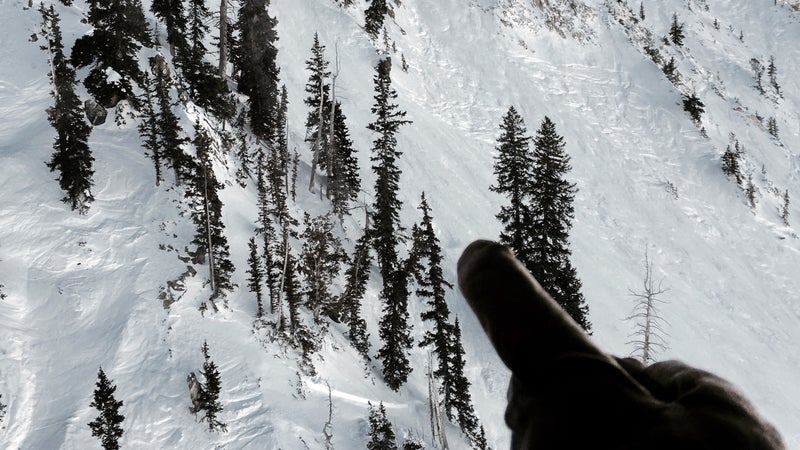 It's key to get on the same page early and be clear about your agenda or goals, even if it's just for the day. For a ski day, we think about who we'll be meeting up with and where we're going to ski. Do we want to ski as many laps as we can or take our time and set a leisurely pace? Do we want to ski steeps and hunt powder or carve up some groomers? We scouted some lines from the tram, then took turns deciding what run we'd ski next.
---
#4. Scare Yourself and Your S.O.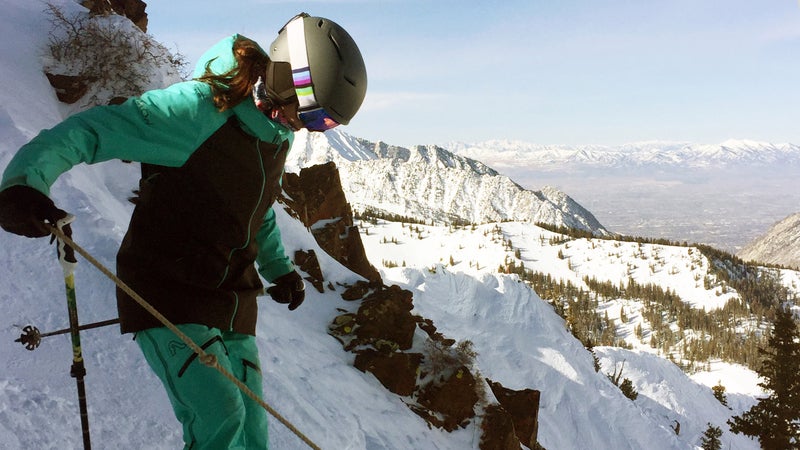 I think it's important to push yourself a little every day. That's what makes us and our relationships stronger, right? So, when your significant other suggests you drop into a chute so steep that there's a rope to help you into it, trust that he or she has your back and follow their lead. Or don't. You can always choose your own routes down and meet at the bottom.
---
#5. Lend a Hand, Even If You Don't Need To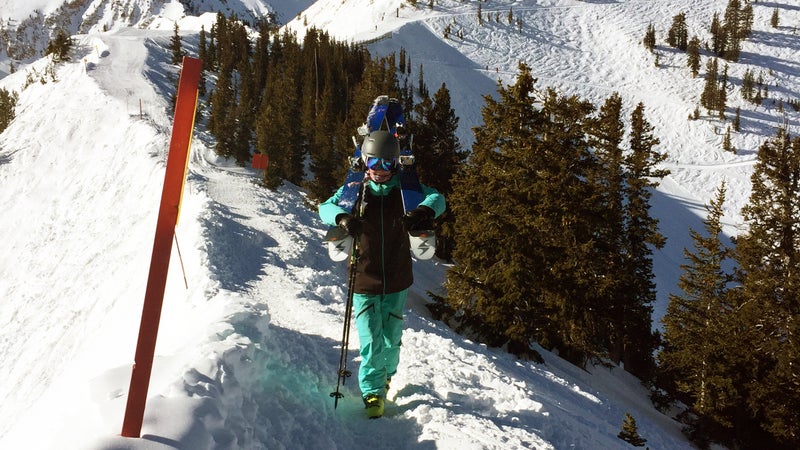 Dan always carries a goggle cloth and cleans my lenses for me on stormy days while we're on the chair. I'm always the one who carries essentials like snacks and sunscreen. It's the little things that matter most. Here, I jokingly offered to carry his skis up the bootpack to Mount Baldy at Snowbird.
---
#6. Drop In and Drop Praise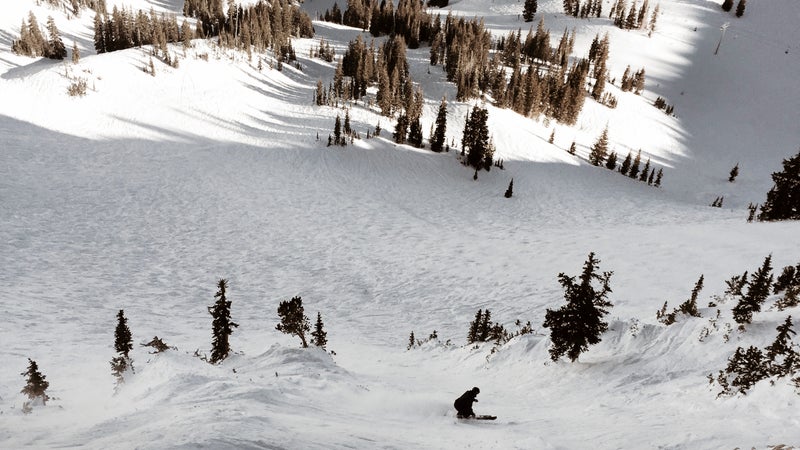 Enjoy the ride down. It's best not to critique each other or offer instruction. At the bottom, just compliment each other's flawless ski style, praise the snow quality or the line choice, high-five, and be positive. Switch turns for who drops in first, sharing the freshies (or, in our case, the chalky hardpack). Let each other pick lines so one person isn't always leading or following. This is the fun part.
---
#7. Get Some Alone Time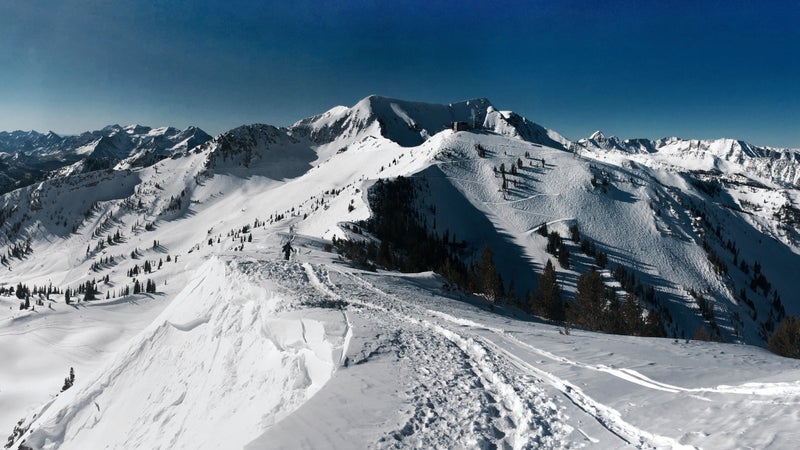 It's never a bad idea to escape from the crowds by setting off on a hike or otherwise taking advantage of a little quiet time. This gives you a chance to chat—or maybe just breathe or ignore each other. Either way, it's a nice way to spend some time alone, get some exercise, and find some fresh snow. We had the summit of Mount Baldy and 360-degree panoramic views all to ourselves.
---
#8. Remember to Celebrate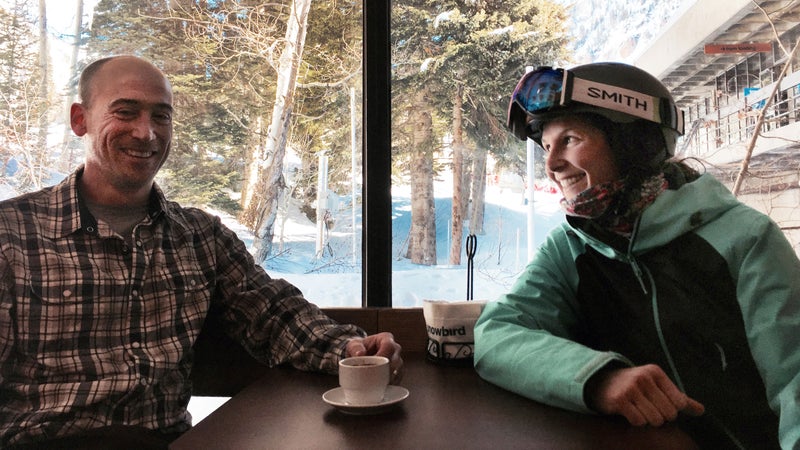 I often pack a lunch to save money and time (I usually tote a PB&J in my pocket and try to find a nice mountaintop perch to eat it), but it's also nice to take a break and refuel. No matter what activity you're doing, break time is an ideal time to go an extra step and take the time to enjoy conversation. I prefer skiing through the lunch hour, then taking a late break around 2 p.m. Here, we stopped for the essentials: water, coffee, and chocolate.
For après ski, get creative. Don't just follow the masses to the base lodge bar. Pull out a bottle of wine, cheese, and crackers at your tailgate in the parking lot, or go to the sleepy bar nobody else bothers with and snag a seat by the fireplace.