The Daily Rally
Nicole Coenen Takes an Ax to Your Expectations
The lesbian lumberjack of the internet started chopping wood on TikTok as a joke. But in the process she became the role model her younger self had always wanted.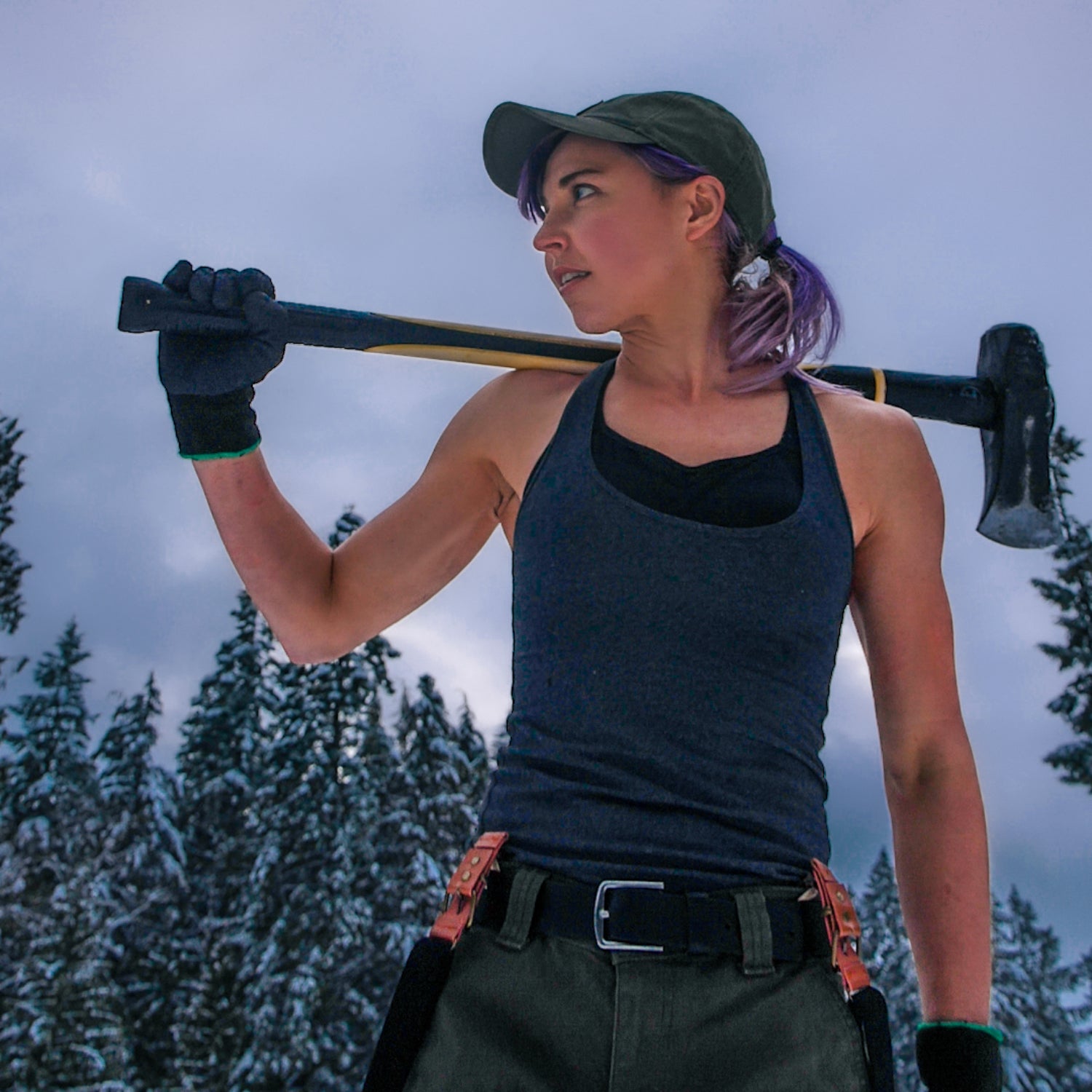 Courtesy Nicole Coenen
Heading out the door? Read this article on the new Outside+ app available now on iOS devices for members! Download the app.
Nicole Coenen told her story to producer Cat Jaffee for an episode of The Daily Rally podcast. It has been edited for length and clarity.
I find chopping wood extremely cathartic and it's such a good release. It's such a good stress reliever. Sometimes it can be very stressful, because you get a piece of wood that just won't split, or has a huge knot down the middle. Eventually, you can develop this sense of almost reading the wood. You know how it's gonna split. You can feel when the ax hits, you're like, Oh, OK, just two more swings and I got this.
I live in British Columbia, Canada. I guess I'm the lesbian lumberjack of the internet. I'm also a filmmaker, and work a lot in environmental nonprofits. I am very much an introvert. I live in the middle of nowhere, kind of for a reason.
I grew up in the suburbs in Ontario in a very conservative community, and really struggled with presenting even as a tomboy. I always actually tried to make myself seem weaker than I was, and I wanted to be stronger, but I didn't think that that was really allowed.
I went to film school, and I really loved talking about queer representation and more diverse representation. Because growing up, I didn't really have a lot of friends, and I was also really trying to figure out, as we all are, who I was, and when I would watch TV or watch movies, I didn't really see myself represented very often, if ever. Sometimes even queer sort of traits would be seen as villain-esque or in negative ways. So I think I gravitated towards filmmaking or storytelling in media, as a way to sprinkle a little bit more representation in there.
In August 2020, my partner and I at the time impulsively decided we needed to get out, we needed to move to the mountains. I had never been to BC before, but right when we touched down, I felt like I was home. I felt like this is a place that I've been dreaming about, and I felt like in that landscape and in the nature out here, I could express myself a lot more.
Eventually, I got connected with this little group of wood choppers. They're called the Greenwood Angels. The group itself was mainly comprised of older men and my friend Sarah. So basically a group of older men and two lesbians.
When I first started chopping wood, they should not have given me an ax. My aim was so bad, and it was just flailing all over the place. But there was something so cathartic about chopping wood so that you could warm yourself up for the winter. This group would sustainably harvest trees, and then we'd buck it up into firewood. We'd sell that firewood, and then donate the profits to a community initiative. Not only did it feel good to be outside and be active and bond with the community, but it was doing good as well.
So January 2023, I think it was just a random Thursday, and I remember I was not in a very good head space. I was pretty isolated from friends. So I was on my bed, my dog was beside me, and I was scrolling through TikTok and came across a very iconic wood chopper named Thoren Bradley. I'm sure a lot of folks know of him. And he was splitting a round and I'm like, Hey, I could do that, I split a round like that just this morning. So one of the ways that I get out of a sad state is either go outside or get creative. And so I kind of did both. I went outside and made a spoof of Thoren. It was very impulsive; I just sprung out of bed and I was like, I'm gonna go outside and film this cheesy parody video. I had a black tank top on and just aggressively chopped this little round. I say little now because I've definitely chopped bigger ones, but that's all I had at the time. And posted that.
The reaction was kind of hilarious. People seemed to really like it, and a lot of people asked if I could do it again. And so I did. And did it again and again. And eventually, I kind of became the cliché that I was spoofing. But it was great because I was having so much fun with it.
Then I started to also put my own spin on it, and had a lot of fun with it presenting a little bit more in the masculine queer representation. So that was really empowering in a lot of ways.
The comments, especially around women empowerment and queer representation, amplified it even more. The people have been amazing. I was always terrified to post online because sometimes people can be mean. I do absolutely get a lot of mansplaining comments, but it's also great because every time I do get one of those comments, I get 10 more supportive comments. I've actually gotten some comments from moms, saying that their daughters came across my TikTok, showed it to them, and said that they wanted to be strong like me. And that just hit me so hard because it's funny, this person that I am online is exactly what I wanted when I was growing up. I wish I had representation for a strong, queer, outdoorsy woman and that just did not exist.
Although I will say my content is not really geared towards kids, I think my younger self would be really stoked and really proud. So that makes me really happy.
Nicole Coenen is a videographer, dog mom, and the lesbian lumberjack of the internet. Through her videos, Nicole celebrates LGBTQ+ identity and discusses mental health. She lives on the move in mountain and coastal towns across British Columbia. You can find her @nicole_coenen on TikTok and Instagram.
You can follow The Daily Rally on Spotify, Apple Podcasts, or wherever you like to listen. Subscribe to our newsletter and nominate someone to be featured on the show.
Lead Photo: Courtesy Nicole Coenen