A New Adventure Guide for People with Disabilities
The founder of the organization Disabled Hikers is making the outdoor industry more accessible one trail guide at a time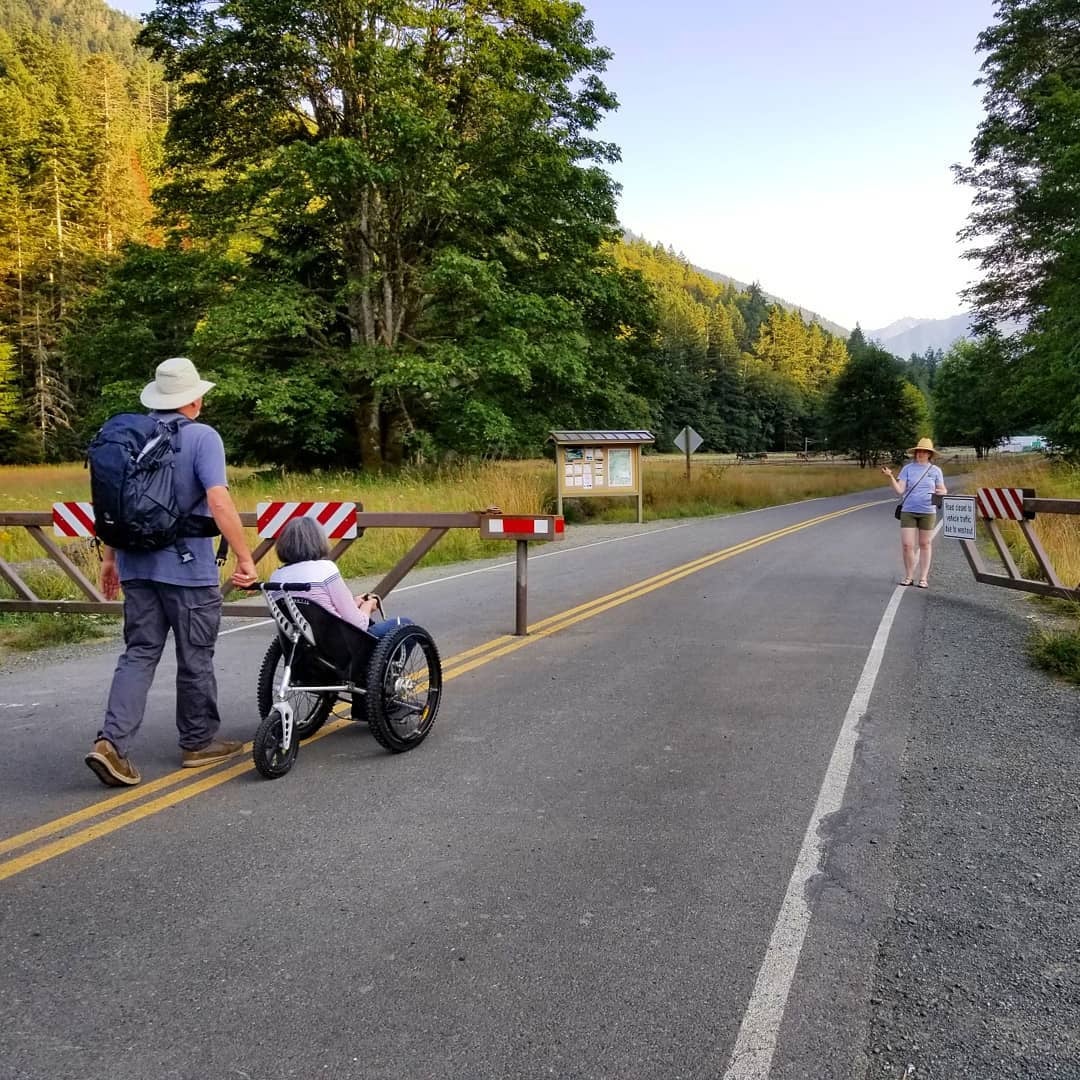 Heading out the door? Read this article on the new Outside+ app available now on iOS devices for members! Download the app.
It's standard practice when writing about people with disabilities to use person-first language: "a person with a disability" is preferable to "a disabled person." Proponents argue that it prioritizes the subject's humanity over their condition. 
Syren Nagakyrie disagrees.
"It inherently implies that being a person means being able-bodied, or we wouldn't need the additional descriptor," Nagakyrie explains. "People don't use the term 'person with abilities' to describe able-bodied people." The 37-year-old disability advocate, who uses the pronouns they or them, refers to themself as a disabled person. 
Nagakyrie is the nature lover behind Disabled Hikers, a website that publishes free online trail guides tailored for the disabled community. A freelance writer and community organizer of 15 years, Nagakyrie has long, loosely curled brown hair and a gentle demeanor. As a child, they were diagnosed with Ehlers-Danlos syndrome, a relatively rare connective-tissue disorder that causes frequent joint dislocations and chronic pain. They've dislocated almost every major joint in their body—many more than once. Nagakyrie also has postural orthostatic tachycardia syndrome, a condition that causes dizziness and fatigue when standing up from a reclining position, among other symptoms. Combined, these things make attempting the average trail feel like "one long trip of pain and frustration, second-guessing myself and my abilities," they say. 
Nagakyrie has found solace in nature since they were a child, observing flora and fauna in their family's yard, but it wasn't until their teens or early twenties that they really started exploring what their body could and couldn't do in the outdoors. But there was a lack of infrastructure for the disabled community. "Being on a trail meant for able-bodied people reminds me that my experience is of less importance," says Nagakyrie.
There are lots of straightforward worries—How exposed is the trail? What's the grade? Are there any crossings? How slick are they? Is there cell service in case of an accident? And then there are the complex emotions that come with the territory. "Sometimes I'm afraid of getting stuck: reaching a place in the trail where I won't be able to continue forward but turning around would be equally difficult," says Nagakyrie, who experiences anxiety and depression as well. "I often berate myself, wondering why I can't do this when people are passing by me with no problem."
Nagakyrie, who is mostly able to walk unaided but sometimes uses a sleek green cane (or more rarely a wheelchair), has long been vexed by the lack of nuanced information available about trails. Physically and mentally disabled people, as well as those with chronic illnesses—people who arguably need nature even more than the able-bodied community—are precluded from outdoor recreation because they don't know what to expect. Hours of research before hitting the trail still often doesn't solve the problem. "Short of a trail saying it's ADA accessible and paved, that's the only accessibility information that's out there for trails," says Nagakyrie. "A, it's not always true. B, it's not always accurate or helpful for people."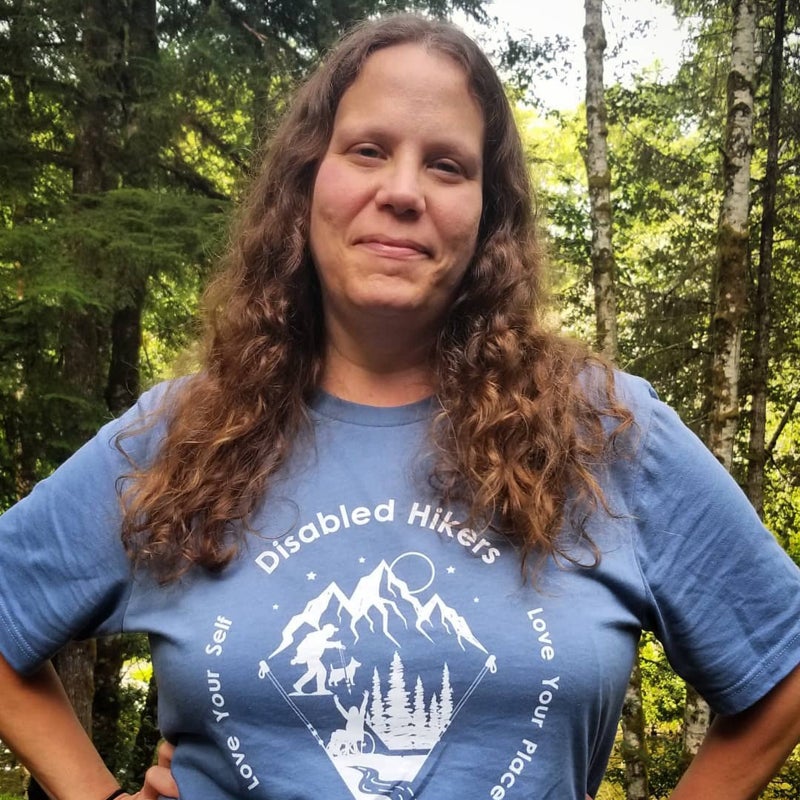 Even so-called accessible trails present physical challenges that the able-bodied might never consider, such as bumpy boardwalks, inaccessible parking areas, and visual barriers at sitting height (let alone the dearth of signage and interpretive programs for people with visual, aural, and other impairments). Things that are ostensibly trivial to the able-bodied, such as the size of gravel bits, can be a determining factor for a trail's accessibility with a wheelchair or rolling walker—but good luck finding that information ahead of time.
In Nagakyrie's opinion, few parks excel at being truly accessible for the 40 million Americans—that's more than one in ten—who have disabilities. "Most parks and organizations that I speak with are open to hearing about changes that need to be made and are working on possible solutions, but change is very slow," Nagakyrie says. Compared with the costs of constructing new facilities, merely providing detailed information about existing trails, campgrounds, park buildings, and other recreation sites would be a relatively quick way to start getting more disabled people outside. But even that's rare.
In early 2018, Nagakyrie's frustrations came to a head. A supposedly easy trail on the Olympic Peninsula, near their home in Forks, Washington, started out with steep stairs and a narrow path along a scree-filled drop-off edge, then branched off with no markers. Nagakyrie and their dog, Ranger, an elderly beagle–Jack Russell mix, eventually made it to a waterfall. Exhausted, Nagakyrie leaned on a bridge railing, observing the early-spring flow. "It was a light-filled moment where I said, 'Why don't I do something about this?'"
Disabled Hikers was born shortly thereafter with three goals: organizing group hikes, celebrating disabled people's experiences in the wild, and facilitating those experiences by making specific information readily available. The organization makes detailed trail guides, of which there are currently 11 written by Nagakyrie about destinations in the Pacific Northwest. The guides are intended for disabled people, but can also be useful for a range of people, like friends and family of disabled people, parents of young children, elderly people, and those with temporary injuries (although Nagakyrie notes that the experience of being injured temporarily is very different from that of the permanently disabled). 
Nagakyrie also thinks broadly about trail use when putting together guides. "I define a hike as anything that you're doing outside—any form of movement—whether that's moving in a chair, or walking, or biking," they say. To approximate the difficulty of hikes, Nagakyrie uses the spoon theory, a rating system that accounts for the limited energy reserves that disabled people have to ration. The guides weigh potential hurdles versus the regenerative potential of an outing; a beautiful vista, for example, could be worth the exertion, even if it means you have to spend the next day or two recuperating in bed. "I can't decide for someone how difficult the trail will be for them," Nagakyrie says. "Only they can do that. That's why I try to provide as much information as I do."
At present, Nagakyrie is the sole person working on the back end of the site. They invite site contributions from those in the disabled community as well as behind-the-scenes help from people who aren't disabled. The website's blog component, Tales from the Trails, is the foundation for a more sophisticated community forum that Nagakyrie would like to build out. It currently features one post, about an accessible cabin in Wisconsin's Blue Mound State Park, written by a couple from the state. 
Although the website is somewhat limited—Nagakyrie maintains the site for free, but we'll get to that later—Nagakyrie has plans for more diverse offerings. They hope to expand the trail-guide library to a national scale and create PDF guides to distribute to other organizations. They're chipping away at a proposal for a guidebook, as well as curating all the online research that's already available from other websites into a sort of e-book, to make researching trails easier. On the ground, they give presentations and work with local groups, like the Washington Trails Association, and Olympic National Park to enact change. This summer, for example, Nagakryie convinced the National Park Service to widen the pedestrian entrance to Olympic Hot Springs Road, which will allow people who use wheeled mobility devices to access the area. Nagakyrie is also developing an ambassador program, which would train chronically ill and disabled folks from throughout the U.S. to lead hikes, write guides, and do advocacy work in their own communities. 
Nonprofits like Outdoors Without Limits, which creates partnership opportunities to help disabled people get outside, and adaptive groups, such as Adaptive Adventures and Disabled Sports USA, already exist around the country, but they're predicated on able-bodied people assisting the disabled. Disabled Hikers is—in addition to being a disabled-led organization—a resource that helps disabled people get outside independently.
On the Olympic Peninsula, Nagakyrie coordinates group outings and leads private hikes on a donation basis, a service that's less rare but equally valuable. (If outings are farther afield, they request compensation to cover expenses.) "This is really important," says Sadaf Hussain, a 48-year-old retired physician from Seattle who has done one guided and one group hike with Nagakyrie so far. "Disabled people often cannot work, or only work part-time, and have limited resources to be able to hire an experienced guide that can provide you with the confidence and support needed to be on the trails." 
Hussain says she was ecstatic to discover Disabled Hikers. Multiple autoimmune diseases, including neuro-sarcoidosis and autonomic dysfunction, have left her unable to venture out alone, even though she considers nature part of her treatment plan. "I often feel guilty when I hike with my healthier, active friends, as they would need to stop frequently for me. So I stopped asking them to join me on hikes," Hussain says. "Syren has eliminated any reservations or guilt I may experience in slowing others down, because the group hikes as fast as the slowest hiker. When one person rests, we all rest."
"The only disability in life is a society that is inherently ableist in an inaccessible world."
Nagakyrie goes out of their way to be inclusive, noting Native land names and adding descriptive captions on photos to help screen readers pick up on informative text; one reads, "The rectangular photo captures the scene at an angle. Aqua blue water flows between a moss covered rock wall on one side and rounded rocks on the other. There is a small waterfall in the background." It's an intersectional approach informed in part by their own identity: a queer, disabled person from a working-class background. This acknowledgement of diversity has proven beneficial not just in their work but in their personal life, too. "Noticing the diversity in nature—and the ways in which all beings have a place—has been healing for me," they say.
Nagakyrie is still recovering from a series of traumatic events that unfolded a few years ago. In the spring of 2016, their younger sister, the middle child of three, died suddenly from disability-related causes, an experience Nagakyrie describes as "absolutely devastating." Six months later, a knee injury left them unable to walk for a time. The circumstances enabled Nagakyrie's increasingly abusive husband to become physical. Nagakyrie knew they needed to get out. After a drawn-out separation process, the two eventually divorced in 2017, a few years into their marriage. Left without a stable place to live, Nagakyrie bounced around before landing in Forks that autumn. 
Through all of it, Nagakyrie says that nature felt like a place to come home. At one point, they lived near the waterfalls of the Columbia River Gorge, on the Washington-Oregon border. "I would just kind of sit, and relax, and breathe," they say. Around the same time, Nagakyrie started a Patreon page to help crowdfund their community work, which also includes volunteering with their local land trust, organizing grief circles, and other projects. Their disabilities prevent them from full-time work, and it can be tough to get by living alone in a rural area. "It was the first time I had really asked for financial support from my work, and since then, it's been…" They give a big sigh. "It's been challenging."
Nagakyrie says people push back on social media about accessibility work: "You want us to pave over the wilderness just so a few people who use wheelchairs can see it?" Strangers quibble about how a disabled person can lead hikes, to which Nagakyrie explains, "Just because I could hike a moderate trail one day doesn't mean I'm not disabled, and it doesn't mean I'll be able to do it again tomorrow." Some people ask how Nagakyrie can spend so much time on Disabled Hikers. "The truth is, it comes at a huge cost," Nagakyrie wrote in one Facebook post. "But that doesn't mean the work isn't important."
Nagakyrie has a love-hate relationship with social media that extends beyond the trolls. While Nagakyrie recognizes the value of using Facebook and Instagram as community-organizing tools, much of their frustration with the outdoor community stems from these platforms. They find that social media tends to perpetuate ableism—even, somehow, when the subject of a post is disabled. Nagakyrie is tired of hearing about "how inspired [able-bodied people] are to 'live their best life' and stop making excuses for themselves about climbing the next 14,000–foot peak," they say. "That is an experience that is entirely inaccessible to a great many disabled people, and using our everyday lives as inspiration to do the epitome of able-bodied privilege is very frustrating."
Nagakyrie rails against what they refer to as "inspiration porn," those viral, feel-good videos that do little to advance the ball. 
"I hear a lot of 'the only disability in life is a bad attitude,' and that is just not true," they say. "The only disability in life is a society that is inherently ableist in an inaccessible world."
Lead Photo: Courtesy Disabled Hikers