Sponsor Content: Bonjour Québec
Experience Endless Summer amid Québec's Wild Riches
Spot moose and wolves, wander old-growth spruce forest, and choose from more than 3,700 miles of hiking trails throughout the province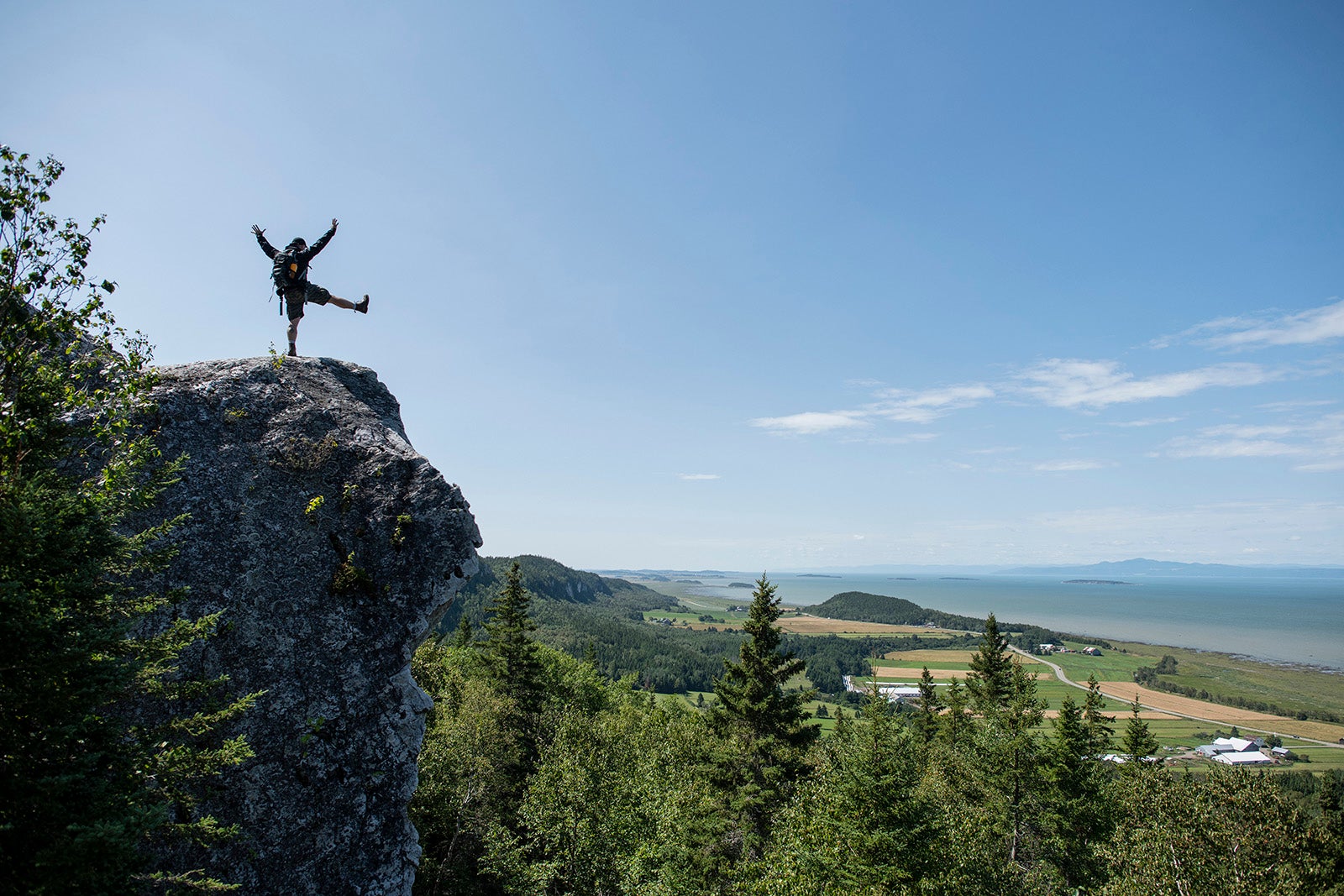 Looking for a summer or fall escape that has a seriously high concentration of life-list nature experiences? Québec, the Canadian province just north of Maine, is home to incredible wildlife, the Northern Lights and starry skies, nature, and more. Summer is an incredible time to be outdoors all day long in Québec, so you'll have plenty of time to enjoy the mind-blowing scenery. 
And you'll need all the time you can get. That's because Québec offers the best of the outdoors—think mountains, deep forests, and rugged coastlines—but with an extra dose of magic that's distinctly Québecois. On the eastern edge of the province, whales ply the Gulf of Saint Lawrence. To the north, moose, caribou, and black bears pick their way through spruce-fir forest and mossy tundra. There's a reason wildlife thrive here: With 30 national parks and more than a dozen wildlife reserves, Québec is serious about protecting its incredible natural resources.
Want to see them for yourself? Here are a few of the province's most gorgeous landscapes, lodges, and wildlife-viewing opportunities to help kickstart your daydreams.
Québec's Wild Landscapes
Thanks to Québec's position north of the Appalachian Mountains, it hosts a stunning gradient of ecological zones. Here you'll find everything from wetlands and boreal forests to open tundra and fjords.
The Far North
In Nunavik, Québec's Far North, you'll find Parc National des Monts-Torngat. Here, jagged, 5,000-foot peaks seem to plunge straight from the sky to the bottoms of glacially carved fjords. Because the park is an ancestral Inuit homeland, it's crisscrossed with a few traditional travel routes. The rest is true wilderness—the perfect setting for guided experiences and off-trail adventures alike. 

Boreal Forest
Don't want to venture all the way into the Far North? Try Parc National d'Aiguebelle, a verdant expanse of boreal forest near Québec's western border. Here, you'll have a chance to see river otters, gray wolves, lynx, and more. Farther east, you'll find many of the same animals—plus the rare wolverine—in the Réserve Mondiale de la Niosphère Manicouagan-Uapishka, a loop of the St. Lawrence River that forms a vast, nearly perfect circle that's visible from space.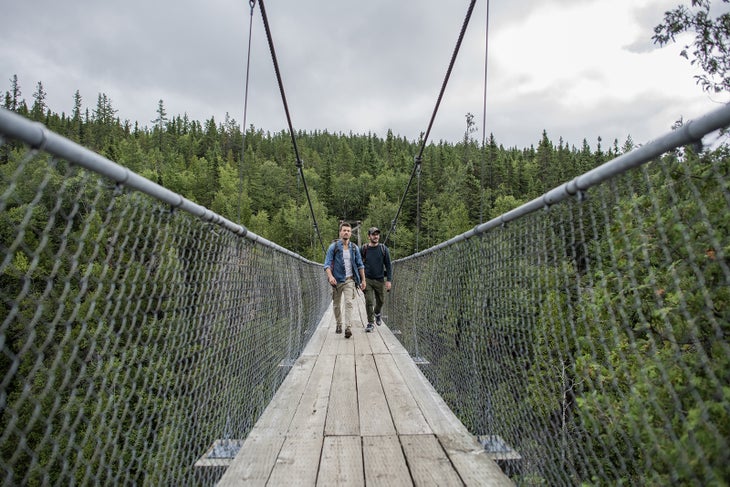 And if you're a true nature nerd, be sure to check out the Echoes of Origins exhibit located between Québec City and Montréal. In this real-life board game, you'll walk through a forested loop and dozens of interactive elements that will help you unlock the mysteries of the region's biodiversity. 
Starry Skies
A little closer to the U.S. border, you'll find Parc National du Mont-Mégantic. Go during the day to tag the summit of 3,615-foot Mont Mégantic, or come at night for the real show: the park is a designated International Dark Sky Reserve and offers some of the best stargazing in southern Québec.
National Parks
Québec's Charlevoix region is among its most wild, and you can reach two of the area's renowned national parks via a scenic mountain road. To the northwest of the coastal town of Baie-Saint-Paul, you'll find the Parc National des Grands-Jardins, where hiking, via ferrata, and canoeing opportunities abound. To the northeast, you'll find the Parc National des Hautes-Gorges-de-la-Malbaie. There, mountain trails twist upward through forest and alpine tundra, and the river offers plenty of opportunities to cool off on hot days.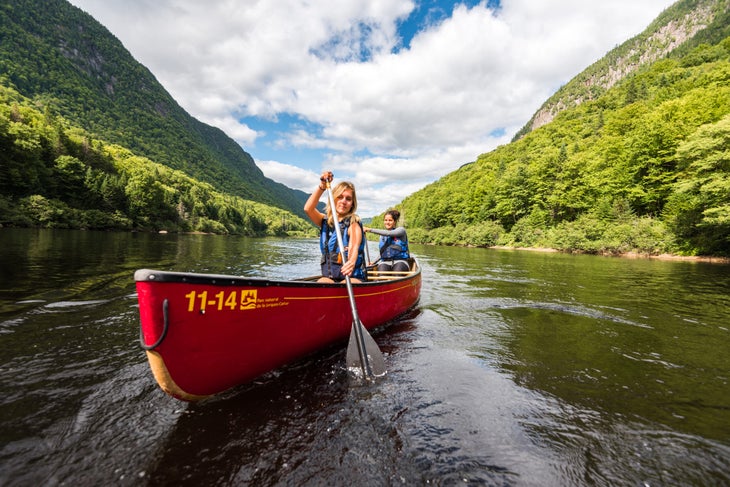 After a day of hiking or paddling, Saint-Siméon is a prime spot to grab a post-adventure bite and drinks. Located in the heart of the Charlevoix region, this village is surrounded by nature on all sides. There are three campgrounds in town and two others just beyond city limits. 
While you're visiting the Charlevoix area, also be sure to head to nearby Saint-Irénée, renowned for its long sandy beach. You can get there by car, but if you're coming in from Québec City, consider taking the scenic route: the 100-year-old Train de Charlevoix.
Nature Getaways
Visiting national parks or wildlife reserves can be an incredible experience, but the best way to truly immerse yourself in nature is by staying the night. Fortunately, Québec is home to some fantastic camping opportunities, in addition to unique eco-lodges and cottages.
Unique Lodging
East of Québec City, nestled at the edge of the Parc régional de la Forêt-Ouareau, you'll find Kabania, a series of tree houses that provide an immersive getaway within the forest canopy. In East Bolton, closer to Montréal, you can stay in a real-life Hobbit house at Entre Cîmes et Racines, an estate dotted with charming, turf-covered cottages. The unique roofing isn't just about looks, either: It provides eco-friendly insulation that keeps the cottages warm in the winter and cool in the summer.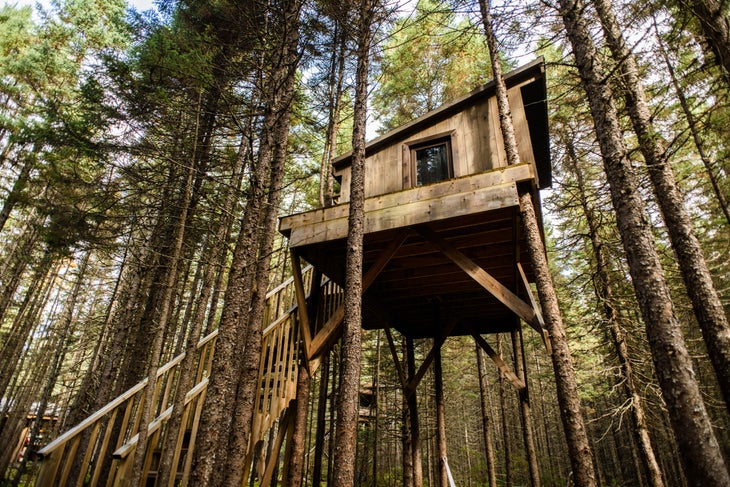 For more of a relaxing riverside escape, head to Île du Pot à l'Eau-de-Vie at the mouth of the St. Lawrence River. There, you can get away from it all for a few hours and discover, with a guide, the plant and animal life and maritime history of the island.  Like what you see? Stay the night in a renovated, 150-year-old lighthouse tucked within the island's wildlife reserve. 
Spas and Resorts 
Québec has something for the luxury-minded, too: If having access to full amenities is more your style, try Fairmont Le Château Montebello, a riverside spa resort inside the world's largest log cabin. The resort is located in a massive forest—which means you can go straight from immersing yourself in luxury to immersing yourself in nature, no commute required.
Amazing Seafood
Another bonus of a nature getaway in Québec: No matter where you stay, world-class seafood is never hard to find. Thanks to Québec's close connection to the St. Lawrence River, seafood is woven into the culinary and cultural fabrics of the province, and it's available year-round. Not to be missed: smoked salmon and herring, both a tradition in Québec and a point of pride for the region.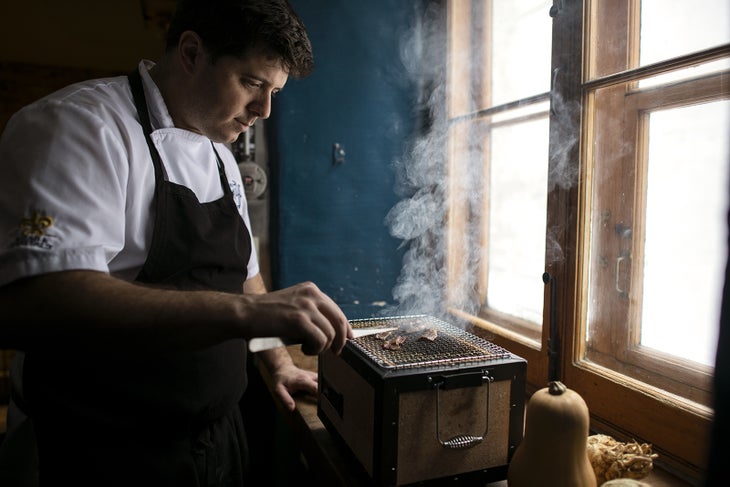 Wildlife Encounters
It doesn't matter if you're a birder, a whale-watcher, or just an average hiker with a thing for bears: Québec has it all. With more than 14,200 square miles of national parks, biosphere reserves, and nature preserves, Québec is covered with vast tracts of untrammeled habitat. That makes it one of the best places for wildlife viewing anywhere in North America.
Birding
To start, the province is home to more than 300 bird species. That includes beloved characters like the Atlantic puffin—easily spotted at the Réserve de parc national de l'Archipel-de-Mingan—and the northern gannet, a striking white seabird with a 6.5-foot wingspan. To see the latter, head to the Parc National de L'île-Bonaventure-et-du-Rocher-Percé, home to one of Canada's biggest nesting colonies.
Marine Life
Offshore, keep your eyes peeled for seals and 13 different species of cetaceans in the Parc Marin du Saguenay-Saint-Laurent, Canada's biggest marine conservation area. And if you want to see some of those critters up close, head to Exploramer, an aquarium and activity center that runs fishing tours, sea excursions, and more. 
Land Animals
Farther inland, you can spot all kinds of life-list megafauna within just a few hours of Montréal. To the northwest, Refuge Pageau provides a home for gray wolves. Moose are common among the lakes and streams north of the St. Lawrence River, and black bears roam the brush and meadows throughout the province.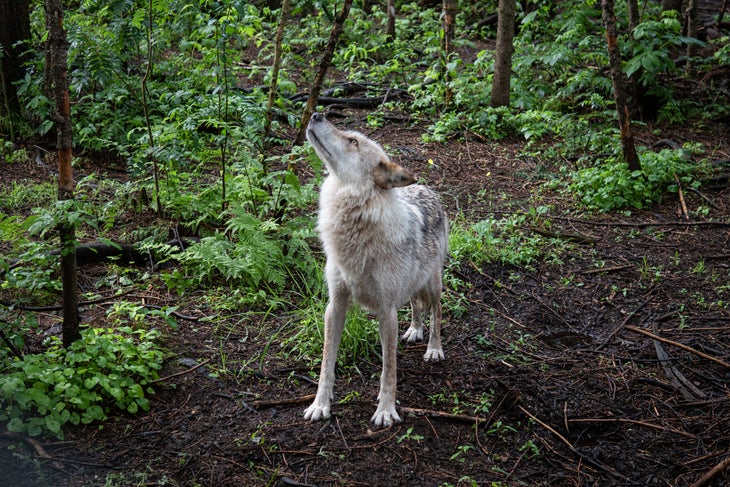 While you don't have to go far from civilization to see amazing wildlife, there are rewards for the adventurous: Arctic foxes, arctic hares, and the occasional polar bear all wander across the tundra in the province's northern reaches.
In Québec, the options are endless. It's only up to you how far you want to go.
Looking for more things to do in Québec? Read about adventures on the water in Québec.
---
Bonjour Québec's mission is to promote the destination. We are proud to highlight this magnificent land, its creative culture, and authentic experiences, and to encourage people from near or far to discover Québec as never before. It's a place you will fall in love with at first sight and want to come back again and again.
Lead Photo: G. Leroyer