Semi-Rad
Three Days Skiing the Arctic Haute Route
A supposedly fun thing I would absolutely do again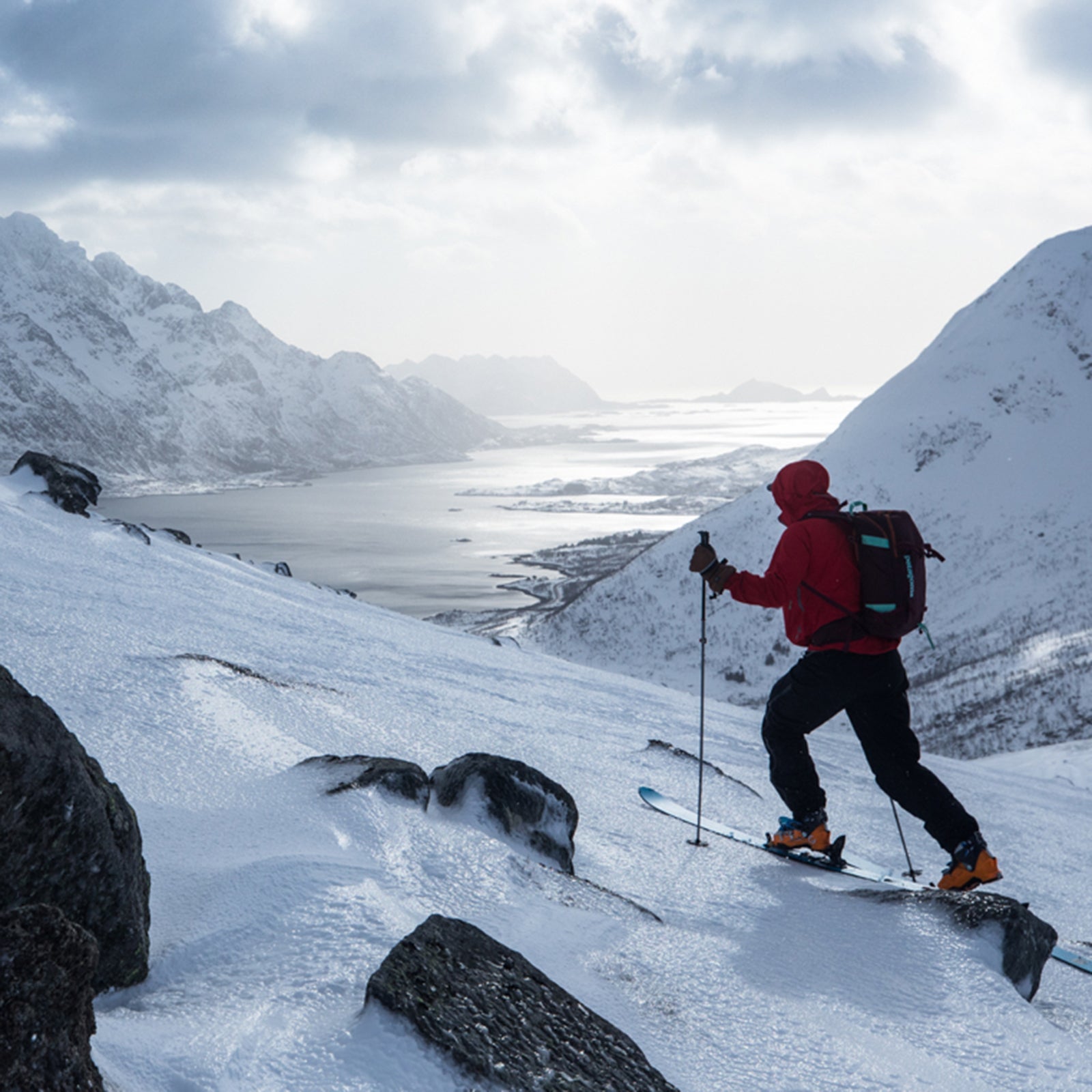 Tommy Penick(Photo)
Heading out the door? Read this article on the new Outside+ app available now on iOS devices for members! Download the app.
This is the tenth year of my blog, Semi-Rad, and since I started it, I've been fortunate to get to do some pretty wonderful trips. Throughout this year, I'll be writing about 12 favorite adventures I've had since I started writing about the outdoors, one per month. This is the first of the series.
On deck C of the MS Nordstjernen, anchored almost 200 miles north of the Arctic Circle, passengers clomped around in ski boots and fussed with stuffed backpacks and life jackets as snow fell through the fog into the dark water of the Stonnesbotn Fjord outside. Everyone was excited, because it was our first of three days of skiing on Norway's Arctic Haute Route—everyone except the one guy who drank too much in the lounge the night before and missed his group's departure to shore; he frantically asked whether he could join another group, but our guide, Bjorn Kruse, politely explained that we were at capacity, with five skiers to one guide.
Another reason I suspected he said no: Bjorn was motivated to ski—a lot. His plan was to hop on the tender boats that would motor us over to shore in five minutes, take the bus 15 minutes across one of the narrow fingers of Senja Island to the shore just below 3,284-foot Breidtinden (the highest peak on Senja), and then traverse back across the island, summiting another peak (2,168-foot Tuva) before skiing down to shore again. All in all, that amounted to about eight miles of skiing and nearly 3,900 feet of climbing.
There were 60 of us, including eight guides, on the MS Nordstjernen—a 290-foot ship with four passenger decks that served for more than 50 years on Norway's Hurtigruten coastal cruise line before it was retired from those duties in 2012. The vessel was described as "nostalgic and venerable" in promotional literature, and it felt more like a real ship than a fancy cruise ship, something out of a Wes Anderson movie. In the old Hurtigruten brochure, under the heading "Fitness Room, Sauna, Pool, Jacuzzi," it read, "There are no such facilities on board MS Nordstjernen." (My trip was in 2019. For 2020, Arctic Haute Route trips will be on a newer boat, the MS Quest, built in 1992.)
The Arctic Haute Route, dreamed up by Nina Kristine Madsen Geelmuyden and her husband, Fredrik Geelmuyden, owners of the Norwegian Adventure Company, works like this: Skiers board the boat in Tromso, Norway, the afternoon of day one. They cruise south, anchoring in a fjord for the evening, and sleep on the ship. On day two, they're dropped on shore, ski all day, and return to the ship in mid- to late afternoon. They cruise south again to another fjord, spend the night on the ship, and ski new terrain on day three, returning to the ship and heading south again to anchor in one last fjord. The final day of skiing, on day four, ends at a bus that takes the group to the airport at Svolvær, where everyone catches flights home. The boat then turns around to head north with a new group of skiers the next day. There are eight Arctic Haute Route trips per season (which runs from March 19 to April 21), four southbound and four northbound, and a charter bus carrying everyone's skis parallels the boat's course the entire time.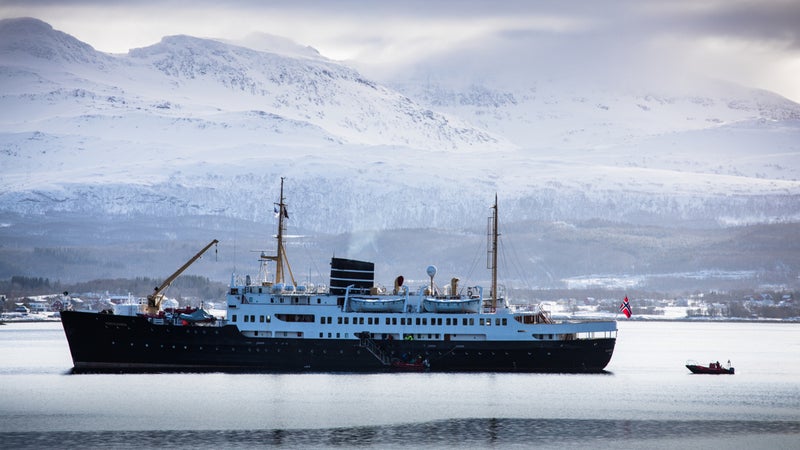 The bus dropped us off for our first ski day, and fat snowflakes dropped on us as we skinned up through thin trees, the peaks around us shrouded in low clouds. In my group was photographer Tommy Penick and three lively Norwegian guys from Oslo in their fifties: Ragnar, Frode, and Rune. We followed Bjorn, who owns and operates the Romsdal Ski Lodge with his wife and works as a guide on the Arctic Haute Route as a break over the winter.
We climbed above a fjord, Mefjorden, that opened into the Norwegian Sea about ten miles northwest of us. Occasionally the clouds opened up to reveal peaks all around our path, on the mountainous northern coast of Senja, a 612-square-mile island connected to the mainland by a single bridge. I should have started cold but didn't, and too many layers had me sweating as we climbed. Before the trip, I had skied exactly one day that season, instead spending most of my time running and training for a couple of mountain ultramarathons. I was not exactly expecting to make great turns. So when we ripped our skins off after about 40 minutes of climbing for a little 300-foot run down a gully, my fears were confirmed: my quads were burning after three turns in powder. But it was still so good.
We skinned up two shorter mellow climbs before dropping down into a valley for our final ascent, 1,700 feet into sunny blue skies to the summit of Tuva. From the top, we looked down to see our tiny ship parked in the fjord. I skied last, not so confident in my wobbly legs and also not wanting the rest of the group to observe my sloppy survival skiing through the trees to the road. Bjorn, it was clear, would find the best possible skiable snow, partly because we were his clients but also because he just loves to ski. We arrived at the bus at 3:30 P.M., and after a short drive and a quick tender boat ride, I plopped down to drink coffee and admire the mountains from a lounge window as the boat cruised out of the fjord and on to our next stop.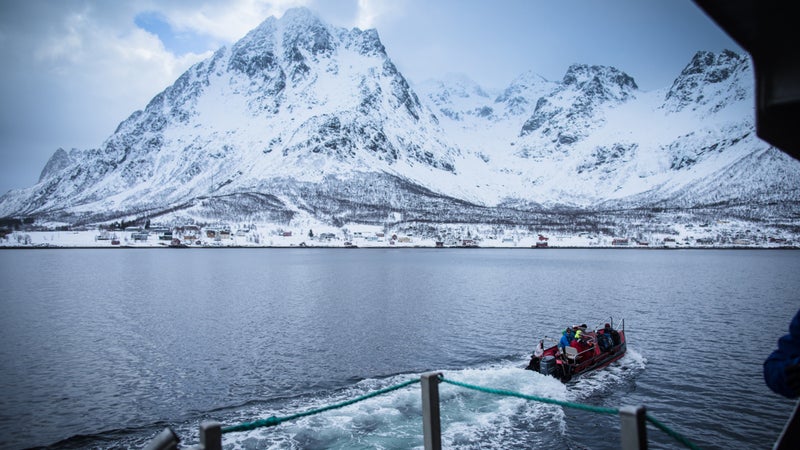 Mention Norway to someone and one of the first things you'll probably hear them say is the word expensive. And compared to destinations like Mexico or Thailand, it is. To explore the Arctic Haute Route for three and a half days with the ship costs 19,900 Norwegian kroner per person—about $2,230. Objectively, that is not cheap, but the price includes all food, transportation, and lodging, plus three days of guided backcountry skiing. It's certainly one of the most expensive trips I've done, but in full disclosure, my trip was paid for by the Norwegian government's tourism body, in hopes that I would write about it. I don't do many press trips, and I don't seek them out, but when this email landed in my inbox, it sounded like something I shouldn't pass up. The question I wanted to answer was: If I had to pay for this adventure out of my own pocket, would I? Now that I know what it's like: yes. I can't pretend to be 100 percent objective about that, but I can say that if it had sucked, I wouldn't have written about it. And it didn't suck.
There are only a few places in the world where you can go on a ski cruise—Norway (which includes Svalbard), Alaska, and Antarctica—and the Arctic Haute Route is one of the more affordable of those destinations. And it involves much more skiing than cruising, or at least my idea of cruising, which is something like David Foster Wallace's A Supposedly Fun Thing I'll Never Do Again: a bright white ship more than 20 times the size of the MS Nordstjernen, plowing through bright blue Caribbean waters in all-day sunshine, offering fancy dinners and onboard activities, and accommodating ten times as many passengers, most of whom make way more money than I do and who don't necessarily want to spend six hours and 3,000 calories a day skiing uphill and downhill. That sort of thing.
The similarities between a luxury cruise line and the Arctic Haute Route were probably limited to the fact that both utilize boats. Although I'm sure some of the folks on our trip had a bit money, if you lived in Norway, something like the Arctic Haute Route is relatively affordable, not much more expensive than a four-day trip to ski Breckenridge or Vail if you live in Chicago. The food on the MS Nordstjernen was fancy (the menu was developed by Gunnar Hvarnes, Norway's Chef of the Year in 2009), but no one wore fancy clothes to dinner. I can't speak for the other passengers, but Tommy and I didn't shower our entire time on the boat, and no one seemed to notice. It was just enough of a cruise to feel like we had nothing to worry about besides eating, sleeping, and skiing, but not so chichi that it ruined the feel of an adventure.
On the afternoon of day two, Tommy and I went up to the bridge to visit the captain and instead found the Polish first mate looking out at a 180-degree view and navigating us straight down the middle of the almost mile-wide fjord, snowy mountains poking out of the water on the horizon. His tools, brightly colored charts on multiple computer monitors and electric panels, were spread among a few of the ship's remaining old instruments. He explained that the old stuff was no longer in use, just decorative now. Tommy took photos around the bridge and then pointed at one lever with the old Norwegian markings—Halv, Sakte, Ganske Sakte, Klar, Stopp, Vel—suggesting that a human hand on it might make for a better photo. I grabbed the lever and moved it just a half inch, and the first mate very gently noted to us, "We still use that one." I jumped back and apologized, even though he seemed unconcerned.
"What's it for?" I asked.
"Speed." We all laughed.
Once we stepped onto the boat on the first day in Tromso, we never stepped foot onto land except to ski. Every morning we had a buffet breakfast (and, later, a packed lunch from the buffet breakfast to eat while skiing) and every evening dinner again on the boat. Some days we saw several other groups from our ship, some days we hardly saw anyone. We woke up at 6:15 A.M., hopped in the tender boats between 8 and 8:40, and were clicking into our skis by 9, skinning up, dropping in off the top of a peak, and skiing until 3 P.M. every day.
Depending on how you measure it, Norway has either the second- or seventh-largest length of coastline of any country in the world. Either way, it spans at least 36,000 miles and is comprised of tens of thousands of islands and more than 1,000 fjords. Most of the land here is rugged, nonarable, and mountainous. To be on a ship cruising through the fjords on a day with decent visibility is a large part of the fun of a trip like this.
As the MS Nordstjernen motored past the southern coast of Hinnooya in the late afternoon of day two, I sat on the port side of the empty restaurant, sipping coffee and writing in a pocket notebook as the daylight started to fade over the coastline. I looked out the window, over the black water to the shore, to see waves of snowy mountains rising from the fjord. One triangular rock face stood out, its north side dropping almost straight down for hundreds of feet. I recognized it from photos: Stetind, Norway's national mountain. I had obsessively scoured the internet for information about climbing it a few years ago, then decided I couldn't justify a special trip for one route. I figured I'd never see it in person, let alone from a ship 15 miles away in the winter. Through the glass, I took the best iPhone photo I could, then admitted defeat and decided to just enjoy the moment instead of faffing around trying to capture it. William Cecil Slingsby, an English climber considered the father of Norwegian mountaineering, famously called it "the ugliest mountain I ever saw." I guess I would disagree, along with all the people who voted it Norway's national mountain in 2002.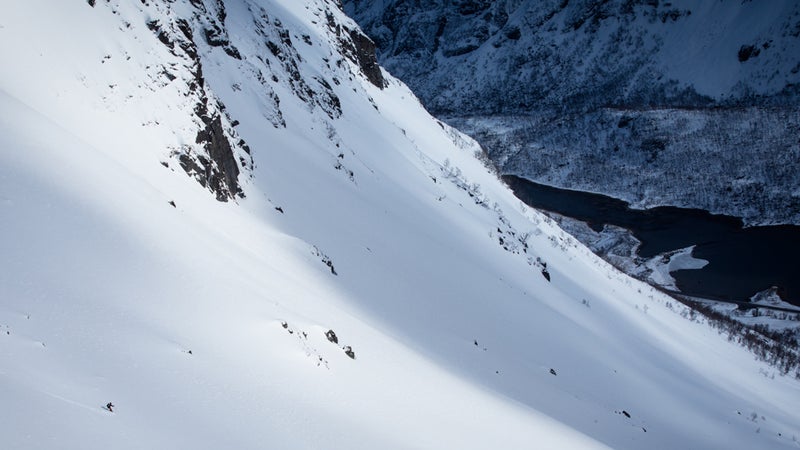 Our final ski day was supposed to be a short one, since everyone on the boat was flying home later that afternoon. I felt less than great, tired from the previous two long ski days and still unable to shake a bit of a cold I'd had when I left the U.S. I looked out the window as I ate breakfast, watching rain mixed with snow fall on the water, halfway wishing someone would just say I should take the day off. Tommy was tired, too, but around the boat, no one seemed to be making moves to not go skiing.
We hopped on the last tender boat off the ship, at 8:40 A.M., saying goodbye to the MS Nordstjernen, and clicked into our skis again to skin up the south side of Sautinden, a 1,955-foot peak. The wind grew increasingly hostile as we gained the open slopes of the upper half of the peak's west face, so we bailed to a saddle on the east ridge and then across the north face, where the sun came out and the wind quieted. After a few laps up and down the north side, Bjorn took us back up to the saddle, where Frode, deciding he'd had a good day, joined another group to head back down to a waiting bus. We skinned up the east face of Sautinden, still pretty windy but tolerable, on snow topped by a half-inch-thick crust that made it difficult to climb, even with ski crampons. Directly south of us, the sun poked under the afternoon clouds and bounced off the waters of the Austnesfjorden, pointing almost straight south for eight miles. I tried to take a video but noticed immediately that the wind was vibrating my phone and put it away.
A few minutes of insecure skinning later, we stood on the wind-packed summit of Sautinden, our last peak of the trip, and looked down on the water below. Bjorn led us off the summit to where he thought there'd be good skiing, a sunny bowl on the east face of the peak, which probably meant a lengthy walk at the bottom to the bus, parked on the edge of the fjord on the other side of the mountain. After about 150 feet of crusty garbage down the steep face, it turned to powder, and I linked eight or ten of my best turns of the entire trip, finally getting my shit together and actually skiing at the end of the last day. We kept descending, paying for our great snow and turns with an exit through tight, short trees, over a barely covered boulder field, stepping over a low fence into someone's backyard, where a mellow golden retriever greeted us and got a healthy ration of ski-gloved pets as we popped off our skis for the 20-minute walk back to the awaiting bus and then the real world.
Brendan Leonard's new book, Bears Don't Care About Your Problems: More Funny Shit in the Woods from Semi-Rad.com, is out now.
Lead Photo: Tommy Penick
Trending on Outside Online