Speed Dating on a Chairlift Is a Real (and Actually Fun) Thing
Our writer went searching for love on skis and rejected just two snowboarders in the process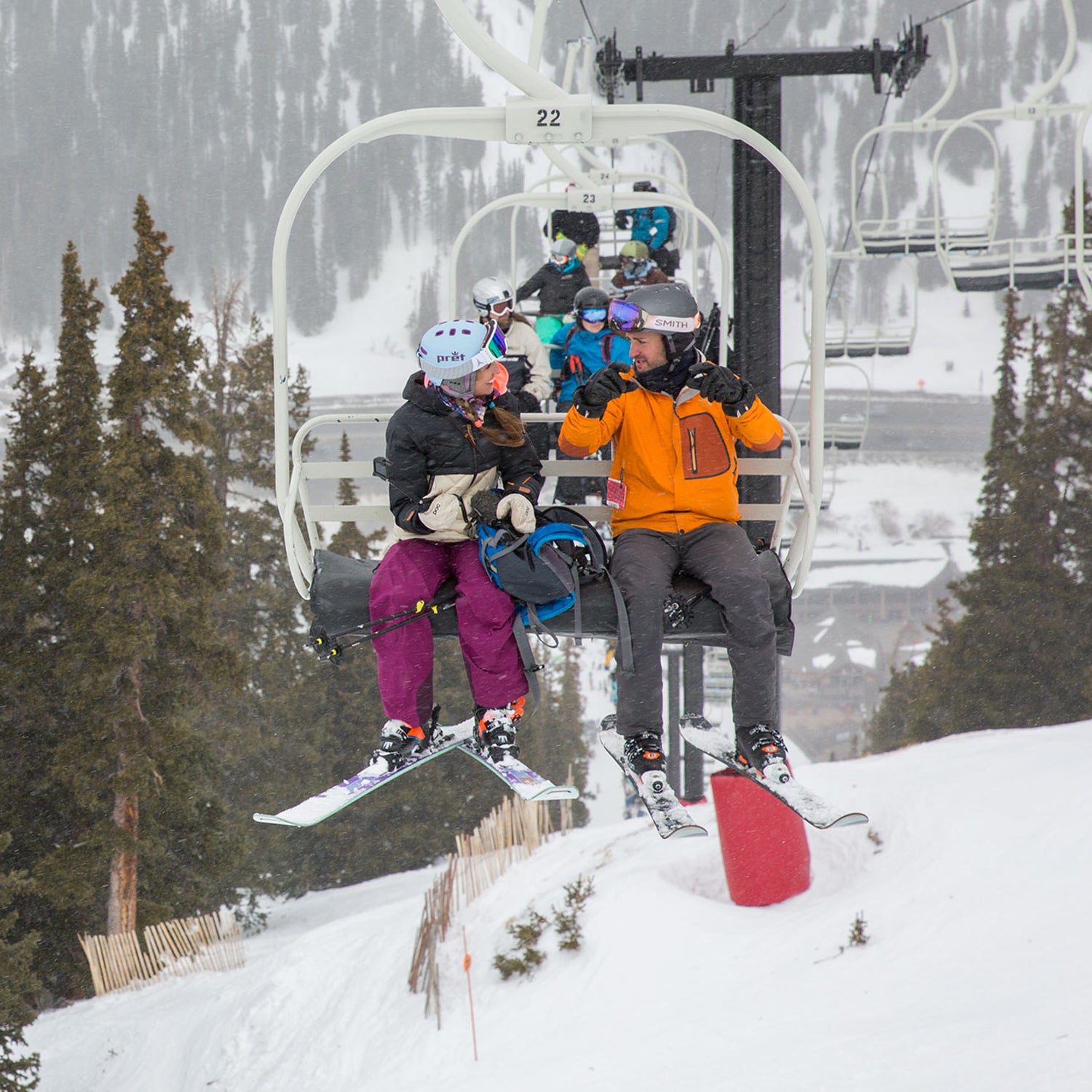 Heading out the door? Read this article on the new Outside+ app available now on iOS devices for members! Download the app.
When I ended a five-year relationship in the fall of 2016, I had no desire to rush back into the dating scene. But there I was, six months later, trying to get out of my comfort zone by skiing with complete strangers at a chairlift speed-dating event.
Luvbyrd, a dating app for outdoorsy types, has organized these speed-dating events since 2015 and hosted a day at New Hampshire's Crotched Mountain and two days at Colorado's Loveland this year. I signed up for one at Loveland the weekend before Valentine's Day. The basic gist: I show up and pin a ribbon indicating my age group (18 to 35) to my jacket, and an event organizer matches me with someone in my age bracket. Then my date and I head off to ride the lifts together and ski any runs we choose. If we like each other, we can ski together as long as we want. If we don't click, I can go back to the base and get a new match.
Sitting in Saturday-morning ski traffic on I-70 the day of the event, I was hopeful about getting back into the outdoor dating scene but worried that my dates would leave me in a spray of snow. I'm a pretty cautious skier, and I figured everyone there would be shredding. Not to mention, in the aftermath of splitting from the person I thought I'd spend the rest of my life with at the age of 30, the very concept of dating seemed absurd. The closest I'd gotten to another living being in the past few months was spooning my dog every night. My biggest anxiety, though, was that I had no idea how people would pair up to ride the lifts together. What if nobody picked me?
When I arrived at the bottom of the lift, I was surprised to see so many other speed daters milling around. More than 200 people had signed up, with an almost equal split of men to women and far more skiers than snowboarders. Curiously, there seemed to be a lot of women in the older age brackets (35 to 45 and 45-plus) and a lot of men in the youngest one. (Numbers from preregistration show that 45 percent of the participants were in the 35-to-45 bracket, while 35 percent were in my 18-to-35 bracket.) The crowd was buzzing with nervous excitement. The man from Luvbyrd was pairing whoever seemed to be in his immediate line of sight within the same age group.
He looked at me and asked, "Are you paired up yet?" When I said no, he looked at a tall guy standing three feet from me and asked, "Wanna go with her?"
"Sure!" the tall guy said, and we were off.
Lift Date Number One* was a late-20s software engineer. As we headed to the lift, I explained that I'm not a skier who climbs—instead, I'm looking for a climber who skis, just like me. I said this throughout the day, partly to be honest about what I was looking for, and partly to put a disclaimer out there about my mediocre skiing abilities. "Oh, me too!" he said. My hopes skyrocketed. We shared easy conversation about skiing and mountain towns, and eventually I asked him what type of climbing he did.
"Oh, mostly top roping and some bouldering," he said. "I don't go outside much because I don't really have the gear."
Dammit. There went the possibility of a future Mrs. Software Engineer. Much as I hate to admit it, I want a partner who climbs and skis better than I do—someone I have to keep up with. I rate my abilities in both pursuits as average, so I don't think this is asking too much. We skied two warm-up laps on a blue run. Even though he seemed like a great guy, it was early in the day, and meeting someone more compatible seemed probable. I thanked him for the fun time and mumbled something about getting another match. He didn't seem offended and suggested we meet up for a drink later.
This would prove to be the most awkward part of the day: letting my dates know I wanted a new match. Each guy was good in his own way, but speed dating is like getting a handful of tasters at a brewery: sample as many as possible before you commit to one.
---
Throughout the day, I asked questions and took mental notes about my dates, identifying aspects as pros (tall, easy to talk to, accomplished in the mountains) or cons (really into cars, self-absorbed, inconsiderate). With enough pros, I had myself a match. Or at least a second lift ride.
The one thing my logical approach to dating didn't account for is the je ne sais quoi, the It Factor, the spark. As soon as I arrived at the base after parting from Date Number One, I heard a voice behind me say, "Hey, what color ribbon are you?" I turned to see a cute skier boy (at least from what I could tell based on the five inches of exposed face under his goggles) smiling widely. I felt a flicker of something in my gut.
Asking the ribbon question here seemed akin to asking, "Hey, how old are you?" as a pickup line in a bar. I mentioned this to him, and we both laughed. Before we could get matched with anyone else, he invited me to ski.
Our chatter flowed from work to college to the outdoors. He laughed at all my jokes (add that to the pro column), and I was surprised to learn that he worked for my alma mater. He had a huge smile on his face the whole time, which put me at ease. Later, when I almost went down on a run but saved it at the last minute, he yelled across the slope, "Nice job, Alabama!" Not only had he remembered my home state, he already had a nickname for me—now I was the one grinning.
Still, he was a good bit younger, only skied downhill at resorts, and was pretty religious (all cons in my book). At the end of a long ski run, I would have kept riding with him, but there was still the possibility of meeting someone even better. When I told him so, he seemed a little taken aback but not crushed. We had a connection, but age, religion, and hobbies are weighted more heavily on my figurative pro-con list. If I was going to get through a whirlwind day of dating on the chairlift, I'd need to stay faithful to at least a few nonnegotiables.
---
When I was partnered with a snowboarder for date three, I immediately wrote him off as a potential match. I don't have anything against snowboarders, personality-wise. They just don't align with my own goals in the mountains, which lean toward touring and backcountry skiing. I guess a splitboarder would be OK, but I'm an impatient person. I was frustrated just thinking about waiting for him to make the lengthy transition from two sticks to one.
Then I found out that Date Number Three was only 19. He was a very sweet kid—he even stopped to help a ten-year-old girl who had taken a bad fall and stayed with her until ski patrol arrived. The scene was endearing, but he was closer in age to the preteen girl than to me. This was my only hang-up about the event after all was said and done: the 18-to-35 age bracket was a bit wide for my taste. A 17-year age gap might not matter when you're 60, but in terms of maturity, it's essentially the difference between a high school senior and a mother of three.
Back at the bottom, I clicked out of my skis for a quick break when a guy walked past me, then abruptly turned around and asked me to ski. I'd like to say it was my ravishing good looks that made him do a double take, but I could feel his eyes ogling something lower than my face. I know my tech bindings and AT boots are sexy, I thought, but, dude, my eyes are up here. Earlier in the day, I had seen this same guy checking out my ski setup, and as we chatted in the lift line, I noticed we had the same boots.
Date Number Four and I talked about everything from living in a van to his plans to climb and ski Denali. He was bubbly and very interested in asking about my life. He was a dedicated skimo racer, ultrarunner, and musician, clearly ambitious and accomplished. About 40 minutes in, he admitted that he had been on the way to the bathroom when he decided he had to stop and ask me to ski. I was flattered. In the annals of first dates, especially ones that happen on a chairlift, this one was top-notch.
He hinted at continuing our time together, which I would have been glad to do, but part of me was having so much fun changing it up that I decided to get another match. Five minutes later, I regretted this decision when I got paired with another snowboarder.
---
After parting ways with Date Number Five, the speed-dating portion of the event was over. There was still social hour and a raffle, but anxiety had kept me up the night before, and my introverted brain was exhausted. I drove home in good spirits—I had expected the day to be mostly forced, awkward conversation, but it came naturally on all five dates, even when I didn't seem to have much in common with the guy. Participating in a shared interest provided plenty to talk about—snow, weather, gear, experience—in addition to the usual pleasantries. Each guy was open and happy to be there, which made sense—why sign up for a speed-dating event unless you really want to meet new people?
I didn't walk out with a soul mate or any love-at-first-sight stories, but Date Number Four did ask for my number. He texted me the same night and invited me to go touring later that week.
I've been slowly testing the waters of dating again, and the chairlift event helped me remember that there are a lot of skiers on the hill. Maybe one day I'll find the guy who wants to close my eights just as much as I want to open his.
*Names withheld for obvious reasons.
Lead Photo: OutThere Colorado