Tough Love
How to Manage Politics and Your Parents
What do you do when your parents' political views directly impact your life?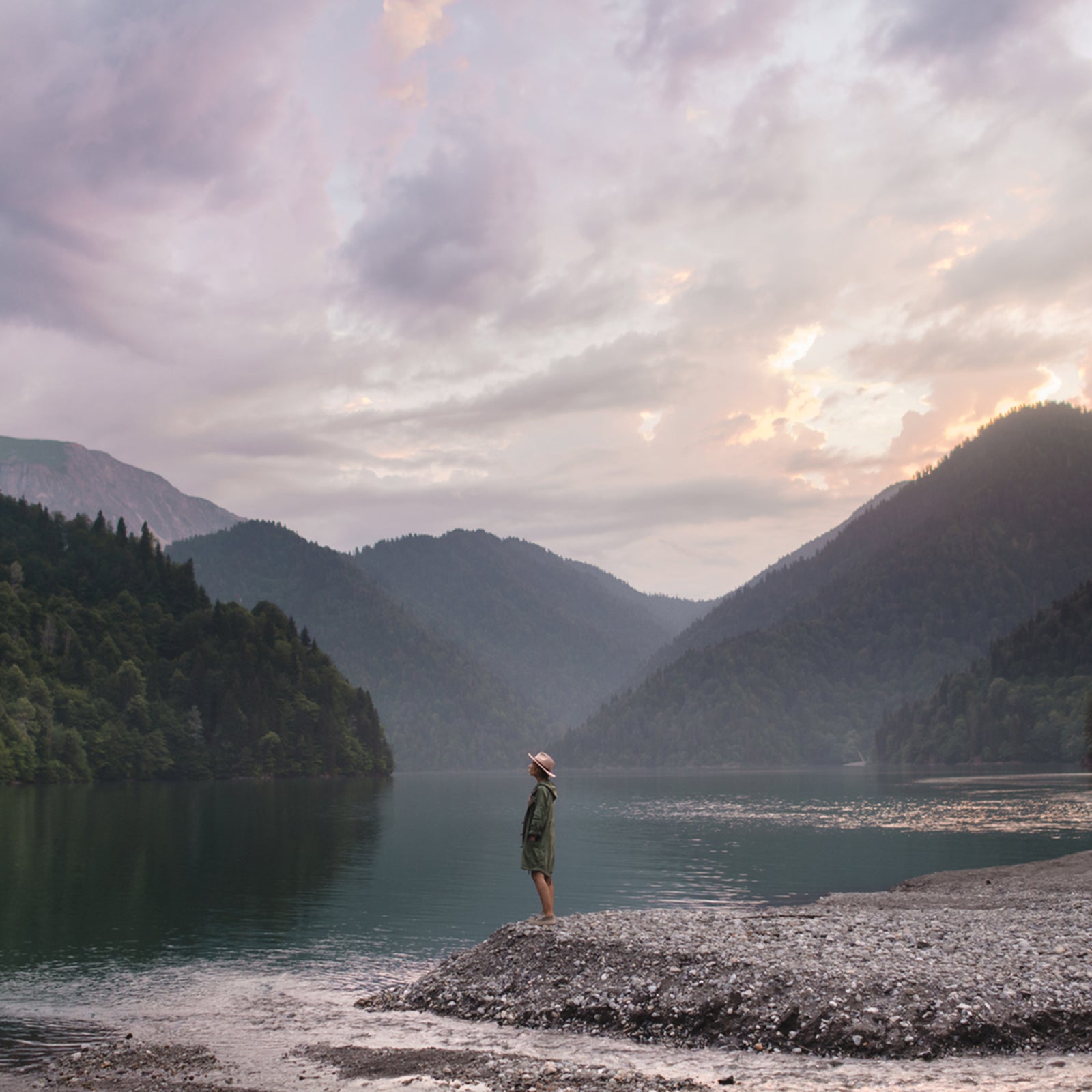 Heading out the door? Read this article on the new Outside+ app available now on iOS devices for members! Download the app.
Welcome to Tough Love. Every other week, we're answering your questions about dating, breakups, and everything in between. Our advice giver is Blair Braverman, dogsled racer and author of Welcome to the Goddamn Ice Cube. Have a question of your own? Write to us at toughlove@outsideim.com.
---
I have an incredibly close relationship with my family. I came out as gay a couple of years ago and they were warm and welcoming. I moved abroad about a year after coming out and met my now fiancée. My parents have always been amazing to her and love her very much. They treat her like she is family.
They voted for Trump. I don't like it, but I also believe that everyone is entitled to their own opinion. We've not really dwelled on our differing political opinions and over the past three years I've mostly used humor to cover up the real horror stories that lie beneath the surface. 
My fiancée and I live in Germany. That means I get free healthcare (which is incredible because I have an autoimmune disease). My fiancée is German, so it makes sense to stay here for now, but we also like to think of the future. I have been researching American policies on visas for same-sex partners. It seems that as long as Trump or anyone who follows his type of administration is in office, my fiancée and I will not be legally allowed to move back to the United States as long as we want to stay together.
Recently my mom and I were having our weekly FaceTime session and I was wearing an Elizabeth Warren shirt. She joked that I wore the shirt to spite her, then started nagging me about Trump. I got brave and told her that I wouldn't ever be able to move back to America as long as he was in office because they were rejecting everyone and my fiancée likely wouldn't get a visa, and she said, "well, that's the lesser of two evils." And it shocked me. It hurt me. Deeply. My mother is an educated woman. She's smart, witty, and she's aways taught me and my sister that we can do anything we set our mind to. She's an educator and has championed for the underdog. My dad is the same way. He'd give the shirt off his back to anyone who needed it. So I don't get this mindset. I truly don't.
What advice do you have for someone who loves their family tremendously, gets all the love and support in the world from them, until it comes to Donald Trump and they'd choose me, my fiancée, and our future family living on the other side of the world as the lesser of two evils?
What is this apocryphal greater evil? What left-wing agenda could your parents possibly believe is more damaging than forcing their own daughter to either live a continent away from her beloved family or to be separated from her wife and, possibly, her future children? Seriously, what is worse than that? The people we love, the lives we love, are the point of everything. Even the most sensitive right-wing issues, like gun access and closed borders, are framed—in theory, at least—around the idea of being able to protect one's family, and yet your mom is rejecting that very value. That you've managed for so long to maintain your close relationship without confrontation speaks wonders to both your compartmentalization skills and to your ability to absorb pain and fear out of respect for your loved ones, something that your parents seem completely unwilling to do.
First things first: you should speak with an American immigration lawyer immediately. As you know, legal immigration has become increasingly difficult over the past few years, with certain visas denied at sky-high rates. As of 2015, married couples should have equal immigration rights regardless of gender; but Trump has been systematically rolling back protections for LGBTQ people, including visa rights for some unmarried same-sex couples. I don't know the details of your situation, but you may be able to take precautions, or jump through certain hoops, in order to maintain your and your fiancée's options down the line. Don't wait for your parents' support; don't count on a new administration; plan for the worst and be ready to act fast if need be.
Now, back to your parents.
Here's the thing: Voting is not symbolic. It's not a gesture. It is a tangible step toward putting a candidate's policies into action, and it makes you, as a citizen, responsible for the effects of those policies. If your father would give the shirt off his back to anyone who needs it, but his vote supports cutting food stamp benefits for elderly and disabled people, then he would not, in fact, give the shirt off his back to anyone who needs it. If your mom is a champion for the underdog who supports an administration that separates thousands of immigrant kids from their parents, then, in fact, she is a champion for the powerful and cruel. And not only have your parents stood by these choices, but, in the face of their own child facing consequences from the same administration, they're doubling down.
Parent-child relationships have been severed over far less, and you would be fully entitled, as a human with both practical and emotional needs, to turn your back on a family that has—yes, in very real ways—turned its back on you. But it sounds like that's not what you want. And while I have no sympathy for your parents in this scenario, I have all the sympathy in the world for you, and I don't want your family of origin, whom you so clearly love and respect, to be yet another thing stolen from you by this administration.
I suspect you wore your Warren shirt on purpose, at least on some level, because you can't keep hiding your reality from your parents. They want you to seem okay because it lets them off the hook, but they don't actually care enough about you being okay to reevaluate their politics. They've put you in a terrible position, and it's time to lay everything on the table.
It might be tempting to confront their position with a logical, politically-sound case, but I suspect that your most effective strategy here, if you want your parents to step up and act like parents, is to speak to them not as a fellow citizen but as a daughter. People can argue with statistics, but they can't argue with stories, and it's time for your parents to face yours. You could choose to either speak with them or write a letter. Depending on your sister's politics, you might ask her—or your fiancée—to be another beloved face in the room (or on the Skype screen), holding your parents accountable to the story in front of them.
Tell your parents how you feel. Speak to the parts of them that you grew up admiring, the compassion and generosity that they raised you to uphold. Tell them how much it means to you that they've embraced your fiancée, but that that embrace feels shallow if they won't take a stand to protect your rights. Tell them how you dream of your future kids growing up close to their grandparents, singing along with your mom's guitar and making your dad's famous spaghetti sauce, and you're scared that they'll never get the chance—that you'll never get that chance together. Ask them for help finding ways to live on the same continent. If you want to beg, beg. This is what you want from life. This is what you need from them. This is what it means, what it takes, for them to love you.
And then give them some space. Let them know that you will not be reaching out again until they have sat with your situation, with the gravity of your fear, and have decided how they want to respond.
Maybe compassion will win, and they'll begin to understand. It won't be fast, but deep change rarely is. 
If not, if they still believe that their daughter's suffering is a lesser evil, then your relationship is going to look different. It's up to you to determine an amount of contact with them that builds up your life rather than erodes it; that might mean you choose to maintain regular Skype dates, or it might mean taking a step back and focusing instead on the loved ones who support you. Either way, you need to stop covering up, as you put it, the real horror stories. It's not your job to pretend to be okay.
Whatever happens—and I hope for you, with my whole heart, that your parents come around—your relationship with them will finally be honest. It's the least you deserve, the least any child deserves. I hope you get all you deserve and more.
Lead Photo: Alexander Grabchilev/Stocksy