5 Kickass Athletes Who Take Activism Seriously
Seems like everyone has a cause these days. These women are actually making good on their promises.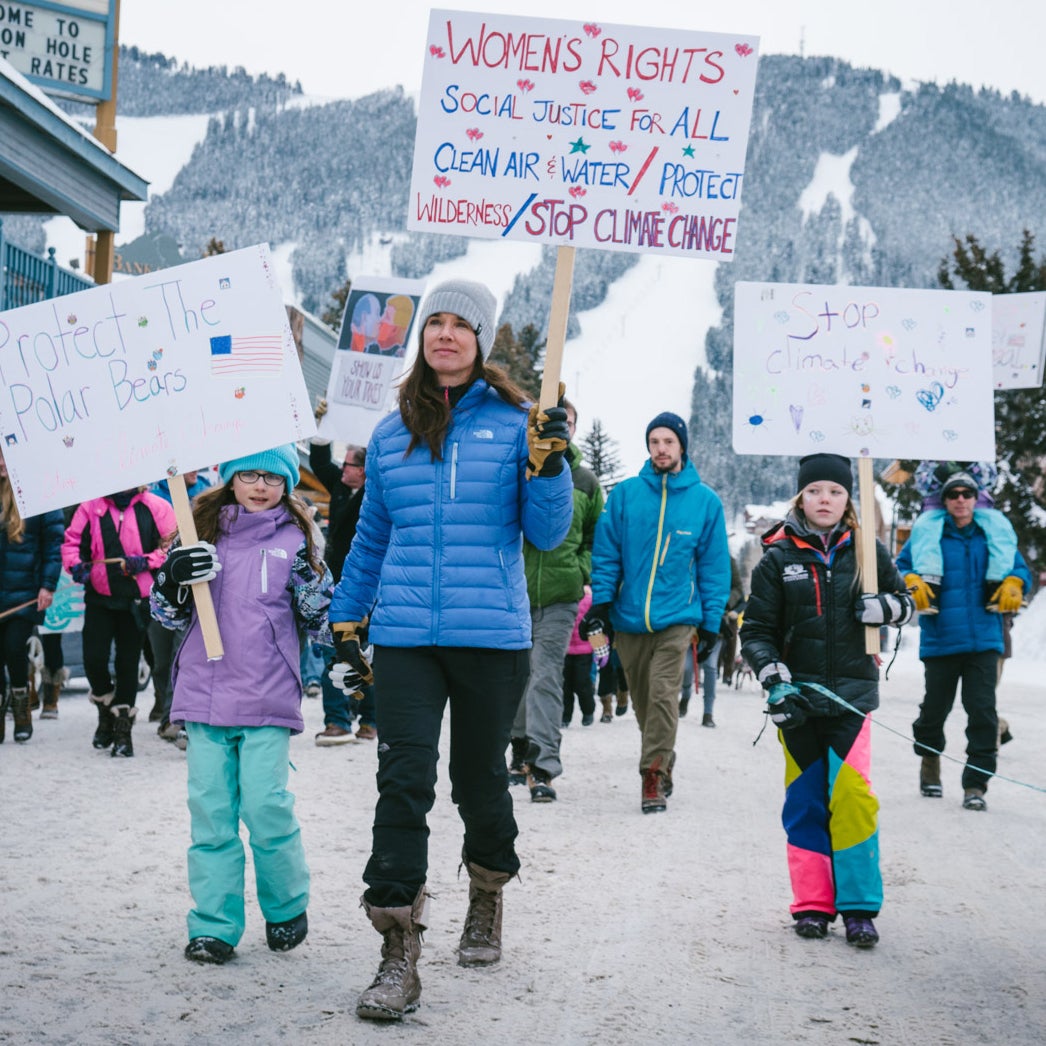 Heading out the door? Read this article on the new Outside+ app available now on iOS devices for members! Download the app.
While the women below are perhaps most well known for their athletic feats—like skiing off the summit of Everest and winning 100-mile races—they work equally hard for causes they believe in. As professional athletes, they've realized they have a powerful platform from which to talk about issues like climate change and public lands. We spoke with these women about what matters most to them and what they're doing about it.
---
Caroline Gleich
Gleich is a professional skier. She recently completed a five-year goal to ski 90 lines from the Wasatch guidebook The Chuting Gallery. Only three people have completed all 90.
Follow Her: @carolinegleich
Location: Salt Lake City, Utah
Organizations She's Affiliated With: Protect Our Winters (POW), Winter Wildlands Alliance (WWA), HEAL Utah, TreeUtah, Wilderness Society, and Sierra Club
"My sport lends itself well to the kind of activism I do. I see firsthand the effects of climate change. Being a ski mountaineer and doing mostly human-powered skiing and sports, I have a close connection to the environment and spend a lot of time immersed in the wilderness. Utah, where I live, has always been a really tough state for environmentalists, but I see it as a challenge for us to forge alliances and find common ground. I love to attend public meetings and hearings. For one, they're an important opportunity to interact with the opposition. Being face to face with other people is a time to find common ground. I talk to coal miners about their stories, and I tell them my story, too. Not all interactions are amicable, but when they are, we realize that we have more in common than we thought. Everyone has their own stories to protect."
---
Stephanie Howe
Howe is a professional ultraunner who won the Western States 100 in 2014 and will run it again this summer. She also holds a PhD in nutrition and exercise science from Oregon State University.
Follow Her: @stephaniemariehowe
Location: Bend, Oregon
Organizations She's Affiliated With: Sierra Club, Oregon Natural Desert Association, and POW
"You can't put a price on the outdoors. I feel like I'm most myself when I'm out on the trails—there's something about connecting with something bigger than me that fills me up. It's who I am. Developing our public lands is a possibility that terrifies me. Many trails I run on are BLM or Forest Service land and can be sold to the highest bidder [if their management is handed over to the state]. Protecting public lands is hugely important. Awareness is one of my biggest weapons: as an athlete, it's cool to use my platform for something that matters. A photo is a really great way to tell a story, so I make Instagram posts telling people what's going on in the wilderness."
---
Kit DesLauriers
DesLauriers is the first person to climb and ski the seven summits. In 2006, she became the first American—and first woman—to climb and ski off Mount Everest.
Follow Her: @kitdski
Location: Jackson, Wyoming
Organizations She's Affiliated With: POW, and she's an advocate for protecting the Arctic Refuge
"In the end, we can only really be good at doing what makes our hearts sing. Or in this case, speaking up for what makes our hearts break. Take a stand on the issues you believe in, and don't be afraid to speak up about those positions. We all remember Dr. Seuss: 'I am the Lorax. I speak for the trees. I speak for the trees that have no tongues.' Take your stand where it feels right, and then be flexible. Sometimes it might mean showing up to a rally or a protest or a lobbying opportunity on Capitol Hill. Other times it might be signing an electronic petition or donating to your favorite organization. Remember: Not burning out is better than the alternative. Pace is important, but so is not quitting."
---
Devin Logan
Logan is a U.S. freeskier who won a silver medal in slopestyle at the Sochi Olympic Games. She's training for the 2018 games in Pyeongchang.
Follow Her: @devinlogan
Location: Park City, Utah
Organizations She's Affiliated With: POW
"I love skiing, and seeing warmer, shorter winters is really hard. I can't do my job when Mother Nature doesn't allow for it, so I'm trying to fight climate change. Working with POW, I talk to the next generation about climate change. How can we change our everyday lifestyles in ways that make an impact on the environment? There are easy things for kids to do, to build habits they can pass on to others, like shutting off lights or using reusable water bottles. On a daily basis, if you can walk or ride a bike somewhere, do it. If you see trash on a hike, pick it up. Simple."
---
Clare Gallagher
Gallagher won the 2016 Leadville 100. This year, she's running Western States for the first time and will head to Chamonix to run CCC.
Follow Her: @clare_gallagher_runs
Location: Boulder, Colorado
Organizations She's Affiliated With: POW, WWA, and One World Running
"Part of why I run is to have a wide platform from which to talk to people about climate change. On the local level, I want to protect our public lands. It's not just about posting, but also bringing these conversations on group runs and around town. We can't live online. I'm trying to blog more. I have an opportunity to not just talk about running. Perhaps there's a middle-school girl trying to learn how I train who then discovers I care about refugees, and then maybe she starts to care, too. I think reading is the number one most important thing people can do. If you ever feel helpless or paralyzed about a topic, just do your research. That's the beauty of our connected world. Find out what organizations get you jazzed."