Women Are Not Treated Equally in the Outdoor Industry
A recent Camber study on gender equity exposes discrimination in the outdoors, especially in the bike industry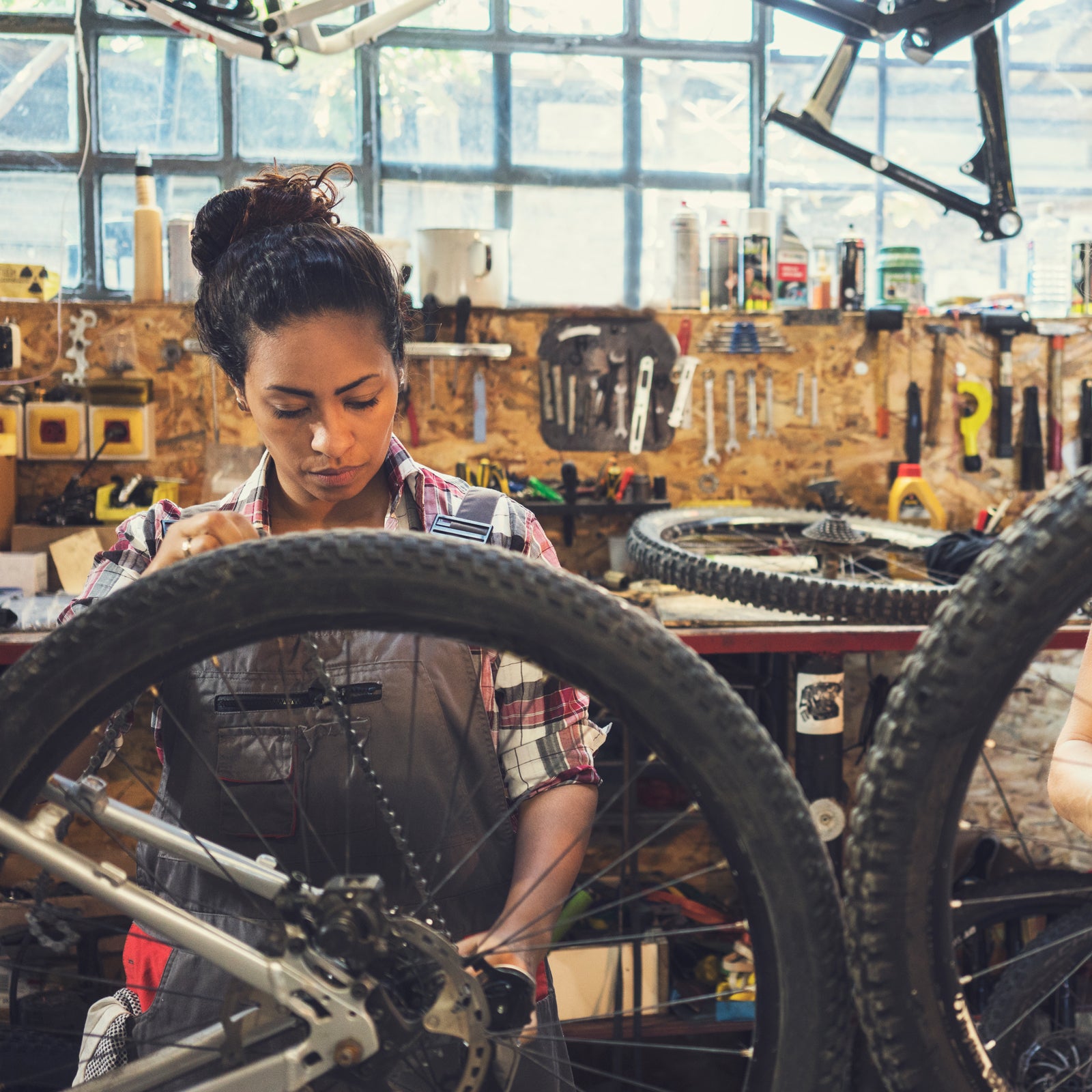 Heading out the door? Read this article on the new Outside+ app available now on iOS devices for members! Download the app.
Today, CEOs from more than 50 prominent outdoor-oriented companies—including the North Face, Patagonia, and REI—convened at Outdoor Retailer in Denver to sign a pledge committing to gender equity, inclusion, and diversity within their companies. This comes hot on the heels of a study released by Camber Outdoors. On January 29, the Boulder-based leadership organization published the first part of what it says is the most comprehensive study on gender equity in the outdoor industry to date. Its findings show an unfortunately unsurprising gap between women's and men's views of gender discrimination.
Out of the 1,500 active-outdoor professionals surveyed, from entry-level employees to executives, men tended to consider their workplaces fair and supportive while women viewed the same environments as less equitable. For example, only 31 percent of women surveyed thought their company deals with sexual harassment and discrimination appropriately, compared with 49 percent of men. As the study politely puts it: "Men think their companies are doing a pretty good job supporting diversity; women see more room for improvement." 
"The outdoor industry is looking at itself in a mirror right now," says Deanne Buck, executive director of Camber Outdoors. "I think it's a good dialogue to have."
Camber collaborated with the outdoor-focused Breakaway Research Group to conduct the 15-minute online survey, which looked at five core topics: workplace values, leadership and advancement opportunities, family-career balance, compensation equity, and discrimination and sexual harassment, the latter of which is the focus of the new report. It distributed the survey mainly through Camber's network of associated companies and organizations, including Interbike, the Outdoor Industry Association, and Snowsports Industries America.
Camber is facing some backlash on Twitter for calling the CEO pledge the first of its kind. Diversify Outdoors previously called for a similar commitment; their pledge did not receive nearly the level of support from high-profile companies. 
Camber notes that the survey is not intended to be representative of the actual demographic makeup of the outdoor industry as a whole. People who identify as women represent 60 percent of responses, but the pool of respondents was far less diverse in terms of ethnicity, with 88 percent of respondents self-identifying as white or Caucasian. "We need to do a better job of reaching out to a more diverse audience base," Buck says. "There's still work to do." 
The bicycle industry stood out as being perceived by survey respondents as the most discriminatory toward women. Respondents' experiences point to a general culture of gender-based exclusion and toleration for disrespectful actions based on gender. 
According to the report, 55 percent of women working in the bike field said they had been directly or indirectly affected by behavior or comments that are discriminatory or biased based on gender. That's in comparison to 20 percent in the running industry, 35 percent in the snow industry, and 36 percent in other outdoor industries. 
Thirty-seven percent of bike-industry professionals felt that their industry has a general culture of not taking some employees or their perspectives seriously because of their gender, compared with less than 21 percent on average for the other groups. (In some cases, the report lumps together responses from running, snow sports, and other miscellaneous outdoor activities, which had fairly homogenous responses. Camber considered the bike-industry statistics striking enough to warrant highlighting on their own.) 
Sexual-harassment statistics are more nebulous, in part because the survey questions were framed to avoid clinical-sounding legal definitions, which Camber felt can exclude people's actual experiences with harassment. Still, the report concludes that only 51 percent of women felt their company had a no-tolerance policy and a clear reporting process for instances of sexual harassment, while 55 percent of men agreed with that statement. 
"I don't think it's great," says Buck. "But it can help us make smarter decisions. I think we can be the lead."
Lead Photo: Vesnaandjic/iStock