Fatimah Hussein Is America's Sports Hijab Pioneer
The Minnesota basketball coach launched Asiya, a brand with the goal of making playing sports better for hijab-wearing women everywhere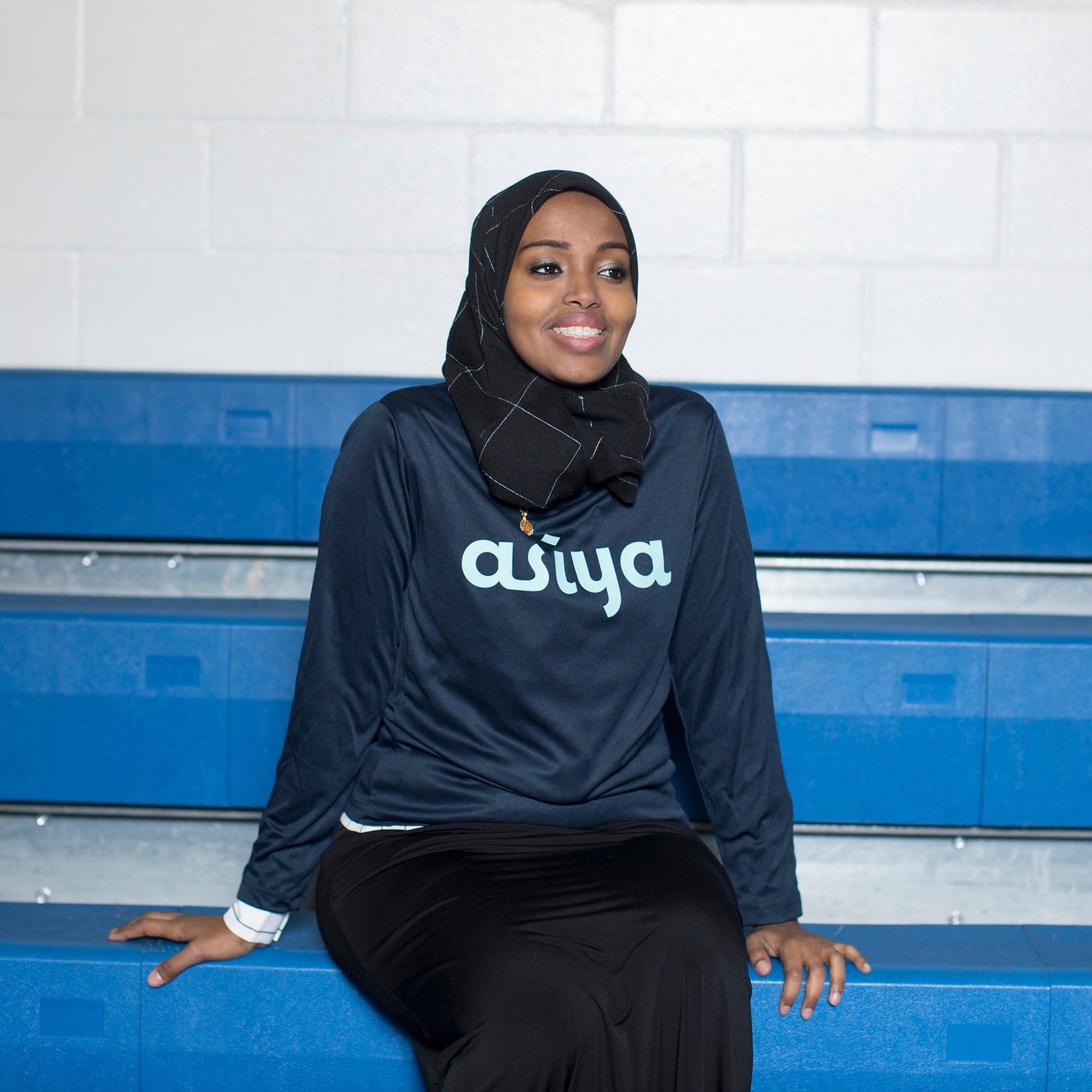 Heading out the door? Read this article on the new Outside+ app available now on iOS devices for members! Download the app.
It was an unremarkable game. Two teams, a cheering crowd, squeaking sneakers, the whistle, and the jump ball—just as always. But something set this game apart, something that most people wouldn't even have noticed: One of the players, determined not to be restricted, had decided to remove her hijab.
The inconvenience of the prone-to-unraveling hijab was a common complaint in the Brian Coyle Community Center, in the Cedar-Riverside neighborhood of Minneapolis. The center's biweekly basketball practice attracted Muslim girls ages seven to 18 from across the city, and it brought out a determination to win that coach Fatimah Hussein had not anticipated. Her standout players were not going to let anything stop them. "I've seen girls building their confidence, loving the sport, wanting to play. I've seen the hunger of just winning and getting accepted," Hussein says. "But there was one thing hanging there—the hijab."
As a dedicated jogger who has worn the hijab from a young age, Hussein, now 30, knew that the garments were usually designed with fashion, rather than athletic performance, in mind. Sports hijabs were rare and needed to be imported at a high cost, making them unfeasible for most schoolgirls.
The girls who ditched the hijab while playing also stopped inviting their families to watch their games at school. This realization would change Hussein's life: It triggered the creation of her brand, Asiya, which sells the first sports hijabs designed and manufactured in the United States.
Born in Mogadishu, Hussein came to the United States at age six with her parents and younger sister, fleeing civil war. By day, she is a social worker, caring for elderly people who, Hussein says with a laugh, regularly try to convert her. She also cares for her three children, including a five-month-old; attends her son's soccer games; coaches basketball; and checks in with her parents every day. Hussein talks frequently of identity, community, and taking pride in being a Muslim. For the past 12 years, she has volunteered in hospitals and at community conferences, where she makes phone calls and home visits to help immigrants.
And, of course, she also coaches basketball, a sport Hussein has played since elementary school. Her parents fondly refer to her students—American girls with roots in Ethiopia, Kenya, Sudan, and East Africa—as her first babies. When Hussein noticed some players competing without the hijab, she understood that they were driven by a determination to win. "It was much easier to put the hijab away in their backpack and wear it when they come out of the game," she says. Hussein points to social pressure to conform, the lack of hijabi athletes until recently, and the environmental conditioning that tells young Muslims that wearing the hijab is antithetical to being a good basketball player. "They feel like they're not accepted, and that's not something I want to be a part of."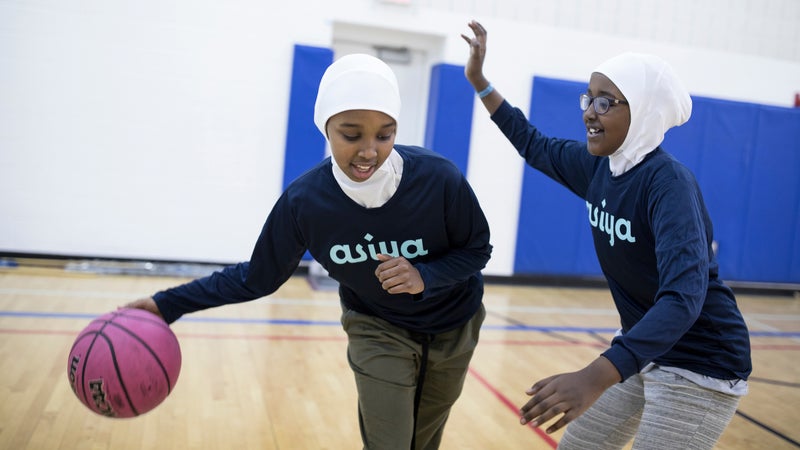 But Hussein was also considerate of family and community values and realized that by creating this sports opportunity for girls, she had inadvertently fostered a problem between generations. "I was helping girls to be physically active, but I might be taking their identity away at the same time." For Hussein herself, the thought of leaving the house without her hijab is inconceivable, "Just like I can't leave the house without my eyeliner each morning." Realizing she had set in motion the eschewing of the hijab by her players, Hussein reevaluated her role.
If the girls could neither play comfortably in their traditional hijabs nor find performance options at the right price, Hussein figured she could fill that gap. "If it's a clothing problem, we can find a solution," she recalls telling her players. "Your parents are going to be proud of you. You want your younger sisters to come and say, 'That's my sister playing.' You're stronger when people know your real identity."
In 2016, Hussein, who had no prior interest or experience in business before Asiya, partnered with Jamie Glover, a Carlson School of Management student who does consultancy and now works full-time for Asiya, to create a business plan. Together, they attracted the support and attention of Minnesota Senator Kari Dziedzic. Between crowdfunding on Kickstarter and winning startup prizes, Hussein and Glover raised more than $100,000 in seed money; they launched Asiya on International Women's Day in 2017.
Early on, Hussein's players helped sample fabrics and hijab prototypes at school, improving and nitpicking to get just the right breathable, flexible, but sturdy materials. They brought in designer and pattern maker Ida Elsie Van Hove, who usually creates activewear and couture garments, to help to create an athletic, adaptable pattern. Today, Asiya sells three different sports hijab models in four colors, each offering a different amount of coverage for clients' varying levels of observance. "We offer the ability to add your team logo or mascot on the side of the hijab, which really makes the girls feel like part of the team," Glover adds. All options feature a sweat-wicking polyester/spandex blend, and all sell for under $40.
The day before Asiya launched, Nike announced its Pro Hijab, which was released nine months later. But Hussein sees the sports company's move as a positive influence—both solidifying Muslim women's place in the sports market and providing awareness and a sales boost for her own company.
Asiya now sells direct-to-consumer in 25 countries to teams, athletes, and individuals, occasionally partnering with retailers that serve the Muslim community. Hussein says it can be a struggle to keep up with the booming demand—their sales to school athletic programs have grown tenfold since inception, says Glover—and, despite its new competitors, the Asiya sports hijab is a firm favorite among many hijabi runners, weightlifters, and school sports teams. Hebaallah Nossier, a 28-year-old professional squash player who ranked eighth in the 2018 U.S. Nationals, said she searched a long time for a sports hijab to no avail until Asiya arrived on the scene. The Egyptian-born, California-based athlete later became an ambassador for Asiya, describing the company's hijab as "light and easy to wear," and commends Hussein for creating a product that allows women in sport to practice their religion free of obstacles.
Hussein also acknowledges that the prevalence of sports hijabs can be a cultural game changer, opening up avenues for Muslim women into sports at increasingly high levels. "In a couple of years, we're going to see more Ibtihaj Muhammads playing sport, proud of who they are," she says, referring to the first Muslim American hijabi to represent the United States at the Olympics, who returned from Rio with a bronze in the team sabre event and is a Nike Pro Hijab ambassador.
That's especially important considering the barriers—and often, outright prejudice—that hijab-wearing athletes face. In 2012, a Saudi Arabian judo Olympian was briefly banned from competing in the hijab. In 2014, FIFA overturned a ban on head coverings, including hijabs. And it wasn't until January 2017 that the International Basketball Federation (FIBA) did the same. Hussein believes that governing bodied like FIBA were left with no choice but to revoke the bans upon the release of numerous sports hijabs that comply with safety regulations, featuring quick-release and pinless designs that addressed authorities' concerns that a hijab could be a choke risk in hands-on sports. If these bans had been upheld, Hussein believes it would mean admitting that their objection was never an issue of safety but of Islamophobia.
Amina Farah was one of the first players to grow up on Hussein's court. Now 27, she continues to attend Hussein's sessions, providing mentorship and guidance to the younger players. She sees the training at Brian Coyle Community Center as a safe space for the next generation of young girls. "This is where we all express ourselves."
Farah was one of the original girls to trial and improve the Asiya hijab, and she continues to use the product to this day, even at her job as a technologist in a medical lab.
Though Hussein is keen to avoid politics, she still acknowledges that it's not an easy time to be a hijabi in America. "The community is scared of their family members getting deported. They're scared of their homes being searched. They're scared of being stopped, being put in jail," she says. "They have a fear that this person might not be here tomorrow."
The players at the Brian Coyle Center are still too young to truly understand the changing world around them. "They're at that young age where they think they can do everything themselves," Hussein says. She tries to teach them caution, "You have rights," she tells them, "but the environment has changed, it's not the same…you have to always look after yourself." Hussein finds it paradoxical that a country founded by immigrants is turning into the persecutor of immigrants. "It's a very different environment right now."
Hussein is hopeful that life will improve for the next generation. In her home state, after all, State Representative Keith Ellison, who is Muslim, has been in office since 2007, and the first Muslim House Representative, Ilhan Omar, was elected in 2016. "It's going to make a lot of young Muslims dream that they can write policies and laws," Hussein says, pointing to a generation of young people who understand their rights, justice, and social movements.
Her message to her players: You can do anything. Perhaps it is lost on Hussein that, if proof of this axiom were ever needed, she is it. "She is a well-respected coach and passionate about sport," Farah says. And as a pioneer in the burgeoning industry of sports hijabs, Hussein has done more than just provide girls in Minnesota with the chance to play basketball.
At the end of our video call, Hussein asks her six-year-old, Suehalia, what her dream is.
"What do you want to become, Suri?" she asked, playfully. "Each week it's different," Hussein explained to me. "What do you want to become this week?" she repeats.
Suri, who plays soccer and loves the sports hijab her mom designed so much that she asked to change her own name to Asiya, is quick to answer. Her dream is one that few Muslim girls would have believed achievable a decade ago.
"A ballerina."
Lead Photo: Ackerman + Gruber