Gabby Douglas' Blackness Matters, Except When It Doesn't
The world's best gymnast is a 16-year-old African American. Shani Hilton explains just what that means.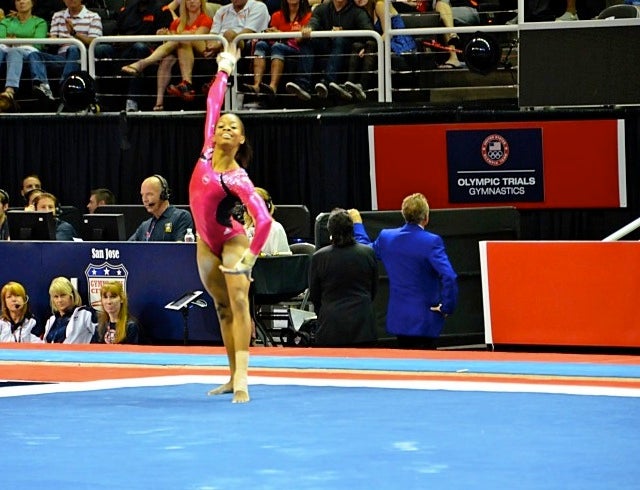 Heading out the door? Read this article on the new Outside+ app available now on iOS devices for members! Download the app.
The first Olympics I ever paid attention to were the 1996 Summer Games. I was 11 years old, just sort of starting to become a person and working out my various identities: female, black (or black, then female?), child of a Jamaican immigrant and a Southerner, a Californian, a writer, a devourer of books, a sports-hater. Those Summer Games were probably my first taste of sweet, sweet nationalism, even if I was oft-torn between Jamaica and the United States.
Of course, that was the summer of the Magnificent 7 and Dominique Dawes. We—my family, my community—were fiercely proud of her. While it was Kerri Strug who provided the most compelling story (watching her vault painfully, beautifully, on a fractured ankle in fuzzy YouTube videos still brings me to tears), Dominique was solid—and her tumbling on beam was a sight to behold. 
You might know the story. Dawes was a leading scorer for Team USA, helping the U.S. bring home its very first team gold in gymnastics, and, herself, becoming the first gold-medal-winning black gymnast ever. Unfortunately, Dawes couldn't quite get it together for the all-around competition, and she failed to medal.
Sixteen years later, Gabby Douglas took it a step further. The 16-year-old Virginia native, who packed up, left her family, and moved to Iowa two years ago in order to focus on her training, became the first black woman to win an all-around gold medal in Olympic gymnastics.
That matters—that Gabby Douglas is black—but it also doesn't. 
BLACK ATHLETES HAVE COMPETED in the modern Olympic Games since their inception in 1896. The first to win gold was John Taylor, an American from Washington, D.C., who was part of the 1,600-meter relay team in the 1908 Games. Taylor died of typhoid fever six months later at the age of 26. (From his eulogy: "He never gave any bother, worked hard, and was always on time.")
But Taylor's gold was a harbinger. In the time since, black athletes have largely distinguished themselves in track-and-field events—often beautifully so. It's amazing to watch Usain Bolt and Shelly-Ann Price (Jamaicans!) outrun everyone else so gracefully and so powerfully. As with track and field, over Olympic history black athletes have tended to be great at the summer sports that don't require much in the way of equipment or money. And sure, today, the swiftest runners train at multi-million-dollar facilities, and the great boxers get the best mouth guards money can buy, but historic economic disparities have created a modern culture in which blacks excel at the 100-meter sprint, while archery remains almost totally white (and now, Asian).
It's only in recent years that we've seen black American athletes appear with any frequency in more expensive, more complex sports. And that's why Dawes, Shani Davis, Venus and Serena Williams and now, Gabby Douglas, are so exciting to watch. We've seen great gymnasts, fast speed skaters, and totally dominant tennis players. It's just—they've almost never been black. So when Cullen Jones wins silver swimming the 50-meter freestyle, it means another medal for America, but it also means something more.
As it does with Gabby. She's a first, and that always matters. Athletes who blaze a trail offer a look at another path to Olympic glory. Whether they come from a comfortable middle-class background or have to struggle out of the hood, if that success is enough to give even one black girl who's looking at a leotard something to strive for, then it's worth celebrating.
My favorite thing about women's gymnastics is that it's a sport where powerful, elite athletes—who just happen to be teenage girls—express near-perfunctory femininity (eye makeup! hair glitter! dumb rhythmic dance moves!), while they perform with pure power and strength. That femininity as a cover for power is fascinating. And while it's something that thousands of girls strive for each year, that group heavily comprises white girls, who have always had another white woman to look up to at the top of the gymnastics pyramid. Finally having a black woman at the top of the podium—as the best all-around gymnast in the world—makes it all seem more possible to the little black girls who might just need to see themselves in order to dream a little bigger.
Presumably, though, Gabby Douglas doesn't wake up each morning and map out the day ahead while thinking, "Okay, it's time to eat this cereal like a black person," or, "Time to do black people warmups," or, "I'm gonna kill it on uneven bars like a black girl." My guess is, like most of us who are focused on getting to the next level, while race is always there, buzzing in the background, it's not the primary focus of her day. For an elite athlete, there's no time to dwell on skin color as you're trying to perfect a difficult dismount. Rather, it's a passing thought.
Most importantly, before she won, Douglas said something, which reminded me that, yes, while her blackness matters, it also doesn't.
GABBY DOUGLAS HAS BEEN widely quoted as saying back in June: "I have an advantage because I'm the underdog and I'm black and no one thinks I'd ever win. Well, I'm going to inspire so many people. Everybody will be talking about, how did she come up so fast? But I'm ready to shine."
What she's really saying here is, "I can and will do this, even if you say I can't and won't." It's lighthearted and bright and positive and subversive.
It is so, so black.
It is so, so American.
And so Gabby Douglas focused on shining, on surprising, and on defying the expectations of commentators who warned of her tendency to choke on beam, of those who made much of her inexperience in comparison to teammates Jordyn Wieber and Aly Raisman—both of whom made errors when tested.
After she won the all-around gold, rocking the balance beam like she was born there, Douglas echoed what has long been my personal philosophy. "You just have to not be afraid and go out there and just dominate," she said after her win. "You have to go out there and be a beast. Because if you don't, you're not going to be on the top."
My friend Ann dubs this advice "fake it 'til you make it," which is basically the most American thing ever. I don't buy into exceptionalism, but our country has a long and proud history of false confidence leading people to great successes (and, okay, sometimes great folly).
Plus, she's a good sport. We all love a good sport. After she placed dead last on uneven bars Monday, Douglas had to give the "I'm just happy to be here" speech with her bright smile. It was a stark contrast to the day before, when her teammate McKayla Maroney had a (probably justified) mini-meltdown over just missing gold on vault.
On the other hand, Gabby, who doesn't come across as heavily media trained, did seem genuinely glad to be there. After all, like Maroney, she's still a teenager.
Everything about this woman screams—well, really, she bubbles—American.
But really, everything that's unique to Gabby's blackness isn't really all that unique. In many ways, they are simply reflections of the American tale we've all been told. That the combination of hard work, sacrifice, luck, and bravado spins out a thrilling story we can all root for.