The Woman Ending Harassment at the Grand Canyon
For decades, the staff of Grand Canyon National Park has lived with a culture of bullying and harassment. Can the park's first female superintendent heal the old wounds?
Heading out the door? Read this article on the new Outside+ app available now on iOS devices for members! Download the app.
On an August morning in 2014, tourists sat in wicker deck chairs at Grand Canyon Lodge, on the canyon's North Rim, cradling cups of coffee and watching the sun rise over one of the world's most spectacular natural wonders. From their perch, they watched as golden light brushed against rock layers, painting them in purple and peach.
Nearby, out of sight of the tourists, a far uglier scene was unfolding for Grand Canyon National Park staff.
"Where is Robin?" shouted one of the park's trail crew bosses. "I am going to kick her fucking ass!"
The trail boss was pacing up and down a dark hallway in the park administrative offices, which had not yet opened for the day. According to a National Park Service investigation report that would come later, he had his cell phone on speaker, which meant fellow employees could overhear the conversation. He was ranting to his supervisor, who had informed him that his profane language and abrasive behavior were upsetting North Rim employees.
Robin, an interpretive ranger who asked that her last name not be used to protect her privacy, didn't work for the trail crew. But the previous week, she had reported the man to park management for calling Martha Hahn, the park's science and resource management division chief and the acting head of all North Rim staff, a "bitch" and a "c*nt" on two occasions, in front of other employees.
Located some 20 miles from the South Rim as the crow flies but more than 200 miles by car, the park's North Rim is a remote outpost where a skeleton staff all live and work in close quarters. This wasn't the first time employees had complained about the trail worker's behavior. Multiple people had reported his profanity, threats, and belligerent remarks to management. But so far nothing had changed.
"Where is she?" he yelled as he pounded on Robin's office door. "I'm going to hand her her ass!"
Robin had not arrived at work yet, but Martha Hahn was there, hiding in her office. Two other park employees listening to the shouting also stayed put at their desks.
"I was shaking," recalls Hahn. "I thought he was going to come into my office next, so I pushed two big chairs against the door in case he tried to barge in." She sat in one, so her weight would add to the barricade, and wrote down what he said so she could file a report later. "I don't think you understand," she whispered into the phone to a deputy supervisor on the South Rim. "He is threatening to hurt another employee. I need to protect my staff."
Have a story or news tip to share with Outside?
Email, text, or mail it to us.

The worker was ordered back to the South Rim, and ultimately left the next day. Meanwhile, Hahn filed a complaint with both the facilities management department and a deputy superintendent that included statements from three other witnesses. But, she says, "We never heard anything about the report, and it appeared he was back at work on the South Rim as usual. I was not afraid for myself, but I was afraid of what he might do to my employees. I told them they didn't have to work with him anymore."  

But the next spring, as Robin arrived at North Rim headquarters, she encountered the worker again. According to her statement in a Grand Canyon National Park police report, he picked up a metal bar from his tool box and slapped it in his hand as he looked at her. She told police that as she was leaving her office that day, the man shook a hatchet at her. The employee denied vehemently that he meant to threaten Robin, and with no witnesses, no action was taken.

This was, in some ways, unsurprising. Workplace dysfunction was the norm throughout the park, but the North Rim had more than its share of harassment issues. One white male supervisor taunted a female African-American electrician to the point that she quit over fear for her safety. Another supervisor called park visitors "gooks" and "towelheads," according to a co-worker. Staff members alleged that they were pressured by their boss to clean vault toilets without the necessary hepatitis vaccinations, or that they were teased during staff meetings for having an ill spouse or family members native to Thailand.

In April 2016, the Park Service's Rocky Mountain regional office launched an inquiry into the trail worker's behavior, conducted by contract attorney Joseph Urbano. In addition to Robin, four employees submitted affidavits chronicling physical threats, homophobic comments, and bullying.

In the investigation report, which was obtained by Outside through a FOIA request, the man maintained that he had been wrongly singled out. He hadn't realized, he told Urbano, that his profanity had offended others. "The statements against me have been sensationalized," the report quotes him as saying. (The employee, who has since left the park, declined to comment for this story.)

The report ultimately concluded that the man's behavior "created a hostile work environment by engaging in conduct that was inappropriate, unwelcome, and based on…gender and sexual orientation." Supervisors "failed and refused to take corrective action," it went on, and "there was no evidence…that these employees were made aware of their Equal Employment Opportunity (EEO) right to be free from exposure to this type of environment. Consequently, employees simply quit or were moved."  

One of them was Robin. In June 2016, after a decade of working at Grand Canyon, she quit her job and left the Park Service altogether. "Thinking about it," she says, "still makes me really angry."
---
Stories like Robin's were all too common in Grand Canyon National Park. As the North Rim investigation was going on, the park was embroiled in a major sexual-harassment scandal that made national headlines. After a group of 13 current and former park employees sent a letter to Secretary of the Interior Sally Jewell, the agency's Office of the Inspector General began investigating harassment allegations in the Grand Canyon's River District, which conducts scientific research trips on the Colorado River. Several of the incidents involved two female scientists who'd previously reported sexual harassment—including a boatman sticking his hand up a scientist's skirt to take a photo of her crotch and another boatman who refused to take the scientists to their river research sites when they resisted his sexual advances. The boatmen were not disciplined, according to the letter, but the two women were fired for dancing in camp and drinking from a straw shaped like a penis.  
To Hahn, the way harassment was handled—or not handled—on the North Rim seemed like more of the same. "Tell me this," she recalls asking one of the deputy superintendents. "How is it I have an employee who dances around with a penis straw and she can't work here anymore? But someone can threaten the safety of another employee and use abusive and vulgar terms against a senior manager and everything is fine?"
For decades, the unofficial motto of Grand Canyon employees has been, "Suck it up, buttercup." Whether from perilous terrain, throngs of demanding tourists, extreme weather, or hostile co-workers, Grand Canyon has always been a challenging environment for park staff.
The investigations into harassment throughout Grand Canyon National Park culminated in September 2016 before the House Committee on Oversight and Government Reform. Testimony showed how widespread the culture of harassment was—not only at Grand Canyon, but throughout the National Park Service. Further evidence would come in September 2017, when an agency-wide Park Service survey showed that 39 percent of employees had experienced harassment in the workplace in the previous year. Of those, 75 percent did not file a report because they believed nothing would be done, it wasn't serious enough to report, or they wanted to forget about it. 
For many years, Hahn maintains, employees at Grand Canyon were part of a dysfunctional family that put the chain of command before common sense and safety. They simply shrugged off the constant craziness as part of the job. They were, after all, "paid in sunsets," as the Park Service saying goes. "We were all like children," she says, "without adult supervision."
---
The adult finally arrived in September 2016 when Chris Lehnertz, 55, was appointed superintendent of Grand Canyon National Park. She took over from Dave Uberuaga, who retired in June 2016, after Park Service director Jon Jarvis ordered a change in leadership. Lehnertz became the park's first female superintendent, as well as the first to be openly gay.
For decades, the unofficial motto of Grand Canyon employees has been, "Suck it up, buttercup." Whether from perilous terrain, throngs of demanding tourists, extreme weather, or hostile co-workers, Grand Canyon has always been a challenging environment for park staff. But Lehnertz is determined to replace that macho vibe with a more sensitive atmosphere. At the bottom of her emails and emblazoned on every park document is this statement: "Grand Canyon's priority is to create a respectful and inclusive workplace where employees can be safe, feel secure, and find support."  
When Lehnertz took over, she found a workforce of 500-plus employees, many of them devastated by the fallout from the scandal and traumatized by what she described as decades of "bullying, harassment, and hostility in all corners of the park." The River District had already been shut down, its employees reassigned to other jobs in the park. She faced a list of more than 100 unresolved grievances regarding sexual harassment, EEO discrimination, and other misconduct, which had been compiled by Intermountain Regional Director Sue Masica on a listening tour the previous summer.
Unlike previous superintendents, who'd climbed the Park Service ranks for 20 or 30 years, Lehnertz had only worked for the agency for 10 years, having spent most of her career at the Environmental Protection Agency. Before Grand Canyon, she was superintendent of Golden Gate National Recreation Area, director of the Park Service's Pacific West Region, and deputy superintendent at Yellowstone National Park. She was the first woman to hold each of those jobs. "In some ways," she says, "this identifies the problem the Park Service has. We're not talking about the 1960s. This was in the last decade." She also experienced sexual harassment as a young seasonal employee early in her career.  
What Lehnertz noticed when she first came to the Park Service was that women managers seemed to believe they had to act like men, or "non-gender specific," to get ahead. "Women acting like women could bring so much more to the position," she says. "That's what diversity and inclusion truly is." It was not long after she arrived at Grand Canyon that workers in the administrative office were surprised to see plates of freshly baked cookies and bowls of candy sitting out. During an interview for this story in early December, she wore a festive Christmas sweater instead of the park service's no-nonsense green and gray uniform.
But Lehnertz can be tough. "If you are a predator and you are in this workplace," she warned Grand Canyon employees early on, "you should know that I am going to find you and I am going to get rid of you."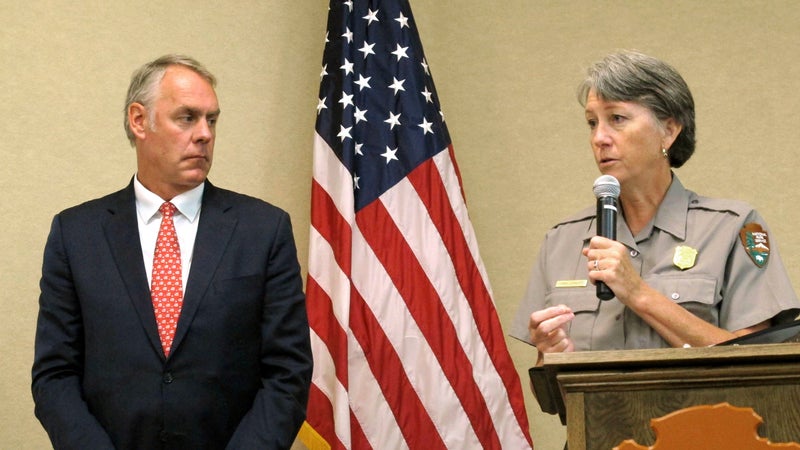 After one year on the job, Lehnertz sent out a park-wide memo stating that, as of fall 2017, eight people had either retired or resigned in lieu of disciplinary action because of sexual harassment or hostile work environment misconduct. "I know it is hard for employees to learn that people guilty of bad things were allowed to retire with benefits," she said in an interview later. "I checked with our solicitor, and the fact is, there is no way to have an impact on someone's retirement."
Lehnertz took a surprising approach to her task of changing the park culture—she read. She read The Elephant Whisperer, about a rogue herd of wild elephants taken in by a preserve manager in Africa. She read Missoula, by Jon Krakauer, about rape culture on college campuses. And she read Organizational Trauma and Healing by Pat Vivian and Shana Hormann, which argues that organizations can suffer from PTSD the same way individuals can.
Lehnertz came up with a three-pronged strategy: she would identify and determine next steps for all outstanding grievances; implement a system to prevent future incidents; and figure out a way to get one of the largest national parks in the country to "reflect and heal." For Lehnertz, this third component is the crux. "Until we can learn to reflect on what has happened and heal those wounds, then we are destined to continue the same cycle," she says.
---
You can't just announce to a shaken and cynical workforce that they need to suddenly start reflecting. Lehnertz wasn't sure how to go about this. It was something that had never been done on such a broad scale in any national park. So she entrusted the task of figuring it out to someone who had experienced the hostile culture herself: Jessica Pope, an interpretive ranger on the North Rim.
Being an interpretive ranger at Grand Canyon was Pope's dream job. After working in healthcare supporting victims of sexual assault in northern Arizona, she enrolled in a university Park Service Pathways Program that secured her a much-coveted permanent position at Grand Canyon in 2012.
But what she found was a hostile work environment. During her first year on the job, a drunken worker whom she did not know barged into her apartment one evening asking if she wanted to drink before she could push him out. After Pope suffered a concussion in a car accident, a manager asked her during a staff meeting if she was "still retarded." The locker-room talk wore on her, and she was shaken by the experience of Robin, her fellow interpretive ranger who quit in frustration in 2016.  Pope complained about the work environment, but, she says, she was advised to stand up to the bullies.
"When something you love so much becomes your worst nightmare, it's not like you can just walk away," Pope told me through tears in January. "And I had student loans to pay."
Pope was warned by Robin and other co-workers that she needed to quit in order to protect herself. Then Lehnertz came along. During her initial days as superintendent, Lehnertz embarked on a listening tour of the park. She said she wanted talk to anyone who was interested, and she made it clear they did not need permission from their supervisor.
"At first, I wasn't going to tell her much," Pope says now. But then Lehnertz suggested they go on a short hike to talk in private. "The more we walked, the more I felt I could trust her, and she had such a gentle manner. We sat on a log and I told her everything. It was the first time I was able to share this with someone in a position of authority who heard me and believed me."
"People started coming to me with disclosure after disclosure after disclosure," Pope says. "One guy showed up at my apartment, because he was afraid of being found out at the office. He sat on my couch and sobbed while talking about a whole career of abuse and belittling. It was heartbreaking."
When the North Rim closed for the winter in 2016, Pope accepted an assignment from Lehnertz that would become, she says, one of the most important projects of her life. "Chris asked me to assemble a group of people to come up with employee-identified actions that would help the park heal," says Pope. "She wanted the vision to come from the staff and not from her."
The Reflection and Healing Team met over two days in early February 2017. The group consisted of 10 employees from a mix of departments and ranks, along with Mike Collins, the park's manager of employee and organizational development. Recruiting employees to participate was difficult. There was paranoia about retaliation from supervisors and a general disbelief that the bruising culture would ever change. "Everyone had their head down to protect themselves," recalls Pope. "When I described what I was doing to one guy, he flat out said to me: Suck it up, buttercup."
As part of its sweeping reforms, the National Park Service had created a new ombudsman office to counsel employees experiencing abuse, in addition to the Office of the Inspector General, which still investigated official complaints. One of these new personnel, Sigal Shoham, came from NPS headquarters in Washington, D.C., to Grand Canyon to help facilitate the meeting. She advised that the team should start by airing their grievances about their personal job experiences before getting down to big-picture issues. The talking circle was expected to take a few hours, but it lasted all day.
"People started coming to me with disclosure after disclosure after disclosure," Pope says. "One guy showed up at my apartment, because he was afraid of being found out at the office. He sat on my couch and sobbed while talking about a whole career of abuse and belittling. It was heartbreaking."
The team called in Pat Vivian, co-author of Organizational Trauma and Healing, who helped the group understand that not only were individual employees traumatized but so was the entire institution of Grand Canyon National Park. In cases like this, she writes in her book, "Repeatedly harmful actions unravel the social fabric of the organization; fear pervades the work atmosphere and trust is destroyed."
As Vivian explains, "The organization just limps along until someone finally manages to call help from the outside. For Grand Canyon, this was the group who wrote the letter to Sally Jewell."
Agreeing that Grand Canyon was traumatized was easy. Finding a path out of the mess was like pushing through a tamarisk thicket. The team based their recommendations on the concept of restorative justice, traditionally used by indigenous communities to settle crimes and disputes. The guiding questions asked are: Who has been harmed? Who's responsible for the harm? What do those involved —victims, perpetrators, community—need? How do we prevent further harm?
At Grand Canyon, the victims are many and their needs are as varied as the geologic layers of the chasm itself. "This isn't just about helping specific individuals who were retaliated against," says Collins. "It is also about people who reported the actions and nothing ever happened. They were left with no justice, and they were also victims. The entire organization was being victimized because we were rewarding this negative behavior."
The Healing Team recommended that the park's management structure be replaced with a more democratic system that empowers even the lowest level employees to speak up. Senior executives go through a two-day organizational trauma workshop led by Pat Vivian. The superintendent and deputy superintendents host regular open-door sessions. The park plans to hire a staff psychologist. And 20 employees attended the first week-long Strategies for Trauma Awareness and Resilience (STAR) workshop. Run by Virginia-based Eastern Mennonite University, the STAR program helps organizations be "trauma-informed" by educating participants on cycles of violence and how to heal damaged relationships. Now, Collins says, the goal is to certify employees through STAR to act as "trauma liaisons" for those needing support.
If money is any indication of commitment, the park spent just under $4,600 on sexual harassment and hostile workplace prevention training in 2015. In 2016, it spent about $17,500, and last year, it spent $60,000.
But, as Lehnertz would learn, cases could still fall through the cracks.
---
In September 2016, when Lehnertz was just starting at Grand Canyon, a woman I'll call Amy filed a sexual-harassment complaint with her supervisor.
According to documents that would later be filed in Flagstaff, Arizona's U.S. District Court, a man in Amy's department had been making unwelcome sexual advances and stalking her at work for ten months, despite her repeated requests to be left alone. Amy and her supervisor believed that, with a new superintendent in charge, the issue would be promptly dealt with. But as the months went by, nothing happened.
In an effort to tackle the backlog of complaints, an administrator had entered them on a spreadsheet, color-coded in terms of urgency: red, yellow, white. Those that were red needed to be handled immediately. White could wait. Amy's complaint was red, but it sat in what Lehnertz would later describe as a "forest of red boxes." It somehow went unnoticed.
Meanwhile, Amy's harasser continued to stalk her. Court documents state that he called Amy his "work spouse," would stand outside her office door for hours staring at her, and taunted her about the mandatory sexual harassment training he was receiving. While he apologized to Amy for creating a "hostile work environment," he immediately followed up with: "I wish I didn't find it so enjoyable to annoy you."
The criminal complaint, filed in U.S. District Court in July 2017, says that the man was ultimately moved to a different location on the South Rim but that he continued to show up at Amy's office and lurk for hours. Amy filed a second harassment complaint in April 2017. Still no response.
The park spent just under $4,600 on sexual harassment and hostile workplace prevention training in 2015. In 2016, it spent about $17,500, and last year, it spent $60,000.
The man resigned from his park job in May, but he continued to live nearby in Grand Canyon Village at the South Rim. That June, court records state he began sending messages to Amy's work email asking for nude photos of her. At that point, Amy sought protection from Grand Canyon law enforcement and obtained an injunction against harassment from a judge in Flagstaff Justice Court. In August 2017, he pleaded guilty to three counts of misdemeanor harassment through the use of lewd emails. The plea deal stipulated two years of probation and required him to go through a mental-health program and to permanently stay away from Amy and Grand Canyon National Park.
It wasn't until summer 2017 that Lehnertz learned how Amy's situation had been overlooked. As far as Amy was concerned, it was too late. She told me that filing the first complaint was stressful on its own. But having to endure the man's behavior for another year with no support from her employer—that was torturous, especially as he become more emboldened.
"I failed in my responsibility: It is unforgivable that her complaint was not addressed," Lehnertz says. "The other big consequence of this is that we have to rebuild trust with those supervisors who did the right thing and went through the process of filing the complaint and protecting her. Twice they ran it up the chain and got blocked."
Now, the spreadsheet system is gone. When a harassment incident comes to HR, an alarm sounds at the highest level of park administration.
---
Last year, the new system got one of its first tests. A woman I'll call Jane, a college graduate serving a series of internships at the park, reported her male supervisor for sexual harassment over a period of ten months. According to interview records from the Office of the Inspector General, Jane told investigators the supervisor touched her at the office, sent her unwanted text messages, and invited her to "cuddle" with him at a hotel during a conference. According to the report, she did eventually go on a date with him. But as the man continued to pursue her, she grew increasingly uncomfortable.
Jane initially was afraid to tell anyone at the park, because she hoped to get a job there after her internship. First, she sought counseling from the Park Service's new ombudsman's office. Then, when the situation continued, she went to another manager in her office and told her everything. In August 2017, the big red button was pushed and the system kicked in. Within days of the initial disclosure, Jane's supervisor was put on paid administrative leave, and investigators from the Office of the Inspector General arrived to interview Jane and her coworkers. Throughout the process, OIG and park HR staff kept Jane updated.
About a month into the process, Lehnertz called Jane and asked if they could meet for coffee. "I thought maybe I was going to be fired or something, but Chris just wanted to make sure I was OK," Jane recalls. "Here I was, this lowly intern, and the superintendent cared about me. She let me know that my safety was the park's first priority."
Things moved swiftly. By October 2017, as the investigation was winding down, the supervisor resigned. Jane stayed in her job, empowered by a system that protected her.
For Jessica Pope, it was particularly gratifying. I spoke with her as she prepared to finally leave Grand Canyon. She had accepted a promotion and would be moving to Effigy Mounds National Monument in Iowa.
"The whole time I was working on the Healing Team, I had this vision," she recalled, crying, surrounded by boxes in her apartment on the night before she moved. "It was of this young woman who is standing out on the North Rim at Bright Angel Point and she is so excited to be a ranger and wearing her flat hat for the first time. And maybe because of what we have begun now, maybe 20 to 50 years in the future, this woman will never feel threatened, frightened, shamed, or hurt. She will never have to choose between a job she loves and her own safety. For her, working at Grand Canyon will just be a dream come true."
Illustration by Eric Nyquist.
Corrections:
(06/08/2023) This article was amended to include Mike Collins's correct title: manager of employee and organizational development. Also, Sigal Shoham's first name was originally misspelled as Segal.
Lead Photo: Eric Nyquist