Have You Ever Seen an Openly Gay Guy in an Outdoors Ad?
Mikah Meyer, who's making his way through all 417 National Park Service sites and just happens to be gay, is willing to bet you haven't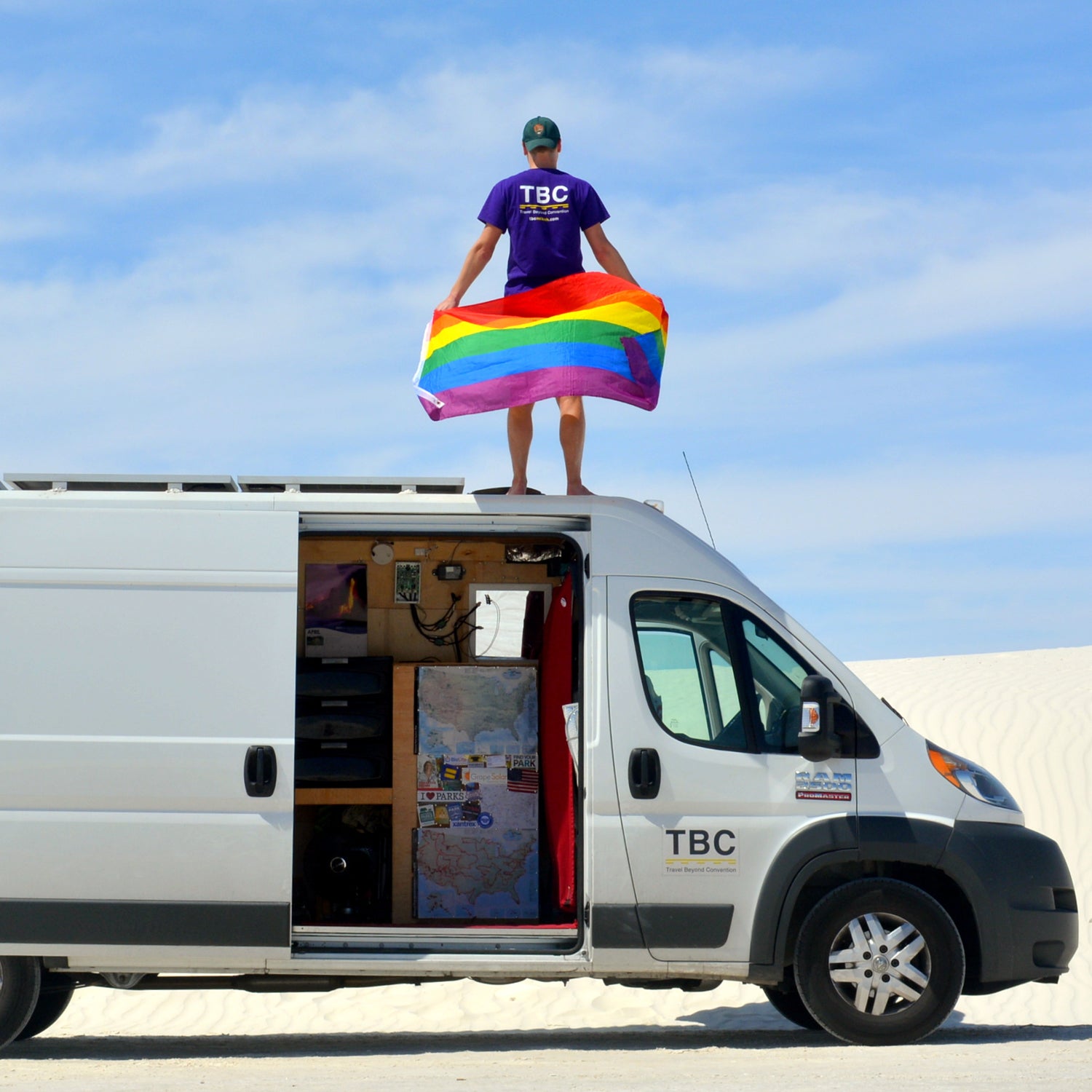 Heading out the door? Read this article on the new Outside+ app available now on iOS devices for members! Download the app.
I never thought I'd be a radical when it came to the outdoors. Having grown up in Nebraska, one of the flattest states in America, and received degrees in classical singing from McGill University and the University of Memphis, I didn't imagine measuring my life in number of peaks scaled. Yet here I am, more than halfway through a three-year road trip to experience all 417 National Park Service sites. The odd thing is, my previous lack of experience isn't the most surprising part of this project.
It's that I'm gay.
Writing that last sentence feels funny to me, because when rafting down the Green River or hiking on the Appalachian Trail, I don't feel out of place. But when I look at outdoor apparel ads, marketing for outdoor vacations, and editorials on how to live the outdoor lifestyle, it's very apparent that the queerest thing about my nature excursions is simply that I'm there—because the outdoor industry doesn't show me or any of my openly LGBT tribe in those situations.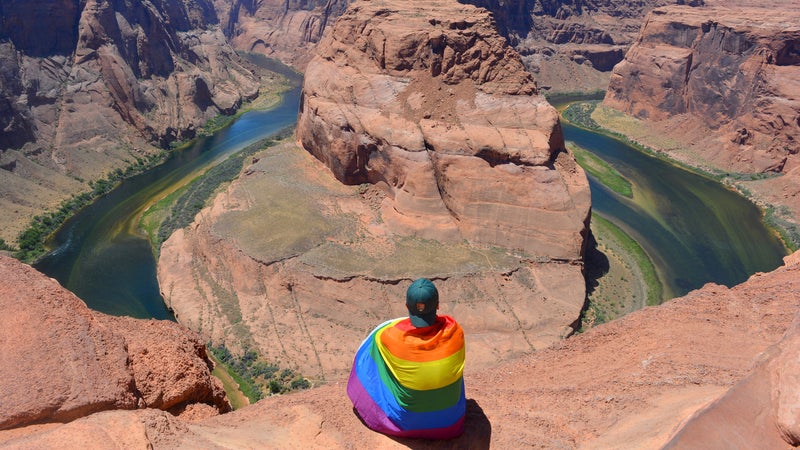 But wait, this is 2017. Am I really talking about non-straight people not being part of mainstream culture?
Yes. When it comes to LGBT inclusion, the outdoor industry is drastically behind the rest of corporate America. Apple, one of the richest companies in the United States, has an openly gay CEO; action-sports star Gus Kenworthy maintained endorsement deals with Nike after coming out in 2015; and everyone from Wells Fargo to Oreo has rainbow-themed Pride Month ad campaigns each June.
But how many Pride Month ad campaigns did I see from the outdoor industry in June 2017?
Zero.
How many openly LGBT hikers, climbers, or other outdoorsy figures have I seen land endorsement deals with outdoor companies?
Zero.
How many openly gay couples have I seen in any outdoor ad campaigns?
Zero.
I'm willing to bet that most people have experienced the same. How can an industry that moved its largest outdoor retail convention to a state with more progressive land policies be so conventional that it doesn't show diverse people experiencing those public lands?
When I set out to become the youngest person to visit all 417 National Park Service sites, I was terrified of any company finding out I was gay. I was sure that it would doom any potential for sponsorship. I was shocked when outdoor nonprofits told me I was a revolutionary simply because I was an openly gay man publicly sharing my love for the outdoors. And I wonder daily if people unfollow or lose interest in a project about the national parks simply because it makes them uncomfortable that I'm gay. If getting an email that opened with, "Can you tell me what the Bible says about bestiality?" is any indication, it would appear the "forest" of my mission gets lost for this "tree."
When I'm out in those forests, I internally debate if it's safe to say "boyfriend" while sharing stories with fellow hikers. When mentioning my sexual orientation in interviews with publications, I get contacted by strangers attempting to convince me I chose to be gay. And my family and friends have expressed concern that someone will read one of those interviews and track me down to express their displeasure in person, recalling the 1996 murder of a lesbian couple in Shenandoah National Park.
For those doubting the experiences of being LGBT in the outdoors, you need look no further than public comments left on posts from myself and other outdoor queer people:
"Why does everything have to be about LGBT?"
"Who cares about carpet munchers and sexuality."
"Just be a climber…..not a lessy!!!"
How often do you see derogatory comments about a person's sexuality when the story's subjects are a straight couple?
Over the past 18 months of visiting national parks and living the #VanLife (another community the media seems to think is exclusively heterosexual), I realized that if this anti-LGBT image is ever going to change, we can't wait on the for-profit industry. The LGBT market might not seem big enough for the outdoor industry to spend advertising dollars on, which is what one company told a friend who runs a queer outdoors nonprofit. But how can we know until we start also showing queer folk in the outdoors? It's why I take pictures with a rainbow flag in front of the park service's most iconic locations, even to the befuddlement of other hikers. (Some who have asked what the rainbow flag stands for.)
Just like civil rights leader Marian Wright Edelman championed, "It's hard to be what you can't see." And gay pioneer Harvey Milk said, "Once they realize that we are indeed their children, that we are indeed everywhere, every myth, every lie, every innuendo will be destroyed once and for all." It is vital that we show the outdoors is not for a certain subset of America. It is for all of us.
My only hope is that as the outdoor world asserts the need to make underrepresented groups like women and racial minorities part of this community, we move beyond a 1990s definition of diversity and don't forget there's a little gay kid in Nebraska wondering if he's welcome in the outdoors.
Lead Photo: Courtesy of Mikah Meyer