Indefinitely Wild
How Anti-Public-Lands Money Enters Montana Politics
Congressional candidate Matt Rosendale earns money from Texan billionaires while voting for their interests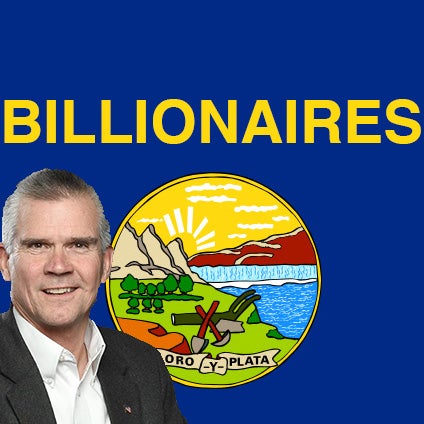 Heading out the door? Read this article on the new Outside+ app available now on iOS devices for members! Download the app.
Montana congressional candidate Matt Rosendale earns income from two oil wells he leases to Dan and Farris Wilks. That should not only be of interest for voters because the Texan billionaires are pushing a radical anti-public-lands agenda across the Rocky Mountain West, but also because Rosendale voted for anti-public-access legislation backed by the Wilks brothers while being paid by them. 
That financial entanglement, along with Rosendale's voting history, runs counter to his claim that he'll work to protect public lands, a vow made when he announced his campaign in June. 
"Matt opposes a federal lands transfer and will continue to fight every day to protect our public access to public lands and will always keep them in public hands," reads Rosendale's campaign website. 
Rosendale, a former real estate developer from Maryland, first entered Montana politics in 2010, when he was elected to the state's House of Representatives. He entered the state Senate in 2012, then was elected state auditor in 2016, a position he still holds after mounting an unsuccessful bid for the United States Senate last year. 
It was while serving in the state Senate in 2015 that Rosendale voted for Senate Bill 245, legislation which would have, in part, allowed the Wilks brothers to construct a high fence on their N Bar Ranch in north-central Montana; that fence could have contained local elk populations on private land, at the expense of hunting opportunities on nearby public lands. The Wilks brothers lobbied heavily for the bill, which went on to pass in the legislature but was vetoed by Governor Steve Bullock. 
In financial disclosures released as part of Rosendale's 2018 Senate bid, it's apparent that the politician became business partners with the Wilks brothers as early as 2013, which continues to this day. Rosendale leases oil wells on his ranch near Glendive, Montana, to the Wilks brothers.
Additionally, according to the Federal Election Commission, the Wilks family donated close to the maximum allowable amount to Rosendale's campaign in 2014. 
Money reaches Rosendale through the companies. According to Montana property-tax records, the ranch near Glendive where Rosendale lives with his family is owned by MBA Consultants, Inc. Rosendale is the president of MBA Consultants, a company that he established in Maryland, owns 8,944 acres in Montana, and, according to campaign disclosures, generates between $100,000 and $1 million annually from a property located at 1954 Hwy. 16 in Glendive. According to records filed with the state, a company called Interstate Exploration operates oil wells at that property. Interstate Exploration is, according The Great Falls Tribune, owned by Dan Wilks. 
Montana Conservation Voters calculated that Rosendale has earned approximately $28,000 from one of the two wells. Property records have been updated recently to show the property is owned directly by Rosendale.
A recent profile published by The New York Times details the troubling ways in which access to public lands in Idaho has been damaged by the real estate and political machinations of the Wilks family. There, the Wilks have shut down public rights of way through their land and in some instances have even hired armed guards to keep the public out. The piece by The Times questioned the legality of these moves but went on to note that local governments lack the ability to fight the billionaires in court. Beginning in 2011, the brothers began purchasing hundreds of thousands of acres in Montana, making them the second-largest land owners in the state. Since that time, they've also become the largest political donors to state politics, and, in a worrying repeat of their action in Idaho, have begun efforts to limit public access using their properties. 
The Wilks's actions mesh with Rosendale's own words and voting record. Despite recent efforts to cultivate a pro-public-lands image, Rosendale's history with the issue is devoutly committed to their sale. In 2014, when asked to participate in a Q and A with the Billings Gazette on the topic, he stated, "I have long been on the record as an advocate for the transfer of federal public lands to the state." In addition to S.B. 245, Rosendale also has a long history of voting against the interests of public access and public lands in Montana. 
"Matt Rosendale has proved time and again that he does not work in the interest of Montanans," Aaron Murphy, executive director of Montana Conservation Voters, told me over the phone. His group, which represents the state's conservation and environmental communities, has opposed Rosendale's campaigns in the past. "He's a real estate developer who continues to represent the interests of land developers and polluters at the expense of public access to public lands for everyday people," Murphy continued. 
Despite repeated attempts by phone, e-mail, and social media, neither Rosendale nor his campaign could be reached for comment.