Bike Snob
A Low-Budget Gift Guide for Your Favorite Cyclist
This list has been checked twice for your convenience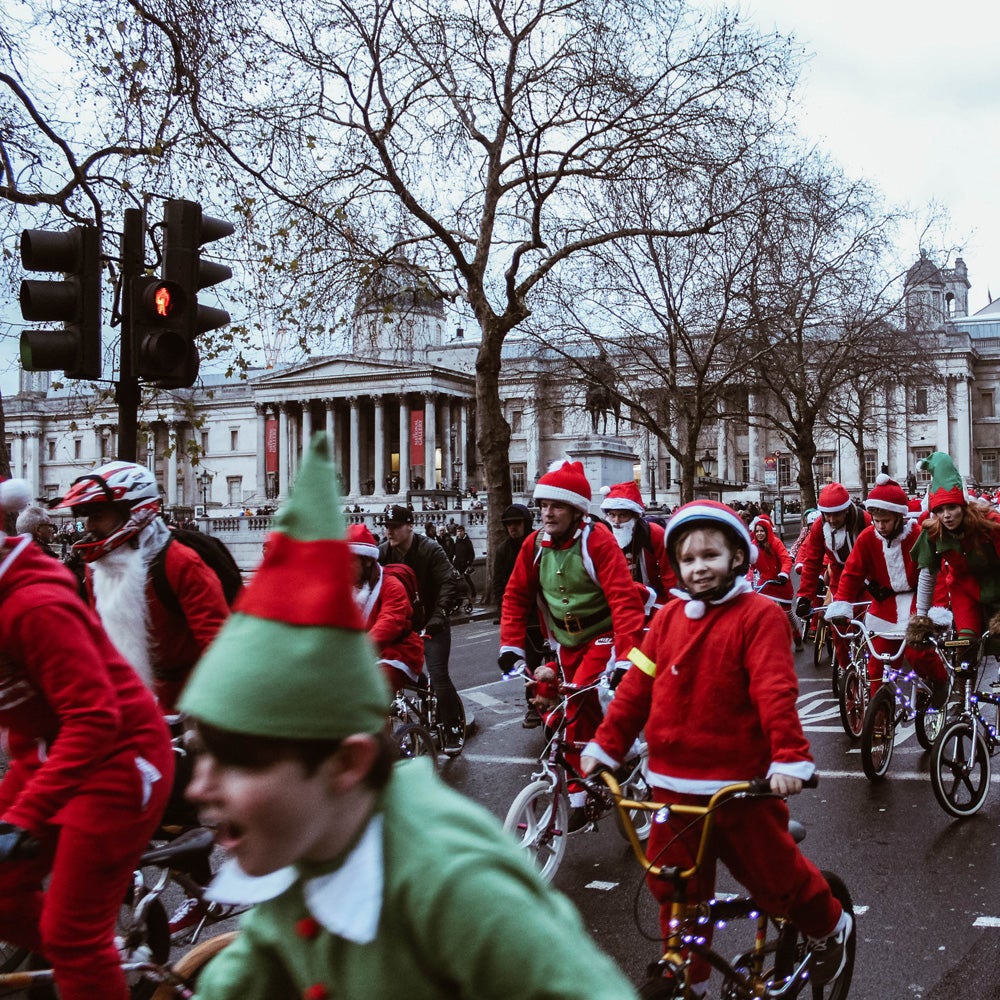 Heading out the door? Read this article on the new Outside+ app available now on iOS devices for members! Download the app.
One of the greatest things about cycling is that you can spend as much or as little money as you want on it. In fact, once you've got the bike, it's pretty much free to ride it, unless you've got an expensive Gran Fondo addiction or something.
Similarly, when the holidays roll around, you don't need to spend a fortune to delight the cyclist in your life with a gift. Forget the $2,000 carbon wheelset. Here are a few gifts you can buy with the tiny balance sitting in that Paypal account you forgot you had.
Socks ($15 to $20)
Ordinarily, when it comes to uninspired gifts, nothing underwhelms like a pair of socks. It's the present that says, "You exist, and you have feet." Cyclists, however, get genuinely excited about socks: they're our "pieces of flair," and sock choice is really the only way we get to express ourselves stylistically (unless you count really bad calf tattoos), especially if we're on a team and all have to dress the same.
Of course you can't just get your favorite cyclist a pack of regular old tube socks and call it good; this is cycling, so they have to be special socks—and by special I mean more expensive. Still, even a really sweet pair of cycling socks only costs about as much as two cups of coffee…well, okay, that special coffee that cyclists drink, but even so you're getting off pretty easy here.
Inner Tubes ($5 to $10)
Hey, not all gifts have to be dazzling: sometimes you're just looking for a cheap, practical little stocking stuffer. To that end, why not give the gift of butyl? See, when you're a cyclist you can never have too many inner tubes, and while it may seem a bit cold and impersonal to give them as gifts, just remember you're talking about people who get excited about socks for chrissakes.
Plus, in a way an inner tube is an even more meaningful gift, since when was the last time a sock saved you from being stranded 90 miles from home? (That was a rhetorical question, though please feel free to address your epic "How My Left Sock Saved My Life" pitch to Outside's features department.)
Just make sure you get the right size and valve type, and that your gift recipient doesn't ride tubeless. Or, if they do ride tubeless, you can always buy them a bottle of sealant instead, which is seasonally appropriate as it's exactly the same color and consistency of egg nog. (Warning: do not attempt to drink sealant—or egg nog for that matter.)
A Tool Roll ($35 and Up)
Looking for a more personal gift? Something special, perhaps even handmade? An elegant yet practical item that they'll carry with them at all times and think of you whenever they use it? Well, if you were shopping for a normal person you might get them a wallet or a handbag. However, this is bikes we're talking about, so the nearest equivalent is a really fine tool roll.
Sure, a saddlebag will let you carry the basics, but with a tool roll you can practically carry enough stuff to rebuild your entire bicycle, and you can do so stylishly and unobtrusively. Plus, they're far classier: tool rolls are to saddle bags as crystal tumblers are to Dixie cups.
The Gift of Smugness ($25 and Up)
This may blow your mind, but lots of people work really hard to make cycling better for the rest of us, and despite what you may have heard they're not all underwritten by George Soros. Does your mountain biker support IMBA? Is your bike commuter a member of the local advocacy group? If not, make a modest donation on their behalf, or buy an item that benefits them. Bikes Not Bombs, World Bicycle Relief, Star Track, the National Interscholastic Cycling Association…there are all sorts of two-wheeled organizations dong all kinds of good work who need your support.
(Note: this is an especially thoughtful gift if the person you're shopping for is a roadie, since when left to their own devices, roadies won't do anything to help anybody.)
A Skateboard ($100 and Up. This is by far the most expensive gift on the list, but it's worth it.)
Hey, we're all adults here, so let's be honest: sometimes you've got ulterior motives over the holidays, and giving a gift is less about pleasing someone than it is about teaching them a much-needed lesson. Is there a middle-aged person in your family who's spending too much time on the bike? Was mommy late to the school play because she flatted on the group ride? Did hubs postpone your anniversary celebration because it fell on the same weekend as the Filthy Nebraska 350-Mile Gravel Grinder? Are you sick of suffering through your wife's ride reports at dinner?
Well, now you can recoup all the time the bike has stolen from you by giving the gift of a skateboard! Yes, no fit person over 40 can resist the allure of a skateboard, nor can they stand on one without sustaining an injury just bad enough to keep them off the bike for awhile and force them to appreciate you! Just find a reissue deck from the halcyon days of their youth, sit back, and let physics and nostalgia do the rest: "Whoa, a Rob Roskopp! I used to have one just like this! You know, I used to be pretty good…" [Stands on skateboard, immediately breaks coccyx.] You'll be enjoying that romantic anniversary dinner in no time—though your partner may be sitting on a doughnut.