Bike Snob
The Man, the Myth, the Motor
Did Fabian Cancellara really use a motor? And if he did, what does that mean for cycling?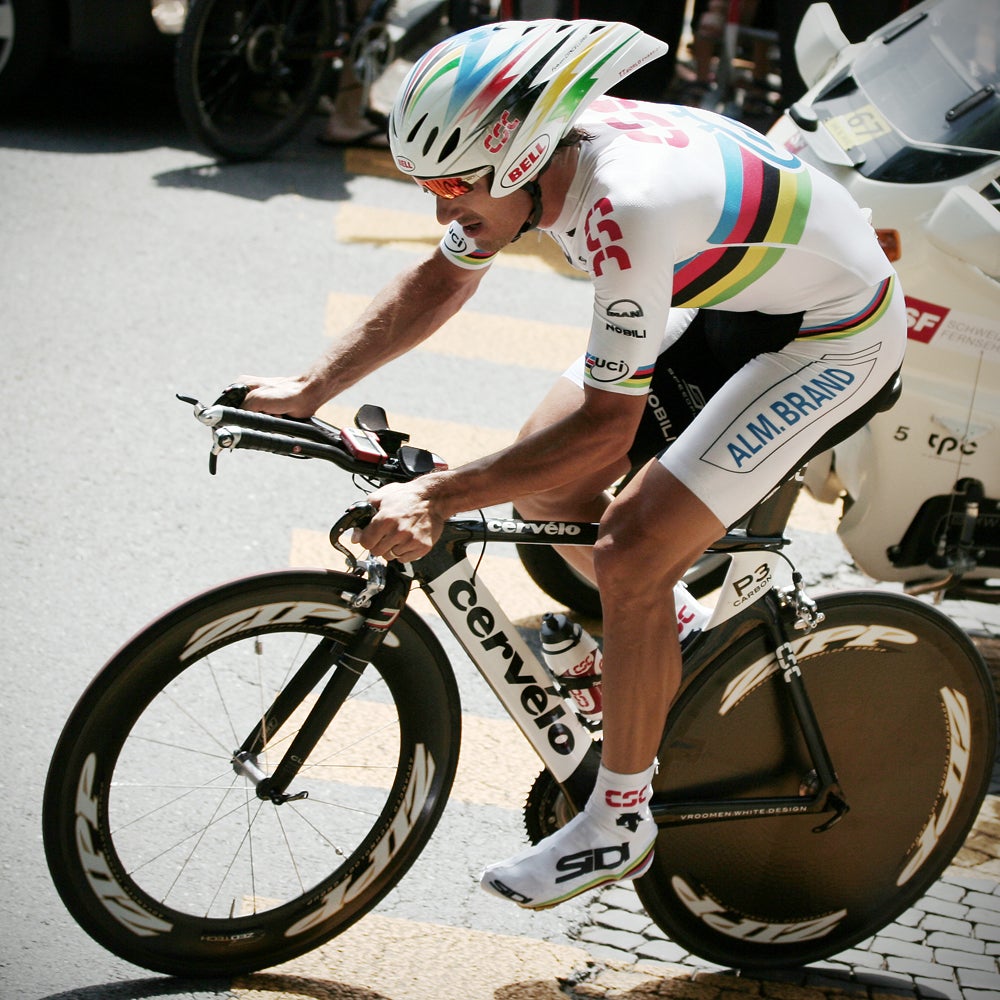 Heading out the door? Read this article on the new Outside+ app available now on iOS devices for members! Download the app.
The sport of cycling, no stranger to scandal, has found itself dogged once again by the specter of that most oxymoronic form of cheating: Mechanical doping.
For years the idea that pro cyclists have been secreting tiny motors in their bikes was mostly the stuff of rumor and speculation, like dark web snuff videos or Putin's pee-pee tape. All that changed at the Cyclocross World Championships in January 2016, when the UCI discovered a motor in a bike belonging to Belgian rider Femke Van den Driessche. Now that we know for sure it's been done, it stands to reason that other riders have probably been guilty of it as well, and the burning question is: How high up does this thing go?
Of course, the rider most commonly associated with mechanical doping is one against whom no tangible evidence has ever been put forward: Fabian Cancellara, who retired after the 2016 season. Cancellara has been one of the most successful one-day riders of the 21st century, having won Paris-Roubaix and the Tour of Flanders three times each, among a slew of other races. Some thought he was a little too good, and in 2010, Italian journalist Michele Bufalino produced his now-famous video in which he explains how hidden motors worked and then analyzes footage of Cancellara allegedly hitting a button and taking off in both Paris-Roubaix and Flanders.
Cancellara certainly does appear to ride away from his competitors with preternatural ease. Of his two supposedly motödoped monuments, I find Flanders the most intriguing. Basically, after changing bikes twice, Cancellara hits the Muur van Geraardsbergen—a legendary climb with pitches approaching 20 percent—and rides away (seated!) from Classics superstar Tom Boonen as casually as someone distancing himself from a farter on the bus. Cancellara, naturally, denied the claims, and over time the accusations against him went from pointed to more of a running joke. Nevertheless, the UCI did start scanning bikes, and finally in 2016, they hit paydirt with Van den Driessche.
But now the flames of speculation regarding Cancellara burn hot once again. In his latest book, "Draft Animals," retired pro Phil Gaimon wrote the following:
"When you watch the footage, [Cancellara's] accelerations don't look natural at all, like he's having trouble staying on the top of the pedals. That fucker probably did have a motor."
And while it's tempting to dismiss this as the sort of thing you say when you want to sell books (or get people to read your Outside column, ahem), Gaimon is apparently not alone in his opinion. As Bill Strickland, group editorial director of Rodale and former editor-in-chief of Bicycling magazine, subsequently tweeted:
Told myself I was done mucking about in pro bike racing's hypocrisy. But.

I know because they have spoken to me in detail off the record that there are pros (current & retired) who agree with @philgaimon. Just fucking speak up.
So now, in the wake of the Gaimon comment, UCI president David Lappartien may open an investigation, Cancellara is demanding Gaimon cease distribution of his book, and challenging him to a race, and the rest of us are firing up those YouTube videos once again.
Hey, we'll probably never know for sure whether or not Fabian Cancellara used a motor—or, more accurately, nothing will ever dissuade those who are determined to believe it. So let's just say, completely hypothetically, that yes, he did it. What would confirmation that mechanical doping is taking place at the very highest level of pro cycling mean for the sport?
According to most pundits, it would be a disaster, a betrayal of the very essence of cycling. In the aftermath of the Van den Driessche affair, Neal Rogers wrote for CyclingTips that mechanical doping should be punished far more harshly than use of blood boosters and with a lifetime ban. His reasoning:
As an athletic endeavor, cycling is fairly unique in its union of man and machine. In this scenario, the body is the engine, providing power and control to the vehicle. Maintaining velocity while handling the machine at or above aerobic threshold is the very essence of the sport. (A few other examples include rowing and cross-country skiing.)

Once a motor is introduced into this scenario, it's no longer a competition between man and machine; the very essence of the sport has been compromised, robbing fans and competitors of their faith, and therefore, their passion.
On the surface, this makes total sense. After all, add a motor to a bicycle and what do you get? A motorcycle. However, consider the nature of blood doping versus using a motor. While the long-term effects of blood doping are unclear, evidence suggests they may last for decades. If so, a rider could get popped, serve a ban, and then return to the sport while still reaping the benefits of his or her cheating. On the other hand, a motor is either there or it isn't, and is thus only as effective as a rider's ability to maintain the subterfuge.
Furthermore, taking advantage of motors is nothing new in the sport of cycling. If anything, it's the oldest and most basic form of bike-cheating there is. In the early days of the Tour de France, the riders were known to hop on trains and take shortcuts, and to this day riders regularly accept "sticky bottles"—a brief, surreptitious bit of assistance from the team car as they grab a bidon. Out-and-out tows are also far from unheard of: Vincenzo Nibali was expelled from the Vuelta a Espana in 2015 for taking one.
This isn't to say that grabbing onto the team car in the heat of battle is remotely as egregious as the level of premeditation and conspiring necessary to hide a motor in your bike. However, even at its most devious, mechanical doping is still a binary proposition with an on/off switch. Blood doping, on the other hand, is the stuff of science fiction, right down to the dystopian sense of moral ambiguity, and it's only going to keep evolving. Frankly, fans should find the prospect of gene editing far more uncomfortable than someone faking a flat before a climb and hopping on a spare bike with a tiny motor in the seattube, which is positively quaint in comparison.
Or, to put it in the simplest possible terms, let's say that your child were to become a pro cyclist and proceed to misplace the moral compass with which you've no doubt supplied her. Which scenario would you prefer for her: Mopeds disguised as bikes or needles and blood bags proffered by shady soigneurs?
If mechanical doping is the biggest scandal pro cycling has to face after the EPO generation, then maybe it should consider itself lucky.