My Body Is Not an Obstacle
Ultrarunner and author Mirna Valerio on the TransRockies Run, snags, and just some of the things her body is capable of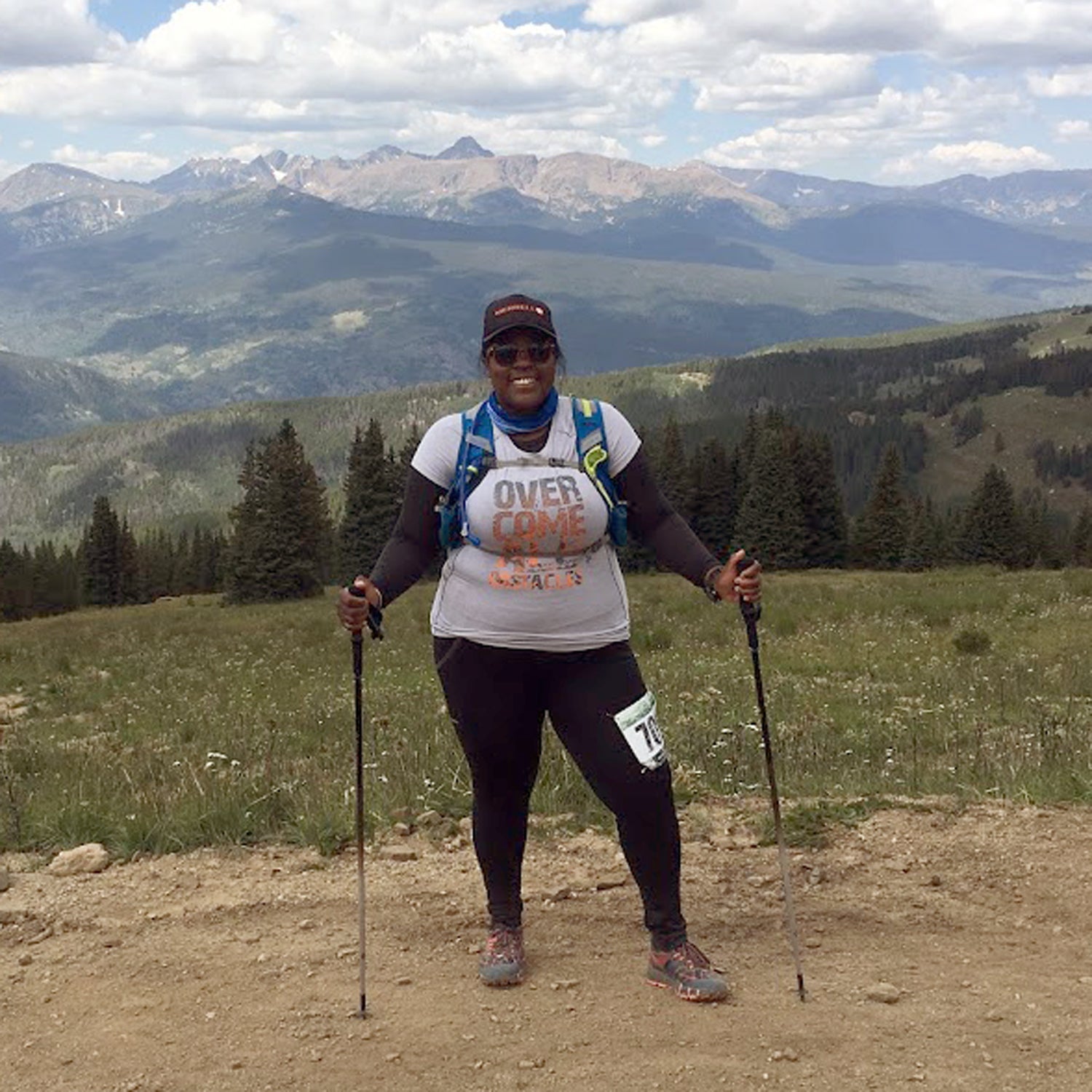 Heading out the door? Read this article on the new Outside+ app available now on iOS devices for members! Download the app.
I was in the second stage of the TransRockies Run, heading up to Hope Pass on the Sheep Gulch Trail, when I heard faraway rumbles of thunder. I should say "we"—I was with the sweeps, whose job was to stay with the last runner in the race. They hurried me, though I felt like I could move no more quickly than I had already been moving. My head pounded, my sinuses burned, my vision was slightly blurred, and my lungs struggled to process the little oxygen available this high up.
I reached the top and breathed in thin air, quickly, my heart pounding because the effort had been so great. I turned around slowly and smiled.
This body that society and even some fellow trail runners viewed as a black hole of incapability is a rich center of power and strength, if not speed. This body is deemed a failure to many who judge it by its face value. It is devalued even, protested, and placed in the category of the unseemly. But take her out in the wild and she proves beyond a shadow of a doubt that instead of embodying burden, she is a powerful force. She may move slowly up the mountain, each heavy step deliberate and calculating, but she moves nonetheless. She belongs on those lodgepole-choked trails on this hulking protrusion of earth.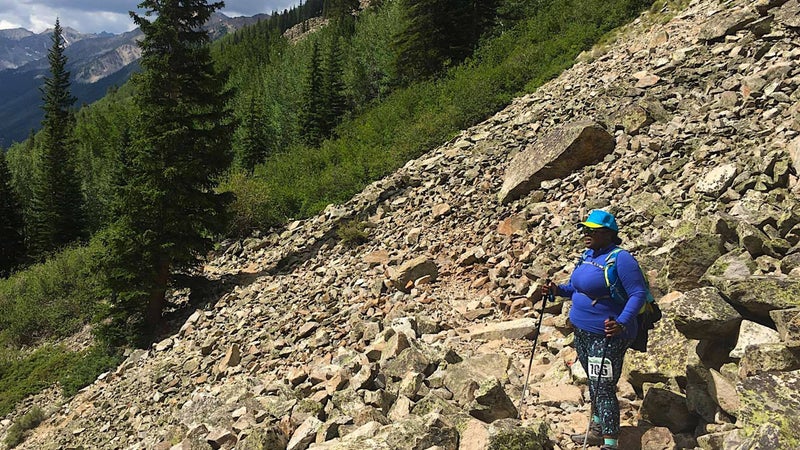 The TransRockies Run, a six-day race featuring 20,000 feet of elevation gain over 120 miles, took place this past August. The race is affectionately known as Running Camp for Grown-Ups, and features trail runs from 14 to 24 miles each day, covering terrain at altitudes between 8,000 and 12,500 feet in the Colorado Rockies. One of the reasons this event appealed to me was not only its difficulty, but also the knowledge that if I didn't finish a particular stage, I could still start the next day—not the case with other multiday events.
I had never attempted anything of this magnitude—a test of pure will and strength that would require me to wake up in my tent, frozen nose and all, then move my body for many miles across terrain very different from the perpetually damp forests of the Southeast, where I live. I knew intellectually that it would be difficult. I had an image of what challenges I might confront—altitude sickness here and there, the constant up and down of the trail, the cold temperatures in the evenings—those were all things I could deal with. In reality, I had no idea.
Now, standing on Hope Pass during Stage Two, I panned the rugged, velvety, still snow-covered Collegiate Peaks and marveled at the stark grays of the jagged rock against the pale blue sky. It had taken me a very long time to reach the pass, but I had done it, in my big, problematic body. I thought of my trail friend Ric, whom I had met at the Double Tap 50K in the North Georgia Mountains two years earlier.
The first time I encountered him was after I had just completed ascending the notoriously difficult power-line climb on the Double Tap course. It took just about 45 minutes of huffing, puffing, and cursing any animal and tree that would listen. Because my pace is much slower than most, I spend a lot of time alone on the trail, even in trail races. I'm often the last person out there. I was so slow on this day that Ric, a race volunteer, came looking for me from the other direction, wearing a bright yellow T-shirt that said "ENABLER."
He ran with me for a bit, eventually lending me his trekking poles. He pointed out various flora and far-off peaks in the Cohutta Range. All of a sudden, Ric stopped in front of a tree with a large trunk. I thought something was wrong.
"Do you know what this big hole is?"
"Um, no?"
"That hole there? It's called a snag. A snag is an area that experienced some type of trauma. Maybe a cut, maybe the trunk encountered something as it was growing. And what's cool about it is that the tree just continues to grow around it. And then, animals and insects make their home there. That's pretty cool, isn't it?"
I nodded. "That is pretty cool."
We continued on for another mile or so until Ric left me to my own poorly prepared devices.
At one point, I wanted to title my memoir Snag, because many of life's experiences are like snags—you reach something, an obstacle, a challenge, or a situation that in the moment may seem impossible, but somehow you manage to either forge your own way around the obstacle, make your home in it, or struggle through it—and you continue to grow. That's how my running life has been—full of snags disguised as learning.
Although I struggled ascending the steep slope of Sheep Gulch Trail near Leadville, I could see very clearly what the entire six days of TransRockies would mean for me. It would be a sufferfest, one that I had gladly accepted. I would have to get up each day and attempt anywhere from 14 to 24 miles on terrain that tested both body and mind. I would suffer from bouts of altitude sickness—one day would be my irritated stomach, another day would be my burning chest, and yet another would be my head, which made me feel like I was underwater.
She belongs on those lodgepole-choked trails on this hulking protrusion of earth.
Every stage of the race seemed insurmountable in some respect. There were the relentless undulating hills of the first stage, a high-desert environment complete with cacti and other threatening flora. Running through it was exhilarating at times. Other times, it was lonely and desolate, with its claustrophobic spaces that would eventually open up to grand vistas of surrounding peaks. There were interminable hills during the fourth stage that left my legs burning—hills that tricked my legs into craving more hills after I trashed my quads on scree-filled, butt-sliding descents.
My growth didn't necessarily occur in those moments of hardship. It took a while for any wisdom to accumulate—after the pain, soreness, and feeling of a shattered ego subsided. Twice I broke down and sobbed from exhaustion, dizziness, and disappointment when I felt unable to continue. But after all was said and done, I could grow from what I'd learned.
Every step forward was proof that I could actually move my body up and across mountains. Every pain in my abdomen taught me that I am, in fact, a vibrant human being—feeling the pain of my stomach trying to move nutrients into their appropriate places. Every gasp for air was evidence that I was still breathing. Every little inconvenience or hurdle meant something much bigger and helped me gain and maintain perspective over the course of these six trying days. I never quit.
Were my body not a capable, living, breathing, being, I would not have been able to even envision myself on top of some mountain in Colorado, in the middle of TransRockies.
The 72 miles and 14,250 feet of elevation gain I completed were far from the 120 miles I had hoped to beast through when Kevin Houda, TransRockies race director, first planted the seed back in December of 2016. Some sunburnt cheeks and a few black toenails later, I have a new appreciation for trying something difficult just for the sake of difficulty. Although I overestimated my readiness for this adventure and suffered at the hands of the mountain gods for my hubris, I came out in the end, more humble, focused, and determined to give it another shot in 2018, as I have some unfinished business to contend with.
Many would see my almost daily DNFs at TransRockies as a failure. I choose to see them as opportunities for flourishing, further nurturing of the body and soul so that it may go longer, farther, higher, and more powerfully than before.
Game on.
Lead Photo: Courtesy Mirna Valerio