If We Want Skiing to Be More Diverse, Let's Stop Celebrating the Ski Bum
The lifestyle is physically dangerous for Black people and often financially and socially out of reach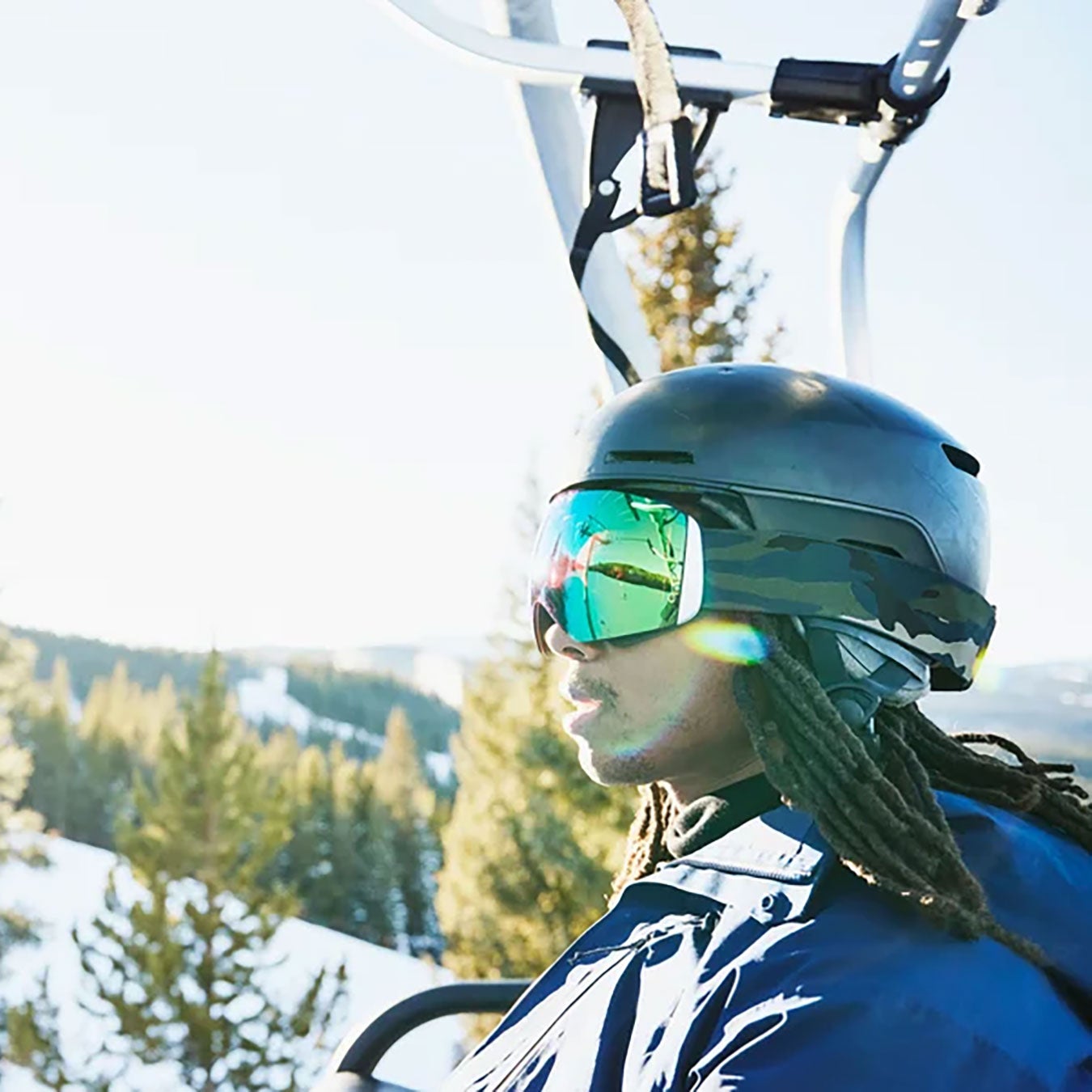 Heading out the door? Read this article on the new Outside+ app available now on iOS devices for members! Download the app.
It's not exactly right to say my family couldn't afford to ski, as we were pretty solidly middle class when I was growing up in New York. But participating in the sport is expensive enough that it would've had to have been the one thing we did. And my parents couldn't quite "take me" to the mountains. They were island people, and definitively not skiers. As a child, I went skiing two or three times, with church groups. Though I remember being intimidated by the masked, goggled faces zooming past me at close range, I found it compelling and downright fun.
But my family didn't have the time or inclination to drive three-plus hours north of Westchester County with any kind of regularity. So, skiing lingered in the back of my mind for more than 30 years until the necessary alignment of time, resources, and support converged and I made the decision to really learn. I've always been a person who loves learning new sports. (I bought myself rollerblades with my babysitting money in the early '90s and taught myself in the driveway.) My similar obsession with skiing came on fast. I immediately dove into touring, which combines everything I like about hiking—the exertion, the satisfaction, and the views—and eliminates what I dislike: hiking downhill. I was immediately drawn to the rhythm of turning, the potential for complete peace while floating down billows of snow. Finally, I was part of it.
Many years earlier, however, sometime in high school, when I was surrounded by skiing families, I encountered ski bum mythology. I remember being struck when considering the ski bum, with how easily wealthy white people could embrace voluntary poverty and its various motifs without facing the ramifications that I might face as a Black woman. The ski bum, the dirtbag, the trustafarian, these were personas to embody that could be easily shed when, and for whatever reason, the individual decided to move on.
Now that I'm personally invested in skiing, I'm of course thinking more about the challenges the industry is facing. I've observed that the ski bum lifestyle is becoming less and less viable, due to the diminishing annual snowpack, the lack of affordable housing in our mountain communities while lavish second homes go unused for much of the year, and the generally high cost of living in ski regions. The current generation of ski bums may be the very last.
This imminent shift has been mourned again and again in the ski industry, including in SKI magazine, in Heather Hansman's latest book "Powder Days" and most notably, to me, in Paddy O'Connell's episode of the Outside podcast, "Who Killed the Ski Bum?"
Many skiers have lamented this pending loss not just because of the impact on the actual people, but because of the decimation of a dream. To Hansman, the ski bum represents "the soul of the sport. SKI's Editor-in-Chief, Sierra Shafer, who assigned this article to me, called the ski bum "the North Star of our culture." In the episode, O'Connell both evokes and employs all of the iconography adjacent to the ski bum in his shtick and jokes, glorifying the archetype over and over with no critical analysis, either of the archetype or of its centrality to the sport. These industry leaders believe they are mourning the loss of the idyllic life that any passionate skier might aspire to.
I, too, grieve for the future of our snowpack, am angered about rising costs of housing, and sympathize with any earnest individual who builds their life around skiing or riding and also contributes to their greater community as a thoughtful citizen. However, I feel little compassion for the plight of the ski bum in its archetypal form. In fact, I'd rather we stop celebrating it all together.
The narrative around the ski bum romanticizes a life characterized by forgoing economic ladder-climbing to achieve the joy of skiing 100-plus days a year. It celebrates opting into basic, substandard, or crowded housing and collaborating with peers to share access and benefits. (She works at the mountain and may sneak you onto a chairlift, you pass her some free food while bartending that night.) To further stick a finger to the man, you poach a hot tub at the resort or flirt with tourists in exchange for free drinks. The ski bum cares only about skiing and they institutionalize a culture of rule-breaking, or at least bending, to do so, all because they can. Therein lies the problem. This garish flaunting of social capital and privilege in the face of the barriers that most people, with comparatively less socioeconomic mobility, face, is offensive. There is only one subset of the population who can safely, comfortably, and consistently pull off this lifestyle: white, cis-gendered skiers, usually middle class or wealthier, usually men.
Based on data from the National Ski Areas Association about who participates in downhill skiing in the U.S., we know that 88 percent of skiers are white, and more than half earn a salary of more than $100,000. Even if the ski bum doesn't have family cash on hand now, perhaps they have no student loans to repay or they know they'll someday inherit money from parents or grandparents. But even if the individual doesn't fall somewhere along this wealth spectrum, their whiteness and their social location at the top of our racialized economic system act as a buffer that allow them to ease in and out of downward mobility as they please.
Ski bum or "dirt bag" life is not feasible or attractive to me as a Black person for several reasons.
Like me, many Black folks don't want to live in a majority-white town. In those spaces, we receive a barrage of implicit messages that reinforce white supremacy, and we suffer when disconnected from the cultural context that uplifts our identity and intrinsic value. The spatial racial isolation of living in these towns means that we lack access to the affirmation that comes from being around other Black people and BIPOC. And it should go without saying that a Black person might experience all sorts of interpersonal racism and difficulty navigating the entrenched, insider culture of a mountain town. (See this piece by Mallory Duncan on what it's like to be a black ski mountaineer in Bend, Oregon.)
Most nonwhite people need to pursue a well-paying career if they have the opportunity. Even middle-class BIPOC families are unlikely to have generational wealth allowing for career risk-taking, especially if it's not the kind of risk that might lead to a high-income job, such as entrepreneurship. We may have family members outside our nuclear family to support or we may feel compelled to use whatever socioeconomic power we've gained to assist others suffering from the impacts of marginalization. We may simply desire a conventional career for the financial stability that our parents and grandparents did not have due to the obstacles that white systems of power have historically placed in front of them.
And it follows that spending the money that one would have, while living hand-to-mouth as a ski bum, on fancy ski equipment, would feel incongruous at best to many Black folks, who likely are observing loved ones' financial struggles on a regular basis.
When Breonna Taylor was killed in March 2020, I joined a march instead of going on a ski trip. When an acquaintance was arrested on false charges by police, the $1,000 I'd earmarked for new ski equipment got diverted to a bail fund.
Each time I made a move to purchase this new pair of skis, a family need came up: an incarcerated cousin was reentering; another cousin needed help with first, last, and security for their apartment. When I finally thought I was ready, my mom began collecting major funds from family members with disposable income to build a house for relatives in Jamaica.
Additionally, the celebrated ski bum lifestyle is physically dangerous for Black people. While a white person might get a slap on the wrist if caught sneaking onto a resort or breaking any other rule, a Black person could be arrested or worse. Data on bias shows that the worst is usually assumed of Black people and we only need to point to Ahmaud Arbery, Christian Cooper, or Brianna Nonord as examples of how we might be treated in the presence of White property owners or law enforcement. This reality truly stings when considering that the ski and snowboard bum archetype appropriates and performs selected aspects of hip-hop culture like swagger; Black urban aesthetics; and AAVE-influenced slang, all without facing the actual consequences levied on Black people for any kind of non-conforming behavior.
Then there's the relative lack of social capital. Research shows that Black people experience hiring discrimination. Here's one simple data point: White job applicants receive 36 percent more callbacks than Black applicants with identical résumés. To have to explain a years-long ski bumming gap in career-oriented employment adds an additional level of risk. Many White ski bums coming from wealthy or even middle-class backgrounds have professional networks they can activate if they wish to move on from the service industry, gig economy, or cash-for-hire jobs.
The lifestyle is also unattractive—and I do mean literally. Unwashed bodies, unkempt facial hair, and patched-up outerwear on a White skier may demonstrate that they are not capitulating to consumerism, but data shows that Black and Latinx people are perceived to be actual bums if they look disheveled. For this reason, if I choose a shaggy appearance in a ski venue, a purposefully near-homogenous and historically exclusionary white culture which already implicitly tells me I don't belong, I risk being treated as less than human.
Labels like "bum" or "dirtbag" sting for Black people who have spent over 400 years at the bottom of the social hierarchy. We have spent generations fighting oppressive systems that have blocked our economic advancement at every conceivable turn. There is a reason why we are always referring to ourselves as kings and queens. Queen especially, has become a mainstream term women use to bolster each other, but it stems from Black people reminding ourselves, on the daily, that we are equally human, equally worthy, and that our histories, heritage, and royalty were stolen from us in an attempt at erasure.
To lift up, as iconography, the ski bum, an alienating symbol which holds limited appeal and viability, does nothing to make skiing more equitable. The ski bum, with its fanciful composition, looms over the ski imagination in a way that leaves little room for new archetypes to form.
Let's expand ski culture to include aspirational figures who embody a diverse range of backgrounds, styles, and talents. This might include professional Black, and Indigenous skiers, leaders in the queer skiing community, skiers of varying body types, the leadership of the National Brotherhood of Skiers and other affinity organizations, skiers with disabilities, moms teaching their kids, and skiers showcasing mental health benefits. We can say that skiing is for all, but the words are hollow if we chase a North Star that centers on White men. Instead, let's embrace and center a more inclusive constellation of stars. 
Mardi Fuller advocates for racial equity through writing, speaking, and community building.  A lifelong backcountry adventurer, in January 2021 she became the first Black person to hike all 48 of New Hampshire's high peaks in winter.  She lives in Boston where she works as a nonprofit communications director and volunteers with the local Outdoor Afro network. Fuller is on Instagram as @wherelocsflyfree.
Lead Photo: Getty Images