Legalizing Open Space Is Great, Until It Isn't
Boulder, Colorado, celebrates 50 years of Open Space this year. Here's what I've learned as a 16-year resident.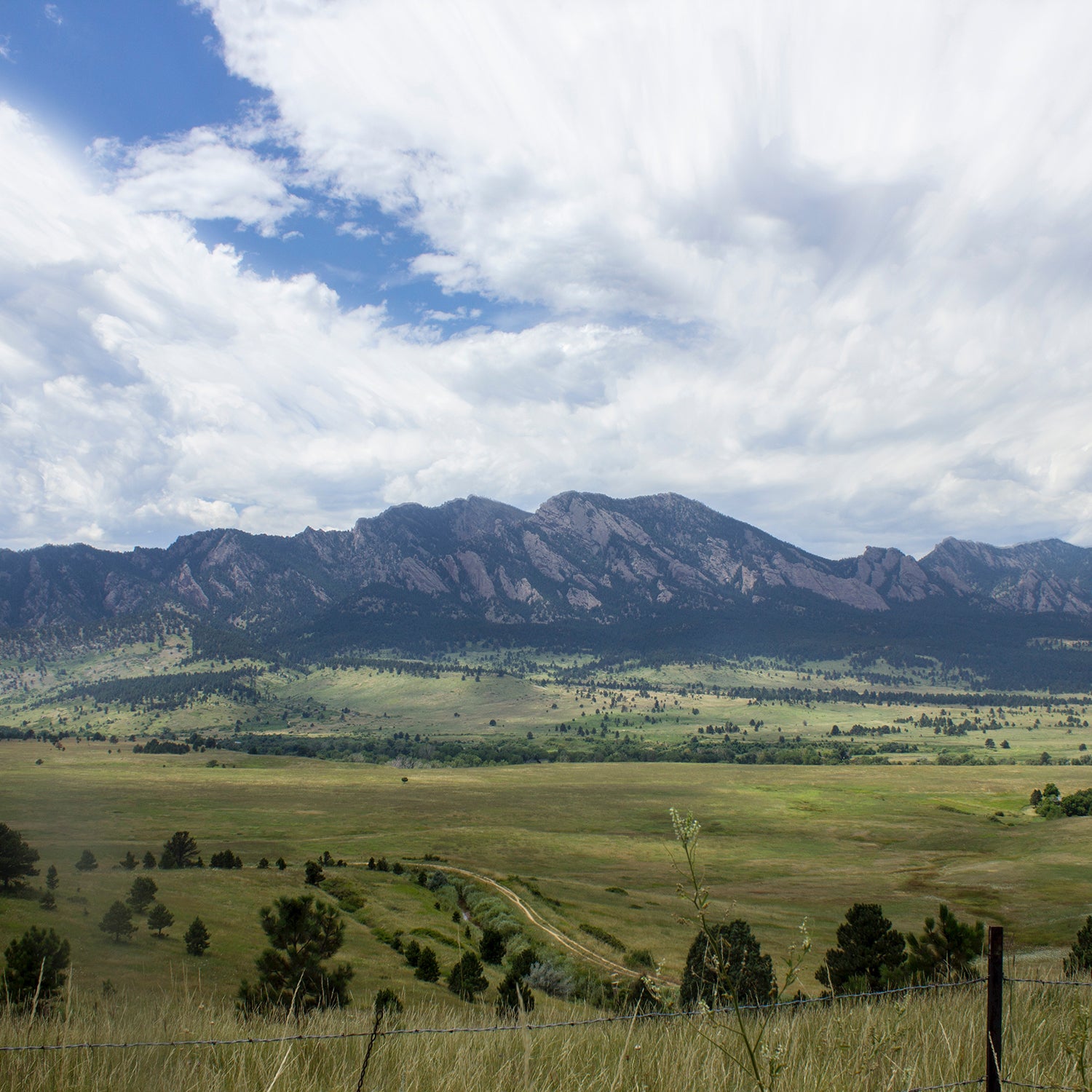 Heading out the door? Read this article on the new Outside+ app available now on iOS devices for members! Download the app.
Open Space is the Jekyl and Hyde of land conservation: it's a fabulous concept, until you run up against its dark side.  
If you live in the Intermountain West, you know that Open Space is a town-and-tax funded prophylactic to mindless sprawl and view-killing development. And if Boulder, Colorado, has exported anything to the nation besides frozen organic black bean burritos and legal weed, it's been the concept of Open Space as public policy. Fifty years ago, forward-thinking conservationists here looked around at the ramparts of the Flatirons and the rolling grasslands of the prairie and said something like, "Whoa… Let's not pave it down the middle." 
It wasn't a completely original idea. The Romantic Movement of the 1800s, which gave New York City Central Park, was the first to look at urban-interface conservation in terms of preservation, resource management, and wildlife protection—as opposed to manicured parks. The Boulder Open Space movement applied those principles to the wild Western lands adjacent to a town where the mountains are the parks. 
Open Space quickly infused itself into Boulder's identity. The protected landscape drove the planning, not the other way around. Boulder has a height restriction for residential and commercial properties because Open-Space minded officials believe residents and visitors should see dusky alpenglow on red rock and the snowcapped summits of the Indian Peaks from their backyards. A herd of elk grazes winter pasture on the Open Space north of town. Dog walkers and trail runners meander the prairie ecosystems to the east. High school mountain bike teams cut hot laps on the rolling trails to the south. Hikers and rock climbers navigate the steep hillsides to the west. 
Today, the city of Boulder is an island in a sea of Open Space. Boulder voters continuously approved taxes allowing the Open Space and Mountain Parks department to purchase, trade, and manage undeveloped lands. Between designated Open Space and private lands protected through easements, Boulder County Open Space now oversees 103,000 acres of mountain parks, agricultural lands, dirt roads, and prairie trail systems. Of that total, 64,375 acres are publicly owned or leased, and 38,860 acres are open to the public—if you stay on the designated trails. It takes a staff of 128 employees and a budget of $35 million to run it all. And that often doesn't factor in special voter-approved taxes to purchase specific parcels deemed vital to the tapestry.
It's been worth every penny. In 1967, only two million people lived in the entire state of Colorado. Today, the Front Range alone is home to nearly five million, with 320,000 in Boulder County. Unmitigated sprawl runs from Pueblo in the south to Fort Collins and Loveland in the north, but when you crest Highway 36 North and Boulder rolls out before you, it still looks much like it did 50 years ago—a shining city on a hill framed by alpine peaks, red rock cliffs, and the greener pastures you've been searching for since they replaced Ohio with shopping malls.
But that's just the view from afar. As much as Open Space saved Boulder from one fate (Circle K strips), it's opened it up to other, hidden threats.
If Boulder has exported anything to the nation besides frozen organic black bean burritos and legal weed, it's been the concept of Open Space as public policy.
The first came in the late 1970s. Because early Open Space proponents were more preservation-minded than recreation-minded, when mountain bikes first arrived in town the land managers in power immediately banned them from the foothills adjacent to town. That's still true to this day, despite years of petitioning and proven stewardship of the county's farther flung trail networks by mountain-bike advocates. The biting part? Those same advocates aren't even asking for access to the steep trails above town. The last time the foothill trail system came under review, the mountain bike community modestly proposed a low angle trail or two that would connect downtown with existing, C-minus quality mountain bike trails to the south. The proposal wasn't considered. To be a mountain biker in Boulder is to ride long sections of road to open trailheads or car-shuttle bikes to the trails. In many ways, Open Space land managers are responsible for those cars trips—and the ensuing traffic, overflowing trailhead parking lots, and carbon emissions. 
Open Space's bias isn't just directed at mountain bikers, though. Those same land managers have often used balky science to keep recreationists off public lands. That winter elk habitat north of town? The development of a trail system there hasn't yet happened because somebody along the way designated the parcel a wildlife corridor. For many years, my office sat directly opposite that tract. Beyond the wintering elk, which a seasonal closure would accommodate, the only big game I saw was a sole mule deer with a broken leg trying to make its escape from two pursuing coyotes—I swear they were grinning. I stepped out of the office to watch the Darwinian calculus play out and was immediately accosted by a Boulder motorist screaming at me to "Do something!" to save the doe. Beyond a dozen rattlers and a golden eagle that once hung out by our loading dock, that was it for wildlife. If that land is a wildlife corridor, then the elk are commuting to town to buy macchiatos. 
Whatever, you might say, those are petty, self-serving concerns, and protecting the land takes precedence. This might come as a shock, but I agree with you. Voters can make those fixes over time. And as Boulder's limited trail network continues to get overrun, we certainly will. But the other side effect of encircling your town in Open Space is far more intractable.
Boulder is an island. And islands are expensive. The town has one of the hottest real estate markets in the country. And with spendy real estate comes demographic shifts. The environmentalists of the 1960s and '70s have long since been replaced by waterproof-breathable yuppies. Now it's the tech industry (Google is opening a campus) and a venture-capitalist startup culture that's driving out the bike mechanics, firefighters, schoolteachers, ski techs, and yeah, the outdoor writers, too. With no new construction on the edges of town, there is an ever increasing demand for a flat supply. Oh sure, along the way, the town made half-hearted attempts to house those lower middle class folks affordably. But it didn't take. And now it's too late. The current debate is what to do to keep upper middle class folks in town. If you live in Bozeman or Bend, you might want to take note. 
So, Open Space. It's wonderful. No matter where I end up living I'll continue to vote for it as I've done at least eight times. If those original Open Space advocates were to visit Boulder today they would be justifiably impressed with the legacy of their conservation movement. It's beautiful here. And I salute them for that.
But to be clear, those '60s era conservationists sure as shit couldn't buy a two bedroom bungalow on Spruce street in 2017. The average price of a home in Boulder city limits just surpassed $1 million. As the sign says: "Hippies use side entrance." Try Longmont or Louisville.
Lead Photo: Riley Pope/Unsplash